12 Best Oils For Natural Hair – Benefits And How To Use
Let these products add more life to your Type 4 mane and make it healthy.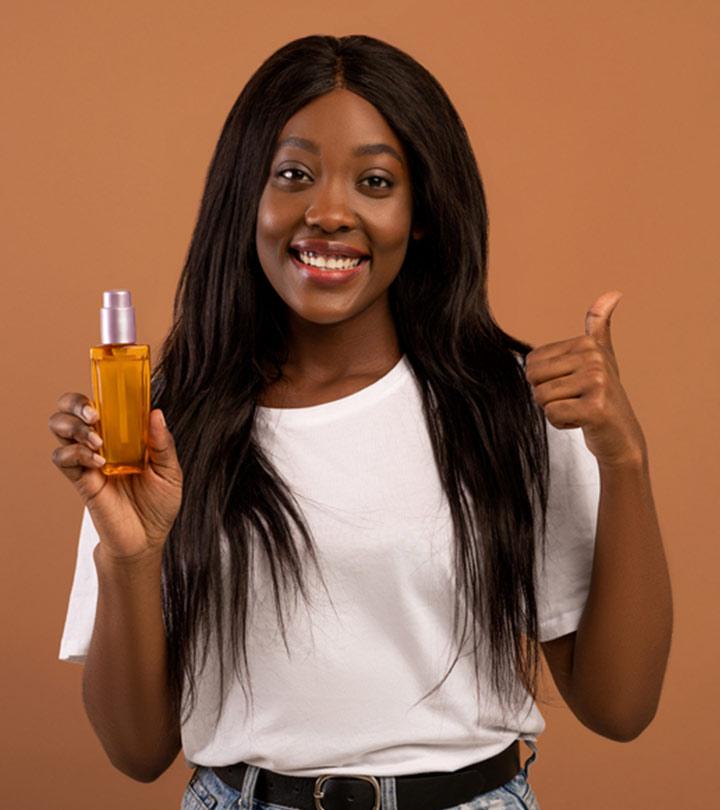 Natural hair or type 4 hair is fragile and lacks moisture. Oiling is the best way to keep it replenished, nourished, and hydrated. Hair oils soften the strands and penetrate deeper into the shafts to smoothen the cuticles and strengthen textured hair. They can also be used as styling products to add shine and manage frizz.
However, it is essential to opt for an oil that works for your hair type. Scroll down and check our list of the 12 best oils for natural hair and pick your favorite.
Benefits Of Oils For Natural Hair
Natural hair is fragile and breakage-prone. Hair oils can help protect the strands and prevent any damage. High-porosity hair tends to absorb excess moisture. Sometimes, this may cause swelling and damage the strands. Oiling prevents swelling and reduces hygral fatigue (repeated swelling and drying).
Using hair oils can (1):
Fill the gap between cuticles to prevent absorption of harmful surfactants.
Enhance shaft lubrication and prevent hair breakage.
Reduce protein loss (especially coconut oil).
Massaging the oil on the scalp improves the blood circulation thereby enhancing the nutrient delivery to the hair follicles.
In the next section, we have listed 12 oils that you can use to protect and nourish your hair. Read on to find out!
Top 12 Oils For Natural Hair
Note: Oils, especially essential oils, may trigger allergic reactions. Do a patch test before using any of them.
1. Olive Oil
Animal experiments found that olive oil could promote hair growth. It contains oleuropin, the main constituent of olive leaves and fruits, that supports the development of human follicle dermal papilla cells (cells that stimulate hair follicle formation) (2). If you have hair fall issues, you may apply olive oil to your scalp.
2. Avocado Oil
Avocado oil contains vitamins A, C, D, E, and oleic, linoleic, and linolenic acids. It keeps the skin healthy, reduces dryness, and has wound healing properties (3). These properties of avocado oil can help maintain a healthy scalp, minimize dryness, and promote healthy hair growth. It can also protect the scalp from environmental damages.
3. Sage Essential Oil
This essential oil is often used in traditional medicine as an anti-inflammatory, antiseptic, and anti-scabies agent. In a study, sage essential oil was effective against dermatophyte strains responsible for causing tinea capitis, a fungal infection of hair follicles (4). You can mix it with any hair oil to keep your scalp and hair healthy.
4. Coconut Oil
Coconut oil is considered best for protecting natural hair. It penetrates the hair shafts and reduces protein loss in both damaged and undamaged hair (1). It can help strengthen your hair, minimize breakage, and protect it from heat damage. If you are trying to grow your natural hair, use coconut oil.
5. Jojoba Oil
Jojoba oil has therapeutic benefits. It is used in skin care formulations for its moisturizing properties and promotes better absorption of topical medications. It contains wax esters that help maintain the skin barrier and manage seborrheic dermatitis, atopic dermatitis, eczema, and acne (3). Applying jojoba oil can help manage dandruff, scalp acne, and dryness to keep your scalp and hair healthy.
6. Castor Oil
Castor oil is popularly used in many hair products and is touted for its hair growth-promoting benefits. However, none of these claims are scientifically proven. It is used in traditional recipes to moisturize and nourish the hair.
7. Peppermint Essential Oil
Topical peppermint oil showed hair growth effects in animal studies. It improved dermal thickness, hair follicle numbers, and depth (5).
8. Grape Seed Oil
Grape seed contains proanthocyanidins. Animal studies found that this compound can stimulate anagen (growth phase) in the hair (6). It may also help improve the condition of your hair and scalp.
9. Rosemary Essential Oil
Rosemary is a medicinal plant and has therapeutic effects on the skin (including the scalp). A study concluded that rosemary essential oil was as effective as topical minoxidil (2%) in treating androgenic alopecia. It promotes significant hair growth. Researchers also noticed an improvement in dry hair, greasiness, and dandruff issues (7).
10. Basil Essential Oil
Dandruff can affect the scalp, cause itching and inflammation that may affect hair health. Basil essential oil has antifungal properties. It is extremely effective against Malassezia furfur and can help manage dandruff (8).
11. Lavender Essential Oil
Lavender oil is often used in aromatherapy for its soothing and de-stressing fragrance. However, it can also promote hair growth. Animal studies found that lavender oil could stimulate hair growth and improve the number of hair follicles and depth (9).
12. Tea Tree Oil
Tea tree oil is widely used in skin and hair care products for its antimicrobial and antifungal properties. It is effective against Pityrosporum ovale (Malassezia furfur) and can help manage mild to moderate dandruff (10).
You can incorporate these oils into your hair care routine in multiple ways. Use them as treatments and masks to style your hair. Here are a few tips.
How To Use Oil On Natural Hair
To use vegetable oils:
Warm a tablespoon of any oil and massage it onto your scalp and hair.
Wrap a warm towel around your head or wear a shower cap.
Leave the oil on for at least an hour or overnight before shampooing.
You can mix a few drops of any oil with your shampoo and conditioner and use them.
To use essential oils:
Mix 2-3 drops of essential oil with a tablespoon of any vegetable oil.
Apply it to your scalp and hair.
Leave it on for an hour or overnight before shampooing.
You may also apply a few drops of oil to your hair to control flyaways and add shine to your locks.
Natural hair is dry to the touch and very fragile. This hair type needs frequent moisturizing and conditioning. Hair oils for natural hair can lock the moisture in the hair and prevent hair damage. These oils also reduce protein loss, prevent hair breakage, increase shaft lubrication, and prevent the absorption of harmful substances. Olive, avocado, sage essential, coconut, jojoba, and castor oils help protect and nourish your locks. Additionally, they promote hair growth and offer a healthy shine to your mane. However, essential oils may cause allergic reactions in some people. So, do a patch test before using any of these hair oils.
Frequently Asked Questions
Is there a specific way to apply the hair oil to ensure hair growth?
Ensure to massage your scalp with oil to promote hair growth.
What precautions should you take when using essential oils?
Always dilute the oil with any carrier oil and do a patch test before using it.
Key Takeaways
Oiling hair can enhance shaft lubrication and minimize hair breakage.
You can use coconut oil, jojoba oil, castor oil, and grapeseed oil for oiling natural hair.
You can apply these oils regularly to promote hair growth and add luster to natural hair.
References:
Articles on StyleCraze are backed by verified information from peer-reviewed and academic research papers, reputed organizations, research institutions, and medical associations to ensure accuracy and relevance. Read our editorial policy to learn more.
The following two tabs change content below.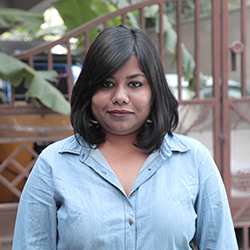 Ramona is an editor at StyleCraze. Prior to that, she authored over 200 articles on skin and hair care. She...
more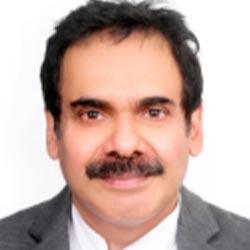 Dr. CP Thajudheen has over 20 years of experience in various lasers, light-based devices, and other advanced equipment. He was...
more