12 Best Oils For Natural Hair – Benefits And How To Use
Let these products add more life to your Type 4 mane and make it healthy.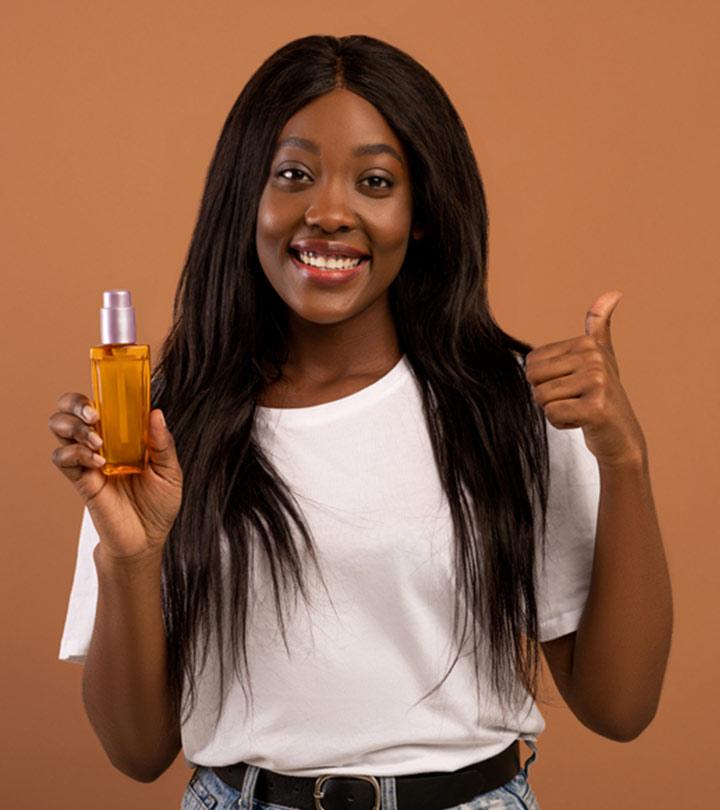 Natural hair or type 4 hair is fragile and lacks moisture. Oiling is the best way to impart hair hydration and ensure your curls are replenished and nourished. Hair oils soften the strands and penetrate deeper into the shafts to smoothen the cuticles and strengthen textured hair. They can also be used as styling products to add shine and manage frizz.
However, it is essential to opt for an oil that works for your hair type. Scroll down and check our list of the 12 best oils for natural hair and pick your favorite.
Benefits Of Oils For Natural Hair
Natural hair is fragile and breakage-prone. Hair oils can help protect the strands and prevent any damage. High-porosity hairi  XIt refers to bigger and more open gaps in cuticles (the outermost layer of hair) that allow for more absorption and help retain moisture.  tends to absorb excess moisture. Sometimes, this may cause swelling and damage the strands. Oiling prevents swelling and reduces hygral fatigue (repeated swelling and drying).
Using natural hair oils can (1):
Fill the gap between cuticles to prevent the absorption of harmful surfactants.
Enhance shaft lubrication and prevent hair breakage.
Reduce protein loss (especially coconut oil).
Massaging the oil on the scalp improves the blood circulation thereby enhancing the nutrient delivery to the hair follicles.
In the next section, we have listed 12 oils that you can use for hair nourishment and protection. Read on to find out!
Top 12 Oils For Natural Hair
Note: Oils, especially essential oils, may trigger allergic reactions. Do a patch test before using any of them.
1. Olive Oil
Animal experiments found that olive oil could promote hair growth. It contains oleuropein, the main constituent of olive leaves and fruits, that supports the development of human follicle dermal papilla cells (cells that stimulate hair follicle formation) (2). If you have hair fall issues, you may apply olive oil to your scalp.
2. Avocado Oil
Avocado oil contains vitamins A, C, D, E, and oleic, linoleic, and linolenic acids. It keeps the skin healthy, reduces dryness, and has wound-healing properties (3). These properties of avocado oil can help in scalp and hair maintenance, minimize dryness, and promote healthy hair growth. It can also protect the scalp from environmental damage.
3. Sage Essential Oil
This essential oil is often used in traditional medicine as an anti-inflammatory, antiseptic, and anti-scabies agent. In a study, sage essential oil was effective against dermatophyte strains responsible for causing tinea capitis, a fungal infection of hair follicles (4). You can mix it with any hair oil to keep your scalp and hair healthy.
4. Coconut Oil
Coconut oil is considered best for protecting natural hair. It penetrates the hair shafts and reduces protein loss in both damaged and undamaged hair (1). It can improve hair strength, minimize breakage, and offer protection from heat damage. If you are trying to grow your natural hair, use coconut oil.
5. Jojoba Oil
Jojoba oil has therapeutic benefits. It is used in skin care formulations for its moisturizing properties and promotes better absorption of topical medications. It contains wax esters that help maintain the skin barrier and manage seborrheic dermatitisi  XA common skin disease that is also referred to as seborrheic eczema. It causes inflamed, scaly patches on the scalp. , atopic dermatitisi  XAlso referred to as eczema, it is a skin condition common in children that causes itchy rashes and inflammation on the body. , eczema, and acne (3). Applying jojoba oil can help manage dandruff, scalp acne, and dryness to keep your scalp and hair healthy.
6. Castor Oil
Castor oil is popularly used in many hair products and is touted for its hair growth-promoting benefits. However, none of these claims are scientifically proven. It is used in traditional recipes to moisturize and nourish the hair.
7. Peppermint Essential Oil
Topical peppermint oil showed hair growth effects in animal studies. It improved dermal thickness, hair follicle numbers, and depth (5).
8. Grape Seed Oil
Grape seed contains proanthocyanidins. Animal studies found that this compound can stimulate anagen (growth phase) in the hair (6). It may also help improve the condition of your hair and scalp.
9. Rosemary Essential Oil
Rosemary is a medicinal plant and has therapeutic effects on the skin (including the scalp). A study concluded that rosemary essential oil was as effective as topical minoxidil (2%) in treating androgenic alopeciai  XA common hair loss condition due to excessive androgens in the body. Also known as male or female pattern baldness. . It promotes significant hair growth. Researchers also noticed an improvement in dry hair, greasiness, and dandruff issues (7).
10. Basil Essential Oil
Dandruff can affect the scalp, cause itching and inflammation that may affect hair health. Basil essential oil has antifungal properties. It is extremely effective against Malassezia furfur and can help manage dandruff (8).
11. Lavender Essential Oil
Lavender oil is often used in aromatherapy for its soothing and de-stressing fragrance. However, it can also promote hair growth. Animal studies found that lavender oil could stimulate hair growth and improve the number of hair follicles and depth (9).
12. Tea Tree Oil
Tea tree oil is widely used in skin and hair care products for its antimicrobial and antifungal properties. It is effective against Pityrosporum ovale (Malassezia furfur) and can help manage mild to moderate dandruff (10).


Quick Tip
Tea tree oil is also effective against head lice (
11
). Apply it to your scalp and wear a shower cap overnight. Brush your hair and shampoo the following day.
You can incorporate these oils into your hair care routine in multiple ways. Use them as hair treatments and masks to style your curls. Here are a few tips.
According to a study conducted on 327 patients diagnosed with androgenic alopecia, regular scalp massages proved to be helpful in stimulating new hair regrowth. Daily 11 to 20 minutes of massage for 6 to 7 months ensured about 68.9% stabilization of hair loss or hair regrowth. The improvement was mainly noticeable after 36.3 hours of successful scalp massaging.
How To Use Oil On Natural Hair
To use vegetable oils:
Warm a tablespoon of any oil and massage it onto your scalp and hair.
Wrap a warm towel around your head or wear a shower cap.
Leave the oil on for at least an hour or overnight before shampooing.
You can mix a few drops of any oil with your shampoo and conditioner and use them.
To use essential oils:
Mix 2-3 drops of essential oil with a tablespoon of any vegetable oil.
Apply it to your scalp and hair.
Leave it on for an hour or overnight before shampooing.

Quick Tip
Wear a plastic shower cap if you use overnight oil hair masks. This will prevent stains on pillowcases and bedsheets.
You may also use a few drops of oil to control flyaways and enhance hair shine.
Infographic: 5 Hair Oils For Natural Hair
Oiling is the best way to nourish and replenish your natural or type 4 hair. Hair oils provide softness to the hair strands and penetrate deep into the hair shafts, smoothening the cuticles and strengthening hair. However, it is essential to pick an oil that suits your hair type. Check the infographic below to find out about oils for natural hair.



Natural hair is dry to the touch and very fragile. This hair type needs frequent moisturizing and conditioning. Hair oils for natural hair can lock the moisture in the hair and prevent hair damage. These oils also reduce protein loss, prevent hair breakage, increase shaft lubrication, and prevent the absorption of harmful substances. Olive, avocado, sage essential, coconut, jojoba, and castor oils help protect and nourish your locks. Additionally, they promote hair growth and offer a healthy shine to your mane. However, essential oils may cause allergic reactions in some people. So, do a patch test before using any of these hair oils.
Frequently Asked Questions
Is there a specific way to apply the hair oil to ensure hair growth?
Ensure to massage your scalp with oil to promote hair growth.
What precautions should you take when using essential oils?
Always dilute the oil with any carrier oil and do a patch test before using it.
What oil absorbs best in hair?
Coconut oil, sunflower oil, and olive oil are absorbed well by hair as compared to mineral oils (12).
How often should I oil my hair?
It is enough to oil your hair once or twice a week, unless your scalp is very dry and you have not oiled your hair in a long time. In case of the latter, you may oil your hair more frequently for a week or so. Any more than that may lead to a greasy and dirty scalp.
Should I apply oil to wet hair?
You can apply oil to both wet and dry hair. However, you need to be gentle while applying oil to wet hair as the strands are more susceptible to damage and breakage when wet.
Can you mix oils for hair?
Yes, you can mix different carrier oils and essential oils together to create oil blends suited for your hair condition. Some popular combinations are coconut oil and olive oil, coconut oil and castor oil, and olive oil and tea tree oil.
Key Takeaways
Oiling hair can enhance shaft lubrication and minimize hair breakage.
You can use coconut oil, jojoba oil, castor oil, and grapeseed oil for oiling natural hair.
You can apply these oils regularly to promote hair growth and add luster to natural hair.
Hydrate and tame your messy curls with simple, natural ingredients. Check out this video to know the different oils you can incorporate into your hair care routine to give you beautiful and luscious locks.
Sources
Articles on StyleCraze are backed by verified information from peer-reviewed and academic research papers, reputed organizations, research institutions, and medical associations to ensure accuracy and relevance. Read our editorial policy to learn more.
The following two tabs change content below.