Rose Water For Skin: Benefits, How To Use, And Side Effects
Explore the advantages of using a natural fragrant toner in your beauty routine.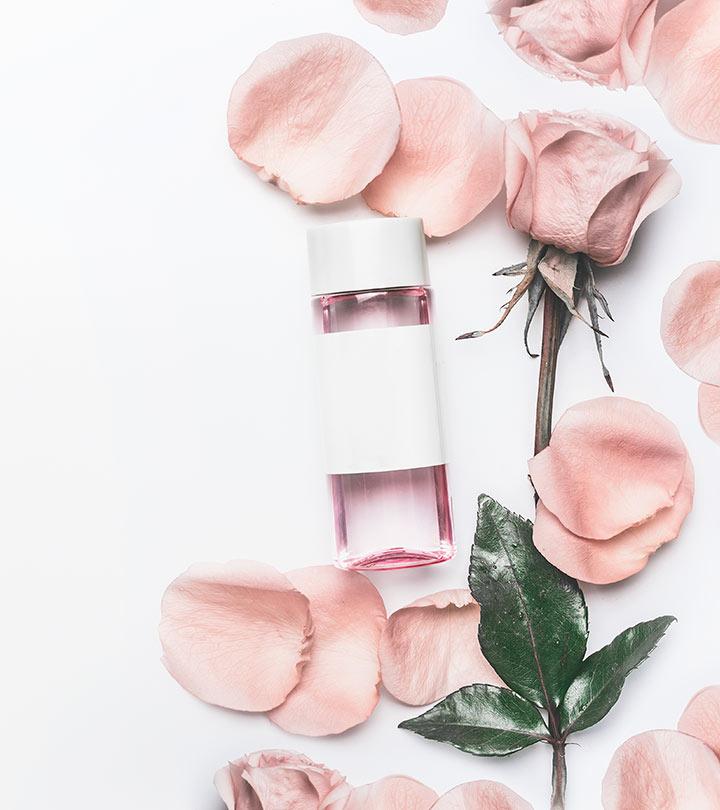 Rose water soothes the skin while also keeping it moisturized, lovely, and vibrant. It may, however, have certain negative side effects. Regardless, many women all over the world use rose water for skin care. Before using rose water on your face or skin, read this article to learn everything you need to know about its advantages and potential adverse effects. Keep reading to know more!
What Is Rose Water?
Rosewater is fragrant water prepared by steeping or steaming rose petals (1). Traditionally, this popular ingredient has been used in cosmetic formulations, Middle Eastern cuisine, medicine, and perfumes because of its pleasant fragrance. Rosewater contains about 10%-50% of rose oil, one of the major by-products obtained by distilling rose flowers. It has anti-inflammatory, antimicrobial, anti-anxiety, and antioxidant properties (1).


Trivia
Rosa damascena, also known as the Damask rose or Gole Mohammadi, is one of the most fragrant rose varieties used to make rose water and essential oils.
There are several benefits of using rose water for the skin. Keep reading to learn some of the best rose water benefits for the skin.
Benefits Of Rose Water For The Skin And Face
Many people use rosewater for face care as it may help provide the following benefits:
Let us find out how to use rose water and reap all its benefits.
How To Use Rose Water For Skin And Face
1. Rose Water Toner
Rosewater is often used as a toner to reduce puffiness of the eyes (cotton pads soaked in cold rose water), soothe sunburns, and keep the skin hydrated.
You Will Need
A few strands of saffron
½ cup of rose water
A bottle
Process
Soak the saffron strands in half a cup of rose water.
Store the mixture in a bottle.
Saturate a cotton pad with the mixture and dab it on your cleansed face.
Let the rose water dry.
This combination may help brighten your skin. This works for all skin types. However, you may customize it accordingly. Here is how.
DIY Toners For Different Skin Types
Dry Skin: Mix 5 ml of glycerin and 30 ml of rose water.
Combination Skin: Mix 5 ml of glycerin, 5 ml of apple cider vinegar, and 30 ml of rose water.
Oily Skin: Mix 5 ml of apple cider vinegar and 50 ml of rose water.
2. Rose Water For Healthy Skin
Sandalwood oil was found to have therapeutic benefits, along with anti-inflammatory and antioxidant properties (5). This popular remedy can soothe the skin and may help with uneven skin tone.
You Will Need
2 tablespoons of sandalwood powder
2 tablespoons of rose water
Process
Mix the rose water and sandalwood powder to make a thick paste.
Spread this mixture evenly on your face.
Let it dry for 10-15 minutes.
Rinse with lukewarm water.
3. Rose Water For Acne-Prone Skin
Witch hazel has potent anti-inflammatory properties. It is rich in salicylic acid that can soothe acne lesions (6). This recipe can tone oily skin and improve the appearance of skin pores.
You Will Need
1 tablespoon of witch hazel
1 tablespoon of rose water
Process
Combine the witch hazel and rose water.
Apply this solution to the acne lesions.
Leave it on for 10-15 minutes.
Rinse with lukewarm water.
4. Rose Water And Aloe Vera Mask For Dry Skin
This gentle face mask helps soothe your skin and prevent inflammation. Aloe vera gel is an excellent ingredient that helps reduce inflammation. It also has antibacterial and moisturizing properties (7).
You Will Need
1 tablespoon of aloe vera gel
1 tablespoon of rose water
Process
Combine both the ingredients.
Apply the mixture to your face like a face pack.
Leave it on for 20 minutes and wash it off.
5. Rose Water And Cucumber Mask For Sensitive Skin
Cucumber feels extremely cooling on the skin and has a refreshing effect (8). This face mask can help soothe sensitive skin.
You Will Need
1 tablespoon of grated cucumber
2 tablespoons of rose water
Process
Blend the grated cucumber and rose water.
Apply this mask to your face.
Leave it on for 15 minutes before washing it off.
6. Rose Water And Honey Face Mask For Hydration
Honey has hydrating properties that help seal moisture in your skin (9). In combination with rose water, honey makes for an excellent hydrating solution for dry skin.
You Will Need
1 tablespoon of honey
2 tablespoons of rose water
1 tablespoon of aloe vera
Process
Mix all the ingredients.
Apply this mixture to your face like a mask.
Leave it on for 10 -15 minutes.
Rinse it off with cold water.
7. Rose Water And Basil Mask For Sunburns And Rashes
The holy basil-rose water mixture has excellent cooling properties. Holy basil also has antibacterial and antifungal properties (10). This solution helps calm your skin, soothe sunburns, and heal red and itchy patches.
You Will Need
10-15 holy basil
200 ml of rose water
Process
Crush the holy basil (tulsi) leaves and mix with rose water.
Strain the mixture and store it into a spray bottle and refrigerate.
Spray the mixture onto the affected areas.
8. Rose Water Mist
Rose water mist gently hydrates your skin, making it ideal for a quick revitalizing spritz. Its delicate scent may help relax and refresh you.
You Will Need
1 cup fresh organic rose petals
2 cups distilled water
Pot with lid
Heat-resistant bowl
Ice cubes
Empty spray bottle
Process
Rinse the fresh rose petals and place them in the pot.
Pour the distilled water over the petals, cover the pot with a lid, and let it simmer for 20-30 minutes.
Fill a bowl with ice and set it on the pot to collect the condensing rose water steam.
Transfer the collected rose water into a spray bottle using a funnel.
Store it in the fridge and use it as a refreshing facial or body mist.
These are a few ways to use rose water for your skin. However, it is better to avoid commercial rose water brands as they may contain preservatives and additives that may irritate the skin. Hence, it is best to prepare rose water at home. Find out how in the next section.
How To Make Rose Water At Home: DIY Recipe
Here's the simplest way to make rose water using the simmering method.
You Will Need
Petals of 10 roses
2 liters of distilled water
Process
Wash the rose petals with lukewarm water.
Put the petals in a large pot and add enough distilled water to completely soak them.
Cover the pot and simmer the water on low heat until the petals have lost their color.
Strain the liquid and discard the petals.
Store the rose water in a glass jar.
Although rose water is considered safe for the skin, you may experience certain side effects.
Side Effects Of Rose Water
There are several rose water uses but it is not without its disadvantages. There aren't any significant side effects of rose water. However, it contains rose essential oil, which may cause allergies in some people. Hence, it is better to do a patch test before you use rose water. If you are sensitive to rose water, you may experience:
Itching
Burning
Stinging
Redness or rashes
These are signs of an allergic reaction. In such cases, consult a dermatologist immediately.


Fun Fact
Iran boasts 90% of the total rose water production in the world.
Infographic: Surprising Uses Of Rose Water
Everyone knows what rose water is and how beneficial it is for the skin. It is mostly used as a beauty product and a skin care ingredient. But, beyond the normal beauty routine, this natural ingredient has a variety of other applications, and if you have it at home, you should be aware of them.
We have compiled a list of some lesser-known uses of rose water that you can check out in the infographic below. Keep scrolling!



Rosewater is regularly used by women in Middle Eastern countries for cooking and skincare. Rose oil is a major component of rose water and its anti-inflammatory and antimicrobial properties make it ideal for reducing acne. Using rose water for your face may also maintain your skin's pH levels, hydrate your skin and give you glowing, healthy, and rejuvenating skin. Rosewater can be used along with aloe vera or cucumber to have anti-aging effects and soothe and hydrate sensitive or dry skin. It is recommended that you perform a patch test before using rose water as it may cause an allergic reaction.
Frequently Asked Questions
How many times can you use rose water on your face a day?
You can apply rose water twice a day as a toner or moisturizer to keep your skin hydrated and soft.
Can we apply rose water on our face overnight daily?
Yes, you can. You can massage rose water on your face gently and leave it overnight daily to obtain soft and glowing skin.
What is the best time to use rose water?
There is no specific time to use rose water. You can apply rose water after washing your face in the morning or before going to bed at night.
Can rose water remove dark spots?
There are currently no studies that suggest that rose water can remove dark spots. However, anecdotal evidence suggests that regular application of rose water with other ingredients like lemon juice may lighten dark spots gradually over time.
Does rose water lighten skin?
There are currently no studies that suggest that rose water can lighten your skin. However, skincare enthusiasts believe that using a face mask combined with rose water and potato juice may lighten your skin over time.
Which rosewater is best?
Natural homemade rosewater is, without a doubt, the best for your skin.
Can I use rose water as sunscreen?
No, rose water cannot be used as sunscreen. It is ideal to use rosewater as a face mist in the morning before applying vitamin C and sunscreen. Also, it is not recommended to use rose water after applying sunscreen.
Which is better: rose water or toner?
Both provide similar advantages to the skin and can be a part of your skin care routine. That said, rose water is a natural toner free of toxic chemicals and is better for sensitive skin.
Does rose water cause pimples?
No, rose water is a natural toner that keeps your pores clean, eliminates excess oil, and shrinks pimples.
Key Takeaways
Rose water acts as a natural astringent and helps in tightening pores and controls excess oil production.
Rose water moisturizes the skin, and it also has anti-inflammatory properties, which reduce redness and even soothe sunburns.
Being rich in antioxidants, it improves signs of aging.
Anti-microbial properties of rose water also helps reduce acne and aids in wound healing.
Rose water can be used in different ways as a toner, make-up setting spray, or as part of face masks as it revives and brightens the skin.

Wake up to beautiful skin in the morning! Check out the video below to discover the amazing benefits of rose water and learn how to use it at night for a glowing complexion!

Sources
Articles on StyleCraze are backed by verified information from peer-reviewed and academic research papers, reputed organizations, research institutions, and medical associations to ensure accuracy and relevance. Read our editorial policy to learn more.
The following two tabs change content below.