Rose Water Benefits – How to Use it for Face and Skin + Side Effects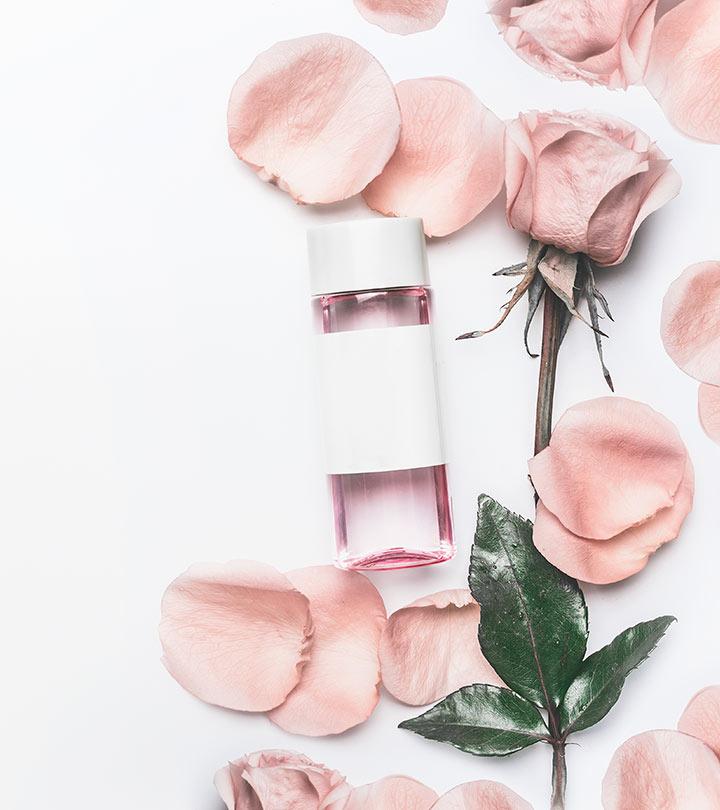 It is easy to get lost in the heavenly fragrance of rose water. This amazing ingredient is a staple in most skincare routines. Its use dates back to the period when Cleopatra used it in her beauty regimen.
Rosewater offers numerous benefits for the skin and is usually known to be harmless. However, it may also cause some adverse skin reactions. In this article, we have discussed everything you should know about rose water benefits, including the risks before you use it on your face and skin.
What Is Rose Water, And What Are The Other Forms?
Rosewater is fragrant water that is prepared by steeping or steaming rose petals. For long, it has been used for skincare benefits, flavoring food, and in perfumes. The usage and origin of rosewater date back to the middle ages. The Middle Eastern people (specifically, Iranians) used rose water for medicinal purposes apart from culinary and beauty benefits. Traditionally, the Damask rose (or Rosa Damascena) is used for preparing rose water, and there are several by-products of this process (1).
Rosewater contains about 10%-50% of rose oil, which is one of its major by-products, obtained by distilling rose flowers. Since R. Damascena has very low oil content, rose oil extracted from this species of rose is among the most expensive essential oils in the world (1).
The dried rose flowers or petals are other by-products and are mainly used for eating. They are said to help manage digestive issues (1). The other products include rose hips (the fruit of the rose flower), hydrosol, absolute, ethanolic, aqueous, and chloroformic extracts of the flower (1).
There are several benefits of using rose water.
Benefits Of Rose Water For Face and Skin
1. Contains Antioxidants
Damascena has antioxidant properties. The extracts of the petals of this rose and the essential oil derived from it have free-radical scavenging properties (1).
[ Read: Benefits Of Rose Water ]
2. Helps To Ease Redness
A pre-feasibility report on rose water states that rose oil and rose water have an astringent effect on the blood capillaries closer to the skin surface. Applying rose water helps ease redness caused by the enlarged capillaries (2). However, you have to make sure that the product contains pure and natural oil.
3. Has Anti-inflammatory Effects
A study evaluated the effect of essential oil and hydroalcoholic extract of Rosa damascena on rat paw edema. It found that the essential oil had no anti-inflammatory effect. However, the study stated that the anti-inflammatory and antioxidant effect of R. Damascena (mainly its extracts) could be attributed to vitamin C (13) present in it (1).
4. Has Antimicrobial Effects
Rose essential oil has an antimicrobial effect. A study found that the essential oil and absolute had a strong antibacterial effect against strains of S. Aureus (cause acne), E. Coli, C. Violaceum, and several other bacteria (1). Since rose water also contains rose oil, it may help in keeping your skin healthy.
Other than these benefits, rose water is considered to be incredibly soothing and refreshing for the skin, helps in maintaining the skin's pH balance and slows aging. People often use rose water as a toner and to reduce puffiness of eyes (cotton pads soaked in cold rose water), soothe sunburn, and keep the skin hydrated.
Although rose water is considered safe for the skin, you may experience certain side effects.
Are There Any Side Effects Of Rose Water?
There aren't any significant side effects of rose water. However, since it contains rose essential oil, some people may be allergic to it. Hence, it is better to do a patch test before you use rose water. In case you are sensitive to rose water, you may experience symptoms, such as:
itching
burning
stinging
redness or rashes
These are mostly the signs of an allergic reaction, and in such cases, you should consult a dermatologist immediately.
If you are not allergic to rose water, there are several ways to use it for your skin.
How To Use Rose Water For Your Face and Skin
1. Rose Water As A Toner
Soak a couple of saffron strands in half a cup of rose water and store the mixture in a bottle. Saturate a cotton pad with the mixture and dab it onto your cleansed face. Let the rose water dry. This combination may help brighten your skin.
If you have dry skin, you can also add 5 ml of glycerin to 30 ml of rose water. For combination skin, add 5 ml of glycerin and apple cider vinegar each to 30 ml of rose water. For oily skin, combine 5 ml of apple cider vinegar with 50 ml of rose water.
2. Rose Water For Sunburns And Rashes
Crush 10-15 holy basil (tulsi) leaves and add 200 ml of rose water to it. Pour the mixture into a spray bottle and refrigerate for a couple of hours. Spray the mixture onto the affected areas.
This holy basil-rose water mixture has excellent cooling properties. Holy basil also has antibacterial and antifungal properties (3). This solution helps calm your skin, soothing sunburns, and healing red and itchy patches of skin.
3. Rose Water As A Lip Stain
Chop a beetroot into small pieces and place them in the oven at 60°C for 8-10 hours until there's no moisture and then grind them to a powder. Add a teaspoon of rose water to the powder and mix well until you get a thick paste. Apply the paste to your lips and leave it on for about 15 minutes. Wash the paste off.
Not only does this pack add a beautiful pink tint to your lips, but it also makes them super soft. If you don't like using cosmetics, this natural treatment is an amazing way to add some color to your lips.
4. Rose Water As A Moisturizer
Mix a tablespoon of cold-pressed or virgin coconut oil (solid) with 3 tablespoons of rose water. Take a small amount of the mixture and massage this onto your skin.
This mixture is one of the best natural moisturizers. Coconut oil helps hydrate your skin and protect the skin barrier (4). Rosewater makes your skin feel refreshed. If you have extremely dry skin, this mixture will hydrate it in no time. However, if you have oily skin, avoid using coconut oil.
5. Rose Water As A Cleanser
If you prefer natural DIY cleanser, try this recipe. Mix a cup of rose water with 2 tablespoons of Castille soap. You may squeeze a vitamin E capsule into it if you want. Use it as a face wash or cleanser.
6. Rose Water For Acne
Mix a teaspoon of diluted lemon juice and a teaspoon rose water. Apply the mixture to the acne-affected areas. Leave it on for about 15 minutes and then wash it off.
Lemon contains vitamin C and has an exfoliating effect on your skin. In combination with rose water, it helps manage and soothe acne. Rose oil (also present in rose water) has antimicrobial effects, so it may help reduce acne inflammation.
7. Multani Mitti And Rose Water For Exfoliation
Multani mitti is widely used as an exfoliating agent. This face pack can help clear your skin and brighten it. Mix 1 tablespoon of Multani mitti with 2 tablespoons of rose water and apply it to your face. Gently massage your face for a couple of minutes and let the mask dry. Wash it off.
8. Honey And Rose Water For Hydration
Mix 3 tablespoons of rose water with 2 tablespoons of honey. Apply this mixture to your face like a mask. Leave it on for 15 minutes and then wash it off with cold water.
Honey has hydrating properties that help seal moisture in your skin (5). In combination with rose water, honey makes for an excellent hydrating solution for dry skin.
9. Cucumber And Rose Water Refreshing Face Mask
If you have sensitive skin, this face mask will soothe it. Cucumber feels extremely cooling on the skin and has a refreshing effect. Extract the juice of half a cucumber and blend it with 2 tablespoons of honey and 1 tablespoon of rose water. Apply this mask to your face and leave it on for about 15 minutes before washing off.
10. Aloe Vera And Rose Water For Inflammation
This face pack helps to soothe your skin and prevent inflammation. Combine a tablespoon each of rose water and aloe vera. Apply this mixture to your face like a face pack. Leave it on for 20 minutes and then wash it off. Aloe vera gel is an excellent skincare ingredient that helps reduce inflammation. It also has antibacterial properties (6).
11. Besan And Rose Water Face Mask
Besan or gram flour is a staple ingredient in most Indian households and is widely used in home-made face packs for its brightening and exfoliating benefits. In combination with rose water, it makes for the perfect face mask that helps keep your skin healthy. Mix a tablespoon of gram flour with rose water and massage it on your face. Let it dry and then wash it off.
12. Sandalwood And Rose Water For Healthy Skin
Sandalwood powder is used as a popular home remedy for soothing the skin. Mix 2 tablespoons of sandalwood powder with 3-4 tablespoons of rose water and make a paste. Spread it on your skin and wash it off after it dries.
Sandalwood oil was found to have therapeutic benefits, along with anti-inflammatory and antioxidant properties (7).
Rosewater is an extremely popular ingredient and is preferred by women of all ages as their go-to solution for irritated skin. You may follow these recipes and let us know how they worked for you. But always do a patch test before using rose water.
7 sources
Stylecraze has strict sourcing guidelines and relies on peer-reviewed studies, academic research institutions, and medical associations. We avoid using tertiary references. You can learn more about how we ensure our content is accurate and current by reading our
editorial policy
.
Recommended Articles:
The following two tabs change content below.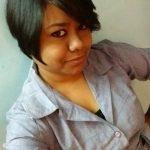 Latest posts by Ramona Sinha (see all)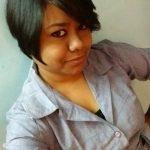 Ramona Sinha
Ramona has a Master's degree in English Literature. She believes that beauty begins with a good skin care regimen and is on a mission to eliminate all toxins from her routine. She helps readers select products and ingredients specific to their skin type and gives out tips to keep their skin healthy in a natural way. When Ramona is not working or experimenting with a new skin care product or ingredient, her books and a passion for music, good food, and traveling keep her busy.