9 Stunning Makeup Ideas You Can Try With Your Red Dress
Flirt with different elegant and quirky looks to take your dress' appeal up a notch.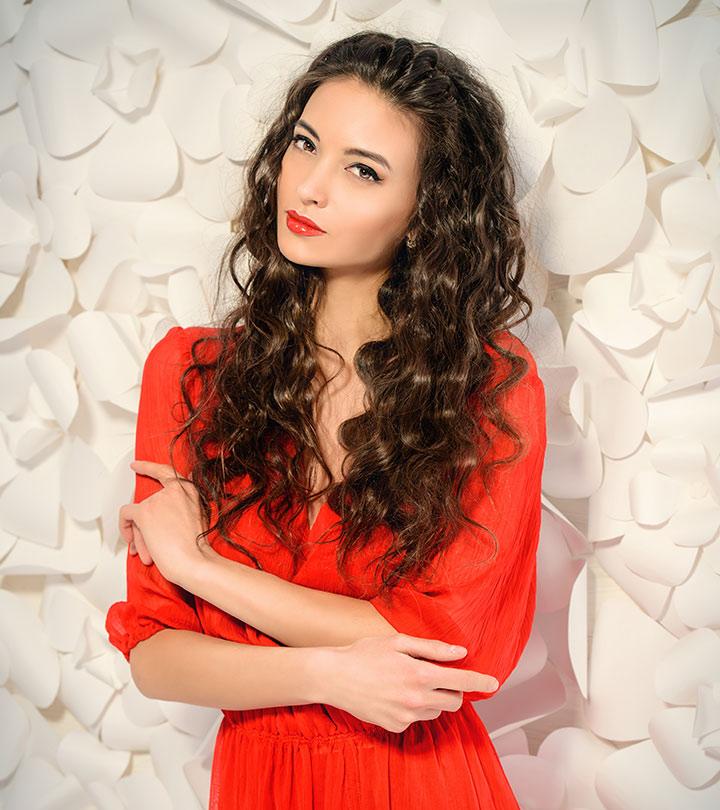 Stiletto heels, a red dress, and the right makeup to match! We understand if you've been scouring Google for the best makeup for a red dress. Choosing the correct makeup to go with such a gorgeous outfit can be stressful. With one misstep, your entire look can shift from sultry to a freak show. However, there is no one-size-fits-all approach to wearing a red dress with panache. Here are a few makeup tips for your red dress. Keep reading!


Keep In Mind
Daytime Eye Makeup: Daytime Eye Makeup Avoid wearing a dark eyeshadow shade. Opt for a natural matte eyeshadow or apply rosy blush powder to the eyelids to complete the look.
Keep It Minimal: Daytime Eye Makeup Always wear nude makeup with your red dress for more pop. Use a light and natural foundation or a tinted moisturizer to avoid looking gaudy.
The Old School Look: Daytime Eye Makeup Choose a natural foundation and a creamy natural eyeshadow for this look. Apply gel eyeliner, to create the perfectly winged effect, and mascara to your lashes. Wear a bold red lipstick to seal the look.
For The Lips: Daytime Eye Makeup Go for nude and lighter lipstick shades and tinted lip glosses to highlight the eyes. Opt for bold reds that match your outfit to accentuate the lips.
Makeup For Red Dress
1. Nude Glow On Red
As the red dress is a bright and flashy part of your look, you need to pick one focal point from the rest of your look. If you highlight every single feature, you will lose elegance and look gaudy. One look that many celebrities have adopted on red carpets along with their red dresses is the nude glow. You do not put any embellishments on your face, but your entire skin serves as a focal point by exuding a sort of nude, bronzed glow. For this look, apply a tinted moisturizer instead of foundation. Foundation robs your skin of a fresh and natural look. Apply mineral glow powder on your face. For glowing cheeks, apply powder blush shimmer followed by bronzing powder on the apples instead of under the cheekbones. Natural, matte eyeshadow, kohl pencil and black mascara are all you need for your eyes. Use a sheer lip gloss or nude lipstick to complete the look.
2. Red On Red For Night And Day
Wearing red lipstick with the red dress is a classic combination, but you have to be confident to pull it off. Along the same lines, A blogger who styled a red dress with red lips and pumps thought that this combination was feminine. Talking about her look she said, "This outfit is a perfect for a sunny morning. (i)." The blogger was of the view that a solid red dress is a highly versatile piece of clothing as it is easy to style and mix and match with accessories, and footwear.
Also, if you are preparing for a nighttime party, you can go along with this bold look. Start with a foundation base and use a very light blush on the apples of your cheeks. You can do your eyes with bold eyeliner. Wing tipped eyeliner, and fluffy, fake eyelashes work well with this look. But do not put on dark red eyeshadow, red highlighter, and red eyeliner. Skip shadow altogether, or if you want, you can try a natural, shimmer shadow. Now for your lipstick, wear the same red as your dress or at least of the same family and warmth. Any other red would clash and ruin your look. Top it with a gloss.
For daytime, you can tone down the look by replacing the gel liner with a soft brown pencil liner. Ditch the shimmer eye shadow and apply rosy red blush powder. The lipstick should be red and similar to the dress.


Quick Tip
If you have a light skin tone, go for blue-based red lipsticks. For warm undertones, red lipsticks with orange or gold undertones are perfect.
3. Old School Glam Look
The old school Hollywood glamour can be captured with a red dress and this makeup. To start with, apply concealer and foundation evenly on your face and blend well. Seal it with a translucent powder. Now for the eyes, using a cream eyeshadow of a natural tone, rub over your eyelids. Next, use gel eyeliner to create a defined line that starts out thin on the inner corner of your eye and ends thick and wing-tipped on the outer edge. Winging eyeliner is an art that cannot be mastered in a day. Practice a few times beforehand to perfect your technique. Finally, use mascara to add volume to your eyelashes. For your lips, this look requires red. You can wear bold red lipsticks. Or if you are unsure, you can use sheer red lip gloss or lip tint.
4. Smokey Eyes
Although many are afraid of creating theatrical eyes because they may clash with a red dress, if you are careful, smokey eyes go really well with the drama of red dress. For nighttime events, especially, the pairing of smokey eyes and red dress is very inviting. However, you must remember that your eyes are the focal point now, so your face and lips must take a backseat. So apply a very thin coat of BB cream (a tinted moisturizer would do). A peach, pink shimmer on the apples of your cheeks would add to the nude face. Red bronzer is not necessary. But if the foundation makes your face seem pale, add a dusting of bronze powder for a healthy color. For the eyes, start with concealer on the lids to help the eyeshadow stick to it. With  a pencil liner, trace thick lines around your eyes. Use mascara to add volume to your lashes. Now trace the pencil lines with gel eyeliner for defined lines. Finally, brush metallic eye shadow on your lids. Instead of cream-based shadow, opt for two coats of powder shadow. For your lips, a nude shade of lipstick or lip gloss should suffice.
5. Fun And Flirty
You don't always have to look drop-dead gorgeous in a red dress. It can be donned in a casual and fun look. For this look, start with a tinted moisturizer. On your eyes, apply eyeshadow of a neutral color. Use a pencil liner to draw a thin line above your eyes and blend with the shadow using your finger. Your eye makeup needs to be minimal, but you must have fake eyelashes for this look. The simpering, doe-eyes look is captured by voluminous eyelashes. Curl your fake lashes and use mascara to fluff them up and untangle the clumps. Do your cheeks with a little bit of color on the cheekbones, but do not highlight. A tinted lip gloss is enough for your lips. You can also apply sheer, pink lipstick or shimmer.
6. Lips And Nails
Although for the glamorous, classic look, you can opt for a red lipstick, it is generally best to wear lighter shades that are closer to your natural one. A tinted lip gloss is the best option to avoid color clashing. For your nails, don't try to match colors with your dress. Just a French manicure would do fine. If you wear nail polish, do not go for red nail polish but rather opt for nude colors.

Quick Tip
Go for lipsticks with a satin-like or creamy texture instead of matte formula to avoid dryness.
7. Hair
For your hair, keep it simple. Do not go for tight curls or an elaborate hairdo. Slightly curled tresses that fall on your shoulders perfectly frame your face without taking the focus away from your makeup.
8. Skin
A red gown can easily emphasize the ruddiness and other imperfections of your skin, so do not hesitate to spend on a good base such as a branded color correcting foundation to mask blemishes. On the other hand, if you have clear skin, you do not have much to worry about. A tinted moisturizer is all you need.
9. Highlight Eyes Or Lips, But Never Both
A standing rule to looking good in a color like red is to steer clear from heavy makeup. You will look overdone and cheap if you get generous with bold colors. On the other hand, no makeup at all too can leave you looking dull and washed out. So, highlight either your eyes or lips, for that classic, elegant look!
Infographic: 3 Most Flattering Makeup Looks To Pair With Your Red Dress
Choosing the perfect makeup to complement your red outfit is fun, but it is also challenging. If you are planning to wear a red dress to a party or a wedding this season, try a look that matches your personality and creates a flawless impression. If you are on the lookout for ideas, look no further! In the infographic below, we have listed the 3 most flattering makeup ideas to pair with your gorgeous red dress. Check them out!


A red dress can certainly create magic. But the makeup needs to be done carefully when you wear one. So, choose your look depending on the time you are wearing it and the occasion you are wearing it for. This step is important as you do not want to look out of place. Once this is sorted, you can try out the tips and tricks on doing the right kind of makeup for a red dress and get started to look like the showstopper like you have always wanted.
Frequently Asked Questions
What color jewelry do you wear with a red dress?
It is best to choose the pieces that complement the bold hue of the red dress. Gold jewelry like gold hoop earrings or a bangle create a classic warm look. For a more contemporary look, pair your red dress with an edgy silver necklace or metallic hues or copper, or brass. Diamonds and pearls can be worn for a look that boasts timeless versatility.
Should I use lip gloss or lipstick with a red dress?
It depends on your entire makeup look and the occasion. For formal occasions, lipstick is a better choice as it provides the long-lasting and bold color. If you are planning to accentuate your eyes, a lighter hue of lipstick is preferred with lip gloss. For nude makeup, wear lipstick of the same color as your dress or one shade different.
Is there a specific type of mascara that works best with a red dress?
Darker mascara shades like black, brown, and deep green go well with a red dress. Make sure the shade pairs well with your overall makeup look.
What type of contouring should I use for a red dress?
Warm shades of gold, bronze, and copper hues pair exceptionally with a red outfit. Contour your cheekbones and nose subtly so they don't look too harsh. Creating a soft glam look with glossy lips and nude eye makeup to look elegant and complement the boldness of bright red.
Key Takeaways
A timeless choice to wear with a red dress is a basic red lip for that extra flair.
A metallic smoky eye can add to the red dress and enhance a night-time look.
A balanced and more casual look can include a sheer lip or pink lip tint, neutral eyes and dramatic lashes with a generous use of mascara.
Add dimension by highlighting the cheekbones with a blush, highlighter, and bronzer and winged eyeliner to enhance the look.
Learn how to look stunning in your red dress with this makeup tutorial video! Create a glamorous look that will make you stand out in the crowd.
Personal Experience: Source
i. Styling The Red Dress Look
https://shopaholicadventures.wordpress.com/2017/06/08/styling-the-red-dress-look/
The following two tabs change content below.