18 Amazing Uses Of Valor Essential Oil
Lose yourself in the enchanting aroma of valor and forget your anxieties and stresses.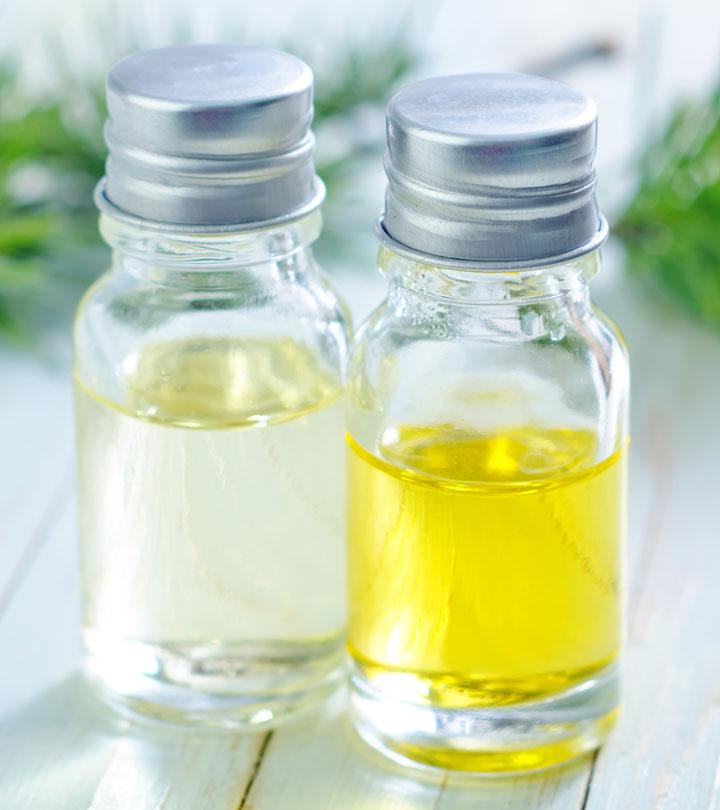 A recent product that has gained global popularity, valor essential oil benefits your health in various ways. Made from a combination of rosewood, tansy, frankincense, and sprucewood oil, this oil can be used in aromatherapy to relieve stress, induce sleep, help with anxiety, and relax the body. In this article, we will take a look at the several ways valor essential oil benefits your health, its uses in daily life, and a few pointers to keep in mind before using it.

Know Your Ingredient: Valor Essential Oil
What Is It?
A mixture of oil derived from rosewood, tansy, frankincense, and spruce wood with a woody aroma.
What Are Its Benefits?
Its topical application may help ease anxiety and stress and alleviate body pain.
Who Can Use It?
Anybody can use it except people allergic to the key ingredients in the oil.
How Often?
It can be used 2-3 times a week for topical application and 3 times per day in a diffuser.
Caution
Avoid using this oil if you are pregnant or breastfeeding and keep it away from children.
Valor Essential Oil – A Brief
So, what is valor essential oil?
It might be interesting to know that this particular oil isn't standalone. It is made from a blend of other essential oils like frankincense essential oil, rosewood, spruce, and blue tansy essential oils. Valor essential oil is an incredibly powerful restorative. It helps stimulate your nervous system and exhibits other healing properties as well.
It mirrors the effects of Frankincense essential oil, acting as an effective body restorative. Valor essential oil is sometimes referred to as a "chiropractor in a bottle" as it helps align your bones and improves body balance. This essential oil is definitely one for your medicine cabinet.
Physically, valor essential oil is quite clear with a strong and addictive aroma. Let's now take a look at what is in valor essential oil:
Rosewood Essential Oil – Has an amazing woody scent that comforts our nerves. It is used for maintaining emotional balance and mood swings.
Spruce Essential Oil – Known for its strengthening and refreshing qualities. Is good for our respiratory health and nervous systems.
Frankincense Essential Oil – Soothing essential oil that is quite widely used and is known for its benefits for immune system support.
Blue Tansy Essential Oil – Comparatively rare oil that helps in stress relief and easing tension.

Trivia
Valor essential oil has a rare vivid blue color owing to the presence of blue tansy essential oil in the blend.
Let us now look at what are the best valor essential oil benefits.
Benefits Of Valor Essential Oil
Health Benefits Of Valor Essential Oil
We all know that essential oils can do wonders for our health. Let's see how valor oil benefits your health.
1. Provides Courage
Well, it is only fair to begin this list by mentioning what this essential oil is used the most for. You can call it your personal 'Felix felicis' (I'm sure you must have caught on to my reference, Potterheads), except that it provides courage, not luck.
Valor essential oil boosts your courage, thus improving your self-esteem and confidence. Dab some Valor essential oil on your wrists to boost your confidence levels (1).
2. Heals A Stiff Neck
Valor essential oil has amazing healing properties. If you experience a stiff neck, courtesy of the long hours spent in front of your laptop/desktop, rubbing a few drops of valor essential oil on your neck will ease the stiffness within no time (2).
3. Amazing Aftershave/Perfume
It might be an expensive option, but this essential oil can even work as a soothing alternative to your regular aftershave/perfume as it smells divine and carries healing properties (3).
Just mix 10 drops of valor and 15 drops of eucalyptus essential oils in 2 oz. of coconut oil, and your wonderful perfume-cum-aftershave is ready!
4. Eases Anxiety
Feeling all nervous and underconfident?
Valor essential oil helps lower your anxiety levels (4). It is an effective stress buster and acts as a vapor rub. Use valor essential oil on your neck, chest, and feet for anxiety relief and to eliminate stress. It might also provide depression relief.
5. Improves Spinal Alignment
The primary use of valor essential oil is to improve your spinal balance. Rub a few drops of the oil on your soles and along the spinal column (5). Chiropractorsi  XTrained healthcare professionals who focus on the diagnosis and non-surgical treatment of disorders related to the musculoskeletal system. use this oil when they make adjustments to your spine and posture.
6. Relaxes Leg Muscles
If you suffer from cramps or tense muscles, valor essential oil may help with muscle relaxation and pain relief. Apply a few drops of the oil to the affected area to ease muscle tension (6). This oil is amazing for athletes and gymnasts.
7. Eases Jaw Pain
You may not know this, but valor essential oil is a good cure for children who suffer from jaw pain owing to its mild, yet effective nature.
Rubbing a few drops of valor essential oil on the jaw will help you soothe jaw pain for at least a couple of hours.
8. Alleviates Joint Pain
Just like many other essential oils on the block, valor essential oil is frequently used to alleviate joint pain and arthritic pain associated with rheumatismi  XA medical condition characterized by chronic pain from inflammation of the joints or connective tissues, which is often an autoimmune response.  and joint mobility issues. All you need to do is to mix a few drops of valor with carrier oils and apply to the joints. Doing this twice a day will definitely relieve joint pain within a few weeks.
9. Relieves Back Pain
Due to our sedentary lifestyles and long work hours, we are quite prone to back and spinal pain. These can be relieved quickly via the topical application of valor essential oil.
Apply a few drops of the oil to your soles and the base of the spine to relieve back pain. You need to do this twice a day until your pain vanishes.
10. Valor Essential Oil for Snoring
Valor essential oil is also a good remedy for snoring. If you apply some amount of the oil to your big toe right before you go to bed, you can get relief from snoring.
11. Gives A Mood Boost
If you are feeling low or having a bad day, this essential oil can also act as a mood booster just sprinkle a few drops of valor essential oil on your wrist and inhale it. You will feel better in some time and keep panic attacks at bay (7).
12. Balances Your Spirit
Rubbing a few drops of this oil on your soles and then on the spinal column balances your spirit and energies (8). According to anecdotal evidence, it may also increase mental alertness.
13. Is An Amazing Workout Support
Massaging your feet with a little valor essential oil can actually enhance your workout performance. So, what are you waiting for? Grab your bottle of miracle today!
14. Provides A Good Night's Sleep
Well, the method might seem quite out of the box, but rubbing your big toe with this oil just before you go to bed results in better sleep and cures insomnia as well. Try it out today!
15. Boosts Memory
This might be a bit surprising, but valor essential oil is simply the best if you are a victim of ADHDi  XAttention deficit hyperactivity disorder is a developmental disorder diagnosed in childhood and in some cases, later in life that causes difficulty in building focus and concentration. and need a memory boost (9).
You can use young living valor oil in a variety of ways for achieving this – diffusion, application, or simply scattering over the pillow.
16. Good For Babies
There are only a few essential oils that can be deemed fit for infants and babies, and one such oil is valor essential oil.
Whether your baby is cranky and distressed, or you are having a hard time putting him to sleep, just use this oil and let it work its magic. As explained above, valor will also improve your child's memory and grasping power.
17. Treats Burns
Valor essential oil is an excellent first aid for burns due to its calming and soothing nature. Rub a few drops of the oil on the burnt area for quick relief.
18. Relieves Headaches
This oil is quite beneficial in curing even the worst of headaches in no time. Simply massage your forehead gently with this amazing essential oil without diluting it (10).
How To Use Valor Essential Oil
Valor oil can be used in a variety of ways. Take a look.
1. Topical Application
You can apply valor essential oil directly on the infected area with the help of a cotton ball. Just make sure you don't use more than two to four drops. For a proper massage, however, you can add a few drops of this oil in a carrier oil like coconut oil or olive oil. This method is preferred the most when you have super sensitive skin.


Quick Tip
Valor essential oil is also available as a roll-on in various stores, which can be a convenient way of applying it throughout the day, whenever needed, especially when outdoors.
2. As A Diffuser
This is, by far, the most common use. Just add a few drops of valor essential oil in your diffuser and diffuse it for an hour, thrice a day. It provides an amazing and calm atmosphere.
3. Internal Usage
This is not a popular option. You can add valor essential oil to your drink or beverage to enjoy its calming and soothing presence. A lack of research suggests that ingesting valor oil might harm your digestive health.
4. In The Bath
Add two to four drops of valor essential oil to your bath to relax your muscles and relieve stress. It also uplifts your mood within no time.
A Word Of Caution
Luckily, there aren't many risk factors that are directly related to valor essential oil. However, it is better to do a patch test to check for any allergic reaction. If the skin looks all scaly and red, you will need to add carrier oil to the essential oil.
Pregnant ladies and lactating mothers should consult their doctor before using this oil.
If you are suffering from a medical condition, or if you are under medication, do not use this oil without discussing with your doctor.
The oil should be kept away from the reach of children.
Infographic: Top Benefits Of Valor Essential Oil
Valor essential oil is known for its soothing and positive scent, and it comes with a wide range of benefits. While we have covered all the amazing benefits of this oil in the article, you must be aware of a few important ones before you start using it. Check out the infographic below for more information.



The benefits of valor essential oil are many. It can effectively heal stiff neck, joint pain, back pain, and jaw pain and relieve headaches. In addition, this oil eases anxiety, relaxes leg muscles, and elevates mood. It also promotes sleep, boosts memory, and treats burns. You can use this oil topically as a diffuser or add a few drops to your bath. Although it is generally safe, it may cause an allergic reaction in a few. Hence, caution is advised.
Frequently Asked Questions
Is valor essential oil safe for babies?
This oil is considered relatively safer for kids over two years of age. However, do a patch test before you directly apply valor essential oil. Also, for added safety, add a portion of carrier oils like coconut oil to the essential oil just before using it.
What does valor essential oil smell like?
As valor essential oil is a blend of frankincense, blue tansy, rosewood, and black spruce oils, it has a woody and positive scent that calms your nerves in no time.
Where can we buy valor essential oil?
You can buy the oil from various online portals, including Amazon and eBay. It will cost you around Rs. 2,000 for a 5 ml bottle.
Can you mix valor and lavender?
Yes, valor can be mixed with any essential oil. You can mix it with lavender oil to improve your sleep.
What happens if you put too much essential oil in the diffuser?
It is advised not to go overboard when using essential oils. If you accidentally put too much oil in a diffuser, it may lead to nausea or extreme headaches.
Is valor good for a cough?
Since valor is a concoction of sprucewood, rosewood, tansy, and frankincense essential oil, it is suitable for your respiratory system and good for treating a cough (11).
Is valor good for the skin?
Valor essential oil is an excellent natural remedy for skin irritation and infections due to its high content of frankincense essential oil (12). It can also be incorporated into beauty products to improve overall skin health including skin texture and barrier.
Can you ingest valor essential oil?
No, essential oils are not made for internal use and, hence, should not be ingested.
We hope you found this post useful. If you haven't used valor essential oil before, you might want to try it now. Use it to boost your confidence before that important presentation or the date you have been looking forward to.
Do you know of any other young living valor essential oil uses? Tell us below in the comments section. We would love to hear from you.
Key Takeaways
Valor essential oil may boost self-esteem, reduce anxiety, and improve your mood through aromatherapy.
This oil may relax leg muscles and reduce pain in the jaw, joints, and back.
It helps boost memory function and gives you a restful, good night's sleep.
Valor essential oil can be used to treat burns. Applying it to the affected area can help soothe the skin.
Discover the incredible uses and benefits of Valor essential oil in this informative video. From promoting confidence to providing soothing relaxation, explore the versatile applications of this powerful oil. Watch the video now to learn the transformative effects of Valor!
The following two tabs change content below.