Bharatanatyam Makeup Tutorial In 10 Simple Steps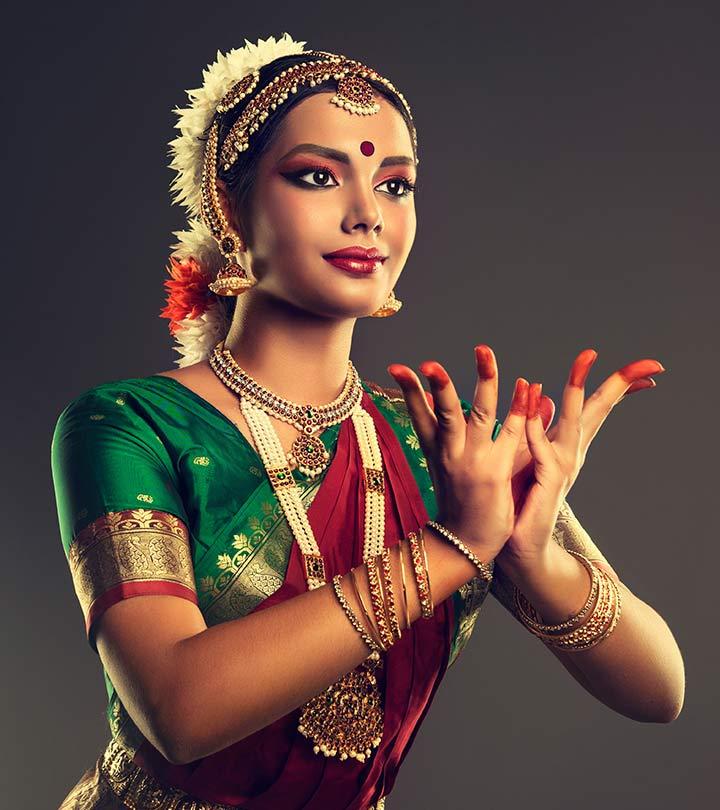 Bharatanatyam is a famous Indian form of classical dance that requires not just proper postures and movements but right kind of makeup too!!! Dancers of this form often go with bold and colourful makeup to show grace on the stage as well as to do justice to this unique dance form. If you are wondering how they do the perfect Bharatanatyam makeup, you will find answers to all your queries in this article!!!
Bharatanatyam makeup is done with great precision, ensuring it suits the dance form and also the ambience lighting that highlight the makeup. Thus, most artists in this field stick to waterproof and smudge resistant makeup that ensure that dancer looks picture perfect at all times during performance.
cc licensed ( BY SA ) flickr photo shared by Dinesh Cyanam
Make up must be suited to the skin tone perfectly and for that, you will need good quality makeup brushes and makeup sponges. The unevenness of the skin tone should also be covered with makeup perfectly.
How To Do Bharatanatyam Makeup? – Stepwise Tutorial
You can follow these simple basic steps for Bharatanatyam makeup.
Step 1:

Use a sweat proof concealer and foundation so that the makeup stays on place. Also, you need to apply a good quality photogenic primer.
Next, apply a stick concealer lighter than your skin tone on the spots & blemishes and even on your eyelids. Ensure that you go with a good quality foundation on the face, including eyelids and blend in with a makeup sponge properly.
Tip: Test two foundations on the jaw line, to know which one matches your skin tone exactly. Alternatively, you can also blend in two foundations to get the desired colour.
Step2:
Start with brows, darken them using an eyebrow pencil. Now take a brow powder and apply over the brow with a sponge applicator to smudge the brow pencil's effect and give it a more natural effect.
Step 3:
For eye shadow, you have to choose 3 basic tones of a particular colour. For example, if you are choosing a pink tone, then choose a dark pink shade that is to be applied in a thin form just above the upper lash line.
Next, choose a tone lighter to this one and apply horizontally to almost cover the whole of lid.
The third tone is to be the lightest of the three colours and use it to cover up till the brow bones.
Step 4:
The eyes are essential in this form of Indian classical dance because they express the complete theme of the dance. Thus, ensure your eyes look extremely bold and dramatic.
Start by using darkest of kohl and kajal to line the top lash line ending in a tail or winged extension. Line the lower lash line below the rim to broaden the line and drag the lower lining extending in another tail.
Do not forget applying sufficient Mascara.
Step 5: Lip Makeup

Line the lips with a maroon or red lip liner or the colour that matches the saree you are wearing.
Once you fill the lips with a perfect lipstick, put a dollop of lip-gloss on the top and lower lip centre for a fuller and thicker lip appearance, but retain the matte effect, as it is mostly preferred in this makeup style.
Step 6: Cheeks Makeup

For the cheeks, use a rosy blush on to the contours by sucking your cheeks in.
Step 7: Put Bindi

Put a large round bindi if you have a round face or you may go for a teardrop shaped bindi.
Step 8:
Your Bharatanatyam makeup is done. As for the hair, you could make a bun and decorate it with false flower garlands or seek professional assistance for a different hairdo.
Step 9: Nose Decoration

Front nose rings are a common jewellery accessory in this dance form, you could consider it as optional if you are uncomfortable wearing it.
Step 10: Final Decoration

Finally, you can decorate your palms, on top and inside region by colouring with red in the form of circles, also using the same colour for the fingertips.
And thats it! Your perfect Bharatanatyam eye makeup and face makeup is done!
Image courtesy Google
Recommended Articles
The following two tabs change content below.