Top 5 Compact Powders For Oily Skin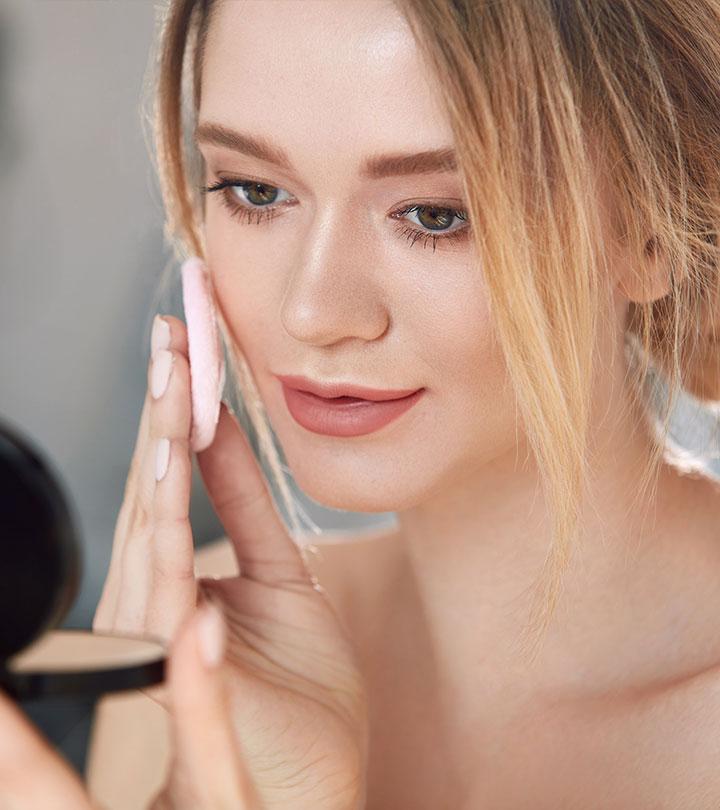 Makeup woes of those with an oily skin seem to be never ending. It can be a particularly challenging chore since the oil tends to keep coming back and diminish the staying power of the makeup.
Thus it's very important to choose the right compact powder for oily skin that will help the foundation set right in.
If you have an oily skin, you should ideally opt for a water based foundation for makeup. But, if you're not comfortable using a foundation daily, then a concealer and a compact powder should do.
Usually the application of a sunscreen creates a heavy layer on the skin. And due to this, it is very important to keep the face as matte and oil free as possible. That's where a compact powder comes in handy. It gives your face a matte finish and covers the unevenness in your skin tone depending on the kind of coverage it has. Choose a compact whose shade matches your skin tone. Using a lighter shade may make you feel as if you have a whitish cast over your face!
Top Picks
Best Compact Powders For Oily Skin
We have put together a list of our top 5 picks of compact powder for oily skin.
MAC's Blot Pressed Powder is an amazing product for oily skin, as its controls oil secretion and also sets the foundation to give a finishing look. This powder also adds some color and texture to the skin. It's a great pick for quick touch ups and makes your makeup stay throughout the day. It provides a sheer and natural finish.

Price at the time of publication: ₹32
The Bobbi Brown Skin Weightless Powder Foundation offers a one stop solution for those with oily skin. It  functions as your foundation and powder both. It provides a creamy texture that is smooth and super comfortable, leaving the skin looking extremely gorgeous. This product blends seamlessly into the skin and conceals the imperfections like fine lines  and pores. It keeps the skin stay fresh and shine free. It is a perfect product for people with normal to oily skin.

Price at the time of publication: ₹52
Maybelline New York's new Fit Me range is all worth the rave! The fit me pressed powder offers a new look and comes with an amazing smoothing formula. Its naturally sets your makeup and helps in smoothening your skin's texture while controlling the secretion of oil. This lightweight face powder stays long and provides coverage and as well as a natural finish to the face. It does not clogs the pores and is oil free.

Price at the time of publication: ₹9.99
The unique shine absorbent, oil free product gives an ultra sheer texture for the perfect matte look. It is an amazing product for oily skin as it keeps your face fresh looking. It doesn't require frequent touch ups  and can also be used just on the oily spots. Apply it with a brush/ sponge for an even toned look.

The Lakme 9 to 5 Flawless Matte Complexion Compact is perfect for getting an even natural complexion and an oil free look. The compact comes with a Vitamin E formula that nourishes your skin and gives a radiant look which lasts throughout the day. It mattifies the skin and keeps it oil free all day long. It also works towards concealing imperfections and spots. It's super convenient to carry while you're traveling. It comes with an applicator sponge and a mirror for easy, hassle free touch ups.

Let us look at some points to be considered before buying compact powders for oily skin.
Things To Consider Before Buying Compact Powders For Oily Skin
The steeper the price of the product, the better the quality. If budget is not a bar, opt for a top brand compact powder for your oily skin. If your budget is limited, invest in a reputable brand that offers quality and results at a more affordable price.
Different products show different results based on skin types. Therefore, check the suitability of the compact powder before buying. For oily skin, compact powders with a matte finish are best as they control the oil. For dry skin, choose a compact that imparts a smooth finish without looking cakey. For combination skin, specific compacts are available in the market.  Also, there are a few brands that have products suitable for all skin types
Always refer to the ingredient list before purchasing a compact powder. Artificial or synthetic additives can take a toll on sensitive skin. Besides, referring to the ingredients list eliminates the risk of allergic reactions caused by ingredients not suitable for your skin.
You do not want to look unnatural or made up due to the wrong shade of compact powder. Therefore, choose a shade that matches your skin tone and gives your face a natural and subtle look.
Clinically-tested and dermatologically-approved products will not harm your skin. Therefore, ensure your compact powder is tested for quality.
These are our favourite compact powders for oily skin. Try them on and let us know which one works the best for you, in the comments section below.
Frequently Asked Questions
Does pressed powder help with oily skin?
Yes, pick a lightweight pressed powder with oil-absorbing ingredients that help keep you shine-free and impart a matte finish.
Is compact powder good for daily use?
Yes, you can use compact powder daily as it is long wear, lasting up to 16 hours, and provides you a fresh feeling all day long.
What should I apply before compact powder?
You can use moisturizer and primer to create a base before applying compact powder to your skin.
Does compact powder cause acne?
No. A compact powder suitable for your skin type will not cause acne. However, remember to remove your makeup and wash your face before sleeping to prevent skin damage and breakouts. If the product stays overnight on your skin, it can clog pores, reduce the production of natural oils, and cause acne or pimples.
Recommended Articles
The following two tabs change content below.