Hair Rebonding: What Is It, Risks, And 13 Tips To Follow
Achieve smooth, silky, and lustrous hair with this effective and lasting hair treatment.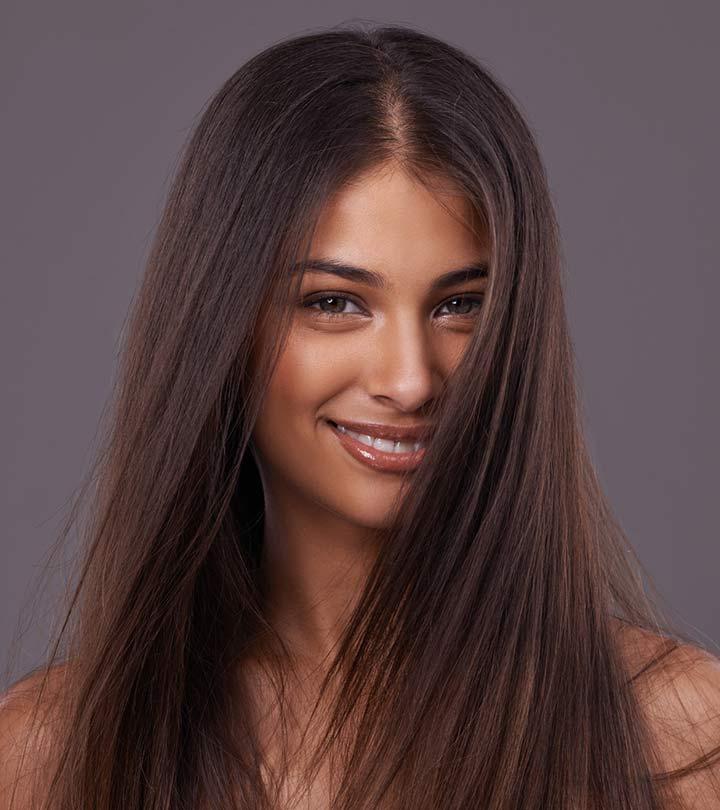 Although textured hair is attractive, few people understand how much effort and time it takes to keep it in check. This is why many people choose to rebond their hair. In this article, we discuss everything you should know about hair rebonding, from its process to some care tips to keep your hair healthy and silky smooth. This treatment not only makes textured hair straight, silky, lustrous, and simple to manage, but it also preserves your morning time when you would otherwise be battling with your tresses. Continue reading to learn more.
What Is Hair Rebonding?
Your hair is made up of amino acids. These proteins are connected by bonds that determine the structure of your hair – straight, wavy, or curly. Hair rebonding involves chemically relaxing your hair by breaking down these bonds and then rebuilding them to alter the structure of your hair.
The process starts with the application of a relaxant, which helps break down the protein bonds in your hair. The hair is then straightened, and a neutralizer is applied, which rebuilds the bonds with an altered structure.
How Is Hair Rebonding Done – The Hair Rebonding Process
Hair rebonding is an elaborate process that incorporates the use of chemicals and heat to alter the structure of your hair. Depending on the length of your hair, the treatment can take from 3-8 hours. The following are the steps involved in the hair rebonding process.
Materials
A hair rebonding kit
A flat iron with adjustable temperature settings
A blow dryer
A mild shampoo
Time
3-8 hours, depending on the length of the hair.
Method
The stylist washes your hair with a mild shampoo. The conditioner is not applied.
Your hair is then left to dry naturally or blow-dry.
The stylist divides the hair into sections, depending on the texture and volume. They analyze the hair beforehand to determine the relaxant used on the hair type.
The stylist applies a relaxant from the hair bonding kit while the hair is held straight with the help of thin plastic boards. They take care to apply the relaxant so that it coats every strand.
The relaxant is then left on for 30 to 45 minutes, depending on the texture of the hair. It is continuously monitored during this time.
The hair is then steamed for 10-40 minutes, depending on its condition, volume, texture, etc.
The stylist proceeds to wash and deep condition the hair. Then, they dry the hair.
A keratin lotion is applied, and the hair is straightened with a ceramic flat iron at 180°C.
A neutralizer is applied to secure the bonds and left on for 30 minutes.
It is then rinsed out with cold water.
The hair is blow-dried, a serum is applied, and the hair is straightened one more time.

Quick Tip
Steaming your hair once a fortnight can help maintain healthy locks. Alternatively, wrapping hair in a warm wet towel may help keep your hair soft.
The rebonding process involves the use of heat and harsh chemicals. Soon after the process, your hair becomes extremely vulnerable to damage and requires intensive care. If your hair was rebonded recently or if you are planning to get it done, here's everything you need to know about hair maintenance for rebonded hair.
How To Take Care Of Rebonded Hair
1. Do Not Wash Your Hair For 72 Hours
This is the most important thing to keep in mind when you get your hair rebonded. You cannot let your hair get wet, no matter what. It takes about 3 days for your hair to settle into its new structure, and washing it before that happens is going to leave you with suboptimal results.
2. Give Up Hair Ties
It is time to give up tucking your hair behind your ear and using hair ties or bobby pins. Hair fasteners can leave your newly restructured hair with creases, which you want to avoid at any cost. So, avoid hair styling that requires you to use ties, pins, or bands.
3. Go To Bed With Straight Hair
This might be a little hard to do, but you need to ensure that your hair is mostly straight when you go to bed for three days before washing it. Avoid anything that might cause your hair to lose its shape.
4. Take Your Time With The Conditioning
When the three days pass, and you can finally wash your hair, ensure you are using a mild shampoo that is specially formulated for chemically treated hair. After washing your hair, slather on some conditioner and wait a few extra minutes so that your hair can soak up some moisture.
5. Avoid Heat Styling
Your hair has already been styled! If you are positive that you cannot survive without a blow dryer, use it on the cool setting. Stay away from heat or any thermal treatment as it will only damage your hair further.
6. Put Your Hair Coloring Plans On Hold
For the next six months, consider chemical treatments as the spawn of the devil. This includes hair coloring. You do not want to over-process your hair, and six months is a good amount of time for you to treat your hair with good old TLC instead.


Quick Tip
Wear a shower cap while bathing the first week after your hair rebonding procedure. This will prevent the water from breaking down the chemicals.
7. Do Not Skip The Trim
Hair rebonding means damage and damage means split-ends. You need to visit your stylist every 6-8 weeks for trims. This will keep your hair healthy by preventing the damage from traveling up the length of your hair.
8. Cold Showers Are Your Best Friends
The cold water helps seal your hair shafts, preventing moisture loss and damage. This will not only help keep your hair conditioned but also improve the health of your hair while preserving its shine. If you cannot handle cold water showers, we recommend showering with lukewarm water. Avoid warm or hot water.
9. Keep Your Scalp Clean
Ensure that you are giving utmost importance to keeping your scalp clean. An unhealthy scalp with clogged follicles will lead to issues like dandruff and hair fall. To avoid this, give yourself regular hot oil massages and wash your hair with an effective but mild shampoo.
10. Do Not Wash Your Hair Too Often
Your hair needs as much moisture as it can get. To keep your hair healthy, cut down on the number of times you wash it in a week. Ensure to keep the number under 3-4 washes a week. You can always use dry shampoo to buy yourself some more time in-between showers.
11. Protect Your Hair
Scarves, hats, and umbrellas are your best friends. It is extremely important to keep your hair safe from harsh environmental factors, such as pollution, rain, and the UV rays of the sun.
12. Stay Away From The Rain
If you ever get caught in the rain, make sure that you wash your hair as soon as you get home. The pollutants and salts in rainwater are awful for your hair and can cause a significant amount of damage.
13. Don't Neglect Your Diet
Believe it or not, the health of your hair depends more on what you put inside your body than what you put on your hair. While topical treatments are important for keeping your hair healthy, you need to maintain a balanced diet to ensure that your hair is growing out healthy from the roots.
What Products Should You Use For Rebonded Hair?
After you get your hair rebonded, it is important to use the right products to help maintain your new style. Following is a list of essential products you will need to take care of your rebonded hair.
1. Shampoo
When selecting a shampoo for your rebonded hair, look for labels that specify "for chemically treated hair." While these shampoos may be a little more expensive, they cater to the needs of your processed hair and help maintain the style while improving the health of your hair. They also help nourish your hair with the proteins that it might have lost during the hair rebonding process.
2. Conditioner
Conditioning your hair becomes crucial after a hair rebonding treatment. This is because, after the treatment, your hair becomes dry and is in serious need of moisture. Co-washing your hair is also a good idea after a hair rebonding treatment.
3. Hair Masks
The breaking and rebuilding of the bonds in your hair take a serious toll on its overall health. Your hair needs protein and moisture to regain health. Treating your hair with protein and deep conditioning treatments will help get rid of the damage while giving your hair a chance to heal.
4. Leave-In Conditioners And Serums
Leave-in conditioners and serums help form a protective barrier around your hair shaft, preventing moisture loss, and improving hair hydration. They also help protect your hair from environmental factors.
5. Wide-Tooth Comb
Since your hair is vulnerable, using a wooden wide-tooth comb becomes important for hair protection. This will help prevent breakage, and you will not have to worry about static flyaways. Avoid combing your hair while it is wet.
6. Oils
Regular oil treatments are important to help nurse your hair back to health. You can use oils, such as coconut, olive, almond, jojoba, and castor, or even a blend of these. Oiling helps moisturize and nourish your hair while also boosting scalp health.
Though rebonding is a great and effective way to straighten hair, this hair transformation process comes with a set of drawbacks.
Side Effects Of Hair Rebonding
A study showed that using chemical hair relaxers on hair had side effects, such as frizzy hair, dandruff, hair loss, thinning and weakening of hair, graying of hair, and split ends (1). The study was conducted with women between the ages of 16-40 without any prior hair loss or scalp issues. It also found that the long-term use of chemicals could cause scalp burns and lesions.
Some hair rebonding products contain formaldehyde. Formaldehyde is a cancer-causing substance and can also cause irritation and damage to the eyes and nose, itching, rashes, skin sensitivity, and difficulty in breathing (2).
Your hair becomes fragile and vulnerable after the rebonding process. This can lead to issues, such as breakage and split ends. The chemicals and heat can damage your skin and scalp, but this is highly unlikely.
If you have extremely frizzy natural hair, maintaining your style will require frequent touch-ups every 4-6 months, depending on the rate at which your hair grows. This can be heavy on your pocket.
Hair loss is a common side effect experienced by a lot of people who get their hair rebonded.
Here are a few points to keep in mind before you go for a rebonding session.
Points To Keep In Mind Before Rebonding Your Hair
The process of rebonding needs to repeated to keep hair straight. Repeat it every 12 weeks or longer, and not earlier. This gives your hair time to recover from the chemicals and any oxidative stress caused by it. After you have rebonded your hair, keep conditioning your hair to keep it healthy.
It is advised that African and curly-haired women use no-lye relaxers as it is less irritating to the scalp (3).
Make sure the chemical relaxers are not applied on the scalp as they can cause skin burn. Apply some petroleum jelly along the hairline and on the ears before the application of the relaxer to prevent alkaline burns (3).
Relaxers should be applied on pre-washed hair and, after usage, should be rinsed off with running water. They provide the most permanent hair straightening, but if applied with the wrong technique, they may cause scalp burns and hair breakage.
Perform a test on a few strands of hair to see if the chemicals are compatible with your hair. If the hair breaks during the test, another relaxer must be tried, or the hair is too weak to be straightened. Hair conditioning substances may be added to thioglycolate straighteners for hair damage prevention.
Hydroxides and thioglycolate are incompatible with each other. If the hair is treated with hydroxides, the same hair cannot be treated with thioglycolate. Also, both are incompatible with bleached hair (3).
Hair rebonding is a procedure that modifies your hair's texture. When it works, you will have permanently smooth and straight hair. Chemicals and heat are used to help you achieve straight hair. However, it has several side effects, including hair damage and breakage. It is possible that the treatment may not be suitable for all hair types. So, before you go for it, talk to your hairstylist. Take additional care of your hair after the treatment to get the best results. Deciding to rebond your hair is a huge one. Make sure to research in order to get the best treatment for you.
Infographic: Pre-Care Tips For Hair Rebonding
The hair rebonding treatment uses a chemical solution that penetrates your hair shaft, relaxing your hair structure from within. This leaves your hair weak and vulnerable to damage. But, you can minimize the damage by following a few simple care tips.
Practicing a few pre-care tips can go a long way in keeping your hair healthy during the rebonding process. Following a regular hair care regimen, avoiding chemical-filled products and treatments, and covering your hair from the sun are just a few ways to protect your hair.
Check out the below infographic to discover all the care tips you need to follow to keep your hair strong and beautiful during the rebonding process.


Frequently Asked Questions
What is the difference between hair straightening and hair rebonding?
Hair straightening refers to the use of flat irons and mild relaxing agents that help achieve temporary results, while hair rebonding refers to the process of altering the hair's structure to achieve straight and smooth hair.
When can I wash my hair after rebonding?
It is recommended to wash your hair 3 days after the rebonding process for the best results.
How long will the effects of hair rebonding last?
Hair rebonding is a permanent process. The rebonded hair will remain straight permanently, while the new growth will have your natural hair texture.
What is the difference between keratin therapy and rebonding?
In rebonding, the keratin in the hair strand needs to be broken so that the texture of your hair can be changed. The keratin treatment revives the keratin in your hair.
How should I sleep with rebonded hair?
Bear the following in mind while sleeping with rebonded hair:
Ensure your hair is dry before going to bed.
Keep your hair straight while sleeping.
Use satin or silk pillowcases to reduce hair friction while you sleep.
Sleep in a room with a cooler temperature.
Is Keratin better than rebonding?
Rebonding focuses on chemically modifying your hair structure to make it poker straight and sleek. At the same time, Keratin treatment restores the natural protein that gets lost owing to the harsh outdoor environment. Rebonding also lasts a little longer than Keratin and requires fewer touch-ups, while Keratin requires more salon visits and is expensive.
Can you go swimming with rebonded hair?
Avoid swimming in pools for at least 2 weeks after the treatment since the chlorine might damage your hair.
Can short hair be rebonded?
Yes. Rebonding short hair makes it simpler to achieve the wash-and-wear hairdo of your choice. It will also look polished and tidy without even requiring many styles.
Is aloe vera good for rebonded hair?
Yes, you can use natural hair masks prepared from aloe vera gel once a week. These will deeply condition your hair.
Sources
Articles on StyleCraze are backed by verified information from peer-reviewed and academic research papers, reputed organizations, research institutions, and medical associations to ensure accuracy and relevance. Check out our
editorial policy
for further details.