Dark circles also known as "racoon eyes" and are one of the most common skin problems amongst all age groups. In present day, lifestyle for the adults, youngster and teens has become quite stressful. Hectic work, school and college schedule, inadequate sleep, lack of nutritional diet, excessive smoking and drinking alcohol are the major factors of dark circles.  Some of them also inherit the problem of dark circles. Whatever the reason may be, dark circles make you look tired, aged and sick. They also hide away the beautiful eyes making them look dull.
Nowadays there are various creams and gels available in the market which helps in reducing the puffiness and dark patches under your eyes.  Many clinical procedures also claim to reduce the dark patches instantly, but many skin experts have always recommended home remedies for dark circles.
Home Remedies For Dark Circles
Read further to know 11 tips on how to remove dark circles naturally and reduce the puffiness under eyes.
1. Cucumber:
Cucumber is an ancient and widely known home remedy for dark circles. Even the professional clinics and spa use cucumber to provide an instant cooling effect. It works as an astringent and lighten the dark areas under the eyes. It also increases the blood flow and reduces the puffiness.
Grate a small sized cucumber and extract the juice.
Dip cotton balls into the juice and apply it under the eyes.
Do not rinse it off as the juice would be absorbed by the skin after some time.
You can also keep thin slices of cucumber over your eyes.
2. Raw potato:
Potato is known to reduce dark spots, blemishes, tan and pigmentation. It also reduces the puffiness under the eyes.
Grate and extract the juice of a raw potato.
Soak the cotton balls into it and apply it under your eyes.
You can also keep thin slices of potato over your eyes.
The following two tabs change content below.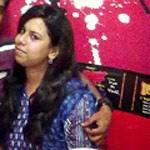 Latest posts by Ankita Biswas (see all)