Dandruff is a troublesome issue for many all year around. Dry, sticky dandruff can cause your hair look dull and lifeless too. It is important that you use the right kind of products when you want to get rid of these irritants. Hair masks have a dual purpose, while they help getting rid of dandruff, they also provide nourishment to your hair, thus keeping it soft and healthy. Regular application of hair masks also adds volume to your hair.
I've listed five tried and tested homemade hair masks for dandruff that worked for me.
1. Honey, Yogurt and Lemon Hair Mask:
The basic of all hair masks. Lemon and Yogurt are known to get rid of dandruff. Add honey to this mask, because lemon juice tends to dry the hair because of its acidic nature. If you have very dry hair, add a few drops of almond oil to the hair mask so that it also nourishes your hair.
[ Read: Tips for Dandruff Free Hair ]
2. Omved Hair Pack: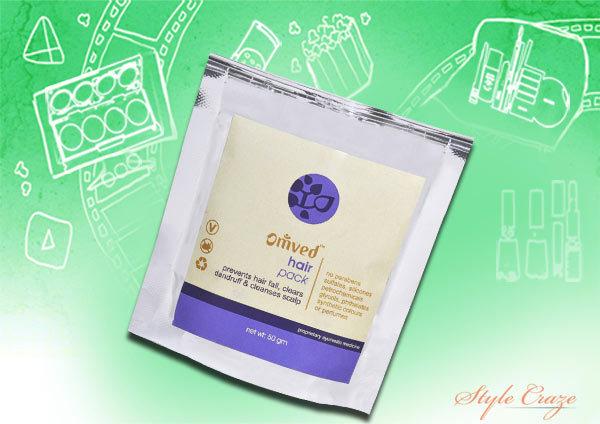 This is a nourishing hair pack filled with the goodness of vitamins to stimulate circulation, deep condition and restore strength and elasticity from root to tips for healthier, softer and lustrous hair. The Healthy Hair Pack clears dandruff, prevents hair-fall, and adds life to dull and lifeless hair.
If you have dry hair, mix this pack with aloe vera gel and if you have normal to combination type of hair, mix it with water or yogurt. Mix to a consistency that will not drip and leave it on your hair for 15 minutes only. Wash off with a mild shampoo and conditioner.
 [ Read: Home Remedies For Dandruff ]
3. Peppermint EO and Green Tea Rinse:
Make a clarifying rinse by mixing a cup of green tea with a few drops of peppermint oil and a teaspoon of white vinegar. Dampen your hair and pour this rinse over it and leave on for five minutes. Follow it up with a mild shampoo and conditioner. The peppermint oil and green tea are excellent conditioners to control and keep dandruff at bay.
4. Hibiscus Leaves and Flowers:
Hibiscus, especially the red hibiscus flowers and its leaves are very good for the hair. It doubles as an anti dandruff hair mask or as a mask for voluminous hair. Boil hibiscus flowers or/and leaves in water and let it cool. Drain the water and take the leaves and flowers and blend to make a paste. Add warm coconut oil to this paste and massage on the scalp. Leave it on for at least 45 minutes before your wash your hair. This is another best natural hair mask for dandruff.
[ Read: Hair Loss Due to Dandruff ]
5. Banana, Honey, Lemon and Olive Oil Pack:
Blend two bananas with two teaspoons each of olive oil, honey and the juice of one lemon to a paste. It should be a creamy paste. Apply this on your hair and scalp and let it stay for at least 30 minutes. Wash your hair with luke warm water and follow up with a mild shampoo and conditioner. This mask works best for people who have a combination of frizzy hair and dandruff.
What is also important is that you indulge in a regular oil massage. If you have dry hair, use Castor Oil to massage the hair, because it will add moisture to your roots. Almond oil and regular application of aloevera gel are recommended for dry scalp.  If you have a greasy scalp, mix the juice of a lemon with tea tree oil and apply on your hair. Leave it on for a few minutes and wash your hair with a mild shampoo and follow up with a conditioner. These are sure shot ways of keeping dandruff at bay.
The following two tabs change content below.