Benefits Of Multani Mitti For Face, Skin, And Health
It is time to switch to this skin-friendly clay if acne and pores still annoy you.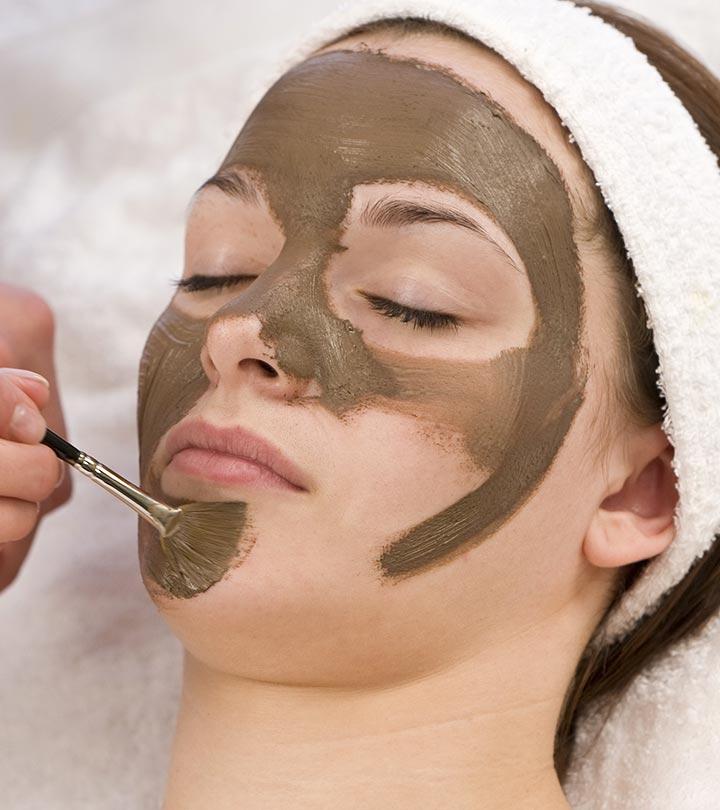 Multani mitti (calcium bentonite) is a mineral-rich clay commonly used in homemade face packs for promoting skin health. It is rich in magnesium chloride, and the benefits of Multani mitti extends beyond its skin-clearing effects. Applying Multani Mitti face packs helps in skin rejuvenation, skin tightening, cleans your skin, eliminates excess sebum, minimizes blackheads and whiteheads, and improves the appearance of the pores. (1). However, excessive use of Multani mitti may also have some side effects. This article discusses all aspects of using this clay for your skin. Read on.
What Is Multani Mitti?
Multani mitti or Fuller's Earth is a porous colloidal clay that is rich in aluminum magnesium silicate. It looks similar to clay, but is more fine-grained and has higher water content. It comes in a variety of colors, such as brown, yellow, white, and green (2).
The name 'Multani mitti' means 'the mud from Multan' – the city in Pakistan that is its place of origin. This clay is a common ingredient in herbal products and is known for its cosmetic benefits. Let's take a look at how multani mitti benefits your skin.


Fun Fact
Multani mitti is an absorbent clay and was earlier used to remove grease and oil from dungarees, work gear, etc.
Benefits Of Multani Mitti For Skin
1. Exfoliates Your Skin
Multani mitti has exfoliating properties. According to a study published in The Open Dermatology Journal, multani mitti helps slough away dead skin cells from the skin and makes it radiant. It also states that this clay is beneficial for irritation-prone skin (3).
2. Shrinks Pores
Multani mitti has been used for centuries to absorb dirt skin cleansing and oil from the skin and decontaminate it (2). It also has toning effects on the skin. Hence, it can reduce the size of skin pores by drawing out excess oil and grime from them. This, in turn, may make your skin smoother.
3. May Help In Reducing Blackheads And Whiteheads
As multani mitti has exfoliating properties, it may help reduce blackheads and whiteheads and lighten blemishes (1).
4. May Help In Reducing Acne
Multani mitti's adsorbing and astringent properties may help in reducing acne. It may do this by calming inflammation and absorbing excess oil and sebum in the affected areas.
In addition to these benefits, multani mitti is also thought to minimize freckles, soothe sunburns, and improve blood circulation.
However, none of these studies are conclusive, and further research is required to establish the efficacy of Fuller's earth for skin issues.
5. May Help In Reducing Pigmentation
Multani mitti contains natural bleaching properties as well as minerals like magnesium, silica, and aluminum, which have mattifying properties. This helps enhance the skin's natural radiance and brighten your complexion by tackling the effects of tanning and tightening your skin. When applied as a face mask, it absorbs the excess oil and impurities clogging the pores and gently exfoliates the skin to lighten dark spots, sun damage, dark circles, blemishes, and hyperpigmentation, promoting a more even skin tone. It also promotes skin renewal through improved circulation, reduces inflammation and acne breakouts and revitalizes the skin, making it appear fresh and rejuvenated (4). However, more extensive research is required to prove these benefits of Multani mitti.


Trivia
Multani mitti was used to soothe inflamed feet, especially during World War II.
Despite how Multani mitti benefits the skin, it has some side effects and risks that you need to be aware of.
Multani Mitti For Skin And Health: Are There Any Associated Risks?
Multani mitti is generally considered safe. However, it can cause mild skin irritation. This clay is composed of a range of minerals and is widely used in skincare and personal care products. However, if you are allergic to Fuller's earth, it may cause adverse effects. Also, it may cause irritation if it goes into your eyes. Upon inhalation, it may irritate your respiratory tract (2).
The toxicological property of Fuller's earth upon ingestion is not studied thoroughly (2).
If you are using Multani mitti on your skin, it is better to do a patch test to check if you are allergic to it. Also, be careful when handling it so that it does not enter your eyes and mouth. If you experience skin irritation or have trouble breathing upon accidentally inhaling it, consult a doctor immediately.
In the next section, we will guide you on how to use this clay on your skin effectively. Read on to know Multani mitti's benefits for your face.
How To Use Multani Mitti On Your Face
If you have dry and/or sensitive skin, you need to be careful when using Multani mitti. Since it has high absorption power, it can make dry skin drier and irritate sensitive skin. That is why you need to add other ingredients to balance the drying effect of Multani mitti. Even for other skin types, using Multani mitti too frequently is not recommended. Before trying any of these recipes, do a patch test. Here are a few recipes of home-made Multani mitti face packs for every skin type and directions on how to apply Multani mitti on the face:
1. Multani Mitti And Rose Water Exfoliating Face Pack For Oily Skin
Multani mitti is known for its excellent exfoliating properties. It efficiently removes dead cells from the top layers of your skin and unclogs the pores (3).
Directions: Mix a tablespoon of Multani mitti with a teaspoon of rose water. You can adjust the quantity of rose water to achieve the desired consistency. Apply the paste on your face, avoiding the eye area. Gently massage it for a few minutes and then let it dry completely. Wash it off with lukewarm water. Follow up with a gel-based moisturizer. Use this face pack no more than twice a week.
2. Multani Mitti And Honey Hydrating Face Pack For Dry Skin
Multani mitti can be combined with honey for an excellent moisturizing face pack for dry skin (5).
Directions: Mix a tablespoon of Multani mitti with a tablespoon of honey. You may adjust the quantities to tweak the consistency of the face pack. Apply it on your face and leave it on for 15-20 minutes before washing it off. Follow this routine no more than twice a week.
3.Multani Mitti, Turmeric, And Curd Face Pack For Glowing Skin
This face pack is suitable for all skin types. Along with Multani mitti, curd has a brightening effect on your skin (6), while turmeric has anti-inflammatory and medicinal benefits (7).
Directions: Mix all the ingredients. Use a tablespoon of Multani mitti and adjust the quantity of the rest of the ingredients accordingly. Apply the paste on your skin and leave it on for 15-20 minutes before washing it off. Use this face pack once or twice a week.
4. Multani Mitti And Sandalwood Face Pack For Acne-Prone Skin
Sandalwood oil is known for its anti-inflammatory and therapeutic benefits (8). Sandalwood powder is also commonly used in face packs. If you have acne-prone skin, this face pack may help you manage it.
Directions: Mix a tablespoon of Multani mitti and half a teaspoon of sandalwood powder. If you are using sandalwood oil, use just 2-3 drops. Mix all ingredients and make a paste using water or rose water. Apply it on the affected area or the entire face. Leave it on for 15 minutes before washing off. Follow this routine no more than twice a week.
5. Multani Mitti, Neem, And Turmeric Face Pack For Antioxidant Benefits
Numerous studies have exhibited the potential benefits of neem and turmeric for various skin conditions (9), (10).
Directions: Mix neem leaves paste, turmeric, and a tablespoon of Multani mitti. Add rose water or water to make a paste. Apply it on your face and let it dry before washing it off. Follow this routine 1-2 times a week.
This is how a Multani mitti face pack benefits your skin. However, Multani mitti's use does not end with face packs, it can also be used as a body scrub. If you love DIY body scrubs, here is a simple recipe you can follow!
6. Multani Mitti And Oatmeal Body Scrub
This is an extremely easy body scrub that you can prepare at home with just a couple of ingredients. All you need is a cup of each of Multani mitti and powdered oatmeal. You can experiment with the ingredients and add neem powder, orange peel powder, or a tablespoon of turmeric powder to this scrub. Add water to make a smooth paste and use it to scrub your body while bathing cooling effect.
While buying Multani mitti, you need to make sure that it is of good quality. Also, make sure that you store the clay in an airtight container in a cool and dry place. Though Multani mitti's use is extremely versatile and can be used easily on the face, make sure you do not overuse it.
Infographic: How To Improve Your Skin With Multani Mitti
Multani mitti is an age-old home remedy used to treat several skin ailments. Though the article details its benefits, here is a simplified version of how to improve your skin using Multani mitti. Check out the infographic to know its benefits and methods to use it for oily and dry skin types.


The benefits of Multani Mitti are numerous. It can aid in skin brightening, pore cleansing, removing impurities, exfoliating the skin, helping shrink the pores, reducing blackheads and whiteheads, helping reduce acne, soothing sunburns, skin softening and improving blood circulation.Although the topical application of Multani mitti is generally safe, it may cause skin irritation in a few. You also may experience rashes if you are allergic to Multani mitti. Hence, caution is advised. Inhalation of Multani mitti may also trigger respiratory tract irritation. However, you can incorporate it into your skin care regimen if you are not allergic to Multani mitti.
Frequently Asked Questions
Can I use Multani mitti on my face every day?
No. Since Multani mitti has super absorbing properties, it can strip away your skin's natural oils and damage its barrier.
How often can you use Multani mitti on the face?
You can use Multani mitti for your face at least once a week. Do not use it more than once or twice a week.
How to store Multani mitti for longer use?
Store it in an airtight jar and away from sunlight. You can also refrigerate it.
Does Multani mitti expire?
No. It has no definite shelf life.
Does Multani mitti fade acne scars?
No, it cannot fade acne scars. You need to consult a dermatologist for treatment.
Does Multani mitti help in de-tanning?
It helps soothe sunburns, treat sun damage, and has a brightening effect on the skin.
Is Multani mitti effective for treating blemishes?
It may help fade the blemishes, but it cannot make them disappear completely.
Can I leave Multani mitti overnight?
It is not recommended to leave Multani mitti on your face overnight as it has intense oil-absorbing properties that may dry out your skin.
Does Multani mitti remove facial hair?
Possibly. Anecdotal evidence says that a paste of Multani mitti mixed with honey, rose water, or lemon juice may help remove facial hair.
How do I know if my Multani mitti is pure?
Check its appearance and scent. Pure Multani mitti should be of tan color with a muddy aroma to it.
Key Takeaways
Multani mitti is an Indian clay that is prized for its absorbent and exfoliation properties.
It is frequently used in many DIY face packs, scrubs, and masks as it can effectively unclog pores and has a deep cleansing effect and aid in skin hydration.
It is ideal for targeting acne, scar removal blackheads, and whiteheads and may soothe irritated skin.
Use this clay with caution as it may irritate the lungs and possibly dry up and irritate sensitive skin.

Watch this video to find out the pros and cons of using multani mitti (Fuller's Earth) on your skin. You will also learn about its potential benefits and the precautions you should take to achieve a healthy and radiant complexion. Take a look!

Sources
Articles on StyleCraze are backed by verified information from peer-reviewed and academic research papers, reputed organizations, research institutions, and medical associations to ensure accuracy and relevance. Check out our
editorial policy
for further details.
The following two tabs change content below.