Hair Fall In Summer – 6 Natural Ways To Protect Hair
Tackle your summertime sadness with the best ways to flaunt vibrant, voluminous hair.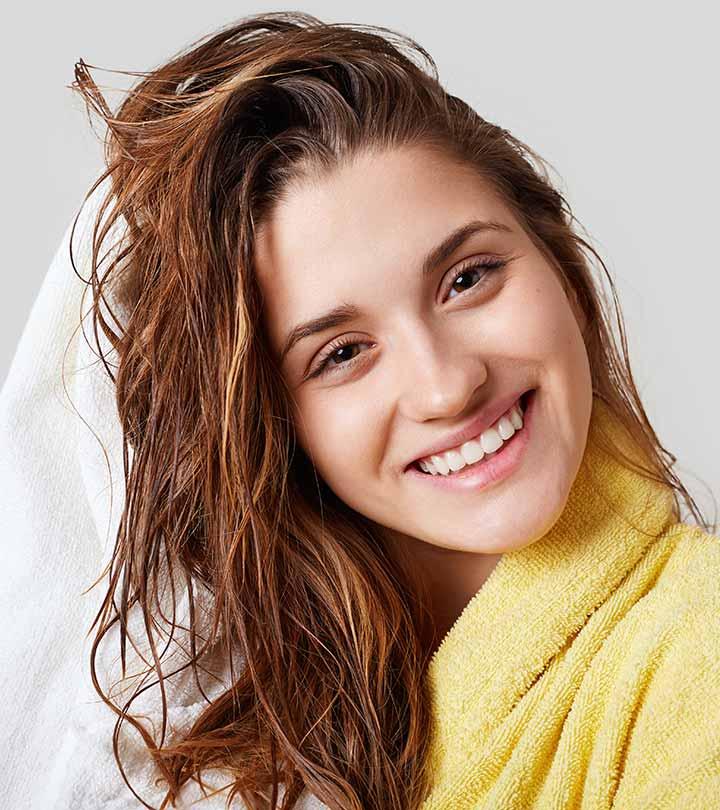 Contrary to popular belief, hair falls the most during summer (1). While your perfect idea of summer is sipping a cool lemonade on a beach, watching a few extra strands on your brush is not the best way to celebrate your summer. Thankfully, some natural remedies can prevent hair fall in summer effectively. All you need to do is clean your scalp with some natural ingredients from your kitchen, and you are all set for the summer.
The hair keeps your head warm and insulated. While that is great during the winters, in the summer, that is not ideal. Hence, your body sheds hair to keep your hair cool. However, that does not mean you sit and do nothing while your hair falls out. In this article, we have explained some of the best home remedies to protect your hair from falling during the summer.
How To Prevent Hair Fall During Summer
1. Warm Coconut Oil Massages
A warm oil massage not only rejuvenates your senses but also does a whole lot of wonders for your hair.
Coconut oil reduces protein loss in both undamaged and damaged hair, whether used as a prewash or postwash product (2). The massage helps to stimulate blood flow to the scalp and facilitates the growth of new hair.
A study conducted on 319 participants found that 11- 20 mins of scalp massage for over 6 months saw hair loss stabilization and regrowth in 68.9% of the participants. So scalp massage with oil can improve hair quality and stop hair loss. It was further noted that out of the 319 participants, 31.7% (101) reported slight or significant hair regrowth.
A study conducted on 319 participants found that 11- 20 mins of scalp massage for over 6 months saw hair loss stabilization and regrowth in 68.9% of the participants. So scalp massage with oil can improve hair quality and stop hair loss. It was further noted that out of the 319 participants, 31.7% (101) reported slight or significant hair regrowth.
You can also add essential oils to coconut oil to massage the scalp. Massage the scalp with warm coconut oil at least three times a week, and you will notice a remarkable change in the quality of your hair. Keep the oil on overnight and shampoo it out the next day. Over time, your fair will feel thicker, silkier, and softer.
2. Diet And Hydration
When it comes to hair care, diet plays a very important role. Your diet should contain adequate amounts of nutrients like iron, zinc, biotin, niacin, vitamin C, vitamin D, and omega-3si  XA type of fatty acid found in vegetable oils and nuts that is an essential nutrient needed to keep the body healthy. and omega-6s (3). However, studies linking these nutrient deficiencies to hair loss are limited, and more research is required.
Include more nuts in your diet, like almonds and walnuts. Eat fresh, healthy, and local produce.
If you think supplementation is required, do consult a doctor. It is never a good idea to go for supplementation without medical supervision because over supplementation can lead to hair loss as well.
Dehydration can also cause the hair to get brittle and break off. And it is a serious problem during summers because we tend to sweat a lot. Make sure you consume 2-3 liters of water every day. Consume fruits and vegetables that have high water content, like cucumbers, tomatoes, watermelon, etc.
3. Aloe Vera Juice
Aloe vera has been used for ages for its healing properties and preventing hair loss (4). Drinking aloe vera juice can strengthen your hair from within.
You can also apply it topically. Apply the raw gel of the aloe plant on your scalp. You can scoop out fresh gel from the leaf or buy it from a store.


Quick Tip
You can use an aloe vera gel mask 2-3 times a week for improved hair and scalp health.
Doing this treatment regularly can condition and improve damaged, dry hair and may prevent split ends. Since aloe vera has antifungal and antiviral properties, it also combats issues like dandruff by hydrating the scalp (
5
).
4. Deep Conditioning
There are many natural ingredients that reduce hair loss. All you need to do is mix some of them and make a love potion for your hair. You can deep condition your hair using these treatments and encourage new hair growth.
Try this mask. Whisk two eggs and add two tablespoons of apple cider vinegar. Add one teaspoon of olive oil and half a tablespoon of honey. Mix it well and apply the paste on your scalp. Keep it on for 20 minutes before rinsing it off with lukewarm water.
Eggs are chock full of protein, which enhances hair growth and strength and controls hair loss (6). Olive oil makes your hair stronger, and honey conditions your hair and adds luster (7).
Apple cider vinegar lowers hair's pH, making your hair stronger and shinier. A study published in the International Journal of Trichologyi  XThe science or study that analyzes the structure, functions, diseases and remedies of the human hair and scalp. shows that high alkalinityi  XA measure of the capacity of a water solution to neutralize an acid or resist changes to maintain a stable pH. may increase friction between the hair fibers, leading to damage to the cuticles and hair breakage (8).
Use this mask regularly to make your tresses stronger and healthier. Here are a few more hair masks that treat hair loss effectively.
5. Reduce Heat Styling
As a general rule, if you love your hair, keep heat styling to a minimum – avoid it completely if possible. Regular heat styling can lead to hair breakage and thinning. That's why you should set hair straighteners, curling tongs, and crimping irons to 180 degrees or lesser. Also, always use a heat-protecting misting spray before applying heat and follow gentle hair styling practices.

Quick Tip
It is generally suggested to limit heat styling to only once per week unless necessary.
You can also opt for protective styles that
keep the hair healthy
. Braid it before sleeping and cover it with a scarf when you go out in the sun to avoid sun damage and air pollution.
6. Almond Oil
Almond oil is a rich source of vitamins, essential fatty acids, and antioxidants, making it a potent natural remedy for hair health. The vitamin E in it is a natural antioxidant and combats oxidative stress and UV damage (9). Its emollient properties help moisturize and soften hair, preventing breakage. The oil also has a cooling effect, which can soothe an irritated scalp in the heat.
Warm a few tablespoons of almond oil and massage it gently into the scalp in circular motions. Distribute it along the length of your hair and leave it on for an hour, preferably overnight, for a more intensive treatment. Wash off with a mild shampoo. Repeating this process once or twice a week can fortify the hair and reduce hair fall during summer.
There are some basic tips you can follow to keep the seasonal hair loss to a minimum. Find them in the next section.
How To Prevent Hair Fall In Summer
Keep your scalp clean and dry.
Shampoo three times a week with a sulfate-free, paraben-free product.
Air-dry your hair before tying it up.
Mira Kapoor, a content creator, shared her experience about dealing with acute hair fall in her video. She said, "I took a little more time to towel dry my hair and I absolutely don't comb my hair when it's wet because the follicles are very delicate and I'm more prone to fallout (i)."
Make sure you protect the scalp from dust and excessive sweating because this can fuel issues of dandruff and cause scalp infection.
Try to avoid air conditioning as it tends to dry out your hair and scalp.
Do yoga and workout regularly to increase blood flow to your scalp.
Infographic: Top DIY Ways To Control Hair Fall In Summer
The summer season may also invite hair loss. The heat can be oppressive, particularly for your scalp and hair follicles, which can further cause hair fall. Additionally, the continuous sweating around the scalp provides the ideal habitat for bacteria to flourish, resulting in hair loss. But don't worry! By using natural methods listed in the infographic below, you can easily combat this issue. Scroll down for more information.


Hair fall during the summer season is one of the most annoying things. When your head becomes warm and insulated during this season, the body undergoes hair shedding to keep your head cool. But, you can protect your hair from falling by following the above mentioned tips and tricks. To prevent hair fall in summer, you may have to incorporate a few things in your daily hair care routine and follow a healthy diet. In addition, avoiding overuse of heat tools will also help prevent hair fall. However, hair loss may have underlying causes like stress, scalp inflammation, allergies, hormonal changes, and immune system disorders which require medication, so you must consult your doctor in case of excessive hair loss.
Expert's Answers To Readers' Question
In which season does hair fall out most?
People experience maximum hair fall during summers.
Which is the best shampoo for hair fall in summer?
Any sulfate-free, paraben-free shampoo would be ideal. Here are a few shampoos you can try.
Is it normal to lose a lot of hair in the shower?
Yes, it is normal to find clumps of hair in the shower drain. However, if you are worried about it, you should consult a doctor.
Why am I losing more hair in the summer?
Most people are prone to hair loss during the summer due to exposure to the UV rays, while other external factors like heat, humidity, dehydration, salt water exposure, and chlorine exposure in water can also contribute.
Does hair loss from heat grow back?
While hair loss from heat damage can't permanently grow back, minimizing the usage of heating appliances or protecting hair from heat exposure can contribute to better hair condition (9).
During which month does hair grow faster?
While no specific month can be stated, hair growth increases during the summer season (10). However it can also lead to an increase in hair fall hence it is advised to follow a proper maintenance routine.
Key Takeaways
You can prevent summer hair fall by regularly massaging the scalp with coconut oil. It will help improve blood circulation, and thereby induce healthy hair growth.
You can also use aloe vera as it has antimicrobial characteristics. It can combat dandruff by hydrating the scalp.
You should eat foods packed with vitamins, minerals, and essential fatty acids. They can assist in healthy hair growth and prevent summer hair fall.
Avoid heat styling your hair as it can lead to hair breakage and thinning.
Deep conditioning of the hair enhances hair growth and strength and controls hair loss
Summer heat can be tough on your hair. Learn how to stop hair fall in summer with this helpful video!

Personal Experience: Source
i. My HONEST HAIRFALL Journey | How I FIXED it!
https://www.youtube.com/watch?v=knqnCHNVPGo
References
The following two tabs change content below.