Have you ever wished to flaunt super smooth hair and be a head turner? Do you envy the celebrities because of their lustrous, silky and smooth hair or even their hair volume?
You don't have to anymore. You would be surprised and happy to know that, it is very simple to transform your hair into your dream tresses.
Smooth hair can be achieved by a process called hair smoothing that utilizes broadly two methods- natural and chemical. Natural methods are simple and have no side effects, but they are not permanent. The chemical methods provide a permanent solution (4-8 months) but have side effects and need proper care and maintenance.
In this article, I will discuss about both the natural and chemical methods for hair smoothing and you can choose the one, which is ideal for you.
How To Get Smooth Hair:
Let's have a look at effective tips on how to get smooth hair naturally:
1. Use the Shampoo Suitable for Hair Type:
A shampoo cleanses your scalp and also makes your hair soft and smooth. However you should always use the shampoo which is suitable for your hair. For better results, wash your hair twice with the shampoo.
The best shampoos for smooth hair that are available in the Indian market are:
Sunsilk keratinology shampoo
The advanced keratinology range by Sunsilk is made for women who want to achieve the salon smooth look at home. I have been personally using this shampoo and this is a great boon. It manages even the driest part of my hair and also repairs the ends. It does not weigh your hair down but makes it smooth and bouncy.
Sunsilk perfect straight shampoo
This new range of Sunsilk shampoo has the Straight-Lock technology which controls and holds every strand perfectly aligned as it dries. It penetrates deep within the hair fibre, reducing frizz and giving you the super smooth hair.
Tresseme smooth and shine shampoo
One of my favourite shampoos, this contains vitamin H and silk protein which intensely moisturizes dry, rough hair making it smooth and soft. It is used by professionals and now you can achieve salon soft hair at home.
However, you should always try to use to natural ingredients to cleanse your hair.
Make your own natural shampoo by boiling dried Indian gooseberry (amla), shikakai and reetha.
Rub them well to get a soapy solution.
Use this to wash your hair at least twice a week to get shiny and smooth hair.
2. Rinse With Cold Water:
This would be a very difficult task in winters, but never use hot water to rinse your hair, as it will make it frizzy and rough. Cool water rinse causes the hair cuticle to close and lie flat making the hair smooth. It also de-fizzes your hair, giving it the right volume.
3. Careful Combing:
Never comb your hair when it is wet, as it will damage the top layer of your strands making it look fizzy and rough. Always allow your hair to dry down a bit and then comb through them using a wide toothed comb.
Always start combing from the bottom of your strands, and move upwards toward the crown. If you start combing form the top of your head, it can cause breakage and damage which will lead to fizzy hair.
4. Proper Conditioning:
A deep and right conditioning treatment can work wonders to your hair making them smooth and silky. Here is a secret tip for you – do not rinse off all the conditioner from your hair. Keep a little amount of conditioner behind. This will smoothen the outer surface of your strands.
You can also use leave-in conditioners and serums, which are very useful to achieve that smooth and frizz free look. Leave-in conditioners are especially beneficial for people with curly hair.
5. Take a Break From Heat:
Straightener, curling iron, perming rod etc may be the best solution for instant styling but on regular use, these are very harmful for your hair. The heat from these tools damages your hair making them coarse and frizzy, by stripping off the natural sheen from your hair. So start loving your natural tresses.
However if you want to use these tools, always remember to use the heat protecting spray or serum as it helps to reduce the damage from the excess heat by forming an envelope over your hair.
The following two tabs change content below.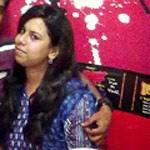 Latest posts by Ankita Biswas (see all)