50 Amazing Rangoli Designs And Patterns For 2014
Indians love colours and it's natural that we show this love for colors in various forms and ways. One such beautiful way is through colourful Rangolis. So what is Rangoli? Well rangoli is a colourful design, a pattern with loads of colours. It can be based on any theme or pattern.
Indians do rangolis for many occasions like festivals, marriages etc and it's an inseparable part of our culture. But India is a very diverse country and this diversity is seen in various types of rangolis that we see throughout the nation. It's not strange that each part of the country has its own style and way of doing Rangoli.
It also goes by different names in different states:
Rajasthan: Mandana
Madhya Pradesh: ChowkPurna
Orissa: Ossa
Kolkata: Alpana
Tamil Nadu: Kolam
Andhra Pradesh: Muggu
Maharashtra: Rangvalli
Gujarat: Sathiya
Bihar: Aripana
At Stylecraze, we always believe in presenting something unique and fun, so here is a list of 50 amazing Rangoli designs from across the country.
Rangoli

Designs and patterns:
1. This one is good for people who have minimum experience with Rangolis. There is minimal design work and not much colour used, so it's easy to do. Also this is ideal for Diwali as we see in the picture too. The diyas add uniqueness to the design.
2. Now this is a grand design of Rangoli using loads of different colours to give this a very colourful and extravagant look. This is definitely not for the ones who are new to this craft.  Black, red, orange, blue pink and purple shades are used in this. The geometric shapes make this truly appropriate for the Diwali celebrations or for a wedding eve.
3. Now unlike usual designs of Rangoli, this one is made out of flower petals in different colours. Marigolds in different colours and lotus buds as well as other coloured flower petals are used to make this beautiful design.
4. Now this is like a whirlwind design with different coloured flower rangoli petals. The colours used are very striking and catch your attention easily. This design is quite unique from the normal Rangoli we usually come across.
5. This one also is a quite unique. The design shows a peacock and its feathers. The creator within the creation is the concept here. It is a unique thought and the design is quite complex also.
6. Hindu's celebrate Laxmi Puja with much pomp and here we see a simple yet colourful rangoli that fits this occasion very well. The symbols related to the deity – the 'Kalas' and the 'Lotus flower' are used to make the design more appropriate for the occasion.
[ Read: Indian Rangoli Designs ]
7. A very colourful and lively rangoli for welcoming the guests into the house. The words Welcome in hindi that is 'Suuswagatam' is written on the rangoli to receive guests with a smile. This rangoli uses lots of colour and is ideal for any occasion.
8. This one is simpler than the other ones. There is a minimum variation of colour and the design is also kept very simple. This can be done at home easily by people who are less experienced too.
9. A combination of contrasting and vibrant colours and the addition of Diyas make it a very beautiful Rangoli. This design uses mainly geometric patterns and shapes, and can also be done by those with less experience.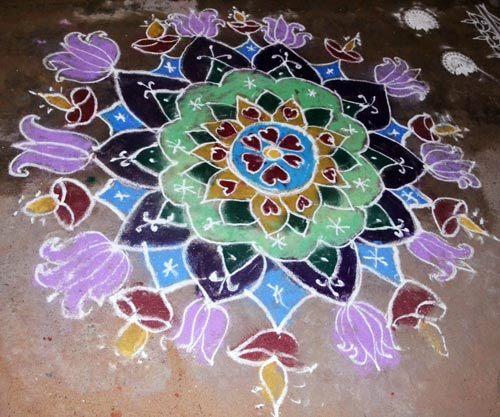 10. This one displays a lot of different shapes and patterns. This design is a great way to decorate your homes during Diwali. The little diyas in the design also add to this context.
11. Another Diwali rangoli design with loads of bright shades which are sure to lift your mood and make your house look all the more colourful. The bright shades used include red, orange, pink, yellow, green and black.
[ Read: Best Pookalam Design ]
12. This design includes two peacock rangolis made on either side and in the middle there is a small tub full of floating diyas and flowers. This looks very beautiful for Diwali. This design is sure to attract the guests' attention.
13. Another one for the Laxmi Puja and other celebrations. Bright pink shades along with orange, white and yellow shades are used to give this rangoli a bright look. This one is sure to catch the attention of all your guests.
14. Now this one is a totally different concept in rangoli. This is not your usual design, as only the face of the deity is done using this beautiful and colourful rangoli design.
15. Lord Ganesha finds a way into the art of rangoli with this awesome design. The design requires very good skill. It shows immense expertise in rangoli drawing and the beautiful blue colour makes it even more attractive.
16. Now this style shows how flower petals, buds, leaves, grass and other items can be used to make beautiful rangoli designs. These are perfect for any occasion to add some beautiful colour to your home. The main attraction for this style is the center pattern comprising of several lotus flowers.
17. This one is also done with flower petals and is used with Diyas to make it even more beautiful. The open spaces within the designs give it a unique touch.
18. Another flower rangoli but this one shows master design and expertise. The flower petals are arranged with very minute care to make them look so beautiful. This design is sure to fetch you a lot of compliments during the festive season.
19. A Diwali design for rangoli. The peacock looks quite nice with its vibrant tail and feathers. The use of bright colours like green, orange, yellow and blue makes this very beautiful.
20. Round spiral shapes of different colours are used to make the rangoli. The use of different colours to differentiate each circle is quite unique and this one is easy enough for anyone to accomplish.
21. This one presents the use of different floral designs and shapes. The colours too are quite nicely chosen keeping in mind the flower they represent. This one is also great for Diwali.
22. Another vibrant peacock design for your festive rangoli. This one is unique for its use of bold colours which will attract attention easily. This design is also done with minute details making this a perfect choice for the festive season.
23. A beautiful flower petal rangoli for all of you to try at home. It's quite easy to achieve and will brighten up the whole mood of the house. It's fit for any occasion as well as wedding and religious celebrations.
24. This one is for the kolam festivals and the bright peacock is sure to make everyone amazed. There are contrasting colors used like green, blue and yellow which further enhances the look.
25. This again is a rangoli for the Kolam festivals. The bright blue and pink combo makes this a great choice. Also the designs included are basically geometric shapes making this an easy choice for those who are new to making Rangolis.
26. Now this is a very complex one. Also done during the Kolam festivals, this one shows superb skills which are required in the making of Rangolis .
27. This one also is a masterpiece of expert Rangoli makers. The bright shades as well as the minute details presented make this a sure winner.
28. Another beautiful Kolam festival design for you. This one is also a very colourful one with bright pink and blue shades being used. The design is quite unique too with the peacock designs.
29. The bright green shade used for this rangoli design makes this look even more beautiful. With bright shades and geometric designs, this one will surely win the hearts of your guests.
30. Now this is a great way to use flower petals to make rangoli for the Diwali celebrations. The diyas at each end of the design also add up to the beautiful rangoli pattern.
31. In this rangoli we see the use of white as well as bright bold colours to do the rangoli. We also see the diyas as well as a big 'panchpradip' in the center. This one can be done on any occasion or a formal event too.
32. Are you seeing how big this Rangoli is? The design is quite simple but the plus point is its huge size. It can surely be done where you have a large open space.
33. If you thought the last one was huge, just take a look at this one. It's humongous. Doing a Rangoli of this size takes time as well as the skill of many artists. You may try the patterns in smaller sizes at home. It can be done on any occasion.
34. This one is for holi. Holi is a festival of colours and what better way to celebrate the spirit of colour than doing some beautiful and colourful rangoli at your home. This one is perfect for the occasion.
35. Here we are seeing another Diwali rangoli design. This one is very beautiful with diyas drawn on it and the 'Om' in the centre also makes this unique.
36. This one is one of the best we found. This design is complex and there are many colors used. All colours are mainly flower petals and the petals are used to create an illusion of shading. A magnificent creation.
37. A small yet beautiful design. We love how diyas and roses are used in the centre to give this a nice touch.
38. This one is quite unique in respect to the design we usually see. The 'Om' design in the center makes it applicable for all kinds of celebrations. There are very minute details which also make this a very beautiful Rangoli design.
39. Now this one is a very vibrant Rangoli. With blue, yellow and orange colours being used this is surely a colorful way to decorate your home. There are very small details which makes it a very beautiful choice.
40. Here's another flower Rangoli. This one is made with very small details and the flower pattern in the center is sure to draw attention.
41. Here's a beautiful Rangoli for diwali. The striking colours and the heart shaped diyas placed on the sides of the Rangoli make this look even better.
42. This one is a really pretty design for any occasion. There is a spiral pattern in the center. The use of the color makes this a very innovative Rangoli.
43. If you are all up for unique colours and designs, then this one is for you. The special point? – The bright colours and the fish pattern.
44. Here's another pretty flower Rangoli made with flower petals and leaves. The use of marigold flower is prominently seen in this one.
45. Here's a very simple yet beautiful design to start off with in our collection. Simple geometric pattern and colours used here range from green, yellow, blue, orange and red. It's a very bright and fun way to add some festive colours to your home or community. It's a great choice for any occasion especially holi.
46. This one is quite simple compared to the first one. It has loads of colour but the designs and patterns are not connected. This design is great to do when there is a special occasion and you are planning to add that special touch of colour to your homes.
47. This one is specially meant for Ganpati festival and it's quite easy to do. The colours are also quite less vibrant. The basic colours include white, black, red and the center of attraction of the design is the ganpati design in the middle.
48. Another one for the Ganpati festival! This one is a bit more colourful than the previous one and uses green red, white, blue and orange. The main attraction here too is the Ganpati design in the middle. The striking colour combination is also a plus point in this specific rangoli design.
49. Another very beautiful Ganpati design using simple and earthly colours like mustard yellow, orange and brown. This is very beautiful and looks very apt for the festive season. The Ganpati design in the middle is quite tough to do, so those who are new to this craft may stay away from this design.
50. Last but not the least, this one is about lord Ganesh. The center of attraction here is of course lord Ganesh himself. The Ganesh rangoli design is quite unique in this and is the main theme of this Rangoli.
Images: Google
If You Enjoyed This Post, Sign Up For Newsletter
(And get your daily dose of Beauty & Wellness tips straight to your inbox)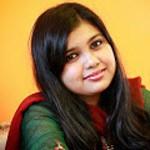 A Blogger, a writer, Makeup hoarder and makeup fanatic- I love writing and love love trying new products and sharing my makeup ideas with the world. .