Top 10 Antonio Banderas Perfumes For Women
From floral-fruity fragrances to woody tones, these perfumes are great for all occasions!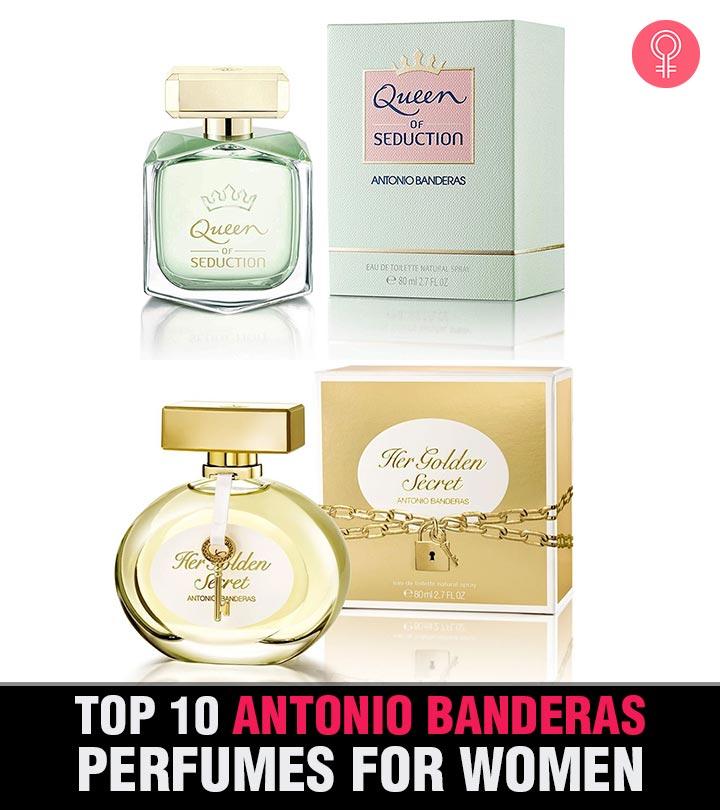 Let us help you decide on your signature scent by listing the best Antonio Banderas perfumes for women currently taking the fragrance departments by storm. Not only do they last long, but the variety of perfumes is quite distinct, which makes the brand stand out from others. You can fit the scent according to the vibe or occasion. Whether you need your regular scent for work, special party scents, or looking for something floral or musky, Antonio Banderas has a solution for it all. Continue scrolling down to find your kind of scent!
The 10 Best Antonio Banderas Perfumes For Women
Review
 Described as the "essence of seduction", Her Secret is a gorgeous blend of woody, powdery, and sweet notes. The mesmerizing top notes contain wild strawberry, grapefruit, and bitter orange blossom that blend beautifully with its spicy vanilla base. If you're on the quest for a fragrance that is subtly sweet and yet feminine, this one's for you. Go ahead and check out this YouTuber's video for more details about the product.
Pros
Long-lasting
Great packaging
Decent sillage
Suitable for office wear
Non-staining
Cons
Some find the smell too sweet
Review
If you're looking for something with an edge, Her Golden Secret is a real treat for your senses. Crafted with a blend of fruity notes of bergamot, apple, mandarin, and peach, its warm and musky vanilla base adds an exquisite, lady-like touch to the fragrance. This is a great pick for evenings and ideal for women over 25. To get a better understanding of the product, you can check out this video on YouTube.
Pros
Long-wearing
Classy packaging
Decent sillage
Suitable for date night
Cons
Review
Queen Of Seduction is a fruity-floral fragrance that features notes of grapefruit, raspberry, and watery accord at the top. It has a sensual heart of peony, iris, jasmine, and pink pepper, and its base is comprised of cedar, amber, and suede. This blend is a delicious balance of sweet and sour notes that last through the day. It is ideal for daily wear and is also office-friendly.
Review
Her Secret Desire by Antonio Banderas is a fruity floral fragrance launched in 2019. It is crafted with fruity fragrances–  the top note comprises raspberry and bergamot. In the middle comes orris, violet, Indian Jasmine, and Neroli. The base notes are vanilla, sandalwood, and Balsam Fir. Check out the review of this product for more information.
Pros
Long-lasting
Premium-quality ingredients
Travel-friendly packaging
Great sillage
Cons
May not be suitable for sensitive skin
Review
Splash Blue Seduction is a refreshing floral-fruity fragrance. Its top notes are comprised of juicy tangerine, black currant, peach, and pear. The middle notes are a blend of gardenia, freesia, jasmine, Bulgarian rose, and raspberry. With woods and musk in its base, this one's quite loud but surprisingly smooth overall. If you're looking for a summer scent, Splash Blue Seduction is summer personified.
Review
Diavolo is an oriental fragrance that is great for those cold winter days. Its first whiff is green with a combination of violet and rose, while the jasmine is shy but clearly present. With natural vanilla and a sprinkle of cinnamon in its base, this is a simple, no-nonsense fragrance. It is easy to wear and more suitable for the older lot.
Pros
Great sillage
Travel-friendly packaging
Easy to wear
Suitable for winter
Cons
May need frequent retouches
Review
The Her Secret Temptation by Antonio Banderas belongs to the woody oriental family of fragrances. The top notes include neroli, pink, pepper.The heart notes are rose, iris, sambac, and jasmine.The base notes include musk, sugarcane accord, and patchouli. If you're looking for a fragrance that is not too overpowering, and perfect for casual night-time wear, this is the one for you.
Pros
Long-lasting
Lightweight
Reasonably priced
Suitable for nighttime wear
Cons
None
Review
Her Secret Night is a delicate union of black currant, mandarin, green apple, and lemon. Its heart includes a rich bouquet of gardenia and orange blossom while its base is deep and warm, highlighted with patchouli, sandalwood, amber, and tonka. This fragrance is ideal for evenings and classic for anyone who likes fruity smells with a hint of woody spiciness.
Review
Diavolo So Sexy opens with top notes of mandarin, bergamot, and green notes. Its heart is spicy with cinnamon and geranium while its base has patchouli, sandalwood, and musk. It is great for daytime or casual use.
Pros
Long-lasting
Sleek packaging
Decent sillage
Fade-proof
Suitable for casual wear
Cons
Scent may be overwhelming
Review
Her Secret Game is designed for elegance and a hint of mystery. It opens with fruity notes of mandarin, bergamot, strawberry, raspberry, and pineapple. Its floral heart is laid on a base of musk, patchouli, and sandalwood. This perfume is super versatile and perfect for women over 20.
Although Antonio Banderas can do way better at naming his scents (by using words other than 'seduction', 'secret', and 'sexy'), his fragrance line is pretty phenomenal. Even though it is a celebrity perfume brand, almost all his fragrances are reasonably priced and easily available.
Why Trust StyleCraze?
Esha Saxena is a makeup enthusiast and loves to experiment with various makeup products. Aiming to create a list of some amazing Antonio Banderas perfumes for women, she conducted thorough research to curate this list of the best ones. She checked the fragrance notes and read product reviews to pick the best-rated products for the list.
Frequently Asked Questions
Why is Antonio Banderas perfume famous?
Antonio Banderas perfumes come in three categories – Seduction, Secret, and Classics. All perfumes emit unique fragrances that lift the mood and rejuvenate the senses. Therefore, Antonio Banderas perfumes are very famous.
Is Antonio Banderas perfume good?
Yes. Antonio Banderas perfumes smell fresh and attractive. The perfumes' light but intense lingering aroma makes them ideal for various occasions. Also, the fragrances are long-lasting.
How long does Antonio Banderas perfume last?
Antonio Banderas perfumes last about four to six hours. However, the fragrances can last long if appropriately worn on cleansed skin.
Is Antonio Banderas perfume cruelty-free?
No. The fragrances from Antonio Banderas are often tested on animals.
What does Antonio Banderas black seduction smell like?
Antonio Banderas Black Seduction is an intoxicating personal fragrance. The top notes comprise the citrus flavors of Italian bergamot and blackcurrant, the middles notes feature the spicy taste of cardamom, cilantro, and nutmeg, and the woody base note exhibit the fragrances of musk, amber, tonka, and cedar.
Recommended Articles: