Top 7 Hair Lightening Sprays For Blonde Hair In 2023
Get your hair color on point by using the right hair lightening spray that suits you.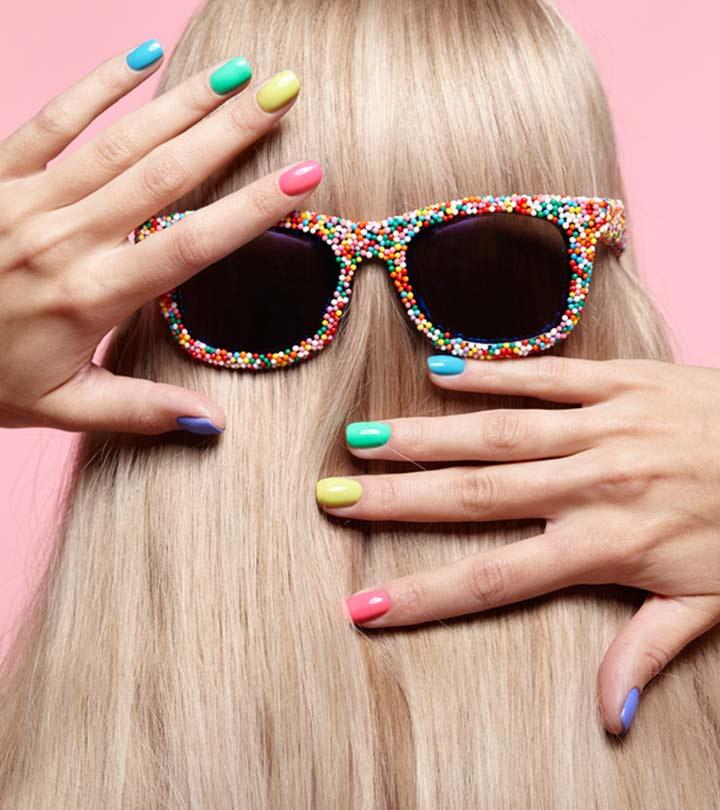 Summer officially calls for light and bright hair! If you are in the mood to lighten your hair by a few shades effortlessly without visiting the salon, you may try the best hair-lightening sprays available OTC.
Though dark hair seems alluring, there are times when you yearn for those sun-kissed highlights on your tresses. Hair-lightening sprays help you lighten the natural hair color by a few shades without harsh chemicals. With these sprays, you don't even have to master the technique of using at-home DIY kits. So, check out our list of the best hair-lightening sprays for a hassle-free experience. Read on.
Top 7 Hair Lightening Sprays For Blonde Hair In 2023
If you are looking for gradual hair lightening options, you can bank on this spray. This heat-activated lightening spray is the stuff of dreams. It gradually brightens your blonde hair by up to 2 shades. Formulated with a blend of citrus and chamomile, this product treats your hair for the desired results. You can use it on color-treated hair without hesitation! All you have to do is spritz the spray-on wet hair and use a curling wand or flat iron after blow drying, and let the magic happen. Have a look at this video to learn more about the product.
Pros
Easy to use
Heat-activated
Can lighten up to 2 shades
Suitable for natural and color-treated hair
Cons
Some may find the shade more brassy than blonde.
Price at the time of publication: $19.22
Sun Bum products center around the beach+sun lifestyle, which is why they know what you are looking for and offer you just that! This product is more than ideal to add subtle tones and highlights to your hair without aggressive chemicals. As Sun Bum says, it's nothing but good vibes for your hair. This lightening spray for blonde hair is enriched with Costa Rican pineapple and Meyer lemon and is gluten, cruelty, and paraben-free! Apply it before exposing your hair to the sun and let it do what it does best. Here is an informative video that tells you more about the product.
Pros
Natural ingredients
Gluten-Free
Cruelty-free
Paraben-Free
Suitable for natural and color-treated hair
Cons
It may leave an orange hue on certain hair types.
Price at the time of publication: $14.99
The Camomila Intea hair lotion is best described as a complete treatment that allows progressive hair lightening. With a list of active ingredients that include chamomile extracts, this formula help lighten your blond locks that have darkened over time. It makes your hair 2 shades lighter while protecting it and adds intense shine. Apply it to activate it using the heat from a blow dryer or the sun! For more information about the product, click this video.
Pros
Does not stain
Paraben-free
Ammonia-free
Developed and tested by pharmacists
Cons
Some felt that it left their hair slightly dry after extended use.
Price at the time of publication: $39.98
If you are looking for those natural vacation highlights, we've got just the spray for you! This Sun-in Hair product is so good that it can be your go-to spray for year-round hair lightening. Forget the salons! This natural hair lightening spray offers you a fast and easy way to lighten your hair indoors; yes, without the sun. Just spray it, blow dry your hair, and see your locks magically transform. To make things even better, this lemon hair lightening spray is paraben and alcohol-free.
Pros
Heat-activated
Alcohol-free
Paraben-free
Cruelty-free
Contains botanical extracts
Cons
Some may find the fragrance overpowering.
Price at the time of publication: $11.09
As Klorane likes to call it, this lightening spray is 'sunshine in a bottle'. Or at least your hair thinks it is! It is an ultra-clean and gentle sun lightening spray that contains no bleaching agents; essentially nothing bad and everything good. It simply brightens and lightens your locks for a sunny and summery look. This product gives you progressive results to allow you to build your highlights in the way you like. This product adds honey-gold highlights to light brown-ish hair. It is suitable for all types of hair, including natural, color-treated, and highlighted as long as they were originally blond or light brown.
Pros
Heat-activated
Paraben-free
Silicone-free
Sulfates-free
Ammonia-free
Hydrogen peroxide-free
Cons
Some may find it slightly sticky.
Price at the time of publication: $18.0
The Okara Blonde Brightening Spray is a leave-in bi-phase formula that is highly concentrated in ReflectLumière. The concentration enhances the radiance of blond hair that is natural, highlighted, or bleached. It further naturally lightens it by one shade, at least, to give the hair a sun-kissed effect. It is made with Okara extracts, vitamin B5, and mica glitter that help repair and reinforce the hair's natural structure.
Pros
Leave-in formula
Contains antioxidants
Repairs and reinforces hair structure
Shimmery texture
Cons
Price at the time of publication: $29.35
This Emme Diciotto product is an innovative and unique spray that helps to lighten hair up to 2 tones in a few steps. Activated using heat, this product offers salon-grade permanent hair lightening. It works on natural and dyed hair without any trouble- opening endless possibilities for your future hairstyles. A single bottle of Emme Dictiotto contains enough nourishing properties to give you breakfast a run for its money!
Pros
Easy to use
Heat activated
Lightens up to 2 tones
Contains nourishing properties
Cons
May cause discoloration on clothes
A Helpful Buying Guide To Purchasing Hair Lightening Sprays
If you are clear about what you want and want it quick, opt for a spray that provides instant results rather than progressive ones. Look for a spray that instantly lightens your hair by 2 or 3 tones. If you're still confused, try a progressive lightening spray. Progressive sprays, as the name suggests, make slow changes to your hair color.
Here, we are mainly talking about hair coloring. If you have color-treated hair or hair that has been breached previously and the results still show, make sure you select a product that is suitable for that. Not all sprays work well with colored hair and may lead to undesired outcomes.
Exposure to the sun and free radicals makes the hair darker. Hair lightening sprays usually work to get the original and lighter hair color back. However, if your hair hasn't been exposed, it is unlikely to have gotten darker. If it is currently in its original shade, one should not expect dramatic results. i
How Do Hair Lightening Sprays Work?
Lightening sprays are most commonly heat-activated. All our selected products work by heat activation and offer results depending on the heat exposure. Depending on the instructions on the bottle, you can sit under the sun and let the product work its magic or blow dry your hair followed by a straightening session.
By shortlisting the top 7 hair lightening sprays and a buying guide to help you select one from the list, our job here is done. All you need to do is look at the buying guide, decide what factors fit you, and then make the final decision based on those factors. We hope you found what you were looking for, and it makes your hair look healthy, radiant, and happy. Go ahead, enjoy your post-vacation hair without the vacation.
Frequently Asked Questions
Do lightening sprays damage your hair?
Lightning sprays are unlikely to cause severe damage to your hair. However, some products may have a higher likelihood than the other and can be avoided. More importantly, it is essential to note that since most sprays are heat protected, it is important to be responsible and careful while using curlers and straighteners with products that may have chemicals.
Does a lightening spray work on dark hair?
Depending on the shade and tone of the hair, yes it may work. However, it is unlikely to show results on very dark to black hair. The Emme Diciotto SPLIGHT Lightening Spray may show favorable results, even on dark hair.
Are hair lightening sprays safe?
The sprays are safe in general. However, users are advised to be on the lookout for allergens and chemicals that might cause allergies or skin reactions.
Is Sun Bum lightening spray bad for your hair?
In rare circumstances, the Sun Bum lightening spray has caused hair damage. But it is rare and unlikely to repeat.
How do I apply lightening spray on your hair?
While showering, condition your hair as a prepping step before applying a lightening spray. Towel-dry your hair and put on the spray. For the best results, use a flat iron or curling iron after applying the spray.
What is the best hair lightening spray?
The best hair lightening spray is the John Frieda Sheer Blond Go Blonder. It brightens your blonde tresses without damaging them.
Can you use a lightening spray every day?
No, hair lightening sprays cannot be used every day. You can use it twice per week, but it is recommended that you use hair lightening sprays as little as possible.
Recommended Articles