7 Best Lip Plumper Devices – 2022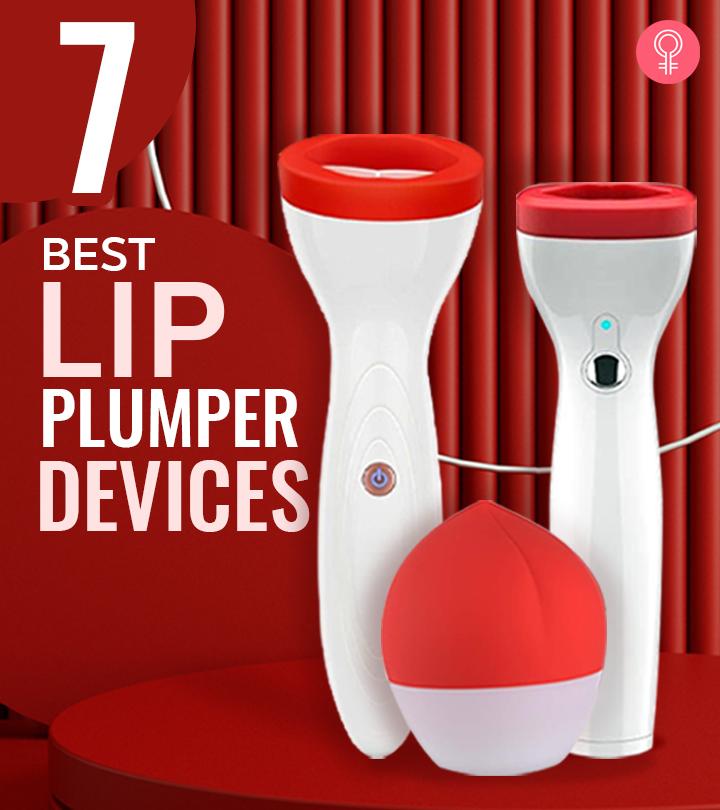 You do not have to depend on painful and expensive lip augmentation surgeries or lip injections when you have a lip plumper tool. There is a range of best lip plumper tools you can choose to achieve those pouty lips within minutes. This effect can last up to 30-40 hours. These tools are safe, affordable, and non-invasive. They work by boosting the blood flow by suction pressure to the capillaries in the lips. You do not need any special maintenance for these devices. The best part is they are portable and easy to operate. Also, they can effectively reduce fine lines, drooping angles, and lip lines.
Find out the top lip plumper tools from our article below.
7 Best Lip Plumper Device Available Right Now
Fullips Lip Plumping Tool is a non-surgical, non-invasive self-suction device that can temporarily plump up your lips. It is effective and shows results within minutes. Your lips look luscious for almost 1-4 hours, depending on the user. This lip plumper comes in 3 different sizes – large round, medium oval, and small oval – to cater to different lip sizes and shapes. It can be used regularly as it is made of hard plastic. Use this product with caution. To avoid bruising, use it in 15-30 second increments. It is affordable and easy to use and carry. This ultimate lip plumper has been featured in Cosmopolitan, Marie Claire, People, Daily Mail, and E! Online.
Pros
Available in 3 different sizes
Available in round and oval shapes
Results last for 1-4 hours
Instant results
Painless
Affordable
Easy to use
Effective design
Easy to carry
Cons
Plastic is thick
Results vary from user to user
The Treenewbid Lip Plumper Tool is made of soft food-grade silicone that feels gentle on the lips and doesn't contain any chemicals. No need for any electric power or batteries, as you can simply suck on this device for a few seconds and instantly get fuller, healthy-looking lips that last for 2 hours long. The small and cute design of the plumper makes it super comfortable for travel.
Pros
Painless
Soft
Travel-friendly
Easy to use
Instant results
Cons
Not very long-lasting results
JuvaLips Automatic All Natural Lip Plumping Device kit contains the following items: JuvaLips Original Lip Plumper Device, a removable mouthpiece, a microfiber carrying bag, and two AAA batteries. This beauty gadget is compact, easy to use, and safe as it has a push-button control with additional settings for time and pressure. This lip plumper boosts blood flow to the capillaries of your lips so they look fuller and voluptuous within minutes. JuvaLips is made in the USA and has a patent-pending.
Pros
Soft contoured mouthpiece
Compact
Safe
Results last up to 4-6 hours
Long-lasting replaceable pads
Suitable for sensitive skin
Instant results
High quality
Cons
The ZIOYCKL Lip Plumper Device is a quick and painless solution to get fuller-looking, pout-perfect lips. It is made of food-grade silicone. You can safely suck on it for 15-30 seconds and get enhanced lips instantly that last as long as 1-4 hours. Apply a little oil and suck on it before applying lipstick or gloss, and see amazing results for yourself.
Pros
Food-grade silicone
Easy to use
Lasts 1-4 hours long
Painless
Cons
Causes bruises if used for long periods of time
The Maitys Lip Plumper enhances the appearance of lips by boosting blood flow into their capillaries. The suction effect is instantaneous and lasts for 1-4 hours. It is designed keeping your safety and comfort in mind. This affordable lip plumper is made of high-quality silicone that is soft and flexible to use. This lightweight, cherry red plumper can be easily carried in your bags for multiple touch-ups throughout the day.
Pros
Painless
Flexible
Easy to use
Plumping lasts for 1-4 hours
Cons
Might not work for some people
MQUPIN Lip Plumper Device is made with high-quality eco-friendly materials that are safe and durable. It plumps up the lips naturally without any side effects. The desired results can be observed within 2 minutes and are clinically proven to last for up to 2 hours. It is very easy to use as it is engineered to shape and contour the lips for a fuller appearance. This lip enhancer comes in an attractive red color and has a 12-month warranty.
Pros
High quality
Made with eco-friendly materials
Works within 2 minutes
Safe
Durable
Easy to use
Results last for 2 hours
12-month warranty
Cons
Results vary from person to person
FERNIDA Lip Plumper Tool gives you thicker lips and a fuller pout instantly. Complete your look with lip balm or apply lipstick or plumping gloss for dramatic results. This lip plumper is made of eco-friendly, food-grade materials and has an adorable red peach design. The silicone is it is made of is soft and flexible. This fragranced lip plumper can be used daily without any pain, swelling, or bruising. It comes with a jelly-soft mouth cover that helps in sealing the lips tightly for plumping. This device helps in reducing the droopy angles and lip lines around the lips.
Pros
Instant results
Painless
Made with eco-friendly materials
Soft and flexible materials
Comes with a lip cover
Food-grade materials
Cons
Contains artificial fragrance
Why Trust StyleCraze?
Shiboli Chakraborti, the author, is a certified skin care coach who has a keen interest in reviewing skincare products for her readers. She researched various devices and went through user feedback on trusted platforms to assemble this list of the best lip plumpers that are safe and non-invasive. The shortlisted devices are affordable, painless, portable, and provide instantly luscious lips.
Recommended Articles