7 Best Lip Plumper Devices – 2021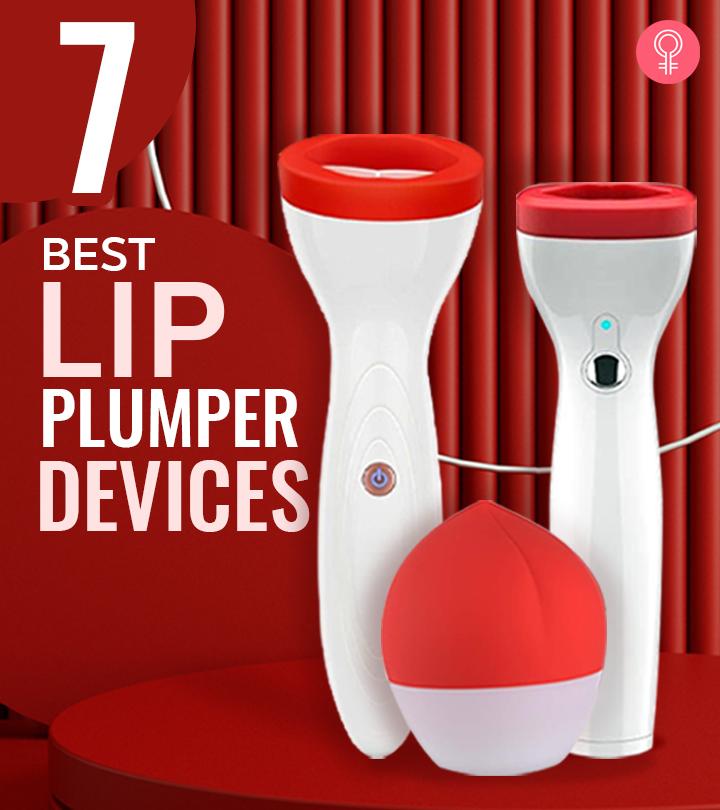 Lip plumpers are a non-invasive, safe, and affordable way to get big, pouty lips instantly! These lip-enhancing devices gently boost the blood flow to the capillaries in your lips by using suction pressure. This temporary effect can last up to 30-40 hours, depending on the user. These lip-plumping tools are the perfect alternative to expensive and painful lip injections and lip-augmentation surgery. Self-suction plumpers do not need any external assistance or maintenance. They are easy to operate and portable. Some of these devices also have added anti-aging benefits such as reducing lip lines, fine lines, and drooping angles.
Listed below are our top picks for lip plumper devices currently available. Check them out!
7 Best Lip Plumper Device Available Right Now
Fullips Lip Plumping Tool is a non-surgical, non-invasive self-suction device that can temporarily plump up your lips. It is effective and shows results within minutes. Your lips look luscious for almost 1-4 hours, depending on the user. This lip plumper comes in 3 different sizes – large round, medium oval, and small oval – to cater to different lip sizes and shapes. It can be used regularly as it is made of hard plastic. Use this product with caution. To avoid bruising, use it in 15-30 second increments. It is affordable and easy to use and carry. This ultimate lip plumper has been featured in Cosmopolitan, Marie Claire, People, Daily Mail, and E! Online.
Pros
Available in 3 different sizes
Available in round and oval shapes
Results last for 1-4 hours
Instant results
Painless
Affordable
Easy to use
Effective design
Easy to carry
Cons
Plastic is thick
Results vary from user to user
This electronic lip plumper helps in making your pout look fuller by increasing the blood flow to your lips. The volumizing effect can be seen instantly and lasts up to 30-60 minutes. This lip plumper is made with soft silica gel and easy to use. The compact design makes it convenient to carry. This sleek and stylish hand-held device comes with a battery charger. It is a great option to use during special occasions to plump up your lips quickly.
Pros
Made with soft silica gel material
No side effects
Painless
Easy to use
Comes with a rechargeable battery
Budget-friendly
Sleek, non-slip design
Intelligent deflated design
One-touch control
Cons
JuvaLips Automatic All Natural Lip Plumping Device kit contains the following items: JuvaLips Original Lip Plumper Device, a removable mouthpiece, a microfiber carrying bag, and two AAA batteries. This beauty gadget is compact, easy to use, and safe as it has a push-button control with additional settings for time and pressure. This lip plumper boosts blood flow to the capillaries of your lips so they look fuller and voluptuous within minutes. JuvaLips is made in the USA and has a patent pending.
Pros
Soft contoured mouthpiece
Compact
Safe
Results last up to 4-6 hours
Long-lasting replaceable pads
Suitable for sensitive skin
Instant results
High quality
Cons
This lip plumper device is designed using data about lip geometry, so it is suitable for most lip shapes and sizes. It has a safety control that protects your lips from injury and bruising. This innovatively designed device helps in making your lips look fuller, reducing fine lines and droopy lips. It contours to the natural lip shape. It comes in a unique red color with a built-in 500mAh battery and 3 power settings: low, medium, and high. Thus, it enables you to control the suction power. The soft silicone material at the end helps ensure a secure and comfortable grip. This compact, lightweight lip plumper has been FDA-certificated and patent-registered. It is easy to operate, affordable, and painless.
Pros
Comfortable grip
Three gears power
Intelligent deflated designed
Compact
Lightweight
LED light indicator
CE RoHs FDA-certificated
Cons
CIDBEST Automatic Lip Plumper enhances the appearance of lips by boosting blood flow into their capillaries. The suction effect is instantaneous and lasts for 30-60 minutes. It is designed keeping your safety and comfort in mind. This affordable lip plumper has 3 different power levels – low, medium, and high – and 2 plumping options – "apple lip" or "full lip" effect. It helps in controlling excessive lip plumping. It comes with a built-in battery with portable USB charging so it can be used throughout the day for constant touch-ups.
Pros
2 plumping options
3 suction settings
Gentle
Instant results
Results last for 30-60 minutes
Rechargeable battery
Comfortable grip
Cons
MQUPIN Lip Plumper Device is made with high-quality eco-friendly materials that are safe and durable. It plumps up the lips naturally without any side effects. The desired results can be observed within 2 minutes and are clinically proven to last for up to 2 hours. It is very easy to use as it is engineered to shape and contour the lips for a fuller appearance. This lip enhancer comes in an attractive red color and has a 12-month warranty.
Pros
High quality
Made with eco-friendly materials
Works within 2 minutes
Safe
Durable
Easy to use
Results last for 2 hours
12-month warranty
Cons
Results vary from person to person
FERNIDA Lip Plumper Tool gives you thicker lips and a fuller pout instantly. Complete your look with lip balm or apply lipstick or plumping gloss for dramatic results. This lip plumper is made of eco-friendly, food-grade materials and has an adorable red peach design. The silicone is it is made of is soft and flexible. This fragranced lip plumper can be used daily without any pain, swelling, or bruising. It comes with a jelly-soft mouth cover that helps in sealing the lips tightly for plumping. This device helps in reducing the droopy angles and lip lines around the lips.
Pros
Instant results
Painless
Made with eco-friendly materials
Soft and flexible materials
Comes with a lip cover
Food-grade materials
Cons
Contains artificial fragrance
Lip plumping devices help you achieve those big pouty lips safely. They are pain-free, non-invasive devices that work quickly and are easy to use. It is better to avoid cheap and gimmicky lip plumpers and opt for one of the good-quality, durable products listed above.
Recommended Articles