10 Best Vegan And Cruelty-Free Leave-In Conditioners For All Hair Types – 2023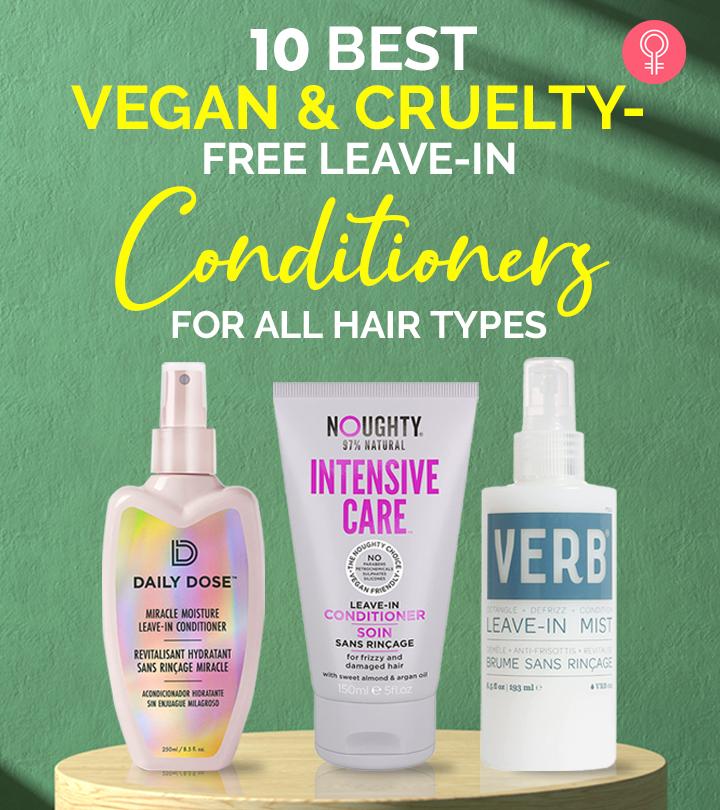 Who doesn't want a head full of lustrous, healthy hair? There are lots of modern hair care products that will help you accomplish your hair goals. But the best cruelty-free and vegan leave-in conditioners will not only make your hair look beautiful but also more manageable.
Cultivating healthy hair can get complicated if you have hair that is fragile or dry. You might have to keep using many products for your hair to feel and look better. Alternatively, you can use some of the best cruelty-free and vegan leave-in conditioners that will give you multiple benefits. We have put together a list of the best ones to save you the trouble of going through hundreds of products. Scroll down and check it out!
10 Cruelty-Free And Vegan Leave-In Conditioners Suitable For All Hair Types
The HASK CURL CARE 5-IN-1 Leave-In spray conditioner detangles your hair, prevents breakage, and controls frizz. In addition, it provides thermal protection and seals in the moisture to add shine and make your locks soft and flowing. This vegan leave-in conditioner contains a blend of coconut oil which is great for defining curls as it penetrates deep and softens the hair shaft. If you need a little more convincing about the goodness of this product, check out this quick review by a Youtuber.
Key Ingredients: Coconut oil, Argan Oil, and Vitamin E
Pros
Color-safe
Gluten-free
Paraben-free
Silicone-free
Lightweight
Cons
Price at the time of publication: $16.99
Price at the time of publication: $20
Price at the time of publication: $10
Price at the time of publication: $26
Price at the time of publication: $25
Price at the time of publication: $21.99
Price at the time of publication: $32
Price at the time of publication: $25
Price at the time of publication: $12.98
You should expect nothing less than gorgeously beautiful hair when you have the right formula of leave-in conditioners in your hand. So, in the next session, we will discuss all the things you should consider before buying a leave-in conditioner that will be worth it!
Things To Consider When Buying A Vegan Leave-In Conditioner
Hair Type: Determining your hair type will help you pick a leave-in conditioner that suits your hair. Dry and curly hairs need intense hydration. For color-treated hair, pick a conditioner that preserves your hair color.
Hair-Porosity: High porosity hair needs heavy moisturizing conditioners while humectants are the best for low porosity hair. If you determine the porosity of your hair by how quickly they absorb hair products – the faster your hair absorbs a product, the more porous it is.
Ingredients: Always pick leave-in conditioners that contain ingredients like natural oils, biotin, and shea butter. These ingredients will keep you hair healthy and moisturized. Avoid products containing harsh ingredients like parabens, sulfates, silicones, etc.
Validity: Vegan and cruelty-free brands can acquire certification from renowned organizations like Leaping Bunny, PETA, etc. Check for a stamp of certification on the packaging of a product if veganism is your lifestyle.
Finding good vegan conditioners is not the easiest task on your list. But this listicle will sure help you make a good choice when it comes to cruelty-free leave-in conditioners. These products sink into your hair follicles to deeply condition the hair and make it feel soft and shiny your hair. They promote hair growth and help you keep your hair fresh and healthy. These leave-in conditioners are organic, moisturizing, and will become a staple for your hair care routine once you try them.
Why Trust StyleCraze
The author, Vaishnavi Kothuri, is a hair care enthusiast who loves trying out different hair care products. She has curated this list after checking several trustworthy online forums and customer reviews. Her well-researched article brings you products that are gentle and safe for hair. Each product on this list of cruelty-free leave-in conditioner has the potential to give you healthy and happy hair!
Frequently Asked Questions
Does a vegan leave-in conditioner help your hair grow?
Yes, some vegan conditioners prevent hair breakage, revive damaged hair, and promote hair growth. You can choose formulas that contain argan oil, coconut oil, shea butter, etc.
Can I use a vegan leave-in conditioner immediately after my perm?
Yes, it is, in fact, advised to use your vegan conditioner every time you wash your hair after a perm.
Does a vegan leave-in conditioner help eliminate hair dryness?
Yes, you can use a moisturizing vegan conditioner containing coconut oil, shea butter, and other natural oils to treat hair dryness. Try the formulas which can be used on both dry and wet hair so that you don't need to wash your hair too often which can strip off more moisture from your hair.