10 Best Vegan Hair Gels Of 2023
Show your furry friends some love by choosing gentle, plant-based hair gels.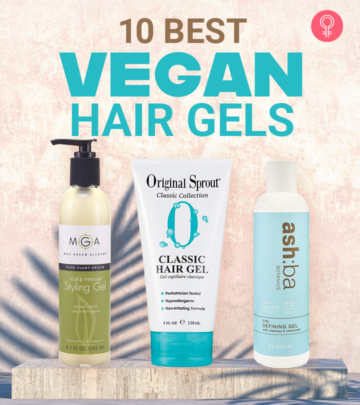 It is hard to resist the best vegan hair gel that solves your styling woes. If you are an environmental enthusiast, a high-quality vegan hair gel of 2023 will sit perfectly with your principles. This is that holy-grail product that is the answer to all your bad hair days. Many of these gels contain artificial and chemical thickening agents, polymers, and other such complex components that lead to product accumulation in your hair. However, if you switch to vegan ones instead, not only are they free of sulfates, parabens, dyes, strong chemicals, but they are also organic without any unethical usage of animal products if that is what you stand for. Our round-up of the ten best hair gels of 2023 will do your hair justice.
10 Best Vegan Hair Gels For Women
The Giovanni hair gel is formulated with natural ingredients, has a long-lasting strong hold on styled hair, and adds extra shine with its surface enhancers. This water-based styling gel will not dull, strip colour, or damage your hair.
It is made with USDA certified organic botanicals, which include natural extracts of grapefruit seed, aloe leaf, soybean, mallow, chamomile, field horsetail, yarrow, birch sap, and rosemary. Sunflower seed oil and vitamin E form the base of this gel and help to deeply nourish individual hair strands, cuticles, and the scalp. This lightweight clean hair gel secures the style and shape of all hair types, including dry, damaged, and treated ones. If you are an absolute beginner, this video review might be useful.
Key Ingredients: Sunflower seed oil, chamomile extract, Soybean extract, Birch sap, Yarrow extract, and Horsetail extract
Pros
Color-safe
Adds natural shine
Strong hold
Long-lasting
Spreads well
Cons
Overpowering scent
Dries out hair.
This classic hair gel is made with soothing and nourishing apple, cucumber, arnica, and apricot extracts. It holds the most elaborate hairstyles securely while hydrating your hair. You can use it on wet or dry hair to tame frizz and flyaways.
The gentle pH of 4.5-5.5 makes it suitable for all hair and skin types, including those of toddlers and children. It contains no alcohol or honey. Instead, the coconut extracts hold your hair in place and leave it feeling soft and natural. This vegan formula is easy to rinse and can be used every day to strengthen, nourish, and style frizz-free hair.
Key Ingredients: Coconut oil, Apple extract, Apricot extract, Pineapple, extract, Arnica extract, Raspberry extract, Rosemary extract, Cucumber extract, and Calendula extract
Pros
Gentle formula
Skin-friendly pH
Can be used on children and adults
Nut-free
Dairy-free
Gluten-free
Cons
Leaves flaky residue.
Not easy to comb through.
The MGA Scalp Rescue Styling Gel is a flake-free formula that has a medium hold on styled hair. It does not stiffen gelled hair and allows restyling throughout the day. This plant-derived, water-based gel protects styled hair from heat and humidity. The active botanicals from licorice, yarrow, tea tree, willow, nettle, pro-vitamin-B5, and essential nutrients nourish the hair strands and scalp; and also help to manage dry, flaking, and itching scalp often caused by dandruff, psoriasis, and seborrheic dermatitis. This rescue styling gel is gentle enough to be used daily on all hair types, including colored, treated, and damaged hair. Check out this review for a detailed understanding about the product.
Key Ingredients: Licorice root extract, Yarrow extract, Burdock root, Pro-vitamin B5, Calendula extract, Willow extract, and Tea tree oil
Pros
Pleasant scent
Flake-free
Non-sticky
Polymer (PVP)-free
Safe for color-treated hair
Gluten-free
Does not stiffen hair
Long-lasting
Cons
May trigger allergies.
Hold not strong enough.
This curl defining gel specifically caters to the needs of curly and wavy hair types. It provides medium to strong hold for long-lasting and natural-looking curls. This vegan hair gel comes with a perfect blend of amino acids from botanical extracts and moisturizing fats from jojoba esters. Together, they smoothen and seal the hair cuticles, control frizz, and protect the hair from styling damage. This hair gel is lightweight, easy to wash, and leaves no sticky residue. You can use it on non-wash days to refresh and style your hair.
Key Ingredients: Vegetable glycerin, Hydrolyzed jojoba, Chamomile extract, Milk thistle extract, Vitamins B5, and E, and Black cohosh root extract
Pros
Defines curls
Safe for colored hair
Non-sticky
Long-lasting hold
Lightweight
Cons
Runny consistency
Dries out hair.
Price at the time of publication: $19.99
This vegan hair gel is made from only the purest, natural, gluten-free ingredients. It has hexane-free, cold-pressed, untreated oils of lemongrass, olive, thyme, rosemary, rosehip, sweet orange, and evening primrose. Plant-based guar and xanthan gums help in achieving a strong, long-lasting hold while styling your hair. They keep your hair tamed, be it during the day or through the night. This hair gel is suitable for sensitive skin types, and it adds a weightless shine and bounce to your hair.
Key Ingredients: Organic guar gum, Xanthan gum, Organic vodka, Lemongrass oil, Olive oil, Apple cider vinegar, Green tea, Thyme oil, and Rosehip oil
Pros
Strong hold
Gluten-free
Dairy-free
Soy-free
GMO-free
Hexane-free, cold-pressed oils
Refreshing scent
Suitable for sensitive skin
Weightless
Cons
Contains alcohol
Leaves residue after wash.
Price at the time of publication: $6.99
The true Curl gel adds a subtle bounce to styled hair. It gives long-lasting control, style, and fresh scent to your curls all day long. This gel is formulated by salon professionals to enhance all curl types, from wavy to kinky. It also works great with a blow dryer or a diffuser when doing an elaborate style. The natural, vegan extracts from balm mint, yarrow, lemongrass, oats, rosemary, and chamomile provide nourishment and hydration to gelled hair. Castor oil restores moisture balance while controlling frizz and flyaways, while rosemary and oats lock in moisture for defined, healthy, and bouncy curls.
Key Ingredients: Castor oil, Yarrow extract, Oat peptide, Lemongrass extract, and Balm mint extract
Pros
Suitable for all hair types
Long-lasting hold
Adds bounce
Refreshing smell
Lightweight
Cons
Contains polymers
Not strong hold
Price at the time of publication: $11.0
This hair gel by DevaCurl coats your curls with a non-sticky, protective layer that controls frizz and defines curls. This vegan hair gel is made with wheat, corn, and soy proteins, along with pure botanical oils. They lock in moisture and amp up a natural shine and bounce without weighing your hair down. This soft-hold gel is dermatologist-tested and can be used on all hair types. It does not make your hair crunchy and is also easy to wash off.
Key Ingredients: Wheat protein, Soy protein, Corn protein, Castor oil, Lemongrass extract, and Rosemary extract
Pros
Dermatologist-tested
Irritant-free
Lightweight
Non-sticky gel
Locks moisture
Adds bounce
Controls frizz
Cons
Dries out the hair.
Triggers hair fall
Price at the time of publication: $21.94
The Framesi BY Hydro Gel Light is enriched with pearl protein, castor oil, and provitamin-B5. It enhances the texture, shine, and bounce, leaving the hair manageable. This vegan hair gel has thermal and UV protectants that shield your hair from sun exposure, heat, and humidity. As it is a lightweight, water-based gel, there will be no product buildup issues.
Key Ingredients: Panthenol, Wheat protein, Castor oil, and Manganese carbonate
Pros
Color-safe
No buildup
Gives flexible hold
Lightweight
UV protection
Doesn't make hair stiff
Cons
Contains parabens
Hold not strong enough.
Price at the time of publication: $10.9
This styling gel from FRAGFRE is specially formulated to not irritate the skin or scalp. It works particularly well for those with skin sensitivity, scalp dryness, itching, and irritation. Scalp issues cannot stop you from fixing bad hair days if you give this styling gel a try. It soothes the scalp and can be used every day with no product buildup hassles.
Key Ingredients: Propylene glycol and Glycerin
Pros
Suitable for all hair types
Non-drying
Ideal for daily use
Gentle
Long-lasting
No flaking
Cons
Leaves sticky residue.
May trigger allergies.
Price at the time of publication: $15.95
This medium hold styling gel defines curls and keeps them manageable. It also helps detangle and control frizz, clumps, and baby hair and fixes any hairstyle on any hair type. The baobab protein and xanthan gum help maintain a style throughout the day and the night. The castor and linseed oils condition and nourish styled hair to hold moisture better. This vegan gel can be used on dry or wet hair to provide extra hold and definition. It does not crumble or flake and slicks the hair into the desired style effortlessly.
Key Ingredients: Xanthan gum, Castor oil, Linseed oil, Baobab protein, and Glycerin
Pros
Pleasant scent
Doesn't crumble or flake
No residue
Long-lasting
Non-crunchy
Cons
Price at the time of publication: $9.97
Why Trust Stylecraze?
Oyendrila Kanjilal, the author, loves to write articles about hair care and she is a big fan of vegan hair gels for hair styling. She conducted a thorough research on product specifications, ingredients, and user feedback available on multiple online forums to curate this list for the benefit of her readers. The recommended products have long-lasting, non-sticky formulas that define the hair without harming the planet.
Recommended Articles