10 Best Face Masks For Oily Skin To Keep The Grease At Bay – 2023
Mattify oily skin and get a gorgeous glow with these incredible, soothing face masks. Having oily skin can be annoying, and finding the best face masks for oily skin is even a bigger struggle. Before buying a good face mask for your oily skin, you must examine various factors, including the quality, ingredients, brand value, and your expectations from the product. As every skin is different, you never know which one will meet all of your requirements, decrease greasiness, and leave your skin feeling fresh and healthy. Therefore, the only way to land the right product is to do your research and resort to trial and error. Diane Howard, certified cosmetic nurse and the founder of Esthetic Finesse, says, "When it comes to oily skin, it's important to look for masks that contain key ingredients like kaolin clay and charcoal. These powerful ingredients work wonders in absorbing excess oil and impurities from the skin, leaving it feeling refreshed and balanced. Additionally, ingredients like tea tree oil and salicylic acid can help control sebum production and prevent clogged pores, which are often associated with oily skin." We have compiled a list of the best face masks available for oily skin in this article. Take your pick and get set to welcome refreshed and blemish-free skin. Scroll down!
10 Best Face Masks For Oily Skin To Keep Greasiness In Check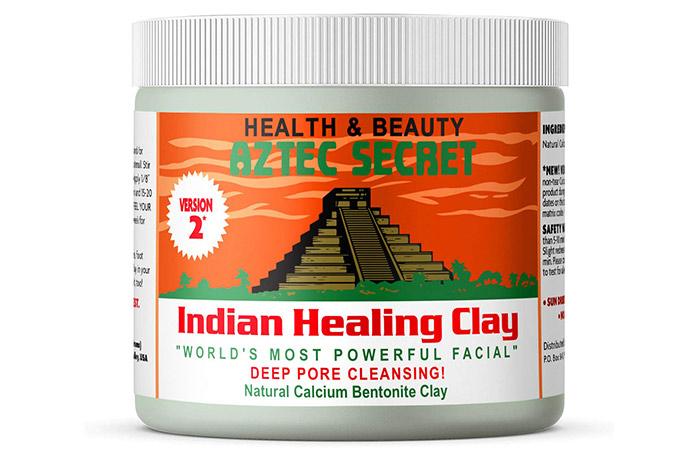 This is a multi-tasking mask. The Aztec Secret Indian Healing Clay is a deep pore cleansing face, hair, and body mask. It is a 100% natural calcium bentonite clay mask, which is excellent for your skin. It can be used for facials, as a body wrap, for clay baths, foot soaks, hair masks, and even to calm irritation caused by an insect bite. This works best when used with apple cider vinegar. After application, you might experience slight redness, which is normal. A patch test is recommended, and if you have sensitive skin, do not leave the mask on for more than 5-10 minutes. Check this video to explore a reviewer's experience with the product to understand it better.
Pros
Sun-dried natural clay
Fragrance-free
No animal testing
No animal products used
Doesn't contain any additives
Helps to fade dark spots
Cons
None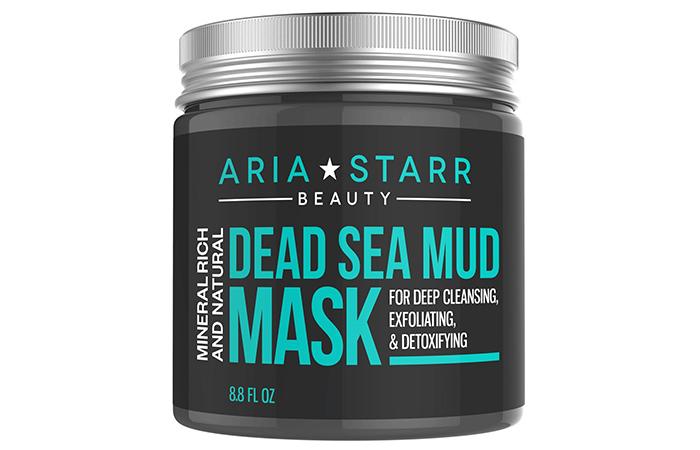 This is a professional spa-grade pure Dead Sea mud face mask. It works best for reducing oiliness, pore minimizing,  and preventing acne and blackheads. It is enriched by natural ingredients like aloe vera extracts, jojoba oil, and shea butter that deeply nourish your skin. It helps to extract all the toxins and impurities from your skin. It absorbs excess oil and exfoliates dead skin cells to reveal a fresh, soft, and even skin toned skin with a refined texture. Those with sensitive skin might experience redness, which is normal.
Pros
Contains natural extracts
Paraben-free
Alcohol-free
Cruelty-free
No animal testing
No animal by-products
Reduces the appearance of pores
Visible results
Suitable for acne-prone skin
Cons
Some users may not prefer the "artificial perfume-like" fragrance.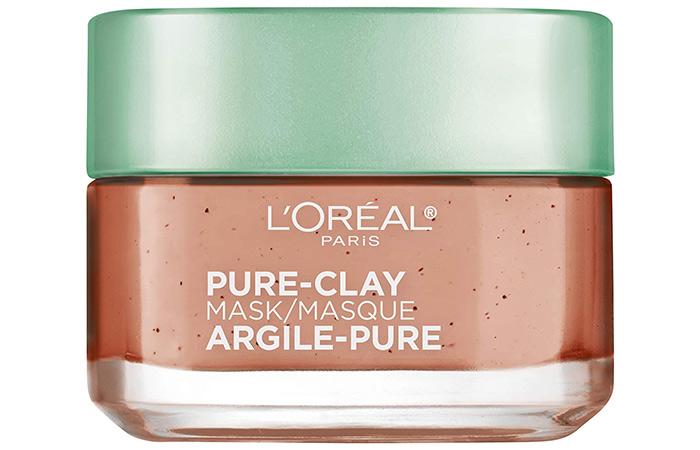 This product contains three pure clays and is formulated with potent ingredients to give you clear skin. The blemish control formula contains red algae and volcanic rock that have proven efficacy in exfoliating dead skin cells, refining the appearance of skin pores, and minimizing excess oil production. It imparts smooth and shine-free skin. It is also dermatologist-tested. You can use the refining clay 10 times per jar.
Pros
Contains kaolin, montmorillonite, and Moroccan lava clays
Evens out the skin tone
Removes dirt and impurities effectively
Does not irritate the skin
Makes the skin noticeably smoother
Reduces oiliness effectively
Cons
Less quantity
Takes time to dry.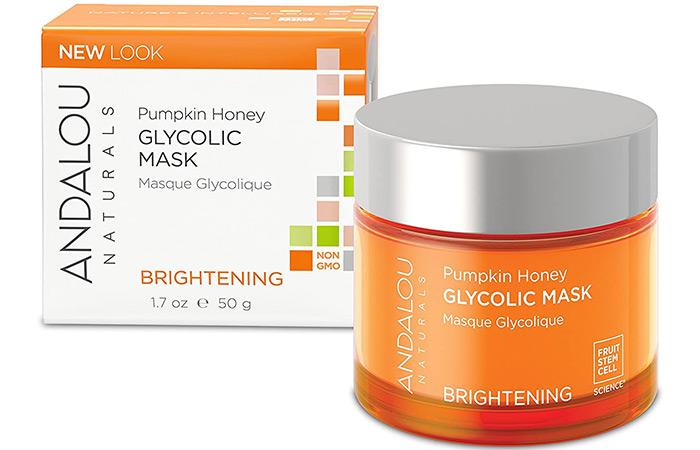 This is an exfoliating facial mask that is developed with ingredients derived from nature. It gently cleans dirt and impurities and removes dead skin cells to exfoliate your skin, giving it a smooth appearance and making it look bright and even-toned. The antioxidant-rich formula contains vitamin C that helps fight sun damage and dark spots. The pumpkin in the mask is rich in beta-carotene that helps resurface your skin for even tone and smooth texture. Aloe vera hydrates the skin and reinforces the skin's moisture barrier, while glycolic acid dissolves the dull cells on the skin's surface, revealing a fresh and glowing complexion. The product is not tested on animals, making it an ethical choice. Take a look at this video to explore a tester's experience with this product.
Pros
Non-GMO project verified
Gluten-free
Ethically sourced and fair trade ingredients
Cruelty-free
Nature-derived ingredients
Hypoallergenic
Paraben-free
Phthalate-free
Sulfate-free
No synthetic fragrance, colors, or preservatives
Cons
May not suit those who have cystic acne.
The Tessa Naturals Dead Sea Mud Mask is made with the finest dead sea mud. It is packed with soothing minerals that gently cleanse your skin. The dead sea mud penetrates the skin and removes dirt, excess oil, dead skin cells, and toxins. This oil control face mask contains Hamamelis Virginiana extract and vegetable amino acids that remove stubborn blackheads and make your skin radiant. It is infused with natural collagen peptides that minimize aging signs, boost elasticity, and nourish your skin.
Pros
Comes with a sponge
Cruelty-free
All-natural
Mineral-oil free
Cons
Might cause a burning sensation
Might stain the skin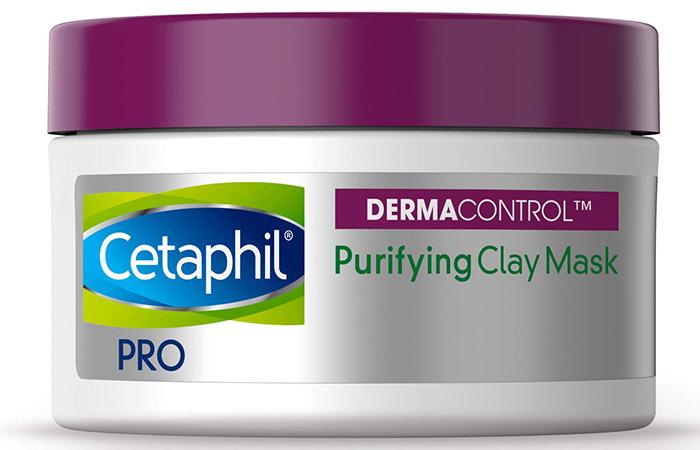 This is a creamy, purifying clay mask that helps deep cleanse the pores, leaving your skin feeling refreshed and clear. It contains bentonite clay that absorbs excess oil and impurities that might clog the pores. It also contains pure Amazonian clay that gently exfoliates your skin. The apple fruit extract in the mask keeps the skin hydrated, and the cucumber seed extract brightens the skin tone. Watch this video to check a reviewer's experience of using the freshening clay mask.
Pros
Non-drying
Fragrance-free
Dermatologist-recommended
Suits oily-sensitive skin
Clinically tested
Hypoallergenic
Non-comedogenic
Cons
Contains PEG
Quantity is less for the price.
The skin might feel a bit tight and dry.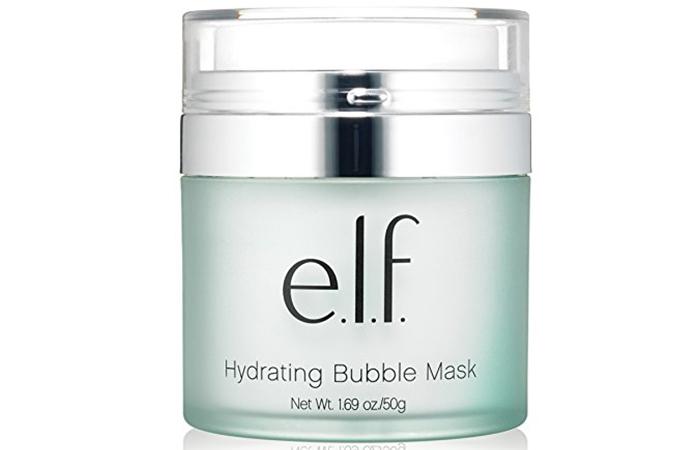 This is a hydrating bubble mask that cleanses your skin thoroughly without making it dry. Once you apply the mask, the gel bubbles up into a soap-like froth that deep cleanses the skin pores. It helps control excessive oil production and brightens your skin. The product is free of animal testing.
Pros
100% vegan
Cruelty-free
Paraben-free
Phthalate-free
Sulfate-free
Triclosan-free
No harmful chemicals
Cons
The pump dispenser might dispense excess product.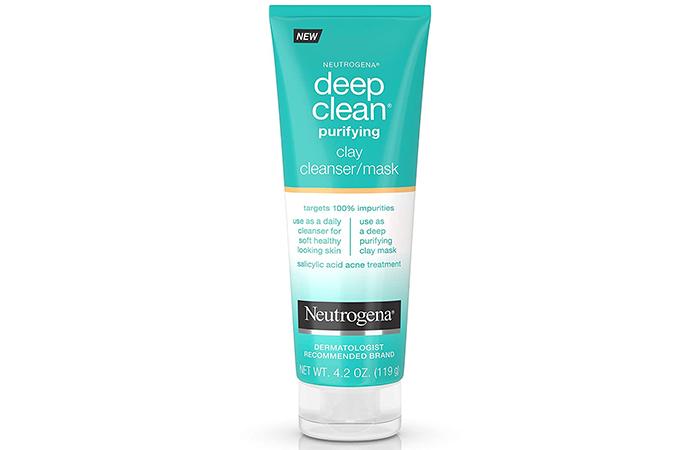 This is a face mask with a 2-in-1 formula. It can be used as a deep purifying facial mask and a daily facial cleanser. The pore minimizing formula contains salicylic acid and is an anti-acne skin treatment that helps to unclog your skin pores and draws out trapped dirt, impurities, oil, and makeup to give you acne-free and clear skin. If you are using it as a mask, use it not more than two to three times a week. Leave it for 5 minutes before washing off.
Pros
Non-comedogenic
Dermatologist recommended brand
Paraben-free
Phthalate-free
Sulfates-free
Non-drying
Helps reduce acne and inflammation
Reduces the appearance of skin pores
Pleasant fragrance
Cons
None
This is a gentle deep cleansing clay mask that works best for sensitive and oily skin types. The detoxifying mask is made with natural charcoal that helps to unclog pores and remove trapped dirt, oil, and impurities. The dermatologist-tested charcoal mask heats up as it comes in contact with water, leaving the skin cool and fresh in a minute. The non-comedogenic, hypoallergenic mask doesn't irritate the skin and is easy to use.
Pros
Easy and quick to use
Instant results
Non-comedogenic
Hypoallergenic
Dermatologist-tested
Cons
May irritate sensitive skin a little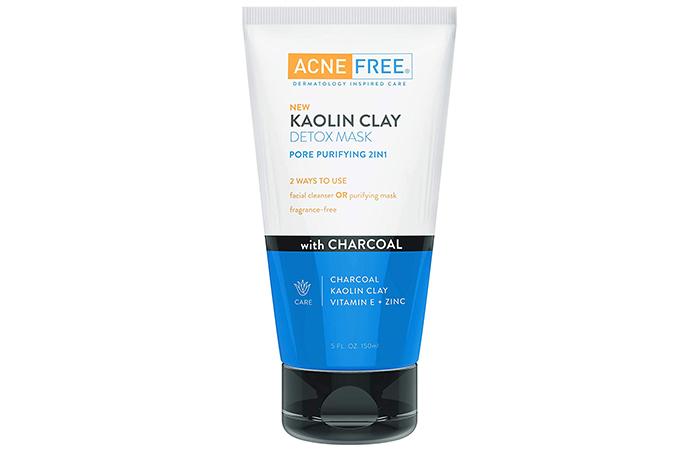 This kaolin clay detox mask helps clear oil, excess sebum, and dirt from your face and gives it a healthy glow while minimizing the appearance of visible pores. This oil control formula contains dermatologist-recommended ingredients like kaolin clay that detoxifies the pores, charcoal that draws out impurities, vitamin E that helps your skin retain moisture, and zinc that reduces excess oil production and prevents pore clogging. You can use it as a facial cleanser or a facial mask to get a clear complexion.
Pros
Minimizes pores
Aids in sebum regulation
Makes the skin smoother and softer
Non-irritating
Contains dermatologist-recommended ingredients
Suitable for combination skin
Cons
May irritate sensitive skin.
*The prices provided in this article are based on the latest available information. However, they may vary due to changes in pricing by the seller and/or promotional offers.
Why Trust StyleCraze?
The author, Shiboli Chakraborti, is a certified skin care coach with a deep passion for unearthing new products to enhance your skin's health and appearance. She understands that all skin types are different, and if you have oily skin, you can't use regular face masks. Instead, she recommends using gentle exfoliating face masks that decrease greasiness, reduce the risk of breakouts, and refresh the skin. She investigated and researched many products before settling on the ones she listed above.
Frequently Asked Questions
Which face mask is the best for large pores?
Clay-based face masks, including Aria Starr Dead Sea Mud Mask and Biore Charcoal Instantly Warming Clay Mask, are best for large pores. These masks help draw out impurities and smoothen your skin.
How often should you use a face mask for oily skin?
Use a face mask up to three thrice weekly to witness the best results.
How long does it take to see results from face masks for oily skin?
It takes about a month or six weeks to witness results from using face masks on oily skin.
Can I use a hydrating mask on oily skin?
Yes, hydrating masks can be great for oily skin, especially during the colder months of the year. These masks purify the skin while tightening the pores. They also keep excess oil and sebum at bay.
Which face mask is the best for pimples on oily skin?
The Cetaphil Pro Dermacontrol Purifying Clay Mask is great for pimples as its hypoallergenic formula suits sensitive and oily skin types. This mask deeply cleanses pores and keeps the skin hydrated.
Recommended Articles