13 Best Lip Gloss Tubes To Store Your Glossy Pouts
Get yourself these compact tubes to store all your homemade lip care solutions.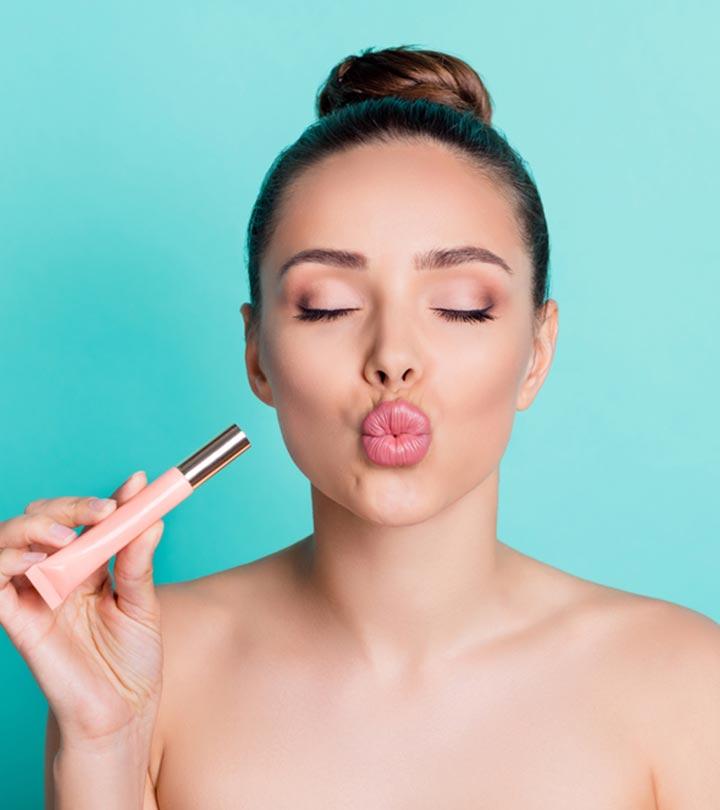 While you may be inclined to buy a lipgloss just off the drugstore shelf, imagine making a chemical-free one with all natural ingredients for yourself. Wouldn't that be fun? lip gloss tubes are all the fancy stuff you need for the beautiful packaging of your favorite lip gloss concoction. Choose your flavor, color and ingredients, make some gloss and fill it in these tubes for that added convenience. The primary things you should consider while getting yourself a lipgloss tube, is the quality of plastic used, durability, convenience, and whether it's transparent or not. This would help you know when to make the next batch for yourself!
Now, just like the readily available ones, lip gloss tubes come as small tubes with a leak-proof, slanted tip for easy application. They usually have a screw-top cap or one that comes attached with a wand to apply like a liquid lipstick. These also come with syringes to help you fill in your lip gloss preparations into the tube. You can also get some natural-looking DIY lipgloss making kits which come with a recipe, ingredients and tubes all packed as a kit. Now, if you are all set to make your own lip gloss that enhances natural lip color, pick any of the 13 best lipgloss tubes listed below and you are ready to add that homemade mirror-like shine to your lips!
13 Best Lip Gloss Tubes To Store Your Shimmery Gloss
The Amorix Empty Lip Gloss Tubes are 10ml wholesale lip gloss containers with a clear outer cover made of lightweight and waterproof PE material. The easy to squeeze gloss tubes can easily be filled with your favorite lip gloss using a simple syringe and make for an ideal and practical storage solution. If you are looking for a reusable tube that is soft, durable, and odor-free, then you're in the right place. Each lip gloss container is easy to fill and refill with the help of the 20 ml syringes that accompany the DIY lip gloss kit. With the attractive gift bags that come with this kit, you can make your favorite formulas and gift them too! Once you're done filling these tubes with your favorite lip gloss, you can also use the labels to tag each container, making them easy to distinguish from each other.
Pros
Transparent 10 ml lip gloss tubes
Lightweight and waterproof
Soft, durable, and odor-free
Portable
Pack of 50 tubes
Versatile tubes for storing any gloss, balm, or even lotions
Cons
Some may find these 10 ml gloss tubes relatively small.
Price at the time of publication: $12.99
Customize your lip gloss with the Rolybag Transparent 10ml Lip Gloss Empty Tubes to help you easily store and carry it around with you wherever you go. These lightweight tubes are made of high-quality PVC material and are soft and durable. The luxurious waterproof lip gloss tubes are easy to fill with the help of the syringe measuring cylinder quickly and efficiently. Applying your lip gloss has never been easier with the smooth and inclined mouth design that these gloss tubes have. These transparent gloss tubes hold upto 10ml of product and can also be used to store lip balms, lotions, cleansers, or sun creams. Get your hands on these convenient storage containers that are not just handy but also simple to distinguish your glosses from one another.
Pros
Transparent containers
Portable and easy to store
Lightweight and made of PVC material
Waterproof
It comes with a measuring syringe
Reusable
Cons
The syringe may not work for thicker formulas.
Price at the time of publication: $8.99
Your best lip gloss deserves to have a chic container to go with it, and the Keaiyyj Lip Gloss Tubes With Wand in the pink shade is just the one for you. These clear and cute lip gloss tubes have a colored tube cap that is attractive and is attached to the wand, which lets you put on your lip glaze comfortably. Available in a pack of 2, these lip gloss tubes store up to 10ml of product and also have rubber stoppers to prevent any gloss from leaking. Ideal for beginners, the tubes are easy to use and are the perfect size to carry in your pocket or purse. These transparent tubes are without a doubt durable, as they are made from BPA-free PET material that you can reuse for as long as you want!
Pros
Stylish pink tube cap
Wand designed for easy application
10ml lip gloss tubes
Contains rubber stoppers
BPA-free material
Caps available in color variants
Cons
You may find it a bit difficult to get on too much of the gloss to the wand.
Price at the time of publication: $5.99
One of our favorites on this list is the Ronrons Refillable Lip Gloss Containers, available in ice-cream shape that are super cute for storing your lip glaze. The reusable lip gloss tubes offer ample storage of up to 8ml and are transparent so that you get better visibility. Store your lip gloss in these popsicle containers with no frayed edges and even come with a delicate non-drying velvet brush head that you can use to put on a smooth layer of lip gloss. This 15-piece set is super-efficient when you want to make and store different colors and flavors of lip gloss and make for the perfect giftable option. What's more? You can use these versatile lip gloss tubes also to store lip balms and liquid lipsticks!
Pros
Easy to carry
Washable and reusable
Ideal for travel
Versatile
Transparent body for visibility
Cons
The stopper may be a little challenging to detach during refills.
Price at the time of publication: $2.99
The Hrlorkc 110 Pcs 10ml Lip Gloss Empty Tubes are convenient and allow you to fashion a personalized lip gloss. This set comes with 110 PVC material empty tubes along with stoppers and funnels to help you fill the containers. These environment-friendly lip gloss tubes can not only be reused, but they are leakproof and easy to carry. You never have to dim your shine when you can customize your flavor and sheen of your favorite lip gloss and store them in these empty transparent tubes that also come with blank lip gloss label stickers and Lip Gloss stickers so you can customize them the way you want to. The versatile gloss tubes are waterproof and squeezable and can also be used for storing lip balms, shampoo, or lotions when you're traveling.
Pros
Round and easy-to-apply tip
Funnel for easy filling
Transparent and squeezable tubes
Portable and easy to carry around
Versatile
Reusable tubes
Cons
Some may find these tubes to be rather small
Price at the time of publication: $11.99
The large-capacity storage Snowso 50 Pieces Lip Gloss Tubes With Syringe are made of PE material tube and PP cap. Not only does this tube allow you to store up to 15ml of lip gloss, but it is also clear and transparent so that you can easily distinguish between different flavors. The Snowso Lip Gloss Tubes are available with unique cap colors, including gold, pink, purple, and silver. You can create your non-greasy lip gloss formula and put them in these easy-to-carry, reusable, and environment-friendly tubes. The tiny clear rubber stopper allows you to safely store the products within these tubes without worrying about spillage. You can simply use the 20ml syringe that comes with this set to measure and conveniently distribute the liquid to the tube.
Pros
Easy to use
Stores up to 15ml
Reusable tubes
Transparent and allows for easy distinguishing
It comes with a 20ml syringe.
Cons
The syringe may add air bubbles into your lip gloss tube.
Price at the time of publication: $16.99
The transparent and refillable lip gloss tubes in this set from Beeager offer 70 pieces of 10ml tubes that you can use if you are a DIY lip gloss beginner. These BPA-free tubes are made of thicker food-grade PE material and include a round tip to let you quickly put on the gloss. If you are looking for a leakproof and refillable tube to store your shiny lip gloss, then this one is suitable for you. The tubes are made of high-quality plastic that is durable, non-irritating, non-toxic, and tasteless. This set is also inclusive of a plastic syringe that will help you quickly transfer the product into these containers, as well as labels to help you distinguish the contents. The perfect travel companion, you can use these lightweight and portable lip gloss tubes to store lotions, cleansers, and shampoo. The diamond pen that comes with this set will help perfectly fill up the tubes without any air bubbles, so you get to reap the maximum benefits of these transparent containers.
Pros
Transparent tubes
BPA-free material
Leakproof containers
Non-toxic, durable, and tasteless
Plastic syringe for easy filling
Lightweight and portable
Cons
It may not be suitable for watery and liquid products.
Price at the time of publication: $7.99
If you are setting out to start your own lip gloss business, the Caiya Empty Lip Gloss Containers are efficient and professional. These leak-proof containers will ensure that your lip gloss doesn't spill out. This 12-piece set contains lip gloss tubes that have a unique and attractive design. Each tube comes with a soft brush precision applicator and a rubber insert to prevent spilling and keep your product fresh. You can visibly monitor the volume and color of your gloss with these transparent tubes that are lightweight and easy to carry around with you wherever you go. These containers are made of ABS material, and each has a colorful cap in shades like pink, blue, purple, and rose red.
Pros
Made of non-toxic, odorless, safe, and durable material
Leak-proof
Transparent
It comes with a soft brush applicator
Lightweight and portable
Cons
The application wands are slightly delicate and need to be handled with care.
Price at the time of publication: $14.99
We love the idea of creative and stylish lip gloss containers just as much as you do, and the Blulu 24 Pieces 5 ml Pencil Shaped Lip Gloss Tube Containers are every bit attractive. This dual lip balm and lip gloss container is made of non-toxic and odorless plastic that is safe to use and designed with leak-proof sealing. While you can fill the lip balm in the eraser part of the pencil, the lip gloss tube is transparent and comes with a soft brush applicator. Each 5ml lip gloss tube is refillable and makes for the perfect gift for your friends and family. You can fill up these pencil-shaped lip gloss containers and carry them with you easily when you're on the go! Get your hands on these cute DIY lip gloss containers and store your very own enriched formulas in these convenient tubes.
Pros
Lightweight and portable
Dual lip care container
Non-toxic and odorless plastic
Leak-proof seal
It comes with a soft brush applicator
Refillable
Transparent lip gloss tube
Attractive design
Cons
These tubes hold very little product.
Price at the time of publication: $18.29
Let's face it— a honeypot-shaped lip gloss tube is an absolute must-have just for the adorable design. The Fenyong 20-Pack Tubes are made of high-grade plastic that is durable, non-toxic, and tasteless. These transparent and unique lip gloss tubes also come equipped with a stopper to prevent spillage, making them ideal for when you want to travel around. The flattering portable containers are refillable and reusable, so that you will be doing the environment a favor as well. These simple and practical DIY lip gloss tubes have an applicator brush with smooth bristles that go on quickly.
Pros
Made of non-toxic, high-grade plastic
Durable
Anti-leakage
Portable
Refillable and reusable
Transparent gloss tubes
Cons
You may find that the container holds only a sample size of the product.
Price at the time of publication: $18.77
Charming and versatile cosmetic containers come to you in the form of the Maitys 20-Pieces Mini Wineglass-Shaped Lip Gloss Tubes to deliver the perfect amount of storage for your lip glaze. The wineglass-shaped lip gloss tubes are also versatile and can store lip oils or eyelash oils. This set comes with 2 funnels and 20 cute lip gloss tubes to allow you to easily fill and keep your DIY gloss formulas and even make for a great party souvenir. The washable and reusable tubes are transparent and also have a soft brush applicator for easy use. Get your hands on these lip gloss tubes that are comfortable to hold, stylish to look at, and practical to use.
Pros
Made of quality plastic material
Funnels for easy filling
Washable and reusable
Transparent
Come with a soft brush applicator
Cons
The wand does not touch the bottom of the tube.
Price at the time of publication: $10.99
If you are looking for a solid investment in lip gloss tubes, this one is perhaps one of the most convenient options for you. The Julia 30-Pieces 10ml Empty Refillable Lip Gloss Tubes are accompanied by cleaning and filling tools that make the whole process simpler for you. For those looking to start their lip gloss brands with customized flavors, these transparent tubes are made of high-quality non-toxic plastic and will go a long way in storing your scented lip gloss. The polished surface of each of these tubes is not easy to scratch, and that's one of the reasons why these lightweight and portable lip gloss tubes are a steal.
Pros
It comes with convenient cleaning and filling tools
High-quality and non-toxic materials
Transparent
Polished surface
Lightweight and portable
Cons
Some may find the lip gloss tubes to be rather slim.
Price at the time of publication: $16.99
Get your hands on these chic lip gloss transparent tubes that are available in classy colored caps like black, gold, rose gold, and silver. This 50-piece set contains empty lip gloss tubes with a rubber insert design that prevents any spillage or leakage while also letting your product breathe. These portable and refillable containers can store up to 10ml of your all-day wear lip gloss and are also washable, so you won't have to worry about disposing of the gloss tube after you have used it. You can rely on these gloss tubes that are designed with an odorless and durable material. With the transparent tube that offers better visibility, along with the soft brush applicator that comes with each of these tubes, this one is your best bet.
Pros
Made of odorless and durable material
Available in colorful caps
50-piece wholesale lip gloss tubes
Portable and refillable
Cons
You may find it slightly challenging to fill.
Price at the time of publication: $17.99
Types Of Lip Gloss Tubes
Most lip gloss tubes are super-efficient and can also double up as a refillable lip balm container. There are various storage containers, including lip balm bottles, lip balm tubes, and lip gloss tubes that are also compatible with your DIY lip glosses. The personalized lip gloss tubes let you store your different flavors and label them using attractive stickers. The primary difference among the various lip gloss tubes is the types of applicators these gloss tubes have. While some may have application wands that are super easy to maneuver, others come with roll-on gloss heads.
When you've decided on the type of tube that you want to buy, there may be a few more things that you'll want to consider before you go ahead and invest in these lip gloss containers. Our buying guide will help you choose lip gloss tubes that will work best while keeping your preferences in mind.
How To Choose The Best Lip Gloss Tubes
Features and specifications
Some lip gloss bottles and containers come with roll-on tips, while some others have application wands. You will want to choose a lip gloss tube that is both easy to hold and apply. You can also consider specifications like whether or not you want colored tubes or transparent ones, although the latter seems like a more practical option.
All lip gloss containers are not of the same size. While some unique gloss tubes in the market come in unusual sizes, most cater to quantities up to 15ml. Also, some others are for smaller amounts like 5ml. Choose a lip gloss tube depending on how large you want it to be and how much gloss it can hold.
Makeup artist Tim Quinn says, "Use a marker to label the travel-sized tubes so as not to confuse lip gloss with shampoo, hair gel, or serums. The travel-sized ones are wonderful for quick getaways, or even for the gym!"
If you are a young budding business owner looking to formulate flavored and trendy lip glosses, getting your hands on the right lip gloss tube can be crucial to the process. Make sure you look for reliable options that are sturdy and durable. Quality ensures that they will last you a long time and add to the credibility of your lip gloss. The durability of a gloss tube often depends on the type of material used to make it. Good quality plastic lip gloss containers are an ideal choice and can also come with colorful lip gloss labels and caps to go with them. These plastic components are easy to handle and work well if you want to ship them to your customers without running the risk of them breaking or denting.
Brightly colored tubes are a fantastic and funky option, especially if you're giving your lip balms to young teenagers. Colors can also help you classify your lip balms based on flavor and fragrance. If your lip balm smells or tastes like strawberries, for example, you might choose a red or pink-tinted lip balm container. Clear tubes can assist your lip balm users in distinguishing between different colored lip balm shades.
Lip glosses are back, and how! If you are looking to invest in a lip sheen, it can get pricey. What if we told you that you could make your lip gloss at home with the help of these lip gloss tubes?
You can formulate your gloss formulas in good-quality lip gloss tubes. Whether you want to make a hydrating gloss or one with refreshing flavors and hues, these tubes will go a long way in helping you store them. You will want to look for attractive options to look at and made of sturdy and durable materials that will last you a long time. The best part about lip gloss tubes is that they are reusable and can be refilled. That means you can get a glossy finish and plump lips with the added benefits of crafting a unique lip care product!
Why Trust StyleCraze?
Srijani Roy Chowdhury is a makeup enthusiast who combines her love of cosmetics and fine reviewing skills to deliver the best beauty product recommendations to her readers. She surveyed several reviews on various forums to curate this list of best lip gloss tubes. This post includes a wide range of lip gloss tubes, each with a detailed description and a buying guide to assist you in choosing the best.
Frequently Asked Questions
Can you reuse lip gloss tubes?
Yes, you can wash and reuse most lip gloss tubes. They are an environment-friendly option, especially if you love experimenting with different flavors.
How do you sterilize a lip gloss tube?
Lip gloss tubes are easy to clean and store. You can sterilize your lip gloss tubes by simply soaking them in warm water for a few minutes. You will want to consider what type of material the gloss tube is made of and use water that is of suitable temperature.
How do you fill an empty lip gloss tube?
Filling an empty lip gloss tube is easy if you choose an option that comes with a syringe or a funnel. These tools allow you to pour the contents into the lip gloss tubes carefully. You can also wing it and try to do it without these tools, but you may find that slightly challenging.
How to wash lip gloss tubes?
Before you want to fill your lip gloss tubes, it is recommended that you wash them with lukewarm water. You can also use a simple liquid body wash to eliminate any remnant gloss as well as odor. Remember to air dry your tubes entirely before reusing them.
How long does a lip gloss tube last?
A lip gloss tube can last anywhere from 12-18 months. However, it is always wise to check the expiration date on the label of the product.
Recommended Articles