10 Best Mascaras That Don't Flake For Fuller Lashes In 2021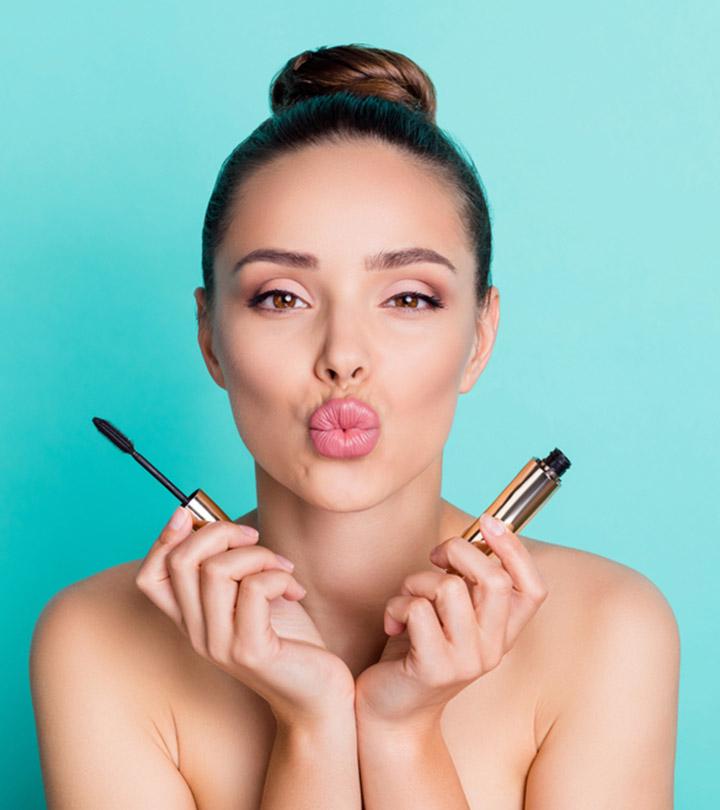 While nearly all of us dream of having long, luscious lashes to flaunt, most of us are stuck with average-sized lashes. While they are also gorgeous, we definitely wouldn't mind adding some length to them and are hence utterly grateful that mascaras exist in our world. Mascaras are an asset for eyes that we can use to add length or thickness to our lashes. They're available in a variety of colors, including clear and the very popular black. Different mascaras are available for your diverse needs, be it increased length, thickness, or volume; you'll find a mascara that can!
While there are many options to choose from, a problem that plagues us all is finding a mascara that doesn't flake. No one likes it when mascara dries up, clumps and flakes off our eyes, and hence it is crucial to own a mascara that doesn't flake. To help make your job easier, we've curated this list of the 10 best mascaras that don't flake. So now get ready to attend zoom calls, casual days out, or fun nights without worrying about your mascara flaking!
10 Best Mascaras That Don't Flake For Stunning Eyes
Is your current mascara starting to flake and clump when you apply it? Well, it's time to make a change with this elegant flake-free mascara by Vivienne Sabó Paris! Designed for everyday use, this mascara is made with a formula that guarantees you flake-free and transfer-proof while feeling light to give you a soft, natural look. You can get defined and voluminous lashes with just a single coat that you can layer for a more bold fanned lash. You can also bid farewell to smudges as the long-lasting formula is smudge-proof and clump-free. The makeup wand is petite in size yet covers every lash delicately, making it easy to apply and safe for your natural lashes.
Pros
No flaking
Transfer and smudge-proof
Clump-free mascara
Offers volume in 1 coat
Cruelty-free
Petite makeup wand
Lightweight formula
Easy to apply and remove
Cons
Formula may be heavy for straight eyelashes
Targets thickness rather than length
Get ready to discover the joys of tubing mascara with Blinc! Unlike a traditional mascara, Blinc mascara forms tiny water-resistant tubes that bind to your lashes and are smudge-proof. So, if you're looking for a no-flake mascara that can hold all day through sweat, steam, rain, and humidity, this one's for you! The formula is oil-free and doesn't run, smear, or clump, and is perfect for sensitive eyes and those who wear lenses. So, when looking for a mascara that doesn't flake, grab this Blinc mascara to get you through long days without eye irritation.
Pros
Water-resistant
Smudge and flake-proof mascara
Doesn't clump
Oil-free
Suitable for sensitive eyes
Doesn't need makeup remover
Gentle formula
Eco-friendly packaging
Vegan
Targets volume and length
Cons
May take some time to dry
Slightly expensive
We sometimes tend to worry about the health of our lashes when we apply mascara often. Will they fall out, will they weaken with the excess application, or will they wither with time?  Wipe these worries away with the Neutrogena Healthy Lengths Mascara that gives you a mascara that doesn't flake while also keeping your lashes healthy and strong day after day. Enriched with vitamin E, rice protein, and olive oil to keep your lashes strengthened and nourished, the formula lengthens your lashes while also keeping them clump, smudge, and flake-free. The flake-free mascara wand coats the formula across your lashes to give them an intensified look as well as being safe and gentle for sensitive eyes and lens wearers.
Pros
Maintains lash health
Lengthens lashes
Enriched with vitamin E, rice protein, and olive oil
Smudge and flake-proof
Doesn't clump
Suitable for sensitive eyes
Affordable
Cons
Targets length rather than volume
May dry out sooner than expected
You may think it's hard to get a false-lash look using a mascara that doesn't flake, but this can be a reality with Urban Decay's ultra-pigmented perversion mascara. It gives your lashes volume and length with a creamy formula that doesn't flake or brittle. Infused with hairdensyl, a blend of proteins and amino acids that stimulate hair growth, the formula nourishes and lengthens your lashes while also being enriched with honey extract and elastane. If you're looking for a paraben-free and cruelty-free voluminious mascara that doesn't clump and comes with a fluffy brush with criss-cross bristles to make application easier, this is a great flake-free mascara to go for!
Pros
Ultra-pigmented
Creamy texture
Flake and clump-free
Grows and nourishes lashes
Paraben-free and cruelty-free
Volumizing wand
Provides volume and length
Cons
Maybe slightly difficult to remove
If you're one to cry at the drop of a hat, here's a waterproof mascara that doesn't flake to help you get through the day or night. Asavea's 4D mascara has a smooth, waterproof formula that doesn't flake, smudge, clump, or dry out and coats your lashes with a deep pigment in just one stroke! The gentle formula is buildable and long-wearing, allowing you to lengthen, volumize, separate, and curl your lashes for a fuller and intense 4D look that lasts all day.
Pros
Waterproof
Flake-free
Smudge proof
Doesn't clump
Gentle and hypoallergenic formula
Long-wear buildable formula
Ultra-pigmented formula with one coat
Provides thickness, volume, and length
Cons
May dry out sooner than expected
With the world moving on the clean beauty wagon for safer skin and environment, it's time you got on it too! With Ilia's natural mascara, you can get a vegan, gluten-free, and flake-free mascara, 99% derived from natural ingredients. This weightless formula is buildable and adds length and volume to your lashes, enriched with organic bee and carnauba waxes. Organic shea butter and keratin are also infused into the formula to nourish, fortify, and enhance your eyelashes. Its fragrance-free and synthetic dye-free formula make it suitable for sensitive eyes while lifting and defining your lashes.
Pros
Weightless and buildable formula
Flake-free
Infused with shea butter and keratin
Enriched with organic bee and carnauba waxes
Nourishes, lengthens, and adds volume
Suitable for sensitive eyes
Comes with a dual-sided brush
Vegan mascara
Cons
Slightly expensive
May need warm water to take off entirely
Thicker, fuller, and healthier-looking lashes are just one of the things every girl craves, and a nourishing intensive argan oil treatment is just what our lashes need to keep them shiny and healthy. Physicians Formula brings us a mascara that doesn't flake or smudge while it's argan oil base conditions and helps lengthen and grow. This ensures that the lashes are kept long, healthy, and free from excess breakage. Its clump-free effective formula has an exotic scent, provides 24-hour wear, and comes with a Moroccan-inspired brush that helps lengthen and volumize your lashes for a bold and intense effect.
Pros
Enriched with argan oil
Provides shine and nourishment
Reduces lash breakage
Flake-free
Smudge-proof
Doesn't clump
Provides length and volume
24-hour wear
Cons
Shape of lash brush may make application uncomfortable
Scent may be too strong for some
Get ready for voluminous deep black lashes that make your eyes pop with this mascara that doesn't flake or fade, giving you a dramatic and intense look perfect for any setting. This cruelty-free mascara comes with a specially shaped cobra brush that is curved in such a way that each lash is covered and lifted, giving your eyes a voluminous appearance while staying flake-free! Apply one coat for a casual soft volume look or 2-3 coats for an intense, dramatic, and glam look for a night out! Let out your inner princess with this volumizing mascara that doesn't flake, and stay away from flaking and fading.
Pros
Volumizing mascara
Specially shaped cobra brush
Flake-free
Clump-free
Doesn't fade
Cruelty-free
Affordable
Cons
May not be pigmented enough for some
Perfect your lash look and check one of the best non-clumping mascaras to give you dramatic volume and length while keeping your lashes feathery soft. Infused with cornflower extract, rose oil, and castor oil, the formula smoothly glides onto your lashes and gives you a thick, voluminous look that is free from flaking, smudging, and clumping. The soft, wavy bristle brush makes for easy application, and the formula is suitable for sensitive eyes.
Pros
Flake-free
Clump-free
Doesn't smudge
Gives volume and length
Infused with cornflower extract, rose oil, and castor oil
Smooth, easy application
Affordable
Cons
May dry fast after application
If you're looking for a drugstore mascara that doesn't flake and is great for everyday wear while giving your lashes a long, healthy, and natural look, the Honeybee Gardens has just the mascara for you! The weightless, non-flaking mascara defines your lashes and has 0 clumping thanks to the clay-free formula. The smudge-proof formula is enriched with botanical ingredients such as coconut-oil-based glycerin and fruit oil, which help condition the lashes and keep them healthy and natural. Its water-resistant feature makes it great to wear for your workout sessions while keeping your lashes feeling light and flake-free.
Pros
Weightless
Flake-free
Clump-free due to no clay
Doesn't smudge
Enriched with botanical ingredients
Water-resistant
Paraben-free
Cruelty-free and vegan
Cons
So, there you have our curated list of the 10 best mascaras that don't flake. If you still need a bit of help choosing the right mascara that doesn't flake, here are a couple of things to keep in mind while picking out one to make your lashes look striking while staying flake-free.
How To Choose The Best Mascara That Doesn't Flake
Target area
Are you looking for a mascara that adds volume to your lashes? Or are you looking for one to make your lashes longer? There are also many mascaras available that can fulfill both of those desires. Still, some mascaras only target specific areas, so keep in mind what kind of area you want your non-flaking mascara to work on. You can pick one depending on what kind of results it delivers, or even buy different types for different occasions.
Waterproof
If you're prone to sweating, crying, or want to apply mascara on humid, hot days, then you may want to consider buying a waterproof or water-resistant mascara that won't rub off or melt away quickly. They also usually hold longer and are helpful if you have naturally watery eyes. However, they may dry your eyes out quicker, and if you don't remove them properly and carefully, you could end up pulling your lashes out during removal. If you prefer removing your mascara more efficiently, you can opt for a washable mascara.
Ingredients
Clean makeup is trending for all the right reasons nowadays, and taking care of the environment is just as important as taking care of ourselves, and you can do both with clean makeup! Newer brands are formulating their mascaras with organic, natural ingredients free from parabens and other harmful chemicals. Our beloved traditional brands are also striving to make the switch towards cleaner beauty. So you may want to consider what goes into your mascara when making a purchase, especially if you have sensitive eyes or skin. Other bonus ingredients you can consider include elements that stimulate lash growth and keep your lashes shiny and conditioned to maintain lash health.
How To Apply Mascara That Doesn't Flake
Step 1 – Place the wand at the base of your upper lashes
Step 2 – Move it up and down, coating the base of your lashes
Step 3 – Pull the wand upward towards the tip of your eyelashes
Step 4 – Repeat the steps and apply a second coat
Mascaras should ideally be changed every two to three months, and you don't want to buy a new one that flakes off after wearing it. Now that you've gone through the specially curated list, you can easily decide on the best mascara that doesn't flake and choose a non-flaking mascara that's perfect for you. Say goodbye to flaking eyelashes once and for all, once you've taken a look at the best ones available, which come in a range of options and their unique benefits. There are plenty of factors to consider and choose from, including organic, waterproof, and weightless options. Flake-free eyelashes are now just a click away!
Frequently Asked Questions
How do you keep mascara from flaking under your eyes?
If you prefer coating your lashes with multiple formula layers, be sure to make sure each coat is dry before applying the next layer. This is one way to keep mascara from flaking.
If you have oily skin, there is a tendency for the mascara to flake, so make sure you've properly washed your face before applying your makeup and you can use either an oil-free or waterproof mascara, or use blotting paper to remove the oil before application. These methods can help keep mascara from flaking under your eyes.
What causes mascara to flake?
When the air gets inside your mascara bottle, it dries out the formula and causes your mascara to flake. This also happens when the mascara is old or has lost its moisture.
Is there any mascara that doesn't flake and cause under-eye circles?
You can avoid under-eye circles by using a smudge-proof and non-flaking mascara. There are plenty available and most of them are available in our list!
Does Benefit mascara flake?
Benefit has an extreme lengthening mascara that doesn't smudge or flake.