11 Best Mascaras For Asian Eyes Of 2020 – Review & Guide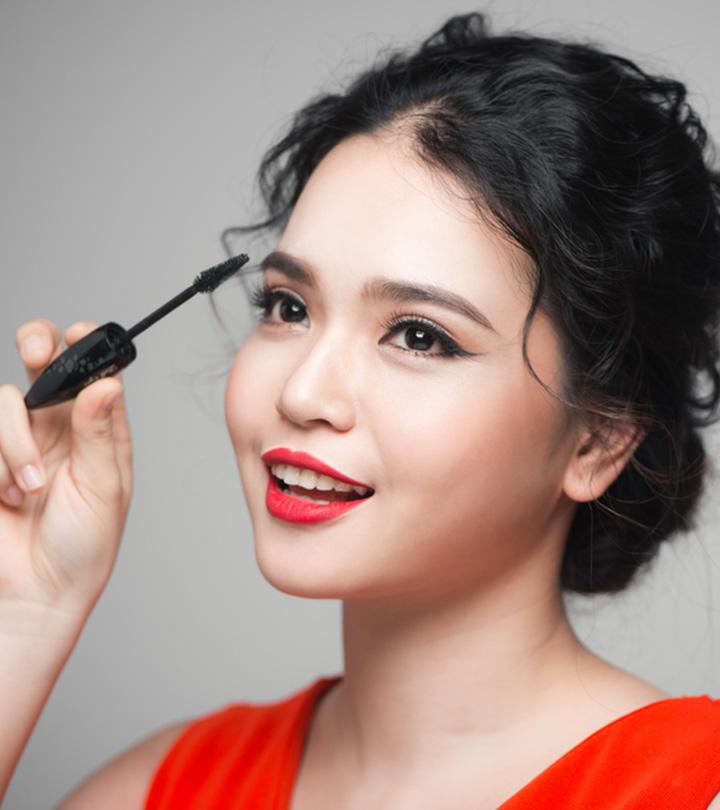 It goes without saying that mascara is an essential makeup product because it can instantly make your lashes look fuller and longer and give you a more put-together appearance. But truth be told, not all mascaras are suitable for all lash types. If you are an Asian woman with naturally straight, short, and/or thin lashes, most traditional mascaras won't help you achieve the desired look. Moreover, most Asian individuals have hooded eyelids or monolids, which causes the upper eyelashes to droop downwards, making it more difficult to curl. Hence, what you need is a mascara formula that will give your short, pin-straight eyelashes intense length and curl and enhance your eyes. We present to you the best mascaras for Asian eyes.
However, with a multitude of options to choose from, it can be challenging to choose the right formula. Fret not! We have compiled a list of the 11 best mascaras for Asian eyes. These products give your natural lashes beautiful curl, volume, and length without weighing them down!
Top 11 Best Mascaras For Asian Eyes (Eyelashes) – Reviews & Guide
One of the best drugstore mascaras for Asian lashes, this Telescopic Original Mascara makes it to the top of our list for all the right reasons. True to its name, this mascara enhances your eyelashes by adding intense length and amazing definition. It comes with a patented flexible Dual Precision Brush – the flat side gives your lashes length, while the comb side grabs each and every lash to separate them beautifully. It is ophthalmologist-tested and safe to use for people with sensitive eyes and contact lens wearers. Plus, this formula has a smooth texture that goes on seamlessly without clumping.
Pros
Allergy-tested
Fragrance-free
Budget-friendly
Easy to remove
Ophthalmologist-tested
Gives you 60% longer lashes
Smooth and clump-free application
Includes flexible applicator wand
Cons
Might smudge
The wand might be flimsy.
Are you on the lookout for a mascara formula that will amplify your thin lashes and make them appear lush and voluminous? Look no further than this AsaVea 4D Silk Fiber Eyelash Mascara that will lend you bold and dramatic lashes with a single coat. Smooth, creamy, and highly pigmented, it delivers an intense black finish without flaking or clumping. And thanks to its waterproof quality, this mascara will stay on your lashes for long without smudging, come rain, sweat, or tears. Not only does this formula add immense length and volume, but it also separates and curls your eyelashes, giving you a flattering appearance.
Pros
Waterproof
Pigment-rich
Hypoallergenic
Long-wearing
Buildable formula
Smudge and flake-free
Suitable for sensitive eyes and contact lens wearers
Cons
Might be thick
Some people may find the brush too big.
Want to create an insanely long and fluttery effect, but without the use of eyelash extensions? This Lash Stiletto Ultimate Length Mascara is the one for you! An excellent drugstore mascara for Asian lashes, this formula does to your eyelashes what stilettos do for your legs, i.e., add extreme length. It features a Sweep Grip & Extend Brush that grasps every single lash and coats them evenly to lift and separate them while lending a high-shine finish. Enriched with pro-vitamin B-5, it keeps your lashes soft and conditioned with every application. Besides being easy to apply, this washable mascara is also easy to remove (with soap and water).
Pros
Ophthalmologist-tested
Lends patent shine
Dramatically lengthens lashes
Contains conditioning pro-vitamin B-5
Safe to use for contact lens wearers
Cons
Tends to flake
Might have a strong smell
Achieve dramatically voluminous and defined eyelashes you have always dreamed of with this Mad Lash Mascara by theBalm Cosmetics. All you have to do is apply one coat of this intensely pigmented formula to give your natural lashes a rich black finish that lasts all day without smudging or flaking. This mascara includes an injection-molded wand that has the ability to capture every lash to lengthen, separate, and build significant volume. If your lashes could talk, they would say 'thank you.'
Pros
Water-resistant
Cruelty-free
Buildable formula
Talc and paraben-free
Smudge and flake-proof
Adds length and fullness
Cons
Considered to be one of the best mascara brands for Asian eyes, Kiss Me Heroine Make Long And Curl Mascara is an award-winning Japanese beauty product. It gives your eyelashes fantastic lift and curl and makes your eyes appear more wide-awake. Infused with Chamomilla Recutita flower extract and camellia japonica seed oil, this formula nourishes and softens your lashes. All while the applicator wand with polymer fibers lengthen your eyelashes and provide long-lasting wear. Plus, this formula is lightweight, waterproof, and easy to apply.
Pros
Waterproof
Long-lasting
Features polymer fibers
Lengthens and curls lashes
Formulated with conditioning ingredients
Cons
Might be difficult to remove
Take your lashes to new heights with this Clinique Lash Power Mascara that lengthens your lashes and leaves them looking gorgeous. This is an extremely good mascara for Asian eyes with short, sparse lashes as it features a unique thermal technology that helps the formula stay put for 24 hours straight. So whether you're headed out on a humid day, going for a swim, or getting drenched in the rain, this formula does not smear or smudge. However, when you are ready to remove it, you can easily wash it off with warm water. This mascara features a precision brush that coats your lashes, even the tiniest ones, to separate them beautifully.
Pros
24-hour wear
100% fragrance-free
Mineral oil and gluten-free
Can also be used to coat lower lashes
Allergy and ophthalmologist-tested
Formulated without SLS, sulfates. And phthalates
Suitable for sensitive eyes and contact lens wearers
Cons
It might clump
Slightly expensive
A mascara that holds a curl for long, offers volume, and is waterproof – what's not to love about this makeup product. When applied on bare lashes, this transparent fixing gel mascara gives your upper lashes some much-needed curl that lasts for long. All while lash-loving ingredients like Iris Ensata extract and caffeine makes your lashes healthier and shinier with every swipe. This formula also works as a volume and coating fixer – apply it before your main mascara to create a thick and full dramatic effect and swipe it after the mascara for a clump-free definition.
Pros
Waterproof
Long-lasting
A little goes a long way
Smudge-proof and clump-free
Makes your lashes healthy
Lends curled up, voluminous lashes
Cons
Might be difficult to remove
Amp up your eye makeup look with Maksuzee Xpress Control Mascara that gives your lashes a multidimensional fanned-out look. With its creamy texture, you can rest assured that this formula will sweep across your eyelashes smoothly sans flaking or clumping. All while the silicone brush lengthens and thickens your lashes while also lending colossal volume and perfect curl. This is a waterproof formula, which means it will stay put all day through tears, rain, and sweat. Plus, it is deeply pigmented, so a single application can give your lashes an intense appearance.
Pros
Intensely pigmented
Lasts all-day
Hypoallergenic
Waterproof
Gentle ingredients
Smooth and creamy formula
Suitable for sensitive eyes and contact lens wearers
Cons
May take a long time to dry
You can transform even the most stubborn, super straight lashes into luscious, perfectly curled beauties with this mascara. Your lashes stay curled throughout the day, showing no signs of drooping. Thanks to the curved shape of the included c curl brush, you can easily coat your lashes, including the tiny and hard-to-reach ones, providing buildable volume. Besides the super impressive curl technology, this formula is waterproof, sebum-proof, and sweat-proof. So rest assured, this formula won't smudge or smear even through rain and sweat.
Pros
Smudge-free
Long-lasting for 24 hours
Does not clump
Waterproof and sweat-proof
Lends perfectly lifted and curled lashes
Cons
This mascara makes its way to our list of the best mascaras for Asian eyelashes for more reasons than one. A perfect mascara for straight Asian lashes, this lightweight formula keeps them curled for hours while adding length and volume. Formulated with Black Gel Polymer System, it uses polymers that evenly coat lashes for smudge-free wear. Meanwhile, the 1.5 mm micro brush grabs even the tiniest lashes from root to tip and separates them without clumping for a more defined and natural look. Thanks to its waterproof quality, this formula will not budge until you're ready to remove it.
Pros
Waterproof
Smudge-free
Featherlight formula
Curls and defines lashes
Features small brush
Works well for bottom lashes
Cons
If you want lush, voluminous lashes, LORAC Royal Treatment Primer & Mascara Duo will not let you down. The blue primer and black mascara work together to boost volume and add more thickness to help you achieve a dramatic eye makeup look. Unlike other primers that are usually white, this one comes in a cool blue color lending your lashes a blue-black finish while nourishing your lashes with every coat. It makes your eyes appear brighter and more open. While the flexible primer wand featuring bendable bristles grasps each lash to deliver a base coat, the slim mascara wand grabs and coats every individual lash from base to top, making it a great mascara for Asian eyelashes.
Pros
Clump-free look
Thickens lashes
Creates a bright-eyed effect
Nourishing primer formula
Primer makes pigments pop
Luxurious blue-black finish
Cons
Before buying a mascara, go through the points given below to help you pick the right mascara formula for your Asian lashes.
Buying Guide
What To Look For When Choosing The Ideal Mascara For Asian Lashes
The type of brush: The brush you use has a considerable role to play when it comes to how you want your lashes to look. For Asian lashes, you need an applicator wand that will coat all your lashes evenly from root to tip. However, the length of the bristles may vary depending on the appearance you are going for. For instance, thick, dense bristles are great for adding volume, while pointed shaped brush with well-spaced bristles works well for lengthening your lashes.
Formulation: Most mascaras these days either contain natural ingredients or are hypoallergenic, with more and more people shifting towards clean beauty. The type of formula you choose depends on your preference and your skin type. If you have sensitive skin or eyes or wear contact lenses, it's best to opt for a mascara that is allergy and ophthalmologist-tested and free of harmful chemicals.
Desired effect: A mascara that lengthens, volumizes, curls, and defines is the perfect formula for Asian lashes. However, if you wear glasses, you wouldn't want a mascara that makes your lashes long as it will touch your spectacles, ruining both your lashes and your glasses. So it is essential to understand your eyelash type and the look you want.
Waterproof: Choose a mascara that's waterproof or water-resistant as it will help maintain a curl. Plus, when you sweat or get rained on, this formula won't bleed or smudge.
Long-wearing: Opt for a formula that is buildable and has good staying power with full-day coverage. But, if you don't prefer a potent formula and don't mind reapplying throughout the day, you could pick a mascara that lasts at least until mid-day.
Advantages Of Using Mascara
Lifts and elongates lashes
Adds color or a rich black finish
Helps maintain a curl
Volumizes lashes and gives them a lush look
Some mascaras condition and nourish lashes
Makes your eyes appear bigger and more awake
How Do You Apply Mascara On Asian Eyes
Step 1: Use an eyelash curler to lift and lengthen your lashes. Open the eyelash curler and place it at the base of your lashes. Close and gently squeeze the lashes for a few seconds to curl them.
Step 2: Apply primer to your lashes. This will make your lashes smooth and make it much easier to apply mascara. Once applied, wait for 30 seconds before applying mascara.
Step 3: Choose your favorite mascara formula. Take the brush out of the tube and wipe off any excess on a cloth or the tube's edge.
Step 4: Place the wand at the base of your upper lashes and use a zig-zag motion to swipe it from root to tip.
Step 5: Now, coat your lower lashes using the tip of the wand and wiggle it back and forth.
Step 6: Follow the same step, but turn the wand diagonally or vertically to coat those tiny lashes at the inner and outer corners of your eyes.
We have rounded up the 11 best mascaras for Asian eyes (lashes) that are sure to give your lashes amazing lift, curl, and thickness while making them look brighter and wide awake. No matter you have poker-straight upper lashes that refuse to stay curled or short and thin lashes that need a little fullness, the right mascara can do it all. Although eyelash extensions on Asian eyes look great, they may not be an ideal for daily use. These high-performance mascaras can give your lashes a beautiful falsie effect but still look natural. So are you ready to upgrade your beauty arsenal with these products! Which of these mascaras have you tried? Let us know in the comments below!
Expert's Answers for Readers Questions
Is the color of mascara important for Asian lashes?
The color of the mascara does not play a vital role in how Asian lashes appear. If you prefer a natural lash look for everyday wear, it's best to opt for black or brown mascara. But, if you like trying something different, you could always choose other colors.
How do Asian eyelashes stay curled?
You need to look for a mascara formula that is waterproof or has curl-maintaining property. You could also curl your eyelashes with an eyelash curler right before applying.
What is the best mascara for short Asian lashes?
Most mascaras on our list have lash lengthening qualities, but if we had to choose one, we would suggest Clinique Lash Power Mascara. This formula makes short lashes appear long. It features a precision brush that coats all lashes, even the small ones, to separate them and create a defined look.
How to prevent mascara from smudging or flaking?
A waterproof formula can prevent your mascara from smudging or flaking. Besides that, you could also opt for tubing mascaras that coat lashes in polymers instead of black pigment, while offering excellent staying power.
Why does your mascara brush matter?
A mascara brush plays an essential role in transforming your lashes and giving you the desired effect. Using a wrong brush can turn your lashes into a clumpy mess or make them look like spider legs. So do opt for an applicator wand that best suits your eyelash type.
Should I be worried about preservatives in my mascara?
In cosmetics, preservatives are mainly used to prevent the growth of bacteria and mold in the product. But parabens and formaldehyde-releasing preservatives are said to be harmful to your health. Remember to read the ingredient list of a product and maybe avoid products that contain most parabens or some formaldehyde-releasing ingredients.
How are numerous coats of mascara best?
Numerous mascara coats, to be precise, 3 to 4 coats, can help you achieve excellent volume and length, while also lending a more defined finish.
The following two tabs change content below.

Latest posts by Mayuri J Ravi (see all)

Mayuri J Ravi
Mayuri J. Ravi is a content writer and journalist and holds a Post Graduate Diploma in Print Journalism. Her love for writing and desire to influence people for the better with her stories led her to pursue a career in this creative and dynamic field. She creates engaging content on a wide range of topics, such as beauty, fashion, and wellness. She is an ambivert and an avid foodie who also loves reading, dancing, and baking.