11 Best Conditioning Mascaras That Make Your Eyelashes Grow
Keep your eyelashes thick and healthy with these nourishing conditioning mascaras.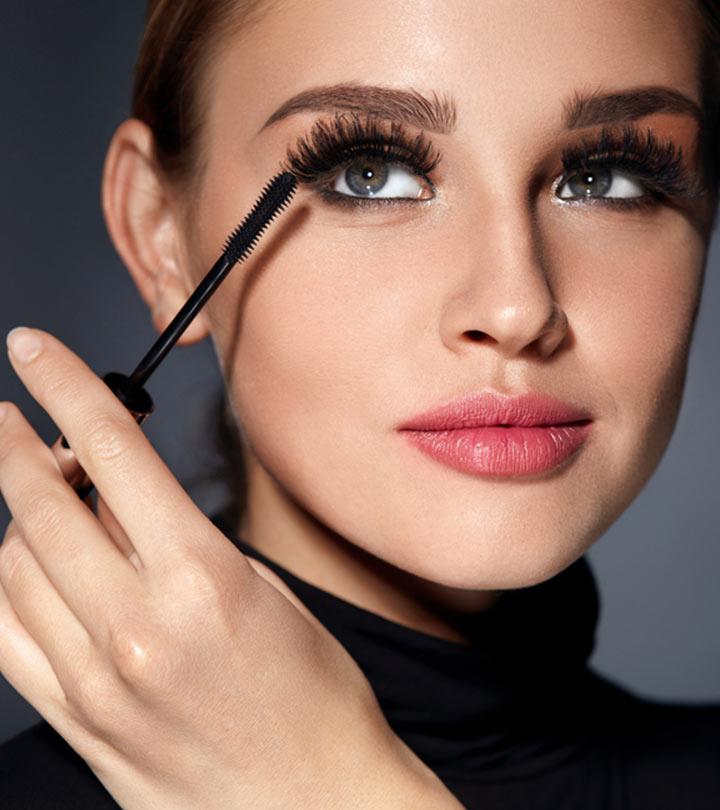 If you are looking for a mascara that gives your lashes volume, lift, and length and keeps them nourished and healthy, then consider using the best conditioning mascara. A conditioning mascara has all the abilities to provide you with luscious and long eyelashes. It is loaded with lash-friendly ingredients like peptides, keratin, proteins, and other natural agents and is formulated to strengthen and protect your eyelashes.
Apart from giving your eyelashes that dramatic curl and length, conditioning mascaras also help build an environment that can promote lash growth. If you are ready to switch your regular mascaras with a lash-friendly option, scroll down and check out our list of the 11 most amazing lash-conditioning mascaras.
11 Best Conditioning Mascaras For Longer And Healthier Lashes
This Lash Stiletto Ultimate Length Mascara is considered to be one of the best drugstore mascaras for fragile short lashes and for a good reason. True to its name, this mascara does to lashes what stilettos do for your feet – which is to give your lashes alluring length. Plus, with the addition of pro-vitamin B-5, this washable mascara conditions and softens your lashes. All while the Grip + Extend brush grabs every lash and coats them upwards from root to tip to separate and instantly lengthen them while lending an intense black Patent Shine finish. This video will give you a better insight into the qualities of the product.
Pros
Contains pro-vitamin B5
Lends glossy shine
Ophthalmologist-tested
Suitable for contact lens wearers
It is a washable mascara, so it is easy to remove.
Cons
Price at the time of publication: $7.59
Thanks to the perfect combination of biotin, proteins, collagen, jojoba, amino acids, and other nourishing ingredients, this mascara by it Cosmetics volumizes and conditions your lashes while boosting growth. Aside from that, this formula provides intense color and shine and some much-needed curl. This unique ball detailer-tip wand grabs every single lash, even the tiny ones in the inner and outer corners of eyes, to lengthen and separate them beautifully. Conditioner mascara was developed by plastic surgeons, this award-winning formula is clinically proven to increase the lash volume by 430%. No doubt, your lashes are going to look dramatically voluminous without the use of false lashes or lash extensions! Click here to check out a detailed personal review of this product.
Pros
5-in-1 formula
Long-wearing
Lash-nourishing mascara
Lends long and luscious lashes
The ball-tip applicator allows you to GO VERTICAL.
Cons
May have a thick consistency
Price at the time of publication: $25.0
From the makers of some of the best skincare and makeup products comes this mascara formula made without irritants or harsh chemicals. Rest assured it's hypoallergenic and suitable for sensitive eyes and contact lens wearers. This is an innovative mascara formula that promises to give you longer-looking lashes in only 2 weeks. Yes, that's right! Rich in peptides and vitamins, this mascara penetrates your lashes with every coat to make your lashes grow faster and healthier. It features dual-sided wand – the longer bristles add length and the shorter one lends volume, helping you achieve any look you want.
Pros
Gives thicker and healthier lashes
Highly-pigmented formula
Hypoallergenic
Does not clump or flake
Fragrance and paraben-free
Cons
Tends to dry quickly, so you need to work fast while applying more coats.
Price at the time of publication: $17.0
Amp-up your eye makeup look with this mascara and eyeliner duo! This multi-benefit mascara is everything you need in a mascara. Not only does it deliver a rich color pay-off, but it also volumizes, defines, lengthens, and conditions your lashes. Every time you swipe a coat on your lashes, the keratin in the formula penetrates each lash and offers nourishing benefits to retain lash health and structure. All while the water-resistant eyeliner accentuates your eyes even further with its stay-true color that lasts for 16 hours straight without smudging. Plus, it is infused with vitamin E that protects your eyelid skin.
Pros
Hypoallergenic
Fragrance and cruelty-free
The mascara is available in 2 more shades
The eyeliner features a built-in sharpener
Dermatologist and ophthalmologist-tested
Suitable for sensitive eyes and contact lens wearers
Cons
The applicator brush may be flimsy.
Price at the time of publication: $7.1
If you want bold, thick eyelashes, this mascara and primer duo has you covered. While the mascara is designed to condition and build significant volume, the primer helps protect your lashes (with argan, jojoba, and coconut oils) and maximizes the results of the mascara. This mascara, formulated with coconut, avocado, and papaya oils, hydrates and strengthens your lashes with every sweep. All while its creamy texture ensures smooth and clump-free application. One of the best eyelash-growth mascaras, this one is ophthalmologically-tested, so even contact lens wearers can use this formula without worrying about irritating their eyes. Click here to check out this YouTuber's unbiased review.
Pros
Volumizing mascara
Cruelty-free
Ophthalmologist-tested
Does not smudge or clump
Mascara coats your lashes from root to tip
Instantly boosts the length and adds more definition
The primer is enriched with argan, jojoba, and coconut oils.
Cons
The plastic brush may be difficult to use.
Price at the time of publication: $9.71
Achieve both volume and moisturization for your eyelashes with this mascara from Grande Cosmetics. It is infused with natural waxes, peptides, and panthenols that help condition your adorable and delicate lashes. This mascara also promotes a healthier looking and voluminous look. In addition, it prevents lash breakage and keeps them strong. The applicator brush made of hard and soft fibers enables smooth and easy application.
Pros
Water-resistant formula
Buildable
Does not clump
East to remove
Suitable for contact lens and lash extensions
Cruelty-free
Cons
Price at the time of publication: $24.95
Get longer and fuller-looking lashes you have always dreamed of with this PureLash Lengthening Mascara by jane iredale. Formulated with D-panthenol and wheat protein, this formula provides nutrients to your lashes as you coat them. This will further strengthen and smoothen your lashes and minimize splitting and breakage. Meanwhile, the easy-to-use dual-edged brush captures every lash and evenly coats them to help you achieve a thick and feathery lash appearance. If your lashes could speak, they will surely thank you for this.
Pros
Protects and nourishes lashes
Gives you long and thick natural-looking lashes
Can be used on brows
Does not smudge or flake
It does not contain lacquers, shellac, or petroleum-based ingredients.
Cons
Price at the time of publication: $26.0
Mascara is one of those makeup products that elevate your look to a whole new level without much effort. All you have to do is coat your lashes a couple of times, and you're good to go. As the name suggests, this Ultra Volume Mascara plumps your lashes to provide exceptional volume like no other. All while conditioning your lashes with every sweep. What we love the most about this product is its applicator wand, referred to as the LASH PLUMPING brush. It is designed with triple grooves and short and long bristles to comb your lashes evenly while providing the right amount of product for a voluminous lash look.
Pros
Waterproof formula
Clump-free
Has conditioning benefits
Makes your lashes appear longer and fuller
Cons
May be difficult to remove
Price at the time of publication: $9.99
Not all mascaras are created equally, and not all mascaras are suitable for everyone. Some products irritate the delicate area around your eyes. Neutrogena Healthy Volume® Mascara is ophthalmologically and dermatologically-tested, which means it is safe to use for women with sensitive skin or eyes and also suitable for contact lens wearers. This lash-growing mascara includes a Visible Volume Brush that coats your lashes, even the tiniest ones, to build ultimate volume without clumping or flaking. Infused with olive and sweet almond oil, this formula penetrates your lashes to nourish them while delivering intense color that lasts long. This pack contains 2 tubes of this volumizing and lash conditioning mascara.
Pros
Waterproof and smudge-proof
Comes with a super-sized brush
Dermatologist and ophthalmologist-tested
Includes lash-conditioning properties
Lends rich color and bold volume
Cons
Price at the time of publication: $8.14
Is continuous usage of the curler and regular mascara leading to increased lash loss? What you need is a mascara that strengthens your brittle lashes and reduces breakage. We present to you Zuzu Luxe Mascara that curls, lengthens, and adds immense volume. Infused with vitamins and herbal extracts, this clear mascara is designed to protect your weak lashes and stimulate growth. It features a nylon brush that coats your lashes smoothly to add definition without clumping. Plus, it is water-resistant and smudge-proof.
Pros
Adds volume, length, and curl
Clump and flake-free
Vegan and gluten-free
Cruelty and paraben-free
Made with all-natural ingredients
Ideal for sensitive eyes and contact lens wearers
Cons
May not be suitable for lighter lashes
Price at the time of publication: $17.6
Created with sensitive eyes and skin in mind, this BaeBlu Organic Mascara is a great choice if you want to enhance your lashes without irritating your eyes. It lengthens your lashes and delivers fanned-out volume. It is formulated with organic ingredients such as chamomile and cinnamon bark that have anti-inflammatory and antibacterial benefits, and grape seed oil that hydrates your lashes from root to tip. This is a healthy mascara and is easy to use, also offers a smooth application. Plus, it is intensely pigmented, which means a little goes a long way. So, only fewer coats are needed to give your lashes a defined look.
Pros
Cruelty-free
Protects and conditions lashes
Prevents lash damage
Does not cake, clump, or flake
Vegan, and gluten-free
Non-irritating and chemical-free formula
Made with organic and natural ingredients
Cons
Price at the time of publication: $21.19
Before buying a conditioning mascara, go through the points given below that might help you pick the right mascara that is good for your lashes.
What Is A Conditioning Mascara
A conditioning mascara is a product that is formulated to protect and nourish your lashes. Keratin, vitamin E, panthenol, jojoba oil, and silk protein are some of the ingredients that can be found in a conditioning mascara. It could contain one or more of these lash-conditioning ingredients. A mascara that conditions lashes also contains rich pigments that give your lashes a longer and thicker appearance.
How To Choose The Best Conditioning Mascara For Your Eyelashes
Choosing a conditioning mascara is not rocket science. It's similar to choosing your regular mascara, with the only exception being the former is enriched with nourishing ingredients. So if you want a formula to strengthen your lashes and encourage lash growth, you need to look for a formula that contains one or more of the lash-loving ingredients.
Besides conditioning properties, you need to look for a mascara that also suits your eyelashes best. For instance, if you have thin lashes, a mascara that gives a volumizing effect is an excellent option for you.
Nobody likes a mascara that smudges or bleeds or gives you raccoon-like eyes by mid-day. So a mascara that's waterproof or water-resistant with good staying power is what you should opt for.
An applicator wand has an important role to play in terms of how your lashes appear. Thick, fluffy brushes give you fuller-looking and thicker lashes, while skinny wands are used to separate and evenly coat lashes.
How To Use A Conditioning Mascara
Step 1: Curl your lashes using an eyelash curler to lift and lengthen them.
Step 2: Use a primer to thicken and separate your lashes. This provides a smooth surface for the mascara to adhere to. Apply one or two coats on your lashes and wait for 30 seconds before applying mascara.
Step 3: Pick your favorite mascara. Take the wand out of the tube and wipe off any excess at the edge of the tube.
Step 4: Now place the brush at the base of your upper lashes and move it towards the tip of your lashes.
Step 5: Coat your lower lashes by using the tip of the wand by moving the bristles back and forth.
Step 6: Use the brush vertically or diagonally to coat the tiny and hard-to-reach lashes at the corners of your eyes.
Why Trust StyleCraze?
Chaitra Krishnan is a product writer who loves keeping up with the latest fashion and beauty trends. Her extensive knowledge of beauty trends and products enabled her to write a well-researched article for her readers on the best conditioning mascara after extensive study and evaluation across various websites. She also included advice on using conditioning mascara and important aspects to consider before purchasing. These products come with a brief description, pros and cons, and answers to some frequently asked questions to assist you in buying.
Frequently Asked Questions
Can you wear conditioning mascara overnight?
Although conditioning mascara is a fortifying formula that can hydrate your lashes, leaving it overnight can damage your lashes. It could dry out and cause clumpy lashes to fall out.
Does mascara damage your eyelashes?
Yes, mascara can damage your eyelashes if it is not removed correctly or left on your lashes for longer than recommended.
How do you make conditioning mascara look natural?
Keep a few steps in mind while applying a conditioning mascara to make it look natural.
• Always apply mascara as the last step of the eye makeup. If you apply the eyeshadow after the mascara, lashes can clump and look messy.
• Look down and curl your lashes with a curler.
• Swirl the brush inside the tube of the conditioning mascara and pull out the product. • Repetitive pumping in and out can dry the product.
• Wipe out the excess mascara on the rim of the bottle.
• Look down and apply a few coats.
• Wiggle the brush back and forth a number of times on the lashes.
• Look up, hold the brush vertically and gently apply it to the inner small lashes.
What is the healthiest conditioning mascara for eyelashes?
Mascaras that are filled with ingredients like vitamins and peptides are immensely healthy. If you have hypersensitive skin, opting for a hypoallergenic mascara is the best bet. The Covergirl Flourish By Lash Blast Mascara is a great option.
Recommended Articles