4 Best DD Creams That Are Trending In 2023
Protect and soothe your skin by nourishing it with the most suitable skin care essentials.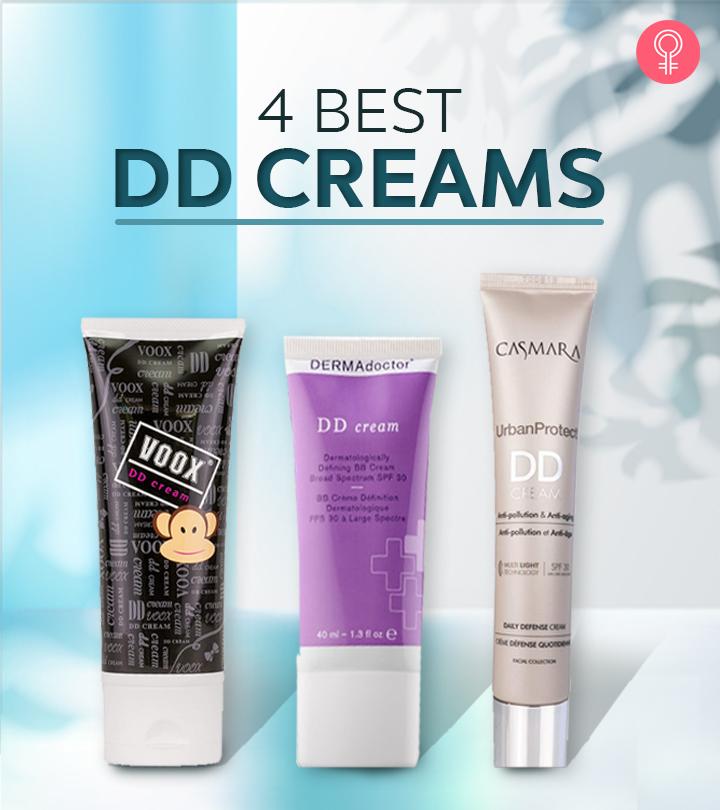 We all know about BB cream, which is used to blur blemishes. Then there is CC cream, which serves as a color corrector and primer. DD cream is the most recent addition to this double-alphabet game. So what is it, and what is the best DD cream?
A DD cream ( Daily Defense cream) is a combination of BB and CC creams, with more skin care benefits and protection. Before applying makeup, its special formula moisturizes, preps, and rejuvenates your skin. In addition, it offers a much lighter yet luminous foundation. Is this a passing phenomenon in the world of cosmetics? And what sets it apart from its predecessors? To get answers to these questions, read this article! You can also check out the top 4 DD creams on the market. Scroll down to get started!
4 Latest DD Creams You Should Try This Year
This multifunctional corrective 'do-it-all' beauty cream offers buildable coverage and supports a healthy complexion. It comes with mineral-based SPF 30 that provides UV protection, prevents sunburns, and mitigates the risk of developing skin cancer and photoaging.
This DD cream suits all skin tones. Its unique white-sapphire complex auto-adjusts and enhances the beauty of every distinct skin tone. This cream represents the 'one formula fits all' theory flawlessly and has a brightening effect. Use it just like you use sunscreen – apply it 15 minutes before sun exposure, and you are set! If you need more convincing, feel free to take a look at this YouTube video that details a tester's experience with the product.
Number of Items: 1
Pros
Allergen-free
Lightweight
Spreads easily
Blendable
Deep moisturizing
Sheer coverage
Dermatologist-tested
Cons
Too oily for combination skin

Pro Tip
If you have dry skin, apply a moisturizer before you apply this cream.
The VOOX DD cream is designed to conceal spots and enhance the skin tone. It was developed in Japan and inspired by Thai aesthetics. This DD cream instantly gives a healthy, pinkish radiance and superior sun protection.
The VOOX DD cream contains cherry blossom extracts that keep the skin hydrated and malic acid that stimulates cell renewal and imparts a pore-minimizing effect. The formula is waterproof, oxidation-free, suitable for all skin types, and can be used on both the face and the body. You can leave the cream on overnight as it is made of safe, natural ingredients.
Product Dimensions: 1.5 x 7.01 x 2.68 inches | Weight: 5.29 Ounces.
Pros
Lightweight
Non-comedogenic
Waterproof
Smudge-proof
Does not oxidize
Offers skin hydration
Suits all skin types and tones
Cons
Shade mismatch issues
Leaves white residue
This is a tinted moisturizer comes with potent anti-aging and UV-protecting properties and offers medium coverage. The Casmara Urban Protect DD Cream contains pure bamboo, chamomile, ginseng, glass diamond, sea-plankton extracts, and almond oil. These active ingredients protect the skin from pollutants, strengthen the antioxidant defense, and provide skin nourishment.
The DD cream comes with an innovative multi-light technology SPF 30 that blocks harmful UV rays and artificial blue light. It has a color-adapting formula with a blurring airbrush effect for providing a flawless complexion and natural finish. Many reviewers on online forums have noted that it covers fine lines and improves skin elasticity when used regularly. This DD cream is suitable for all skin types and is available in two shades (deep and light) that broadly match any skin.
Pros
Best for daily use
Lightweight formula
Non-comedogenic
Medium coverage
Value for money
Effective sunblock
Quick blending
Cons

Quick Tip
Apply the formula as a primer during your makeup routine for better coverage and protection from UV damage and pollution.
The Shine n Jam Shea Butter DD Creme is a tinted moisturizer that takes the one-for-all game to the next level. You can use this cream on your skin and hair. It is a hydrating formula that contains shea butter, a natural emollient to nourish, hydrate, and soften the skin, and sunblock to prevent photodamage.
This DD cream soothes eczema, dermatitis, acne, breakouts, wrinkles, and dryness. When applied to the hair, it acts as a hydrating, anti-frizz leave-in conditioner. It deeply nourishes the roots, scalp, and hair fibers to reduce hair fall and breakage. According to several reviews on online forums, this DD cream works particularly well for dry skin and imparts an even skin tone.
Hair Type: All
Pros
Dual-use
Value for money
Easy to apply
Suits all skin types
Lightweight formula
Pleasant, natural fragrance
Suitable for dry skin
Cons
Flaky scalp issues
Leaves oily residue
*The prices provided in this article are based on the latest available information. However, they may vary due to changes in pricing by the seller and/or promotional offers.
DD creams have anti-aging properties and aid in fighting fine lines, wrinkles, and dark circles. To find the best statement-making DD cream for your skin, refer to the buying guide below.
Things To Consider Before Selecting DD Creams
You must look out for the ingredients of DD creams before buying one. You should select DD creams that contain skin-friendly ingredients such as pure bamboo, chamomile, ginseng, glass diamond, sea-plankton extracts, almond oil, niacinamide, malic acid, and glycerin. Always choose lightweight, non-comedogenic, waterproof, smudge-proof, and harsh chemical-free formulas in DD creams. You must avoid using DD creams that include anti-aging ingredients you are personally allergic to. It is recommended to conduct a patch test on a small area of your skin before committing to any formula.
The formulation of DD cream makes it suitable for all skin types, including oily, dry, combination, and sensitive skin. Natural and toxic-free chemicals like calamine and pearl powder not only help your skin look more radiant but also hydrate and nourish it. They also relieve you from general itching, eczema, sunburn, and other common skin conditions. If you have mature and dry skin, DD creams can do wonders for your skin. They help reduce skin bumps, acne, and pimples.
Having multiple benefits in one cream is always the best option to choose. You must look out for SPF in the DD creams before making your buying decision. They will provide protection from UV rays and provide exceptional results.
You must choose the DD creams that are lighter than your foundation but offer full coverage. For this, you must go with non-greasy and lightweight formulas that help your skin breathe as well as offer a youthful glow. If you have acne scars and blemishes, go for DD creams that can cover them without any issues.
When choosing any skin care products, you must look for some reputable and popular brands. Brands that have a strong reputation will never compromise their product's quality and offer you the best products at reasonable prices. To choose the best brand, you can compare reviews and ratings of the DD creams offered by different brands.
These are the top 4 DD creams that have been widely used and appreciated. The popularity of these creams comes to show how makeup is evolving to be simple and minimal. This all-in-one product manages to do all the four to five functions of a makeup base. Find out what a DD cream contains and how it is different from BB and CC creams in the next section.
What Is The Difference Between DD, CC, And BB Creams?
A BB, a beauty balm, or a blemish balm cream is more like a light foundation with priming properties. As the name suggests, it covers blemishes and enhances the base skin tone for makeup. It is purely cosmetic and barely has any therapeutic benefits.
On the other hand, CC cream, color-correcting cream, or complexion-correction cream is a foundation, primer, and concealer blend. It contains light-diffusing particles to cover spots, fine lines, blemishes, redness, and sallowness. It preps your skin for makeup. Some formulas may also enhance the antioxidant activity of your skin. CC cream is designed to blend and diffuse better with any skin complexion, and hence, has become a staple in everyday makeup.
DD stands for Dynamic Do-all, Dermatologically Defining, or Daily Defense, depending on the brand. It is a primer, foundation, concealer, color corrector, and sunscreen rolled into one, so it can be used as a foundation alternative. DD creams often contain skin-nourishing, skin-perfecting, and moisturizing ingredients and at least SPF 30, which is potent enough to block UV rays.
Infographic: Quick Application Tips For DD Cream
A good-quality DD cream offers light to medium coverage to hide dark circles, correct redness, and cover blemishes. It moisturizes, smoothens, and protects your face from damaging sun rays and pollutants. However, the key to achieving a flawless base lies in the proper application method. Check out the infographic below to understand how to apply a DD cream for a primer-like effect that lasts through your busy schedule.

The Bottom Line
BB creams and CC creams have been in the market for a long time, but now DD creams have taken the spotlight. This cream helps to hide dark spots, fine lines, wrinkles, and other aging signs perfectly. These creams prep your skin, rejuvenate the skin, and make you appear flawless. The DERMAdoctor DD Cream provides light coverage and evens out the skin tone, while the VOOX DD Cream offers sheer coverage and a pinkish radiance. The Casmara Urban Protect DD Cream hydrates the skin and protects it from environmental aggressors. In addition, some of these creams improve the appearance of the skin, nourish the skin, and provide a natural finish. Some DD creams can also soothe eczema and acne breakouts. However, consider adding non-comedogenic DD creams to your enhanced beauty routine as they are safe for the skin and prevent rashes or irritation.
Why Trust StyleCraze?
The author, Shiboli Chakraborti, is a skin care expert. She has rounded up the best DD creams available in the market. She uses her knowledge and expertise to handpick products that will help reduce signs of aging like wrinkles and dark spots. She has also illustrated the difference between BB, CC, and DD creams so that you can choose a product suitable for your needs.
Frequently Asked Questions
Is DD cream good for daily use?
Yes, DD cream is perfect for daily use as it preps the skin for makeup application and offers a range of benefits. Go for one that comes with broad-spectrum sunscreen.
Is DD cream good for the skin?
Yes, DD cream is good for the skin. It offers hydration, rejuvenation, and sun protection.
What is a DD facial cream?
A DD facial cream is specially formulated with the combined benefits of BB and CC creams that offer multiple skin benefits.
Is DD cream better than CC cream?
Yes, DD creams offer all-round benefits compared to CC cream. While a CC cream is a primer, foundation, and concealer blend, a DD cream does all that and also offers moisturizing benefits and SPF protection.
Is DD cream a moisturizer?
Although a DD cream moisturizes the skin, it does much more than just moisturizing.
Recommended Articles
The following two tabs change content below.