12 Best Weight Loss Creams For Burning Fat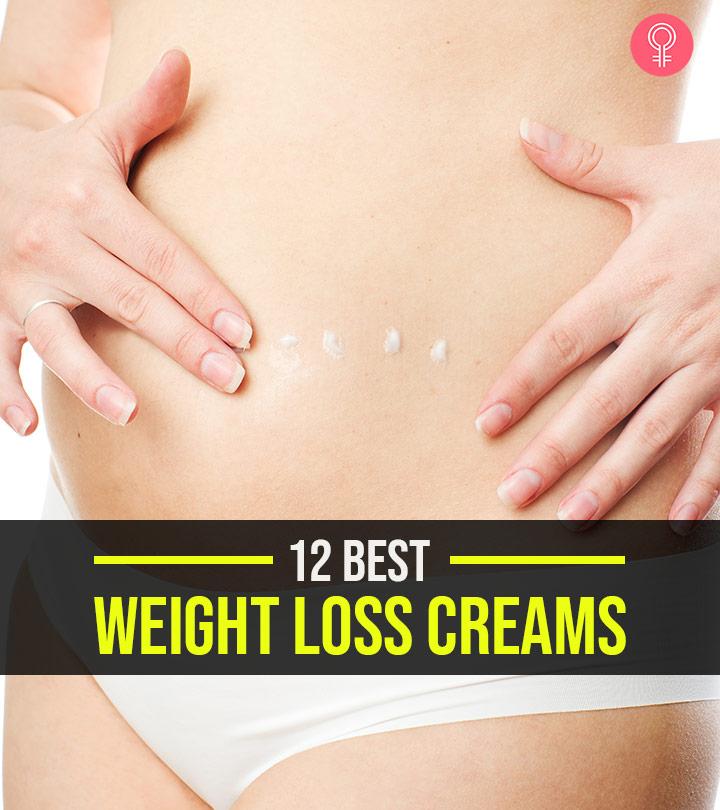 Weight gain issues are on the rise with drastic changes in lifestyle habits. We are stressing out and getting addicted to fast food. Add to that our increasingly sedentary lifestyle, and we have a real problem in our hands. But losing weight does not have to be complicated. Along with a healthy diet and regular exercise, you can start applying a weight loss cream.
A weight loss cream may not help you with actual fat loss. But it does get rid of the extra cellulite and tone your body. Listed below are the 12 best fat-burning creams on the market. Check them out!
12 Best Weight Loss Creams
Get rid of cellulite by massaging your body with the Maple Holistics Tightening And Slimming Hot Cream. Its nourishing ingredients include aloe vera, meadowfoam, white camphor, capsicum, ginger lily, and a blend of fruits that leave your skin glowing and smooth. The skin smoothening formula consisting of aloe vera and meadowfoam seed oil reduces the appearance of cellulite, tightens skin, and synthesizes collagen to firm up sagging skin.
This anti-aging formula helps brighten skin and reduces wrinkles and fine lines. The combined effect of calendula, camphor, and methanol relaxes the muscles and offers a deep tissue massage to remove toxins. Applying this cream after a workout soothes sore muscles and has a relaxing effect. This slimming cream is paraben-free and does not cause skin irritation.
Target Areas
Abdomen, legs, arms
Mode Of Action
Massaging deeply with the infused botanical extracts and stimulating ingredients (ginger lily, capsicum) improves blood circulation – resulting in localized thermogenesis. This, in turn, helps break down fat and tones your body.
How To Use
Apply the Maple Holistics Ultra Moisturizing Hot Cream to the affected areas twice daily. Wrap the area with plastic for 30-40 minutes for the best results. You can expect a tingling sensation as the cream works to tone your body and tighten the skin.
Pros
Paraben-free
Silicone-free
Cruelty-free
Boosts blood circulation
Relieves muscle soreness
Detoxes your body
Rejuvenates the skin
Designed for deep tissue massage
Safe for daily use
Suitable for all skin types
Cons
Unpleasant smell
Watery consistency
The RtopR Mango Slimming Weight Lose Cream is a natural blend of mango, ginger, and Centella that burns fat effectively. The cream contains emollient herbal extracts that heat your subcutaneous fat to aid weight loss. The emollient herbal extracts, together with the mango essence, speed up fat burning and boost metabolism.
Target Areas
Abdomen, thighs, arms, waistline
Mode Of Action
The small biomolecules in the cream penetrate the subcutaneous tissue and break the fat molecules. The cream also widens the skin pores to allow the body's toxins to be expelled in the form of sweat.
How To Use
Massage this cream twice a day on your target areas like the thighs, buttocks, waistline, and arms. Wrap the area for 30-40 minutes with a cloth before peeling it off.
Pros
Natural ingredients
Induces thermogenesis
Promotes collagen synthesis
Cons
None
The Brazillian Belle Cold Slim Gel is infused with a powerful blend of caffeine, green tea, L-carnitine, and methanol that promote fat loss and reduce excess water weight. Caffeine's rich antioxidant profile reduces the signs of aging and firms up saggy skin. It also helps reduce the appearance of cellulite and stretch marks. The useful blend of other active ingredients like green tea, methanol, and L-carnitine promotes collagen and elastin production and helps tighten the skin.
Target Areas
Stomach, arms, legs, calves, back, buttocks
Mode Of Action
Massaging the cream creates an icy/hot sensation by thermo-active components. It also enhances blood circulation and heats up the target areas to release toxins from the body. The resultant sweat also helps reduce excess water weight.
How To Use
Simply apply the cream on the target areas. Massage it well to generate sufficient heat. Wrap the area for 30-45 minutes for better results.
Pros
Stimulates blood circulation
Relaxes sore muscles
Reduces excess water weight
Promotes collagen and elastin synthesis
Helps trim waistline
Cons
May not heat up the body properly
The Saisze Cellulite Cream Massaging And Slimming Gel is specially formulated to eliminate cellulite, burn subcutaneous fat, and accelerate the slimming process. Apart from slimming your body, the cream also moisturizes and smooths your skin with the nourishing oils in the formula. It keeps your skin soft, tender, firmer and provides deep relaxation to the muscles. The pack includes a massager to enhance the absorption of the cream and provide relief to your stressed muscles.
Target Areas
Waist, legs, arms, and abdomen
Mode of Action
The anti-cellulite cream increases cell metabolism for the quick burning of fat tissues and eliminates unwanted fat cells, thereby preventing the recurrence of cellulite.
How To Use
Apply the correct amount of the anti-cellulite cream on the affected area and massage it for 15 minutes.
Pros
Easy to use
Refreshing
Quick absorption
Relieves muscle tiredness
Cons
The burning sensation might be strong for some
The HoneyBull Fit Gel enhances your gym workouts. It claims to double your workout effects, performance, and endurance. It makes you sweat more, burning more calories and fat in the process. It is infused with coconut that smoothens skin and releases a refreshing smell. This workout enhancing gel runs into your body's muscles and tones them.
Target Areas
Abdomen
Mode Of Action
Rubbing the gel on the target muscles increases heat and produces more sweat, thereby releasing toxins. The more the muscles are activated, the more the loss of fat around them. The gel also increases the effectiveness of your workout.
How To Use
The roll stick applicator is easy to be applied. Roll it on the target area and begin exercising.
Pros
Doubles the sweat produced
Easy to use
Convenient twist bottom
Faster warm-up and lower recovery period
Refreshing smell
Cons
The TNT Pro Ignite Slimming Cream is a fat-burning cream made of all-natural ingredients like coconut oil and jojoba oil. It also contains other special stabilizers. This non-staining and colorless cream claims to speed up your warming up and recovery before and after a workout, respectively. It targets your sweat glands and boosts perspiration – this could help melt cellulite and subcutaneous fat.
Target Areas
Abdomen, legs, arms
Mode Of Action
Within 15 minutes of exercise, the ignite cream increases the thermogenesis in the target zone and increases sweat to release more toxins. The cream helps melt fat surrounding the target muscles. It also tones muscles and trims down fat.
How To use
Apply this cream to your abdomen before a workout. It gets activated by your cardio exercises and generates more heat.
Pros
Opens skin pores to improve circulation
Targets sweat glands for perspiration
Accelerates recovery
Alleviates muscle soreness and fatigue
Relieves muscle pain
Increases thermogenesis
Refreshing smell
Cons
Difficult to wash off with soap and water
The ELAIMEI Sweat & Fat Burning Cream is made of organic natural ingredients that are safe and gentle on the skin. It helps reduce edema by increasing sweat release. Applying it to the target areas in a circular motion opens the skin pores and drains excess water to reduce water weight. It also helps minimize the appearance of saggy skin, alleviates muscle soreness and fatigue, and reduces inflammation.
Target Areas
Abdomen, legs, arms, buttocks, waist
Mode Of Action
The natural ingredients increase pore size and help eliminate toxins and excess water through sweat. This could result in fat loss. It also helps boost metabolism, accelerates warm-up, and enhances muscle activity to burn more stubborn fat.
How To Use
Massage the gel in a circular motion to spread evenly. It can be applied right before exercise to accelerate perspiration, boost calorie burn, and tone the body.
Pros
Burns extra calories
Reduces edema
Prevents muscle pull or strain
Reduces inflammation
Alleviates muscle aches
Natural ingredients
No harmful chemicals
Non-irritating cream
Refreshing smell
Suitable for most skin types
Cons
May cause discomfort to sensitive skin
The Advanced Clinicals Green Coffee Bean Oil Thermo-Firming Cream is a blend of coffee seed oil, tea leaf extract, and minerals that tighten and tone your skin to get rid of cellulite. Green coffee beans have a higher penetration power. They help moisturize and tighten saggy skin. The cream is free from parabens and offers results with no side effects.
Target Areas
Stomach, arms, hip, thighs
Mode Of Action
This thermo-firming cream generates heat in the target areas and enhances lipolysis (breaking down fat cells). The toxins from the fat cells are then excreted through the skin pores in the form of sweat.
How To Use
Massage the cream deeply on the target areas and let it get absorbed on its own.
Pros
Natural ingredients
Tightens saggy skin
Paraben-free
Safe and gentle on the skin
Adds moisture to the skin
Cons
The Perfect Sculpt Sweat Cream is a great addition to boost your exercise performance, improve endurance, burn more calories, and sculpt your body. It is made with dead sea salt, natural botanical extracts, and horsetail that support the thermogenic effects of fat cells for a tighter and smoother skin appearance. The cream increases local thermogenesis to release sweat and reduce excess water weight too. It also helps alleviate muscle fatigue while enhancing muscular activity.
Target Areas
Abs
Mode Of Action
This workout gel enhances blood circulation and increases the heat to the target area by boosting local thermogenesis. This results in sweat release and a reduction in water weight. It also helps reduce cellulite and tightens the body.
How To Use
Massage the cream over the target area 15 minutes before exercise.
Pros
Increases perspiration
Tightens and tones the skin
Reduces bloating
Boosts circulation
Enhances workout results
Alleviates muscle fatigue and soreness
Enhances muscular activity
Stimulates blood flow
Natural ingredients
Cons
None
The Murara Belly Fat Burner Sweat Enhancer tones the whole body by increasing sweat and boosting calorie burn. It is made of natural ingredients that increase metabolic rate, eliminate cellulite, and burn away unwanted fat. The anti-cellulite cream ensures you sweat more during your workouts. It effectively tightens the skin and provides deep muscle relaxation. It alleviates muscle aches and soreness too.
Target Areas
Abdomen, hip, thighs, legs, arms
Mode Of Action
As a pre-workout burner, it enhances thermogenesis, accelerates metabolism, and releases toxins from the stubborn subcutaneous fat cells.
How To Use
Massage the anti-cellulite cream as a pre-workout booster to the target area.
Pros
Increases blood circulation
Natural ingredients
Prevents further fat accumulation
Accelerates metabolism
Provides deep muscle relaxation
Helps reduce muscle fatigue
Pleasant smell
Cons
May cause itchiness on sensitive skin
The Hot Vita Slim Down Slimming & Toning Gel is an all-in-one formula made of high-quality active ingredients like ginseng extract, caffeine, and aloe leaf juice that act as anti-cellulite agents. The caffeine in this cream reduces cellulite by crossing the dermal barrier and targetting the fat cells. The ginseng extract buffs away dead skin cells and the aloe leaf juice intensely hydrates skin.
Target Areas
Arms, core, glutes, thighs, calves
Mode Of Action
The all-in-one natural extracts help boost blood circulation and act as a pre-workout stimulator. The active ingredients easily penetrate the skin, target fat cells, and stimulate thermogenesis.
How To Use
It can be used as a pre-workout cream to burn fat cells or as a post-workout cream to hydrate and nourish the skin. Apply a sufficient amount of the cream evenly on the skin.
Pros
Paraben-free
100% vegan
All-in-one formula
Nourishes and hydrates the skin
Tightens tummy
Cons
Unpleasant smell
May cause skin irritation
The BestNiffes Hot Slim Cream is specially formulated to improve uneven skin texture, tighten the skin, restore elasticity, reduce the appearance of cellulite, and nourish the skin. This hot cream is formulated with natural ingredients and includes vitamin A, E, D, and antioxidants. Apart from slimming your body, this cream hydrates your skin, makes it smoother, and improves blood circulation. The stimulation of the metabolism helps to flush out harmful toxins, thereby helping in weight loss and purifying your body.
Target Areas
Arms, backside, stomach, buttocks, and legs
Mode of Action
Massaging the cream accelerates the metabolic function of the body which boosts up fat burning. Thus, it reduces the appearance of cellulite, eliminates excess fatty tissues, and aids in  achieving a toned body.
How To Use
Apply the desired amount of the cream to the affected area and massage it gently for 15 minutes, twice a day. For better results, use after a shower when your skin pores are open and use a plastic wrap if you feel the heat is not strong enough.
Pros
Easy to use
Chemical free
Plant-based ingredients
Detoxifies your body
Reduces edema
Cons
May take time to show results
These are the 12 best weight loss creams that you can buy online. In the following sections, we further discuss weight loss creams and how they work.
What Is A Weight Loss Cream? How Is It Effective?
Weight loss creams or topical fat-burning creams claim to contain active ingredients that enhance thermogenesis and excess sweating and release toxins from the skin pores. They actually do not boost the body's metabolism but initiate vasodilation (expanding or widening of blood vessels) that causes an increase in the blood flow to the target region. This aids in thermogenesis.
Slimming creams with active ingredients like caffeine may exert lipolytic effects by enzymatic inhibition. They also may penetrate the skin barrier to reach the dermis and perfectly target fat cells and shrink them (1).
But it is important to note that applying a weight loss cream or an anti-cellulite massage oil only gives you superficial results and is not a permanent solution. These creams help synthesize collagen to improve skin elasticity and release toxins through lymphatic drainage. Therefore, they may help you get rid of some surface-level cellulite without causing any skin irritation (1).
Your major focus should be on losing visceral fat rather than subcutaneous fat. This can only be achieved with a holistic approach comprising of proper diet, regular exercise, stress management, and adequate sleep.
Is A Weight Loss Cream Safe?
A weight loss cream is generally safe to use. You just need to be cautious with the clinically-proven ingredients. A study in The Journal of Annals of Dermatology states that topical application of weight loss creams is safe and effective in reducing cellulite (1). Another randomized clinical trial states that such topical creams could help with the local fat reduction from the waist without any adverse effects (2).
However, weight loss creams may have certain side effects that we must be aware of.
Side Effects Of Weight Loss Creams
Loss of appetite
Dizziness
Restlessness
Diarrhea
Nausea
Tremors
When it comes to weight loss, focus on long-term strategies like maintaining a healthy diet and lifestyle, and exercising regularly. Though the results may not be quick, they will be sustainable. Applying fat-burning or weight loss creams will only tone certain target areas on a superficial level. They may improve skin tone and reduce stretch marks. If you are looking for short-term results, you may go for such creams. But sticking to the right habits is the only way to attain long-term results.