15 Best Gradual Self-Tanners That Are Worth Trying In 2022
These gradual self-tanners are your key to getting the perfect sunkissed tan every time.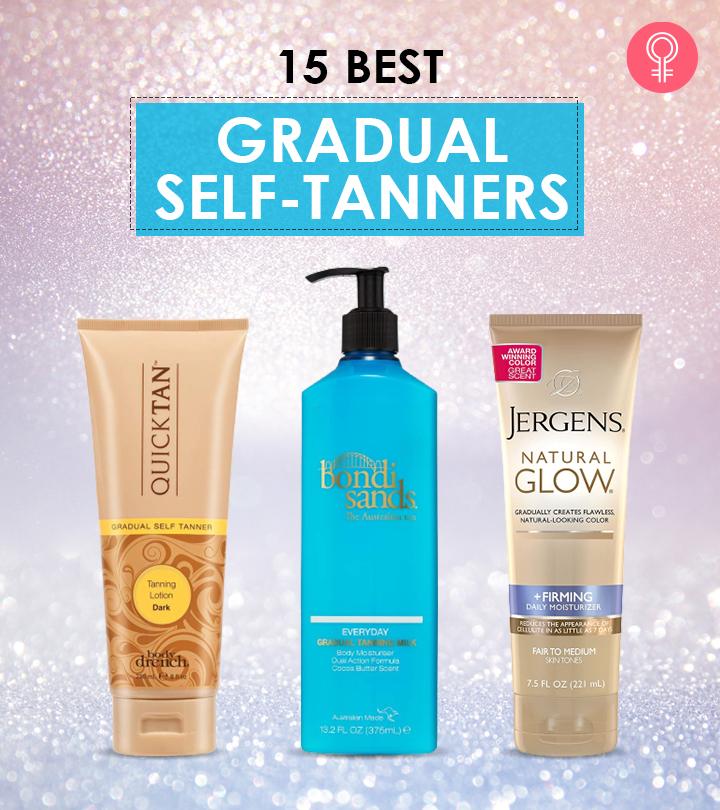 If you wish to get a fake tan to get that most sought-after bronze glow without sitting out in the sun or going on a vacation, you are definitely in the right place. This article will acquaint you with the best gradual self-tanners available in the market for purchase. With these options by your side, you do not have to run to the salon anymore to add some color to the skin, as it can be taxing at times. These self-tanners can offer you that perfect, consistent golden glow just the way you desire. These products leave a hint of tint on the skin without making any unwanted shade change. So, go ahead and check out our list of the 15 most effective gradual self-tanners that are worth trying.
What Is A Gradual Self-Tanner Lotion?
A gradual self-tanning lotion is one of the easiest and safest options for self-tanning. It works slowly and allows the color to develop subtly over time. A gradual tanner also hydrates and moisturizes the skin through the tanning process. It also covers streaking and patchy spots.
Let's now take a look at the 15 best gradual self-tanners.
15 Best Gradual Self-Tanners
This sunless tanning lotion also visibly firms the skin. It creates a light bronze tan that sets in gradually and naturally while hydrating and nourishing the skin. The Jergens Natural Glow + Firming Daily Moisturizer is enriched with elastin, collagen, green tea, and an anti-cellulite formula that diminishes the appearance of cellulite and enhances skin elasticity in just seven days. Vitamin E, along with antioxidants and coconut water, nourishes, hydrates, and firms the skin, giving it a healthy look. This gradual self-tanner has a fresh and light fragrance. Take a look at this video of the Jergens Natural Glow + Firming Daily Moisturizer to learn more about the product.
Pros
Hassle-free
Streak-free
Easy to use
Light scent
Cons
Price at the time of publication: $18.96
This tanner from Bondi Sands is created with an innovative dual action formula that nourishes the skin while giving it a natural-looking tan. It is enriched with vitamin E and aloe vera that imparts glow and a long-lasting tan. This tanning milk is easy to apply and assures 24-hour hydration and moisturization. A cocoa butter fragrance and a gradual bronze colored tan is what you will get with this body milk. Here is the video of an honest review of the Bondi Sands Everyday Gradual Tanning Milk.
Pros
Streak-free
Long-lasting
Transfer-proof
Cons
Price at the time of publication: $13.0
The Neutrogena Micromist is a lightweight mist airbrush spray that covers the skin evenly. This self-tanning spray has a hands-free application design and works on a single touch at any angle. It makes it easy to cover the hard-to-reach places and has a quick-drying formula that does not clog pores. This tan is usually two shades darker than your usual skin tone. This spray is infused with witch hazel that soothes the skin. Check this video for a clear demo of the Neutrogena Micromist Airbrush Sunless Spray.
Pros
Oil-free
Alcohol-free
No-rub application
Dries in 5 minutes
Non-comedogenic
Cons
Price at the time of publication: $8.97
The Australian Gold Gradual Sunless Lotion provides a gorgeous tan with its specially designed tanning formula. It prevents the usual sun damage to the skin that comes with a naturally achieved tan.
The product is enriched with a blend of DHA and erythrulose, caramel, and DermaDark bronzers to achieve a perfect natural bronze shade. Its Fade-Defy Technology includes a blend of kakadu plum, which is rich in vitamin C, and shea butter that moisturizes the skin and retains the color for a longer time. A combination of maka extract and vitamin B hydrates and softens the skin, while caffeine provides energy.
Pros
Dries fast
Easy to use
Soothing tropical breeze fragrance
Cons
May look orange on pale skin.
Price at the time of publication: $13.49
St.Tropez's everyday tanning lotion provides an immediate hint of illuminating bronze and gently develops into a natural gold within four to eight hours. It comes with an instant guide that helps you choose your tan shade. This body lotion leaves the skin soft and radiant and covers the imperfections evenly. It is recommended to use the provided tanning mitt to avoid staining. The formula dries quickly and fades evenly.
Pros
100% vegan
Quick-drying
Not sticky
Streak-free
Stain-free
Cons
Price at the time of publication: $21.0
The Fabulous Gradual Self-Tanning Lotion by VITA LIBERATA can be used as a daily moisturizer. It provides a gorgeous hueto your skin while moisturizing and hydrating it. The tanner contains 100% organic aloe vera that soothes the skin and repairs sun damage. Glycerin, hyaluronic acid, and natural silk present in this formula restore skin health and fight aging signs.
The antibacterial ingredients like shea butter, papaya, and witch hazel create a shield to protect the skin against UV rays. The licorice, pomegranate, and melon in the lotion balance the skin and reduce irritation and inflammation. Organic raspberry, rich in vitamin E, locks in moisture and improves skin elasticity by boosting collagen production. Gingko fortifies the skin, while cucumber soothes the pores and removes wrinkles. Marula oil repairs dehydrated skin and panthenol offer deep moisturization.
Pros
Contains organic botanicals certified by Ecocert
100% natural DHA
Suits all skin tones
Gentle on sensitive skin
Cons
Price at the time of publication: $30.0
This tanning lotion by Body Drench gives you the perfect beach tan throughout the year. It can be used in summer and winter instead of a normal moisturizer to maintain your tan. This lotion is smooth and does not create blotches.
It contains extracts of aloe vera, chamomile, and black walnut, which cool and soothes the skin. Sea kelp nourishes the skin, and orange extract is rich in antioxidants. The DHA in this lotion reacts with the epidermis of the skin and produces a golden brown tan. This cream suits all skin types, including sensitive skin. It helps you achieve a beautiful tan without UV and sun damage.
Pros
Paraben-free
Contains 100% natural DHA
Mess-free
Streak-free
Ultra-fast drying
Dermatologist recommended
Cons
Price at the time of publication: $9.88
The NKD SKN Gradual Glow Daily Tan Moisturizer works gradually on the skin to give it a natural tint within a few days. This lotion is enriched with 100% organic extracts that are safe for the body and the face. It dries instantly and creates no patches or streaking.
This gradual self-tanning lotion contains grape extract, which is a powerful antioxidant that fights free radicals to prevent aging signs. It improves skin texture and keeps it hydrated for a long time. The DHA in this cream hydrates the skin and provides it with a gorgeous sun-kissed bronze hue.
Pros
Paraben-free
Alcohol-free
Zero transfer
Vegan
100% natural ingredients
Cruelty-free
Cons
Price at the time of publication: $17.56
This gradual tanning lotion from Fake Bake has an easy-glide formula made with DHA and erythrulose, which are natural tanning agents. The product provides a consistently radiant golden glow to the skin without making it look unnatural. It is suitable for all skin types and is best for medium and fair skin tones. The self-tanner comes with a cosmetic color guide that helps you pick the right shade for your skin. It can be used daily as a regular moisturizer for a perfect golden bronze tan.
Pros
Non-sticky
Stain-free
DMDM hydantoin-free
Paraben-free
Streak-free
Cons
Price at the time of publication: $25.95
Tan-Luxe is a lightweight moisturizer that provides a gradual glow to the skin. It consists of a blend of oil and lotion and is a cult favorite. The lotion melts into the skin and delivers a natural color. It starts showing effect within an hour, giving you a naturally tanned glow. This moisturizer is enriched with raspberry seed oil, hydrolyzed silk, and caffeine that nourish, smoothen, and condition the skin. It is also a great option to maintain your post-holiday glow.
Pros
Lightweight formula
No streaks
No odor
Cons
May wash off with an immediate shower.
Price at the time of publication: $34.0
This gradual self-tanner lotion is entirely natural and organic. It is crafted with a perfect blend of botanical ingredients like shea butter, safflower seed oil, argan oil, and babassu oil, which offer deep hydration and moisturization to the skin. The vegan formula is non-comedogenic and does not cause streaks or blotches. This tanner provides a beautiful bronze tint without any sun damage and is suitable for all skin types.
Pros
Natural and organic ingredients
Mineral oil-free
Lanolin-free
Paraben-free
PABA-free
Petrochemical-free
SLF-free
Artificial fragrance-free
Chemical-free
Cons
Price at the time of publication: $18.99
The Ulta Beauty Bronze Glow mixes well with a nightly moisturizer to provide a gradual and natural tan in the morning. It creates a beautiful and glowing bronze complexion. This formula is enriched with aloe vera and green tea that keep the skin hydrated and soothed.
Pros
Works overnight
Blends well
Cons
Can get streaky.
Requires a lot of the product.
Price at the time of publication: $12.0
The Neutrogena Sunless Tanning Lotion allows you to control your tan shade. It offers a hint of color with every application and gradually builds up to your desired color. This lotion makes the tan look natural and realistic. The more often you apply it, the darker hue will be. The creamy lotion helps develop color in two to four hours and is suitable for everyday use.
Pros
Dries in 5 minutes
Light, fresh scent
Streak-free
Can be used daily
Cons
May turn the skin orange.
Price at the time of publication: $8.9
Mineral Fusion's gradual self-tanning lotion is enriched with bronze mineral pigments that provide a natural tan on the same day. It contains peptides that boost elasticity and tighten the skin. The aloe, shea butter, and grapeseed oil keep the skin hydrated while covering it with a golden hue. This lotion is infused with the goodness of powerful minerals that nourish and rejuvenate the skin.
Pros
Gluten-free
Paraben-free
Talc-free
No artificial colors
No synthetic fragrances
SLS-free
Phthalate-free
No animal testing
Cons
Price at the time of publication: $23.99
The Bronze gradual tanning milk is one of the best sunless tanning products on the market. It contains a tan enhancer that increases the durability of your tan. This lotion is enriched with vitamin E, aloe vera, and antioxidants that moisturize the skin and keep it healthy. It reduces tan break-ups, improves fading, and eliminates streaks. It offers a perfect bronze tan with every use.
Pros
Extends durability of tan
Works with all tanning products
Streak-free
Cons
Price at the time of publication: $16.99
Summer might be over, but that doesn't mean you have to say goodbye to your sun-kissed skin just yet. A gradual self-tanner is the perfect way to keep your skin looking healthy and bronzed all year long, no matter what the weather is like outside.
There are a lot of different gradual self-tanners on the market, so it can be hard to know which one is right for you. To help make the best decision, we have put together a buying guide for you.
Things To Look For In A Gradual Self Tanner
Skin Type: First and foremost, you want to make sure that the product is right for your skin type. If you have sensitive skin, for example, you'll want to steer clear of products with harsh chemicals.
Formula: First, decide what type of formula you want. There are lotions, mousse, and gels—all of which have their own advantages. Lotions tend to be the most hydrating, gels the quickest to dry, and mousses the easiest to apply evenly.
Shade: Once you've chosen your formula, think about how dark you want to go. If you're new to self-tanning or just want a subtle glow, go for a light or medium shade. If you're looking for a deeper tan, choose a dark shade.
Features: Consider any other features that might be important to you. Some self-tanners have built-in sunscreens, while others have aloe vera or other ingredients that help soothe your skin. Choose the one that's right for you and your skin type!
Ingredients: Next, consider the ingredients. You want to make sure the self-tanner you choose is packed with nourishing ingredients that will leave your skin looking and feeling its best. Look for products that contain hyaluronic acid, aloe vera, and vitamin E.
Application: Some self-tanners can be difficult to apply evenly, so opt for a formula that is easy to use and offers streak-free results.
Long Lasting: Think about how long you want your tan to last. Some gradual self-tanners only provide a temporary tan that will fade after a few days, while others provide a more long-lasting tan. If you're looking for a long-lasting tan, be sure to read the label carefully to see how often you need to reapply the product.
Price and Reviews: Once you've found a few potential candidates that are gentle enough for your skin, it's time to compare prices and reviews. Don't be afraid to spend a little extra on a quality product, after all, this is something that you'll be applying on your skin often.
If you want a streak-fee, even bronze color that will last long, you must follow the correct technique of application. Here are some steps to follow for the best outcome.
How Do You Apply A Gradual Tanner? Top Tips For Application
Step 1:Cleanse and Exfoliate – It is best to start with a good cleansing process and exfoliating dead or dry skin. This will give the skin a smooth clean texture so that the tanning lotion can be applied evenly without causing blotches or streaking.
Step 2: Moisturize – Dry areas on your skin, like the elbows and knees, tend to soak in more of the tanning lotion, making them darker than the rest of the skin. To achieve an even and smooth tan, it is recommended to use a moisturizer right after your shower, especially on the dry areas, before you apply the self-tanning lotion.
Step 3: Application – You are now ready for the self-tanner. Apply the lotion evenly all over your body. The dry areas will need less lotion as they tend to soak in more and could become darker than the rest of the skin surface. You can use your hands or a mitt to apply the lotion. Wash your hands once you are done so that your hands don't become darker than the rest of your skin.
Step 4: Get Dressed – Wait for the lotion to totally dry up before wearing your clothes. Also, initially, opt for dark colored or loose clothes to avoid staining.
How does a gradual self-tanner differ from a traditional one and what are its benefits? Find answers to these questions in the next sections.
How Is A Gradual Self-Tanner Lotion Different From A Traditional Self-Tanner?
A traditional self-tanner provides a noticeable color change almost immediately. This can last from a couple of days to weeks, depending on the formula you have used. A gradual tanner, on the other hand, gives you a very subtle color change initially and eventually allows the intensity of the color to increase, making the process look more natural. Depending on the shade of tan you want on your skin, the gradual tanner lotion can be used a few times a week.
What Are The Benefits Of Using A Gradual Self-Tanner Lotion?
A gradual self-tanner provides a beautiful bronze color within hours of application and lets the skin color slowly buildup to a perfect tan. This lotion not only colors the skin but also moisturizes, nourishes, and softens it, making it look naturally healthy and bronzed. It also protects the skin from the natural UV rays and sun damage caused by direct suntanning. A gradual self-tanner allows you to control the shade of tan you want. It can be used throughout the year to give you a tan that looks natural.
Below are the best times to incorporate this product into your skin care regimen.
When To Use A Gradual Self-Tanner Lotion
The cold winter months are a good time to start using a gradual self-tanner. It can be applied regularly to get a gradual and realistic tint.
If you are headed for a vacation soon, a slightly bronzed look could blend well with your holiday mood. Use the gradual tanner a few weeks before your date of travel and build a soothing base tan, which can enhance the natural tan you get while holidaying.
If you are looking forward to a big event like a marriage, work, or social party, the gradual tanner could give you a nice bronze color to pump up your style. The sun-kissed complexion could really enhance your look in every photograph!
Why Trust StyleCraze?
Our product writer and certified skin and hair care expert, Shiboli Chakraborti, specializes in writing informative content and selecting the best skin care products in the market. After carefully analyzing their ingredients and other vital specifications, she has compiled this list of the best gradual self-tanners. She has also discussed the directions for use, benefits, and pros and cons of each product to help you make an informed choice.
Frequently Asked Questions
How long does a gradual fake tan last?
A subtle natural-toned fake tan lasts throughout the year. Many gradual fake tans contain hydrating formulas and last up to 10 days with the right preparation and aftercare.
Does gradual tan actually work?
A gradual tan is the best choice for people looking for a sun-kissed glow. Gradual tanning lotions use the sugar-derived active ingredient as DHA, which causes a non-toxic browning effect on the skin.
Does gradual tan wash off in the shower?
Yes. Your golden glow will disappear after a shower or dip in the pool. If you leave the product at least 4-8 hours after a shower will have enough time to sink until you wash it again.
Does gradual tan go patchy?
A gradual tan takes time to build color. So, they never give a streaky or patchy finish.
How often should you apply gradual tan?
Applying a gradual tan daily for 3-4 consecutive days will help you achieve a bronze glow. For a subtler buildup, use it consistently for seven days to get glowing skin.
Should I use a mitt for a gradual tan?
Yes. Wear a mitt if you are using a fake or gradual tan. A mitt will help you to achieve an even tan when using a fake tan, as it is highly concentrated. Not wearing a mitt may pose the risk of over-tanning the palms.
Is gradual tan better than fake tan?
Most fake tanning creams just color the skin and cause dryness. On the other hand, gradual self-tanners provide a good color payoff, hydration, and healthier, glowing skin.
Do you put a gradual tan on your face?
Yes. Some gradual tanners can also be used on the face. However, before application, check the product label and do a patch test to avoid irritation.
Recommended Articles