The 15 Best Pregnancy-Safe Self-Tanners To Buy In 2022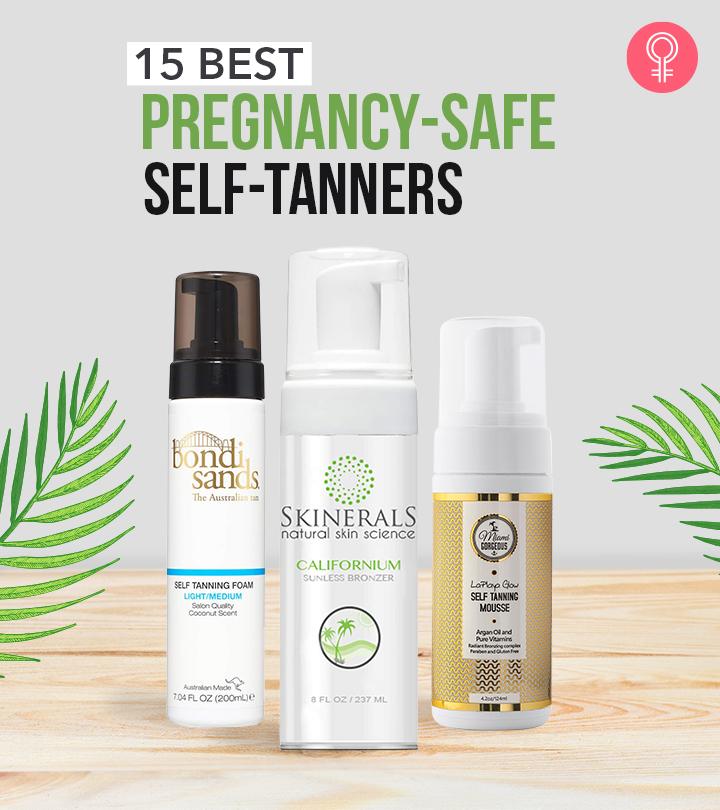 Pregnancy skin is delicate. It needs good care, and staying long hours in the Sun for getting a tanned glow is not advisable. What you need instead is the best pregnancy-safe self-tanner. These self-tanners include DHA that helps to mimic artificial tan. It helps to tan your skin without having to stay in the Sun for hours. It is considered a safer technique as pregnant women will not be exposed to UVA and UVB rays.
Self-tanners incorporated with natural ingredients are safe and gentle on your skin. Such toxin-free products may be safe for the mothers-to-be. In this article, we have compiled a list of the 15 best pregnancy-safe self-tanners. Check them out below!
Note: DHA (Dihydroxyacetone) is the main ingredient in many self-tanning products that are safe to use during pregnancy, according to The College Of Family Physicians Of Canada. DHA combines with the skin's outermost layer of amino acids and creates a beautiful tan. Systematic level interaction will be minimal on topical application (1).
Medical experts say it is ideal to avoid using self-tanner during the first trimester.
It is advisable to consult a doctor before using a self-tanner during pregnancy.
15 Best Pregnancy-Safe Self-Tanners
The St. Tropez Self Tan Express is a streak-free, mood-boosting, non-sticky, and quick-drying advanced bronzing mousse. It gives a healthy-looking tan that lasts for 2 to 3 hours. This 100% vegan-formula is made with glycerin and organic aloe vera leaf extract that nourish and hydrate the skin. This mousse leaves no self-tan smell. This pregnancy-safe self-tanner offers a natural glow and imparts a bronze- or olive-toned complexion. Check out this product review video to learn more.
Pros
Lightweight
Non-greasy
Quick-absorbing
Ultra-hydrating
100% vegan formula
Streak-free
Paraben-free
Sulfate-free
Phthalate-free
100% naturally derived dihydroxyacetone (DHA)
Cons
Fades soon
Imparts a light color
The Bondi Sands Self Tanning Foam is a lightweight tanner that offers light to medium complexion lasting for six hours. It is enriched with aloe vera and infused with coconut scent that leave your skin feeling hydrated and refreshed. This lightweight self-tanning foam will give a sun-kissed glow with an olive complexion. Take a look at this video link to get more information on the product.
Pros
Lightweight
Non-streaky
Gives a darker glow
Hydrating formula
Refreshing
Easy to apply
Cons
Not suitable for skin that is too sensitive
Not a long-lasting tan
Fragrance could be too intense
The Beauty By Earth Self Tanner is infused with all the natural ingredients that give a healthy tan without exposing your skin to the harsh UVA and UVB rays. This non-streaking formula is infused with aloe vera leaf juice, shea butter, dihydroxyacetone (DHA), organic coconut oil, glycerin, Japanese green tea leaf extract, organic pomegranate, hazelnut, cranberry fruit extract, along with an elixir blend of jojoba and argan oils.
The emollient formula with Japanese green tea leaf extract hydrates and nourishes the skin. The DHA in the tanner is a safe, non-toxic sugar ingredient that interacts with the top protein layer of the skin for a natural tan look. The elixir blend of oils protects the skin from environmental aggressors. This video offers a more detailed explanation of the product.
Pros
100% vegan formula
Covers blemishes and imperfections
Masks early signs of aging
Non-streaking
Non-toxic
Cons
If you want a sun-drenched tan in just 60 seconds, the Jergens Natural Glow Instant Sun Body Mousse would be ideal. This lightweight, airy mousse gets absorbed in the upper layer of the skin super-quickly and leaves a moisturized, natural tan look. The color develops instantly into a natural bronze, and will continue even after several hours until it merges with your natural skin tone. This formula is buildable and can be applied again the next day.
Pros
Lightweight
Airy mousse
Gets quickly absorbed
Blends with the natural skin tone
Available in light and deep bronze varieties
Flawless, streak-free tan
Infused with tropical fruity fragrance
Easy to apply
Affordable
Cons
Consistency could be too thin
The Skinerals Californium Self Tanner Mousse transforms pale, dull-looking skin into gorgeous skin that glows naturally without any botches. This airy, lightweight mousse is made with a natural blend of skin-soothing, healing, and moisturizing aloe vera and glycerin. It also contains safe coloring ingredients namely DHA and erythrulose. The mousse also has antioxidant, anti-inflammatory, anti-aging superfruits (Indian gooseberry, acai berry, fig extract, Goji berry extract, green and white tea extracts) to masks blemishes, wrinkles, and dark spots. These ingredients also protect the skin from UVA and UVB damage.  The vitamins A, C, and E rebuild the skin barrier. This lightweight, non-greasy, and fast-absorbing mousse leaves you with a pleasant feeling.
Pros
Pure natural blend
Paraben-free
Sulfate-free
Aerosol-free
100% vegan
Non-greasy formula
Quick to dry
Pleasant smell
Imparts a natural look
Fast-absorbing
Lasts 4 to 7 days with one application
Cons
Expensive
Leaves a little streak
The Sun Laboratories Ultra Dark Self Tanning Lotion is an organic sugar-based formula that works super-fast. It imparts a natural, ultra-dark tan that lasts for several hours. It is formulated with a natural blend of ingredients that nourish, revitalize, restore, and enhance skin texture and elasticity. This quick self-tanner ensures a natural glow and protects the skin from environmental aggressors.
Pros
Fast-absorbing formula
Gives a dark tan
Infused with natural ingredients
Protects the skin
Fast-drying
Paraben-free
Suitable for all skin types
Cons
The Miami Gorgeous LaPlaya Glow Self Tanning Mousse is a fast-absorbing formula that gives an instant bronze glow that lasts long without damaging the skin. It is infused with a premium blend of argan oil, vitamins A, C, and D, coconut oil, olive oil, jojoba oil, Elderflower extract, and a radiant bronzing complex. The organic DHA in the mousse offers a smooth, safe, streak-free bronze tan. It smoothly gets absorbed on the outer protein layer of the skin and imparts a natural glow. The emollient blend of organic oils nourishes and rejuvenates the skin. The vitamin blend protects the skin from free radical damage. The tanner is perfectly safe for all skin types (including sensitive skin).
Pros
Gives an instant bronze tan
Paraben-free
Gluten-free
Cruelty-free
Eco-certified DHA
Nourishing and ultra-hydrating
Safe for all skin types
Infused with natural ingredients
Cons
May leave a streak
Unpleasant smell
The Golden Start Beauty Self Tanner Lotion is a 100% streak-free, non-sticky, and formula. It gives a perfect, golden bronze tan. This self-tanning lotion is infused with certified organic oils and hyaluronic acid that offer a nourished and moisturized look. The invigorating blend of elixir oils (olive oil, argan oil, jojoba oil, coconut oil, and almond oil) nourishes, revitalizes, hydrates, and protects the skin from sun damage. The deeply-nourishing organic oils mask the signs of premature aging, and cover the blemishes, fine lines, and wrinkles. The hyaluronic acid deeply moisturizes the skin.
Pros
No fake tan smell
100% streak-free
Non-sticky
Non-comedogenic
Transfer-resistant
Paraben-free
Gluten-free
100% vegan
Certified organic formula
Improves skin tone
Minimizes the appearance of fine lines
Easy to use
Cons
Not suitable for super-sensitive skin
The Vita Liberata Advanced Organics Fabulous Self-Tanning Gradual Lotion is made with 100% natural certified organic botanicals. Its Odor Remove Technology ensures a no-smell, un-tinted lotion that transfers no tan on the clothes or bedding. It is infused with aloe vera, lychee extract, licorice, and raspberry extract that hydrate, nourish, and rejuvenate the skin. The antioxidant properties of lychee extract, aloe vera, and raspberry extract protect the skin from oxidative damage. They also mask blemishes and fine lines and leave you with a younger-looking appearance.
Pros
Zero smell
No buildup on bed or clothes
Natural organic ingredients
Delivers 72 hours of hydration
Suitable for all skin tones
Gentle to sensitive skin
Paraben-free
Fragrance-free
Alcohol-free
Non-toxic
Easy to apply
Cons
None
The Famous Dave's Professional Self-Tanner is a paraben-free self-tanning formula with anti-aging and moisturizing properties. It is formulated with an FDA-certified organic blend of argan oil, hyaluronic acid, coenzyme Q10, aloe vera, sesame, and jojoba oil. This creamy-smooth dark tanning lotion moisturizes and nourishes the skin and leaves a silky smooth texture. The coenzyme Q10, sesame oil, and jojoba seed oil are rich in antioxidants that protect the skin from oxidative damage and environmental aggressors. Matrixyl 3000, a serum with hyaluronic acid, reduces the appearance of wrinkles. This creamy lotion evenly spreads on the entire body and gives you the most natural-looking tan.
Pros
Formulated with organic ingredients
Perfect for all skin types
No orange coloration or streaking
Paraben-free
Anti-aging formula
Easily blends with the body
Easy to use
Cons
Very light tanning effect
If you want to treat yourself with a natural bronze tan, the L'Oreal Paris Sublime Bronze Self-Tanning Lotion can be ideal for you. It is a streak-free tanning lotion formulated with vitamin E and gentle AHA (alpha-hydroxy acids). They leave the skin smooth and soft. The lotion gently moisturizes the skin with a perfect sunless tan.
Pros
Moisturizes the skin
Protects from sun damage
Provides a streak-free color
Easy to use
Cons
Very light tan
Leaves an orange tanning color
The Eco Tan Invisible Tan Organic Face Body Tanning Lotion gives an instant glowing instant tan that lasts for 8 hours with a single application. It is best-suited to medium to dark skin tones and blends smoothly. It is infused with natural ingredients that deliver a beautiful, golden bronze glow. The invigorating blend of avocado, aloe vera, and macadamia oil with chamomile extract deeply nourishes and hydrates the skin.
Pros
Cruelty-free
Paraben-free
Certified organic natural ingredients
Smoothly blends into the skin tone
Nourishes and hydrates the skin
Suitable for face and body application
No fake tan smell
Cons
May stain clothes and towels
Expensive
The Norvell Sunless Self-Tanner Mousse is one of the best professional tanning mousses that can easily be applied at home. It is lightweight and easily blends with the skin tone for an instant incredible glow from head to toe. It is formulated with natural organic botanical extracts that nourish, hydrate, and rejuvenate the skin. Its antioxidants delay aging  signs, and fade blemishes and other imperfections. The vitamin C tightens the skin and improves skin elasticity. The premium-grade DHA develops a deeper, darker tan that lasts for 24 hours. The mousse leaves no tanning smell.
Pros
Creamy rich professional tanning mousse
Lightweight
Easily blends with the skin
Hydrates and nourishes the skin
Tanning lasts longer
No tanning smell
Streak-free
Gluten-free
Paraben-free
Non-comedogenic
Anti-aging formula
Protects the skin
Soothing fragrance
Cons
The Lavera Organic Self-Tanning Body Lotion is fast-absorbing. It contains macadamia nut, organic aloe vera, organic jojoba, and sunflower oil. Macadamia nut is rich in omega-7 fatty acids that help retain skin suppleness. It also contains vitamin E and squalene that protect the skin from oxidative damage. The organic oils of aloe vera, jojoba, and sunflower nourish and hydrate the skin. The lotion creates a safe, natural-looking tan.
Pros
Fast-absorbing
Hydrates and nourishes the skin
Protects the skin from oxidative damage
Streak-free
Refreshing fragrance
Easy to use
Cons
Not suitable for very sensitive skin
Strong fragrance
The Coola Organic Sunless Tan Firming Lotion eases you into a healthy, golden glow while nourishing your skin. The streak-free, transfer-resistant tanning lotion builds a gradual, subtle tan over several days (thanks to its natural pina colada scent). The lotion is made with 99% organic ingredients that nourish the skin. The emollient shea butter and caffeine help skin look firmer and smoother. The lotion also contains brown algae that improve skin elasticity and hydrate the skin instantly. The pea extract increases microcirculation and encourages healthy skin cell growth.
Pros
Paraben-free
Non-GMO
Vegan
Reef-riendly
Gives a streak-free natural glow
Antioxidant-rich
Moisturizes and hydrates the skin
Transfer-resistant
Natural pina colada fragrance
Firms and smoothens the skin
Cons
None
These are the fifteen best pregnancy-safe self-tanners that you can buy online. But, can you tan while pregnant? We have discussed the same in the following section.
Can You Tan During Pregnancy?
Applying a tanner with natural ingredients protects the skin from UVA and UVB rays, and prevents damage due to radiation.
However, there is no clear evidence stating the safety of using a self-tanner during pregnancy.
As pregnancy is a delicate phase of a woman's life, it always is better to consult a gynecologist before using any topical lotion or cream. 
If your gynecologist approves, you can go ahead and apply a self-tanning lotion. Here is how to do it the right way.
The Best Way Of Applying A Self-Tanning Product
Spend some time exfoliating your skin's thick areas, including your ankles, knees, and elbows. Allow your skin to dry.
Massage the tanning lotion in a circular motion onto the different areas of your body, like the torso, arms, and legs. Avoid applying to the stomach as you are carrying a fetus in your womb.
You may use a damp towel to wipe away any extra lotion. Let the tanning lotion dry naturally.
There are too many self-tanners on the market. The following section can help you make a wise buying decision.
Tips To Choose The Right Tanning Lotion
Go for a product that contains natural ingredients that nourish, moisture, and hydrate your skin.
Select a lotion containing DHA-formula-based tanning ingredients. FDA has suggested the application of DHA externally. It gets absorbed into the outer layer of the skin and protects the inner layer.
During pregnancy, the skin becomes super-sensitive. Avoid products with strong fragrances or harsh chemicals. They may irritate the skin.
Choose a non-comedogenic tanning lotion that won't clog your pores or cause acne breakouts.
Pick a self-tanning lotion that is free from parabens, sulfates, and made with 100% organic ingredients.
Consult your doctor before picking a product from this list. Go for products that have natural ingredients. We are sure you will have a good experience!
Why Trust Stylecraze
The author of this article, Oyendrila Kanjilal, is a certified skin care coach. She knows what is good for the skin and finds products that suit every skin type. She has deep interest in reviewing and learning about new products. Here, she has prepared this list of the best pregnancy-safe self-tanners for her readers. She has browsed through several online forums to check user feedback and researched the ingredients before shortlisting the top products for the list. These are made with natural ingredients that are safe and gentle on your skin.
Recommended Articles