11 Best Hypoallergenic Eyeliners For Sensitive Skin In 2023
Get those stunning, smudge-free cat eyes without irritating your eyes!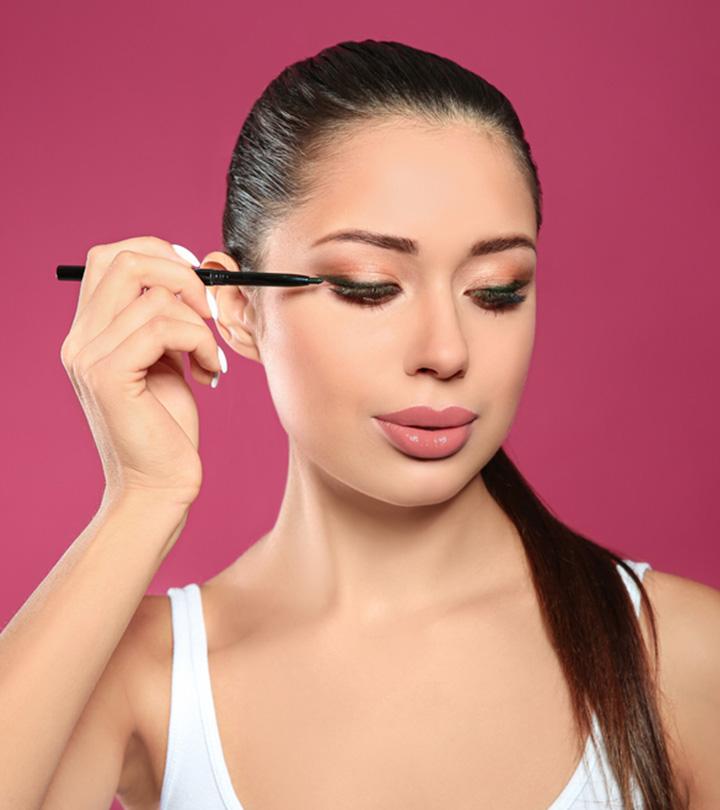 Peeps with sensitive skin are naturally worried about the beauty and makeup products they buy, and with good reason too. Eyeliners, for example, need to be safe and hypoallergenic for your eyelids and not cause reactions. By hypoallergenic, we mean products free of potential toxins that can cause harm to your skin. And so, it is a good idea to opt for the best hypoallergenic eyeliners to avoid any potential reactions. After all, the face is the first thing most people notice in us.
Natural ingredients can be a good alternative to your regular cosmetics that are grandly advertised. Having these in the products can have a positive effect on your skin. Not only will the winged liner look bomb, but it will also feel good. Choose your fav out of the 11 and try out the best one that suits your skin most favorably. Give this article a read and give your eyes the love and care they deserve.
11 Best Hypoallergenic Eyeliners To Keep Your Sensitive Eyes Safe
Are you on the hunt for hypoallergenic cosmetics that are not just comfortable to use but also highly pigmented? If yes, you must try this one! This eyeliner pen helps you create different dramatic eye looks with ease, minus the messy experience! This waterproof hypoallergenic eyeliner is smudge-resistant and long-wearing, making it a must-have in every beauty kit. The pen tip makes the application effortless, and the rich formula enhances your lash length, volume, and thickness when applied to the base. Check out this short YouTube video for an honest review of the product.



Pros
24-hour wear
Paraben-free
Fragrance-free
Dermatologist approved
Cons
It may be a little difficult to remove for some.

Pro Tip
Dab some skin-friendly oil or micellar water on your eyelids with a cotton pad to remove eyeliner easily.
Price at the time of publication: $11.49
Almay eyeliner pencil is your ideal match for long hours. Enriched with vitamin E, this hypoallergenic eyeliner for sensitive eyes is incredibly smooth and hauntingly pigmented. The formula is water-resistant and effortlessly glides over your eyelids. Along with its premium quality ingredients, this eyeliner has a ball-like point tip with consistent thickness, regardless of how much pressure you put on it. It dries quickly and fades to a deep, riveting hue, helping you get the winged eyeliner of your dreams. It also has a built-in sharpener to keep your pencil liner sharp and ready at all times. 
Pros
Cruelty-free
Paraben-free
Fragrance-free
Ophthalmologist tested
Cons
May be a bit hard to create sharp wings on the eyelids with its ball tip


Pro Tip
You can use this waterproof or sweat-proof formula eyeliner for sensitive skin. As a result, there is less chance of any product dripping into your eyes.
Price at the time of publication: $5.33
Neutrogena's hypoallergenic liquid eyeliner is formulated with honey and coconut, making it an ideal product for those with sensitivity issues. It is highly pigmented and doesn't fade away with water. You can expect a crack-free and mess-free experience with every application and every stroke. The formula is gentle on the skin and dries up quickly to offer clean, sharp lines that instantly enhance the shape of your natural eyelid. 
Pros
Easy to use
Stays all day
Glides smoothly
Pointed tip for precision
Cons
May not be completely smudge-proof
Price at the time of publication: $7.29
Nothing works better on your eyes than this hypoallergenic kohl eyeliner from Marcelle. The formula is rich, creamy, and lasts long. Induced with an ultraprecise tip, it allows you to create inspired eye looks, from soft, dreamy wings to dramatic smokey eyes. Synonyms with safe and clean, this eyeliner is hypoallergenic, fragrance-free, and tested by dermatologists to lend a quick makeup boost to your otherwise plain eyes. This hypoallergenic eyeliner is also suitable for contact lens wearers.
Pros
Cruelty-free
Fragrance-free
Alcohol-free
Dermatologist tested
Waterproof eyeliner
Cons
Some may find the need to reapply it frequently.
Price at the time of publication: $14.0
If you are allergic to eyeliners, it is time to replace the regular ones with a safe and good hypoallergenic liquid eyeliner, like this one. Made with natural ingredients like jojoba and castor oil, this one stands tall and proud as one of the best hypoallergenic eyeliners on our list. The smooth texture makes it easy to glide over the eyes without any irritation, and you can sharpen the tip of this eyeliner pencil for defined and trendy eyelids. The product stays perfectly fine for long hours and prevents tears. With zero toxins, this eyeliner is safe for all, especially people with sensitive skin. What's more, its formula is enriched with botanical and healing oils like castor oil to help you achieve fuller and thicker lashes.
Pros
Gluten-free
Petroleum-free
Paraben-free
Lead-free
Unscented
Water-resistant
Comes with a sharpener
Cons
May not be best-suited for oily skin

Pro Tip
If you have oily eyelids, brush some loose powder over your lids and then apply an eyeliner to prevent smudging. You can also apply two coats of eyeliner to make your eyeliner appear extra dark.
Price at the time of publication: $17.99
Isn't it the ultimate dream to find a liquid eyeliner that is easy to apply and hypoallergenic? Well, we're here to make that a reality! Kiko Milano's definition eyeliner is gentle, safe, and comes with a thin and precise brush applicator that lends a mess-free experience. The water-based formula has a creamy consistency that helps you create any shape you want. Highly-pigmented, it provides beautiful extra black lines with a touch of sheer. Whether you're someone who prefers a well-defined yet simple eyeliner look or want to go all out with a cat-eye liner, this allergy-free eyeliner will help you get it all! Here's a short video with an honest review of the eyeliner.
Pros
Creamy texture
Non-comedogenic
Water-based formula
Ophthalmologically tested
Cons
Might take a little time for the formula to dry
Price at the time of publication: $22.0
This eyeliner pencil from BaeBlu is a perfect combination of natural ingredients and deep-seated pigments. This hypoallergenic eyeliner pencil is available in three beautiful shades of smoke, black and brown, and is a suitable alternative for anyone with an allergic reaction to eyeliner. Bonus points go to the smudge-free, long-lasting, and sweat-resisting formula enriched with jojoba and castor oil. Together they ensure the product glides on effortlessly while also nourishing the lashes. With 1 or 2 strokes of this, you are ready to bring all eyes on you. 
Pros
Toxin-free
Fragrance-free
Natural pigments
Not tested on animals
All-day wear
Sweat-resistant
Cons
Price at the time of publication: $14.19
Shimarz eyeliner pencil is known for its vegan formula that is all-natural and super gentle on the eyes. Made with skin nourishing ingredients, this hypoallergenic eyeliner does a great job giving you dramatic eyes without skin irritations. The formula is quite creamy and is very smooth when it comes to gliding on your eyelid. In fact, with a few strokes, you can go from drab to fab in seconds. The long-lasting formula is sure to last without feeling too heavy on the lids. If this wasn't all, you could also blend in the rich, creamy consistency to achieve a dreamy, smokey eye look. 
Pros
Long-lasting
Blends well
No harsh chemicals
Cruelty-free
Cons
Some may find it difficult to apply owing to its design
Price at the time of publication: $14.99
When looking for a plant-based liquid liner formulated with premium quality organic ingredients, you need to try this one. It comes with a fine tip applicator that makes precision easy. It is so satisfying to see that it doesn't fade easily and regardless of the tedious activities, the sweat-resistant formula stays on. The hyperpigmented color also resists water. Loaded with organic rosemary, this hypoallergenic liquid eyeliner nourishes and takes care of the sensitive eye area. Find out more about the product in this video review.
Pros
No adhesives
No sulfates
No Phthalates
Chemical-free
Cons
May not glide easily on the lids

Pro Tip
Use a sensitive-skin-friendly primer before applying your eyeliner. It can be an excellent way to directly create a barrier between your eyes and the product, reducing the risk of allergies or irritation.
Price at the time of publication: $16
Youngblood Legit eyeliner pencil is true to its name. Infused with natural ingredients, this eyeliner pencil is ideal for sensitive skin. This pencil eyeliner is quite versatile and can even be used as a kohl. With the help of a blending brush you can easily get a smokey eye. The color is rich and intense and contains vitamin E and marula oil, which is highly nourishing and provides ample nourishment. It comes in 2 shades of brown and black that are ideal for both soft and intense eye looks. 
Pros
Lasts long
Travel-friendly
Hydrating formula
Contains zero non-natural ingredients
Cons
May not stay as long as expected
Price at the time of publication: $7.99
If you are someone who likes to invest in eyeliners that are silky, nourishing, and super gentle on the skin, your search ends here. This highly pigmented eyeliner is loaded with silicone emollients that lock in hydration. It also contains vitamin E to keep your skin supple soft. The creamy formula is easy to apply and prevents skin irritations. The built-in sharpener comes handy, and 2 shades of this liner are available in slate and black.
Pros
Oil-free
Creamy liner
Built-in sharpener
Has a smudging tool
Vegan and cruelty-free
No parabens, phthalates, or added fragrances
Cons
May not be too pigmented for some
Price at the time of publication: $28
So, these were some of the top hypoallergenic eyeliners of 2023. Each of these has some unique features that are worth trying. But before making your purchase, take a look at the points given below for some more information about hypoallergenic eyeliners.
How To Choose Hypoallergenic Eyeliner?

always check the ingredients before choosing a hypoallergenic eyeliner. Try opting for products that do not contain common allergens and artificial ingredients like parabens, formaldehyde, carbon, sulfates, phthalates, and mineral oil.
You can never go wrong with a lightweight formulation when it comes to hypoallergenic eyeliner. Heavily pigmented natural eyeliners are also considered a suitable option as they help in keeping your eyes from being dried up.
You can say a lot about a product based on its ingredients. Natural, plant-based, and formulas free from artificial substances are the products you should keep your eyes out for. Ingredients such as Vitamin E, jojoba, and castor oils, can also nourish your sensitive skin while increasing the length and volume of your lashes.
How To Check If You Are Allergic To Eyeliner?

Some common symptoms of allergic reactions to eyeliner are redness, itching, skin irritation, tears, swelling and dry patches. In case, you face any of these conditions after applying the eyeliner every time, you might be allergic to eyeliner and need to find a suitable alternative. 
Infographic: How To Use A Hypoallergenic Eyeliner
Applying eyeliners can be a task, particularly for people who have sensitive eyes. Such people may experience itchiness and irritation. Therefore, to avoid any possible allergic reactions, it is a good idea to use hypoallergenic eyeliners. Check out the infographic below to learn how to apply a hypoallergenic eyeliner.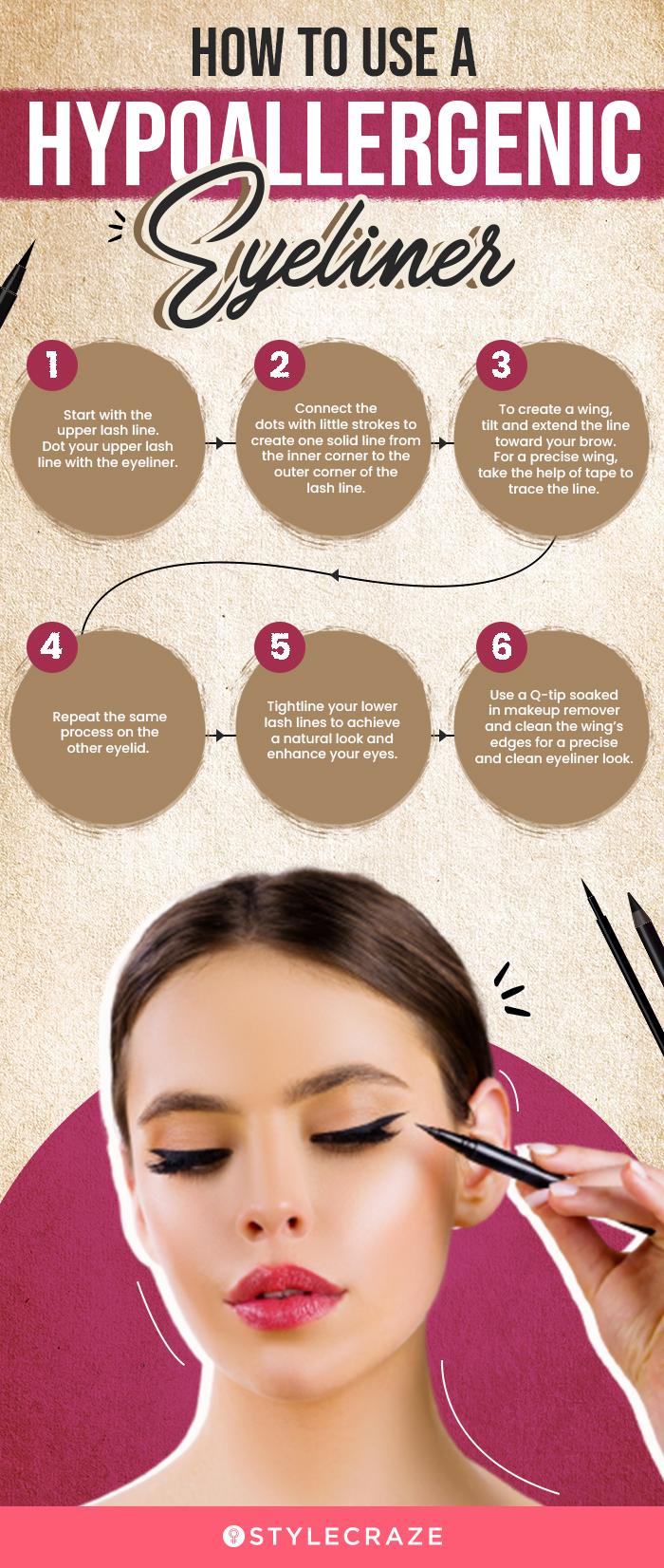 Those with sensitive skin and contact lens wearers need to be extra cautious about their eye makeup products. Therefore, one of the safe options is to invest in the best hypoallergenic eyeliners for sensitive eyes. These eyeliners are free from potential toxins that might harm your skin. They are enriched with natural ingredients that positively affect your skin. Georgia Smith, a cosmetologist-turned-cosmetic chemist, suggests, "My tip for anyone with sensitive skin or eyes is to look for a fragrance-free formula to ensure the fragrance doesn't irritate the sensitive eye area."
The reviewed options mentioned above in the article are free from synthetic chemicals and fragrances. They are easy to use and stay all day long. Go through the ingredients list, consider the formula, and ensure the product is free from harsh chemicals before choosing the best hypoallergenic eyeliners for sensitive eyes.
Why Trust Stylecraze?
Srijani Roy Chowdhury is a passionate beauty and makeup writer who enjoys analyzing trends and experimenting with new products. Her interest also lies in research, and she spends most of her time looking for products that can enhance her readers' lives. In this article, she talks about the best hypoallergenic eyeliners. These options are safe for those who might be allergic to certain ingredients and need something gentle. She has an extensive research process for each product as she lists them based on features, benefits, flaws, and consumer feedback.
Frequently Asked Questions
How long should I keep my eyeliner on for?
Every product comes with an expiration date. Make sure you read it before purchasing the product and keep your eyeliner as per the date mentioned.
What are the most common factors that cause an allergic reaction?
The most common factors that cause an allergic reaction include certain foods, complex substances, preservatives, fragrances, pollens, etc.
What are the early signs of cosmetic allergic reactions?
Early signs of cosmetic allergic reactions are itchy skin, flaking or peeling skin, rashes, irritation of the eyes, nose and mouth, wheezing, facial swelling, etc.
Can we consider natural eyeliners hypoallergenic?
No. Natural eyeliners contain essential oils and botanical extracts that might trigger sensitivity in your eyes. On the other hand, hypoallergenic products contain less or no allergens. So, not all natural eyeliners can be considered hypoallergenic.
How to remove hypoallergenic eyeliner?
Follow these steps to remove your hypoallergenic eyeliner:
• Select a makeup remover that suits your skin type, preferably a hypoallergenic formula.
• Soak the cotton pad with the remover.
• Press the pad on the lids, hold for a few seconds for the remover to break the makeup particles, and wipe it off.
• Use a cotton swab to remove the leftover liner from the outer and inner corners of the eyes.
• Wash your face with a gentle cleanser and pat it to dry.
What are the perks of using hypoallergenic eyeliner?
Hypoallergenic eyeliners help you create crisp lines and effortlessly achieve smokey eye looks without irritating the skin on and around your eyes. These eyeliners can be worn throughout the day without redness on your lids.