11 Best Purple Eyeliners For Intense Definition 2022
Up your fashion quotient with a bold, royal, waterproof, and velvety purple eyeliner.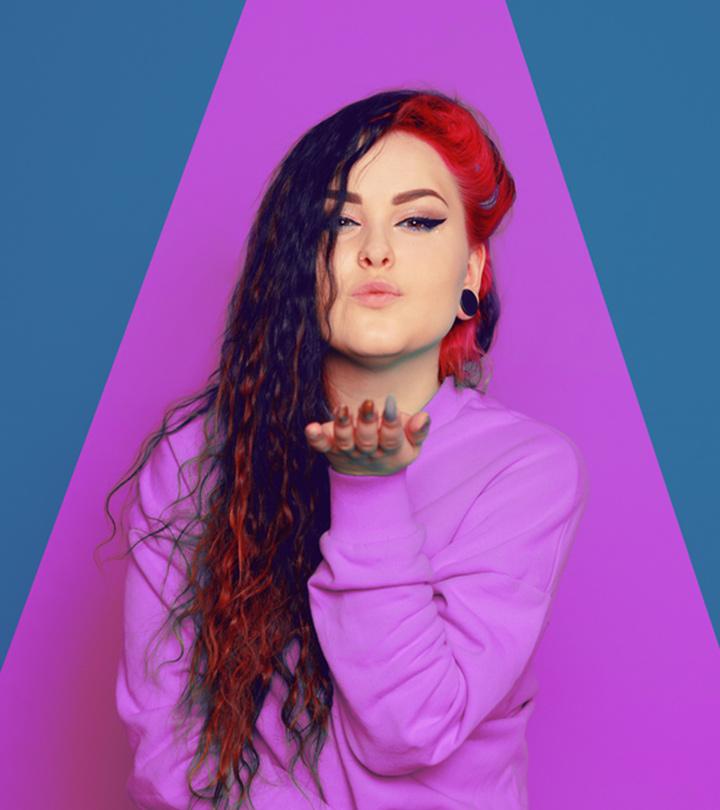 A pop of bold color transforms your style from boring and typical to colorful and intriguing by adding drama and mystery to the eyes. And what smarter way to spruce up your look than with the best purple eyeliner to give you a royal, magnetic, and powerful look. A purple eyeliner will bring great emphasis and glamour to your eyes, whether they are hazelnut, blue, emerald, or grey, creating a look that is difficult to ignore.
The best purple eyeliners have a velvety, creamy consistency that makes application super easy and gives your beautiful eyelids a deep, stunning hue. You don't even have to be too daring with your look to integrate this beautiful color into your daily routine, and that makes it the ideal addition to your makeup kit. Purple eyeliner is a makeup must-have that no fashionista should be without. Versatile enough to be used for any style you can think of, it's an aesthetic addition to your beauty goals!
Don't know where to begin? Get ready to add a burst of brilliant color to your outfit with our carefully researched list of the 11 finest purple eyeliners.
11 Best Purple Eyeliners For A Vibrant Eye Look!
Dazzle and shine with this fabulous purple eyeliner pencil that allows you to get creative with your eye makeup. Ditch your boring neutral eyeliners and take your look to a whole new level by emphasizing your eyes with this beautiful shade of purple. This purple kohl eyeliner is waterproof and glides on smoothly for a perfect winged eyeliner that is smudge-free finish and lasts all day long through sweat, heat, and humidity. Bright and highly-pigmented, this colored eyeliner is the ideal must-have to illuminate your eyes for a mesmerizing finish.
Pros
Intense color payoff
Easy glide-on application
Waterproof and long-lasting
Highly-pigmented twist-up liner
Cons
Some might find the texture of this eyeliner a bit dry.
Say hello to gorgeous eye makeup that makes your eyes stand out and sparkle with this long-lasting purple eye pencil which is the perfect accessory for your makeup bag. Suitable for use along the top or bottom lash line, this eye pencil glides on effortlessly to deliver rich, creamy color for an intense, smudge-resistant finish that doesn't require frequent touch-ups throughout the day. The sharp, precise tip and smooth texture make this eye pencil easy to apply and an absolute joy to work with!
Pros
Long-lasting and waterproof formula
Rich, creamy color
Smudge-resistant and suitable for waterline usage
Ophthalmologist-tested
Ideal for delicate skin
Cons
Some might find the texture of this eye pencil a bit soft.
Get your hands on this beauty must-have and get ready to turn heads with your beautiful, dramatic eye makeup. This unique purple liner goes on creamy and can be blended easily to create a wide variety of looks, from playful and flirty to professional and neutral. Highly pigmented with a matte finish, this colored eyeliner pencil is a beauty must-have that can be easily tossed into your handbag to amp up your look as you go about your day. So what are you waiting for? Give this incredible eyeliner a try, and master the eyeliner trend!
Pros
Waterproof and transfer-proof
Highly-pigmented, creamy formula
Lasts up to 24 hours
Cruelty-free
Cons
Some might find this eyeliner a bit difficult to sharpen.
Add drama and shimmer to your look with this lilac eyeliner which illuminates and defines your eyes with lustrous pigments. Create layered lines, beautiful highlights, or a smoldering wing with a highly reflective, brightening finish which is sure to make your eyes stand out. Waterproof and smudge-proof, this automatic eye pencil glides on smoothly and has a self-sharpening tip, which makes application an absolute breeze. Designed to last all day long, this eyeliner is an essential must-have in both your makeup bag and handbag.
Pros
Self-sharpening tip
Smooth, creamy formula
Waterproof and smudge-proof
Highly-reflective, shimmery finish
Ideal for mature skin types
Cons
Some might find this eyeliner shade a bit light.
Give your makeup bag an upgrade and combine beauty and plant-based goodness with this dark purple eyeliner that is chock-full of skin-loving botanical extracts. Infused with sunflower, coconut, beeswax, and rosemary, this smooth formula creates thin, precise lines with a single stroke for a well-defined look. Suitable for all skin types, this eyeliner can be used to create a wide variety of dazzling looks that help you transition seamlessly from your early morning meeting to your special late-night dinner date.
Pros
Enriched with botanical extracts
Infused with sunflower, coconut, and beeswax
Paraben-free formula
Cruelty-free
Cons
Some might find this eyeliner a bit difficult to remove.
Here's a gorgeous deep purple eyeliner that glides on smoothly to create beautiful looks that make your eyes pop, regardless of your skin tone. The retractable tip and transfer-proof formula make this eyeliner the ideal choice for all-day wear when you want to add a bit of vibrant color to your look. Whether you're looking to spice up your boring workday outfit, or to create a dramatic, mysterious look for the party of the season, this versatile eyeliner is sure to come in handy!
Pros
Vibrant, long-lasting color
Suitable for all skin tones
Easy-to-use retractable tip
Transfer-proof formula
Cons
Some might find the texture of this eyeliner a bit soft.
Take your look to the next level with this intense purple gel eyeliner which delivers extreme color in one effortless stroke. Made with high-quality skin-loving ingredients, this eyeliner can either be used to draw precise, well-defined lines, or blended to create a mesmerizing smokey eye. Suitable for all skin types, this waterproof formula is free of fragrances and has been dermatologist tested for safety, making it the ideal choice for those prone to allergies and sensitive skin problems.
Pros
Waterproof and smudge-proof formula
Hypoallergenic and fragrance-free
Dermatologist-tested
Cruelty-free
Cons
Some might find this eyeliner a bit difficult to sharpen.
If you're looking to add depth and intensity to your look, you're going to love this black and purple eyeliner that delivers a gorgeous, deep finish that is sure to transform your look. This smudge-proof formula has a smooth, blendable texture and a high color payoff, making it an absolute hot favorite for daily use. This eyeliner lasts upto 8 hours and can be easily touched up on-the-go with a few, simple strokes. Add this pretty color to your weekly makeup roster and get ready to flaunt beautiful, well-defined eyes.
Pros
Smooth, blendable texture
Waterproof and smudge-proof formula
High color payoff
Paraben-free
Cons
Might not be best suited for those with extremely sensitive skin.
Bid goodbye to makeup that irritates the eyes with this pretty purple eyeliner that glides on beautifully to deliver rich, saturated color to your delicate eyelids without any tugging. This super blendable formula lasts all day long and allows you to effortlessly create a wide variety of eye looks, ranging from a cute cat eye to a dramatic smokey eye, that are sure to have the compliments rolling in. The perfect addition to your makeup bag, this eye-transforming product is sure to delight the creative fashionista in you!
Pros
Designed for all-day wear
Smudge-proof and waterproof formula
Sharpenable precise tip
Smooth-glide application
Cons
Some might find this eyeliner a bit difficult to sharpen.
Who knew clean beauty could look so good! Define, emphasize, and embolden your pretty peepers with this purple eyeliner which delivers rich, vibrant color to your delicate eyelids. The pen-style applicator makes it easy to create any look you desire, be it a winged tip, a naughty cat eye, or simple, clean lines. Vegan and cruelty-free, this eyeliner is free of nasty ingredients and is the ideal choice for the conscious beauty consumer. So try it out and get ready to flaunt dazzling eyes absolutely guilt-free.
Pros
Long-wearing vibrant color
Fine tip pen applicator
Free of parabens and gluten
Vegan and cruelty-free
Cons
Some might find the consistency of this eyeliner a bit dry.
Get a beautiful, flawless finish every time with this ultra-pigmented purple eyeliner that delivers impeccable results that last upto 14 hours. The creamy formula glides on easily and precisely to provide intense definition to your pretty eyes. Waterproof and crease-resistant, this eyeliner is chock-full of natural, skin-loving ingredients, making it an ideal choice for daily use. And there's more, this product is hypoallergenic and fragrance-free, making it suitable for those with sensitive and allergy-prone skin.
Pros
Ultra-pigmented, waterproof eyeliner
Made with natural, skin-loving ingredients
Transfer-free and crease-resistant formula
Hypoallergenic and fragrance-free
Cons
Some might find the color of this eyeliner a bit dull.
Now that we've had a look at our pick of the 11 best purple eyeliners for different eye colors in 2022, let us look at some things to consider when picking the best purple eyeliner to define your eyes.
Things To Consider When Buying Purple Eyeliner
Color – Not all shades of purple are created equal when it comes to an eyeliner that shows off your beautiful eyes. Some purple eyeliners are a dark and dramatic shade that allows your eyes to look intense and defined, while others have a lighter shade, with highly-reflective shimmers to make your eyes stand out and sparkle. Pick a shade of purple that complements your skin tone and eye color, and don't be afraid to experiment with a few before you land on a favorite.
Texture – This is a matter of personal preference but it is best to pick a purple eyeliner with a creamy texture so that it glides on effortlessly without tugging on your delicate eyelids. Some might find that a gel-based eyeliner suits their requirements perfectly as they are easy to apply and have a long-lasting, smudge-free finish, making them ideal for all-day wear. Consider picking a purple eyeliner with either a sharpenable tip or a twist-up applicator so that quick touch-ups on-the-go are both easy and precise.
Ingredient list – It is best to have a quick look at the ingredient list to ensure that the eyeliner you're picking is made of high-quality ingredients. If your skin is sensitive and prone to allergies, try to opt for an eyeliner made with natural ingredients and steer clear of ingredients like parabens and phthalates that might irritate your skin. Those who prefer beauty products made without animal-derived ingredients should pick an eyeliner labelled as vegan and cruelty-free.
How To Apply Purple Eyeliner
Step 1 – Start by using a black gel liner to draw a thin line across your upper and lower lash line.
Step 2 – Using your favorite purple eyeliner, draw a line across your top lid, starting at the outer corner and ending at the center of the lid.
Step 3 – If desired, apply your purple eyeliner to your lower lash line, starting at the outer corner and ending at the middle of the lash line.
Step 4 – Finish off by applying 2 coats of your favorite mascara.
Why Trust Stylecraze?
The author, Chaitra Krishnan, is a makeup enthusiast and finds her passion in helping people choose the right beauty products with her well-researched reviews. She has compiled this list of best purple eyeliners after screening a wide range of products available on the market and going through hundreds of reviews posted online. These eyeliners give your eyes a royal, powerful, and magnetic look with their easy-blending, long-lasting, and waterproof formulas.
Frequently Asked Questions
Is purple eyeliner good for brown eyes?
Absolutely! Purple eyeliners add contrast and depth to brown eyes, making them pop and stand out. Don't hesitate to get creative with purple eyeliner and flaunt your big, beautiful brown eyes.
Is purple eyeliner good for blue eyes?
Yes! Purple eyeliners have red and blue undertones which help to enhance blue eyes. Pick a deep, dark shade of purple and get ready to transform your look.
Why does purple eyeliner irritate my eyes?
There may be a few reasons for this. Make sure your purple eyeliner has not expired and throw out any old, badly maintained makeup. It is best to ensure you're not allergic to any of the ingredients in your purple eyeliner and try to pick beauty products labelled as hypoallergenic. Lastly, don't apply the eyeliner too close to your water line as this may irritate your eyes.
Who should use purple eyeliner?
Purple-based colors are a superb alternative to red-based tones for green eyes. The finest eyeliner for green eyes is purple, especially in shades like amethyst, aubergine, plum, and violet. Their earthy green tone will be highlighted by the unusual color contrast, giving them a delicate, gorgeous appearance.
Is purple eyeliner good for brown eyes?
Purple eyeliner is an excellent choice for brown eyes. It will give your eye makeup a glamorous look.
Does purple eyeliner make blue eyes pop?
Purple eyeliner is an excellent way to highlight and pop blue eyes. The red hues of purple complement blue eyes perfectly!
Recommended Articles