7 Best Colored Eyeliners For Blue Eyes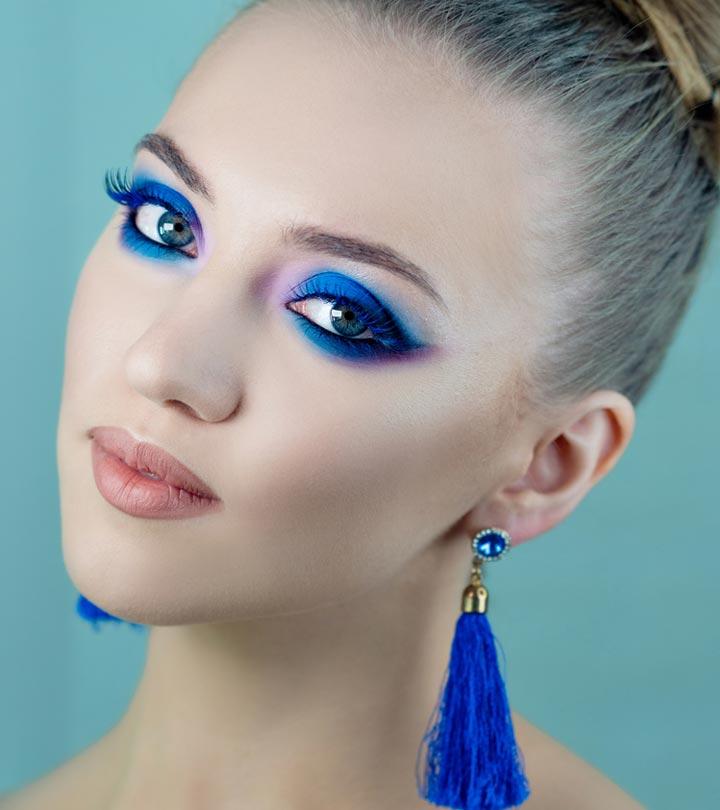 "OMG, you have got such pretty eyes!" — ladies with blue eyes, raise your hands if you come across such compliments all the time. Though you have those pretty and piercing eyes, making them appealing with an eyeliner takes work, isn't it? While your eye color certainly grabs everyone's attention, it is actually the eyeliner that makes your peepers pop. Whether an eyeliner is applied in a winged form or a thin line, it definitely makes your eyes look extra charming.
Choosing the best eyeliner for blue eyes depends on a few factors. It should be easy to apply, waterproof, long-lasting, smudge-proof, and richly pigmented. Be it liquid eyeliner or a pencil liner, a single stroke, or a bold cat-eye look, an eyeliner will make those blue eyes pop perfectly. From natural to bright shades, there are a variety of eyeliners for blue eyes. Let us help you make your finest feature more attractive with these 7 best colored eyeliners for blue eyes.
Top 7 Best Colored Eyeliners For Blue Eyes
Make your blue eyes pop with the creamy texture of this Gypsy Blue shade from NYX. Take your look to a whole new level with this eyeliner color that emphasizes your blue eyes beautifully. Its creamy texture and smudge-proof quality ensures that the formula lasts all day through heat and humidity. With a matte finish, this mechanical eye pencil moisturizes and delivers intense pigmentation, making it one of the best colors for blue eyes.
Pros
Retractable eye pencil
Long-lasting
High pigmentation
No need to sharpen
Smudge-proof and smooth
Cruelty-free
Cons
May not be suitable for some complexions
There is nothing better than having a liner and a smudge tool in one eyeliner, isn't it? Marcelle 2-in-1 Retractable Eyeliner comes with a pencil on one end and a smudge tool on the other end of the applicator. It is a retractable eyeliner; thus, it does not need a sharpener. Just twist it and apply it with confidence. This eyeliner has a sharp crayon tip that allows you to draw precise lines, while its flexible sponge helps you create smokey eyes. With its ultra-velvety formula, this long-lasting liner enhances your beautiful blue eyes.
Pros
Long-lasting
Water-resistant
Hypoallergenic
Fragrance-free
Dermatologist-approved
Easy to smudge to create smokey eyes
Cons
Might need to apply twice on oily skin
Have you ever wondered what the best colors for blue eyes are? This Golden Rose Dream Eyes Eyeliner will give you the answer with its super-smooth formula. This set consists of 3 eyeliners in different shades – Bright Coppery Brown, Cool Mid-toned Blue, and Medium Gray. You can get a subtle look if you apply lightly, or a dramatic look if you just apply a couple of coats. As it is rich in pigment, these eyeliner pencils help create the perfect smokey eyes.
Pros
High pigmentation
Glides on super smooth
Creamy formula makes it easy to use
Long-lasting
Great for smokey eyes
Cruelty-free
Cons
No retractable mechanism
May not be water-resistant
Accentuate your features with this Retractable Waterproof Eyeliner for blue eyes and be the charming one in the room. This easy-to-apply and use Ocean Blue hue eyeliner will beautifully accentuate your blue eyes. This slim-built, crayon-like eye pencil can be blended for a smokey look, and can also be applied to your waterline. It has an easy-glide creamy texture and rich pigmentation for precise and defined application. So, what are you waiting for? Get out there and match your eye color with this eyeliner shade.
Pros
Waterproof
All-day wear
Paraben-free
Vitamin-infused formula
Retractable mechanism
Highly pigmented
Cruelty-free
Cons
Imagine how beautiful all you blue-eyed divas would look with this Clinique Quickliner in the shade Blue Grey. This will definitely brighten up your face and give you a sassy look at work or parties. It is rich in pigmentation and helps you create the perfect smokey eye effect. With a retractable mechanism, this eyeliner for blue eyes includes a pencil at one end and a soft smudge tool at the other. Whether you want an intense look or a subtle finish, this Blue Grey shade has you covered.
Pros
Highly pigmented
Glides on effortlessly
Long-lasting eyeliner
Creates smokey eyes
Never needs sharpening
Convenient smudge tool
Cons
Make your blue eyes pop with this Avon GLIMMERSTICKS Eye Liner Waterproof in the shade Midnight Blue. You will look mesmerizing with this eyeliner color that glides on smoothly because of its soft tip. This liner is easy to use as it features a twist mechanism, and once applied, it lasts for 12 hours straight. Plus, you will never need to sharpen this product. Now, enhance your blue eyes with this shade and create stunning looks by gliding the liner along the lid or waterline of your eyes.
Pros
Waterproof
Soft-glide
Smudge-proof
Retractable mechanism
Does not pull or tug
Cons
Give your eyes a flattering shape with this Indelible Eyes Gel Eyeliner By Jacqueline Kalab, which is hailed as one of the best eyeliners for blue eyes. Its Imperial Blue shade will brighten up your features and add to your undeniable charm. It has a smooth tip, which will help you create smudge-free lines on your eyelids. This eyeliner color for blue eyes also has a blender tip on the other side of the pencil, which helps in creating perfect smokey eyes.
Pros
Lasts all day
Waterproof
Smudge-proof
Ultra smooth
Retractable eyeliner
Cons
These are some of the 7 best eyeliner colors for blue eyes that we have put together for you. These liners will help you raise the bar in terms of your style and makeup. Be bold, quirky, subtle, or sassy while applying these eyeliners. Remember, your eyes speak louder than words, so don't be afraid to enhance them with the right eyeliners.