The 10 Best Eyeliners For Blue Eyes That Are Must-Haves In 2023
Well, because eye makeup that complements your eye color will always be superior.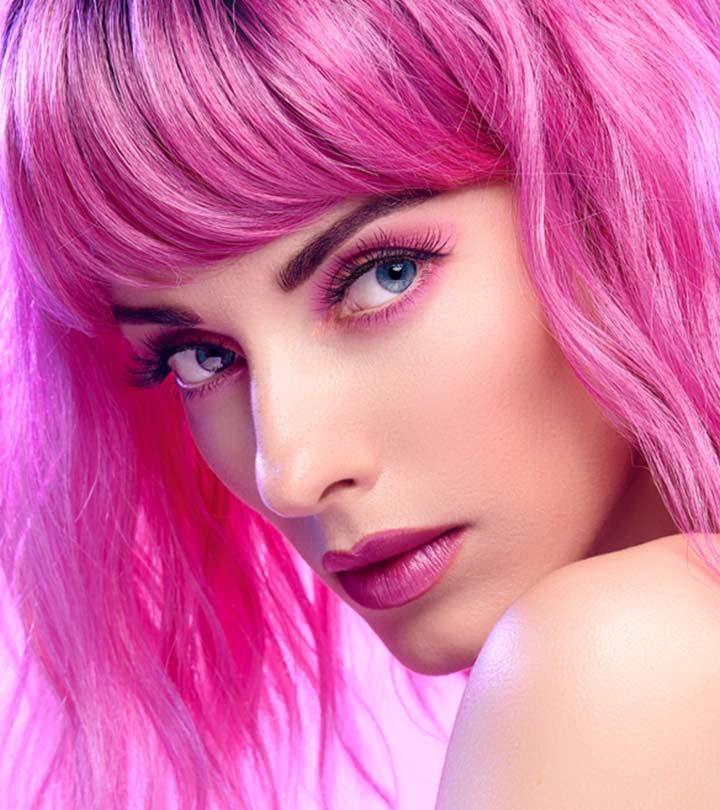 The char of blue eyes is uncontended. They bring a unique appeal to your face and make you the spotlight. And if you can couple your blue eyes with the best eyeliner color for blue eyes, no one can stop you from being the show's topper. A purple eyeliner is a great addition that makes your blue eyes pop. Also, red hues are complementary to your blue eyes. Similarly, warm tones and orange tones make your eyes look special.
But it's not just about the color of the eyeliner. Your eyeliner must also be water-proof, long-lasting, convenient to apply, and highly pigmented. Whether it's pencil eyeliner or liquid eyeliner, before purchasing it, you have to make sure that the texture is smooth and the formula is safe for your eyes. Jamila El Bouch, a professional Makeup Artist says that using warm toned eyeshadows like corals combined with a brown or black smudged eyeliner will make your blue eyes pop.
In this article, you will find the 10 best colored eyeliners for blue eyes that will make your eyes look more elegant and be the main focus. Check them out below!
Top 10 Best Colored Eyeliners For Blue Eyes To Complete Your Makeup
Make your blue eyes pop with the creamy texture of this Gypsy Blue shade from NYX. Take your look to a whole new level with this eyeliner color that emphasizes your blue eyes beautifully. Its creamy texture and smudge-proof quality ensures that the formula lasts all day through heat and humidity. With a matte finish, this mechanical eye pencil moisturizes and delivers intense pigmentation, making it one of the best options for blue eyes.
Pros
Retractable eye pencil
Long-lasting
High pigmentation
No need to sharpen
Smudge-proof and smooth
Cruelty-free
Cons
May not be suitable for some complexions
Price at the time of publication: $4.99
There is nothing better than having a liner and a smudge tool in one eyeliner, isn't it? Marcelle 2-in-1 Retractable Eyeliner comes with a pencil on one end and a smudge tool on the other end of the applicator. It is a retractable eyeliner; thus, it does not need a sharpener. Just twist it and apply it with confidence. This copper eyeliner for blue eyes has a sharp crayon tip that allows you to draw precise lines, while its flexible sponge helps you create smokey eyes. With its 2-in-1 liner's ultra-velvety formula, it enhances your beautiful blue eyes.
Pros
Long-lasting
Water-resistant
Hypoallergenic
Fragrance-free
Dermatologist-approved
Easy to smudge to create smokey eyes
Cons
Might need to apply twice on oily skin
Price at the time of publication: $13
Whether you're going for a subtle or a dramatic look, Jane Iredale Eye Pencil in Midnight blue shade is your best accessory. The shade is gorgeous and will suit cool tones the best. It has a rich, creamy texture that glides smoothly and delivers long-lasting effects. It contains shea butter, macadamia seed oil, and vitamin E, which makes it hydrating. It is non-comedogenic and has no synthetic preservatives or fragrances. It can also be used on the waterline or to fill in the brows.
Pros
Long-lasting
Highly pigmented
Cruelty-free
Mineral based formula
Natural ingredients
Glides smoothly
Vegan
Wheat-free
Cons
Price at the time of publication: $20
Accentuate your features with this Palladio Retractable Waterproof Eyeliner for blue eyes and be the charming one in the room. This easy-to-apply and use eyeliner in the shade of brown will beautifully accentuate your blue eyes. This slim-built, crayon-like eye pencil can be blended for a smokey look, and can also be applied to your waterline. It has an easy-glide creamy texture and rich pigmentation for precise and defined application. So, what are you waiting for? Get out there and match your eye color with this eyeliner shade.
Pros
Waterproof
All-day wear
Paraben-free
Vitamin-infused formula
Retractable mechanism
Highly pigmented
Cruelty-free
Cons
Price at the time of publication: $7.99
Maybelline New York TattooStudio Gel Pencil Liner in the shade of bronze glitz is a highly pigmented eyeliner ideal to enhance blue eyes. This bronze eyeliner can be used to create various looks from subtle lines to smokey effects. It glides seamlessly on the eyelids and delivers smooth strokes with intense color. It is sebum-resistant and has a wearing power of up to 36 hours, which makes it ideal for all-day long wear. Whether you want an intense look or a subtle finish, this waterproof bronze glitz shade of eyeliner from Maybelline New York has got you covered.
Pros
Waterproof
Highly pigmented
Easy to sharpen
Glides smoothly
Fade-resistant
Long-lasting
Cons
Price at the time of publication: $7.99
Make your blue eyes pop with this covergirl Perfect Point Plus Eyeliner in the shade Espresso. You will look mesmerizing with this eyeliner color that glides on smoothly because of its soft tip. This liner is easy to use as it features a twist mechanism, and once applied, it lasts quite long. Plus, you will never need to sharpen this product. It also features a smudger tip that can be used to create the smokey look. Now, enhance your blue eyes with this shade and create stunning looks by gliding the liner along the lid or waterline of your eyes.
Pros
Micro-fine point tip
Does not need sharpening
Features a smudger tip
Retractable mechanism
Does not pull or tug
Cons
Price at the time of publication: $5.94
The Stila All Day Smudge Stick Eye Liner features a blend of moisturizing ingredients that help color glide on smoothly without any pulling or tugging. With just one swipe, it delivers an intense and instant color payoff that is waterproof and has a 12-hour wear time. You can also simply rub it with your fingertips or a brush and transform it into a smudged eye shadow. It is a soft and smooth liner that comes in a wide variety of shimmer and matte shades that don't budge or fade.
Pros
Smudge-free
No pulling or tugging
Long-lasting
Pigmented
Soft, smooth application
Available in matte and shimmer shades
Cons
Price at the time of publication: $22.0
Jillian Dempsey Khôl Eyeliner is a flattering and easy-to-wear eyeliner that offers a silky smooth coverage for your desired eye look. This luxurious waterproof liner is made with hand-picked organic and natural ingredients that are highly pigmented for long-lasting color. It is made without petrochemicals, sulfates, GMOs, parabens, or phthalates and has a vegan formula. Crafted with plant-derived ingredients, like shea butter, jojoba oil, and marula oil, it provides a super smooth application. You can also use the built-in smudger to easily blend for a soft, smudged-out look.
Pros
Sulfate-free
Paraben-free
Phthalate-free
Vegan formula
Smooth application
Waterproof
Ultra-pigmented
Long-lasting
Cons
Price at the time of publication: $20
One of the simplest yet best ways to highlight your eyes is to use a color that matches the color of your eyes. And if that's what you would choose to do, our top recommendation would, without a doubt, be this Trish McEvoy Intense Gel Eye Liner in the exquisite shade of Arabian Nights that has a deep-sea blue hue. Made to glide on smoothly, this eyeliner boasts a waterproof formula with an intense pigment. You don't have to waste your time with this blue eyeliner on several coats when one coat does the job! Being vegan, this natural-looking eyeliner for blue eyes is also a great choice for the conscience.
Pros
Vegan
Rich pigment
Free ph phthalates
Free of SLS and SLES
Comes with a smudger
Cons
Does not come with a sharpener
Price at the time of publication: $30
The Urban Decay 24/7 Glide-On Eyeliner Pencil is a high-performance eye pencil that provides intense, long-lasting color pay-off for up to 16 hours. These eye pencils have a creamy, bendable formula that glides on the skin without tugging or pulling before setting into a waterproof, smudge-proof eyeliner. It is created with nourishing components like jojoba oil, vitamin E, and cottonseed oil and has an ultra-creamy texture for silky smooth application.
Pros
Smudge-proof
Waterproof
Blendable
Moisturizing
Long-lasting
Cruelty-free
Cons
None
Price at the time of publication: $25
There you go! That was a list of the 10 best eyeliners for blue eyes that are sure to give you eyes that look stunning, and have you ready for just about any occasion. Here's a guide on buying the right colored eyeliner for blue eyes to help you further.
How To Choose The Best Eyeliner For Blue Eyes
If you're aiming for a party look, the best eyeliner to make blue eyes pop would be in colors such as copper, brown, orange, among other bright and warmer tones if you're going by the color wheel. You should always reserve blue and black shades for when you're trying to achieve a subtle look. Since blue would almost match the color of your eyes, it is a good idea when you're wearing makeup to formal events.
The design of the eyeliner should be such that it is easy for you to use. While pencil eyeliners give you a lot of control when you need a thin application, retractable eyeliners are a better choice when you want to achieve a smudged look or would rather have a thick line on your lids.
It always helps if your eyeliner is long-wearing, and brownie points if it is also waterproof. When your eyeliner is formulated to last longer, it won't smudge or need reapplication. This is a huge advantage when you're traveling, going out for parties, or are at work when you can't take too many breaks for retouches. And when your eyeliner is also waterproof, you can depend on it even when you sweat or it gets humid.
Now that you know how to buy the right kind of eyeliner for blue eyes, here are a few tips as to how you should apply eyeliner if you have blue eyes.
Tips To Apply Eyeliner For Blue Eyes
Since blue is a cool color itself, you need a warm color such as terracotta, peach, copper, or brown to create contrast for your eyes to stand out. You wouldn't want to use a cool color as it may end up making your eyes look dull. However, darker shades of blue and black are a good idea if you want to define your eyes and add a subtle touch of makeup to them.
Avoid applying a thick line
Blue eyes generally look light and delicate, and when you apply a thick line over your lids, it may make your eyes look small and end up looking too heavy on your eyes. However, you can definitely smudge your eyeliner if you think a thin application could end up being an understatement for a party.
Matte shades generally end up looking dull when you have blue eyes. However, glittery shades can add life to your eyes when you're in the mood to get all dressed up.
Why Trust StyleCraze?
The author, Chaitra Krishnan, is a makeup enthusiast who experiments with different makeup brands, trying out different products. She has curated a list of the best eyeliner colors for people blessed with blue eyes. She has made a comprehensive study of what color eyeliners suit blue eyes and has handpicked these products. The products included in the list are rich in pigmentation and smudge-proof to help your makeup stay intact all day.
Frequently Asked Questions
Can blue eyes wear purple eyeliner?
Yes. People with blue eyes look good with purple eyeliner. The purple color makes their eyes shine.
What color makes blue eyes look bluer?
The different shades of blue make your eyes look bluer. If you have darker blue eyes, use darker blue shades to accentuate the color. Similarly, pair your light blue eyes with cool tones such as lilac, silver, and sky blue.
Is black eyeliner good for blue eyes?
No. Black eyeliner on blue eyes looks unflattering. Instead, stick with warmer hues like gold and orange to accentuate the eyes.
How do you make blue eyes bluer naturally?
Skip wearing black colored liner, eyeshadow, and mascara. Instead, use brown mascara and eyeshadow to enhance your blue eyes naturally. Also, line your eyes with warmer tones to accentuate the color of your eyes.
Is brown eyeliner good for blue eyes?
Yes. Brown liner enhances the color of your blue eyes and looks attractive.
Does gray eyeliner go with blue eyes?
Yes. Gray eyeliner emphasizes the cool effect of your blue eyes.
Recommended Articles