13 Best Blue Eyeliners That Will Make Your Eyes The Main Attraction
For eyes that speak volumes, make sure to use the right maquillage formulations.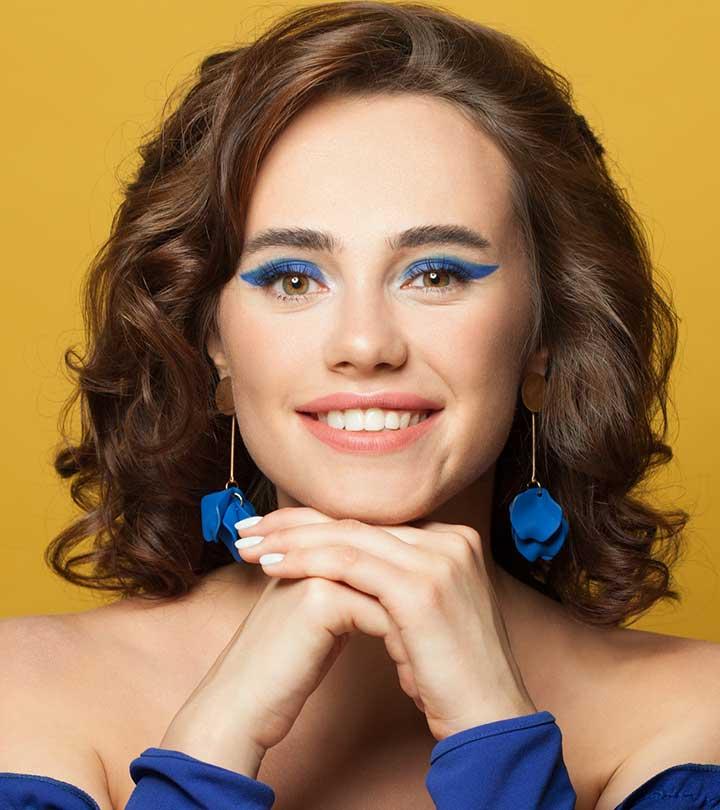 In the year 2023, the makeup industry game changed and improved significantly. Recently, the emphasis of makeup has been more on vivid colors and mystical effects. That's why the demand for the best blue eyeliners has also jumped high. People love fancy blends on their faces, like vibrant tones of blue and chrome blended with shimmer. It provides you an excuse to go to every single event you'd rather skip. That's enough of a reason to make it your signature look.
With bright blue strokes on your eyes and vibrant designs on your cheeks, you'll always stand out. You can only do this with what the French call 'Bleue Maquillage,' which stands for blue makeup. Let us assist you in finding the perfect blue eyeliner to complement your favorite makeup looks. Take a look at our list of the best 13 blue eyeliners this year.
Top 13 Best Blue Eyeliners That Are A Match For Every Eye Color
This blue liquid eyeliner will look great with literally any outfit for any event! Pair it with glitter eyeshadow, and you are good to go. Its precision marker-like tip is easy to use and will help you trace beautiful strokes. This statement-making liner enhances the lash line with its intense pigment. Not only does it settle well on the eyes, but its waterproof formula also stays all day long. It is perhaps the best blue eyeliner for someone who wants to look stylish yet archetypal. You can always get multiple shades of stila eyeliners such as Cobalt Blue, Jade, or even Smoky Quartz to mix and match.
Pros
Waterproof
Fade-resistant
Marker-like tip
Fast-drying formula
Available in multiple shades
Cons
The thickness might be inconsistent everytime you apply.
Go smokey with this COVERGIRL Perfect Point Plus Eyeliner in Midnight Blue! You can have your try-hard-to-impress-me eye makeup look and slay at all your special events with this statement-making color. The creamy texture of this formula helps with easy gliding across the lash line or creating cut-crease strokes from the inner to the outer corners. This pencil is pretty low maintenance as it self-sharpens according to your needs. Ethically conscious consumers are obsessed with the product as it is not tested on innocent animals. Many online reviews also suggested uniquely pairing it with thick blue mascara for fashion shoots or parties.
Pros
Glides easily
Cruelty-free
Creamy texture
Available in multiple shades
Self-sharpener
Built-in smudger tip
Cons
Get party-ready with the beautiful color of this NYX Professional Makeup Mechanical Eyeliner Pencil. The vibrant blue color will make your eyes pop. Plus, it will look great with a black eyeshadow base. If you are looking for the best blue eyeliner with a thick, matte finish, this liner is definitely the one for you. This is the best blue eyeliner for models who want to draw perfectly angled wings without any transfer. Many makeup artists choose this professional-quality blue eyeliner as it has a rich color payoff and stays all day on your eyes smoothly without smudging. The exceptional results it provides have made this liner a cult favorite. Moreover, the product does not undergo animal testing, which makes it ideal for people seeking cruelty-free makeup options.
Pros
Available in 13 shades
PETA-certified cruelty-free
Smudge-proof
Retractable pencil
Lasts all day
Cons
May smear on certain skin types
What is better than a long-lasting pencil eyeliner? A Wunder2 SUPER-STAY LINER that is long-wearing and waterproof. The vibrant shade helps you look dashing at all your pool parties without worrying about smudging or raccoon eyes. Just mix and match this Essential Royal Blue eyeliner with a matte eyeshadow for a complete makeup look. The texture of this creamy eyeliner is thick and highly pigmented, giving your eyes a fuller, radiant look. This royal blue eyeliner will give your eyes a dazzling appearance and is perfect for your office meetings and dinner dates.
Pros
Cruelty-free
Matte finish
24-hour wear
Highly pigmented
Easy-glide, creamy texture
Waterproof and smudge-proof
Available in 21 shades with 3 finishes
Cons
The tip may be very soft.
The Infallible Pro-Last Pencil Eyeliner from the celebrity-endorsed brand L'Oreal Paris is a favorite eyeliner among makeup enthusiasts who love tight-lining the waterline. This eyeliner is perfect for waterline makeup because it is long-lasting and waterproof, so rest assured the color will not smudge around the eyes. Your eye makeup will stay intact even if there are unexpected water splashes. It has a creamy texture that makes for smooth application on your waterline, without scratching or hurting your sensitive skin. Here's a review video based on a tester's experience with the product to help you get a better understanding of its formulation and whether the pencil's design offers ease of application.
Pros
Cruelty-free
24-hour wear
Waterproof
Smooth application
Can apply on waterline
Available in 10 shades
Cons
Might be difficult to sharpen
The high-definition pigment of this eyeliner is an award-winning waterproof eyeliner that won't smear even through sweat or water splashes. The shade Roxy has a glitter finish hue that is perfect for your lunch dates or even night parties. It has an ultra-creamy texture that makes this pencil applicable for both a smokey look or a thick wing liner or dramatic cat-eye as needed.
Pros
Cruelty-free
Waterproof
For all-day wear
Seamless blending
Metallic glitter finish
Available in 29 shades and 5 finishes
Contains jojoba oil, vitamin E, and cottonseed oil
Cons
May not be suitable for hot climatic condition
You can get super creative with this eyeliner. As the name suggests, this Insanely Intense Tattooed Liquid Eyeliner can be used to create different patterns on the face. Even though it's not a real tattoo, the designs made with this eyeliner are thick and appear authentic. You can create animated designs on your face, perfect for costume shoots or Halloween parties, using this Skone Cosmetics eyeliner. This is the best blue eyeliner for people who want to draw beauty marks or funky shapes on their faces. The long-lasting eyeliner provides exceptional results and lasts all day long.
Pros
Waterproof
Cruelty-free
Dries quickly
Workout-proof
Cosmetologist-tested
Available in 5 shades
Cons
Slightly expensive
May not be easily blendable
Using blinc Semi-Permanent Liquid Eyeliner is like staying in a long-term relationship — being super committed. Whether you sweat a lot or get drenched in the rain, this blue liquid eyeliner will stay put on your eyes. It has an exceptional waterproof quality, making it perfect for your trekking trips or pool dates. Even if you have to lightly dab your eyes to wipe off sweat, this eyeliner will not budge. It is highly pigmented and offers a flawless look to your eyes. A pro tip: You can use warm water and gently rub it with a cloth to remove it.
Pros
Super waterproof
Highly pigmented
Comes in 4 shades
Cons
Slightly expensive
May not be suitable for waterline makeup
It can be difficult to choose the perfect makeup if you have skin allergies. But with Marcelle Waterproof Eyeliner, you don't have to worry about irritation or watery eyes as it is hypoallergenic. You can also wear this makeup for your morning run or pilates in the park, as it is waterproof — your sweat won't smear the color. And to top all these amazing features, it has an ultraprecise tip for easy application along your lash line.
Pros
Fine tip
Waterproof
Long-lasting
Hypoallergenic
Fragrance-free
Dermatologist-tested
Cons
Might lose original color when sharpened
The Wet n Wild MegaLiner Liquid Eyeliner Blue Voltage Blue is an easy-to-apply liquid formula that is rich and goes on your eyes smoothly to give you bold and defined eyes. The pigmented eyeliner comes with a fine, flexible brush that is easy to control so that you can draw perfect, thin, and precise lines to enhance your eyes. The blue pigment of the eyeliner is formulated without any harsh chemicals such as phthalates, which makes it gentle on the eyes, and it also dries up fast to give your eye makeup a metallic finish.
Pros
Rich formula
Flexible applicator
Formaldehyde-free
Toluene-free
Phthalate-free
Affordable
Cruelty-free
Cons
May flake
Some may find it not very pigmented
This Clinique Quickliner For Eyes has a liner on one side that offers precise application and a smudge tool on the other that helps curate smokey eye looks. This blue-grey eyeliner will make your smokey eye makeup look like no other. This richly pigmented shade will deliver an intense color to your eyes. Even better, you can add a little glitter to it for your party look. Here is a pro tip for you: The pencil only swivels upwards. This may cause the product to dry off if it is not capped properly. Hence, expose the minimum amount of product needed and tightly cover it with the cap.
Pros
Richly pigmented
Long-wearing
Comes with a smudge tool
Allergy tested
Cons
It might not stay on through sweat.
The statement-making Julep When Pencil Met Gel Sharpenable Multi-Use Longwear Eyeliner Pencil in the shade ocean blue has an intense color payoff that gives you 10 hours of wear without any transfer. The eyeliner formula contains high-quality polymers, which make it long-lasting and the special blend wax ensures a smooth application without tugging on your eyelids. Apart from the buildable coverage and smooth pigmented application, this gel eyeliner is also waterproof. Reviewers have noted that it can be safely used on your waterline to achieve bold eyes all day long.
Pros
Highly pigmented
Smooth application
Long lasting
Transfer proof
Water-proof
Matte finish
Ophthalmologist tested
Ideal for everyday wear
Cons
May smudge
Not suitable for oily skin type
Cake eyeliners are perfect for someone who likes to change the thickness of the eyeliner according to their needs. You have the freedom to take as much color as you require on the applicator and apply it to your eyes. This Laura Mercier Tightline Cake Eye Liner can be used for smudging as well as to create a winged eyeliner look and apply on your lash line. Whether you want to go for the smokey effect or sharp lines, this formula will stay on your eyes without smudging. It offers an expertly crafted look with more than a 12-hour wear.
Pros
Long-lasting
Cake eyeliner
In-built mirror
Transfer-resistant
Dermatologist-tested
Ophthalmologist-tested
Cons
*The prices provided in this article are based on the latest available information. However, they may vary due to changes in pricing by the seller and/or promotional offers.
Vivid and bold colors are taking over the makeup world. People are ready to experiment and move away from the regular nudes, neutrals, pinks, and browns. But before the reds, purples, and greens, the blue eyeliner became an all-time-favorite and a safer bet for women. So, if you want your eyes to appear gorgeous, let us give you some tips on how to purchase the best blue eyeliners.
Things To Consider While Buying The Best Blue Eyeliners
Blue eyeliners come in various forms. Some eyeliners come in the form of normal pencils and have to be sharpened as they go blunt. These pencils may or may not have a cap, which may cause them to have a drier texture. They are usually cheaper than other eyeliners. Retractable eyeliner pencils do not need sharpening and have rounded tips. They are easy to glide on the eyelid and stay protected under a cap.
Blue gel eyeliners come in small bottles with a smudge brush included. They are smoother and sometimes contain moisturizing ingredients. The gel formula can be accompanied by glitter. You can also purchase liquid blue eyeliners, which come in the form of pens with thin marker-like tips. They are simple to use and often quick-drying.
There are the traditional liquid liners in bottles as well which come along with a pointed brush. You need a steady hand to apply this liner and need to wait a few minutes for it to dry completely. The cake form of liner comes in a little make-up box with a mirror and a brush. You can take as much liner as you want. This has a creamy formula and keeps the eyelids moisturized.
If you want your eyes to pop out and be the main attraction, pick a blue shade with rich pigment. The shade should not only suit your skin color but also your eye color. Blues enhance the eyes and are available in unique blue shades like turquoise, dark blue, light blue, sea blue, sapphire, and many more. Some also come with added glitter for a perfect party look! Pick a high-pigmented color that enhances the eye color. These are also available in matte or shiny finishes. A few eyeliners come with built-in smudging tools for the smoky eye effect. You can also opt for celebrity-endorsed liners if they match your skin tone and makeup style.
Weather conditions, tears, rubbing, or washing the face can contribute to messing up your eye makeup! For long-lasting wear, pick a colorful eyeliner that is smudge-proof, sweat-proof, waterproof, and non-peeling. This will keep the liner intact, give an eye-brightening effect, and make you look attractive at all times.
The best blue eyeliner is the one that perfectly matches your skin tone, whether you have dark or fair skin and the style you are going for. Let us find out how to use one for the perfect winged liner effect or any other trending makeup look.
How To Use A Blue Eyeliner
A blue eyeliner application is no different than how you use other shades. You can get a pencil, liquid, or cake blue eyeliner according to your convenience; however, the color is suitable for all eye shapes. You have marvelous color options like navy blue, cobalt, blue-gray, sapphire, midnight, periwinkle, and more. The finishes you pick will reveal your beauty statement for that day. There are more reasons to go bold and blue in 2023. How to use blue eyeliner, you ask?
It is quite simple, actually. Here are some amazing styles:
Basic: Apply it on the lash line with a wing.
Classic: Add a little white to your blue eyeliner.
Raw: Draw a thick waterline and leave the lash line unattended.
Expert: Paint on cut-crease line and slowly blend into the lash line.
Stylish: Mix and match two shades of blue on the upper and lower lash line.
Sparkly: Add some shimmer to your eyeshadow and highlight the lash line with a dark blue eyeliner.
Bold: Sculpt your upper eyelash with thick mascara, and make your waterline and under eye blue.
Spunky: Draw butterfly wings or stick bling diamonds on your eyelids with blue eyeliner.
Why Trust StyleCraze?
The author of this article, Srijita De, is passionate about makeup and loves experimenting with different makeup products, especially on the eyes. She browsed multiple online forums for user feedback and conducted in-depth research on the products to compile this list of the best blue eyeliners. The shortlisted eyeliners are available in smudge-proof and long-lasting formulas to elevate your look.
Frequently Asked Questions
Is blue eyeliner good for blue eyes?
Yes, blue eyeliner looks great on blue eyes as it elevates your look and makes your eyes pop.
Is blue eyeliner good for brown eyes?
Blue eyeliner complements brown eyes. You can try a good combination of smokey black eyeshadow, black mascara, and cobalt or navy blue eyeliner for your makeup.
Why does blue eyeliner irritate my eyes?
You might be allergic to this particular blue eyeliner that you are using. You could try a hypoallergenic blue eyeliner next time. You should visit an ophthalmologist immediately though.
What does blue eyeliner do?
Bright blue eyeliner that is darker than the color of your iris will help make your eyes appear drastically brighter.
Does blue eyeliner make eyes look bigger?
No. Blue color eyeliner will not make eyes look bigger but will make the eye look brighter.
Is blue eyeliner old-fashioned?
No. Blue eyeliner is quite fashionable and looks fabulous on lots of outfits. It depends on how you wear it and how trendy it looks.
Recommended Articles