14 Best Makeup Sharpeners For Eye Pencils And Eyeliners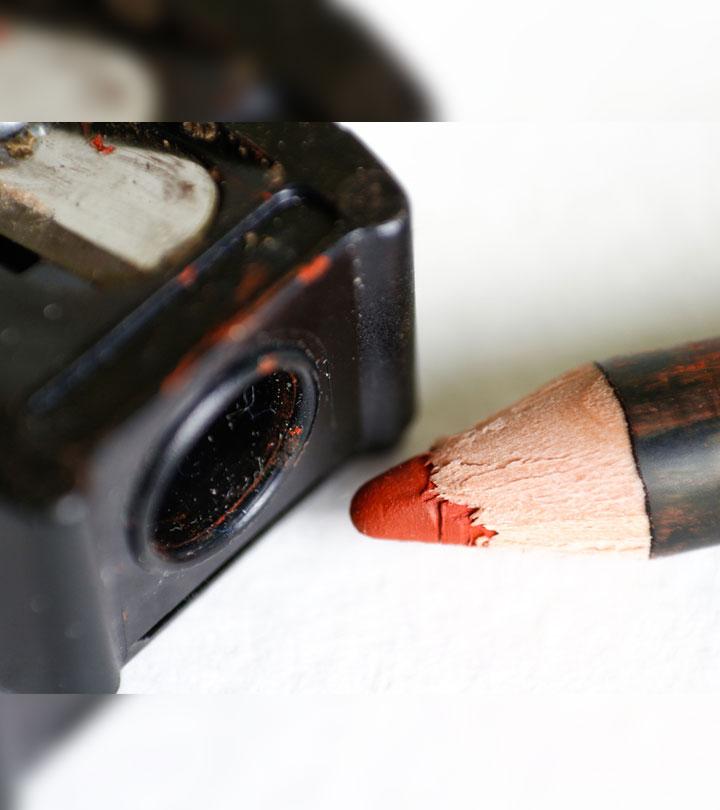 Picture this. You buy your favorite eyeliner pencil and within using it twice, it becomes blunt which makes it hard for you to get those perfectly lined eyes. Another scenario is where you purchase your favorite shade of lip liner and just like that it becomes blunt and smudgy preventing you from getting sharply lined lips. How often have you been in this situation? We bet it's more than once and we are here to rescue you from it. With a good pencil makeup sharpener, you no longer have to worry about your lip liners, crayons, eyebrow pencils, or eyeliners losing its shape. You can always restore it by simply using a sharpener.
We have curated a list of the 14 best sharpeners that will keep your makeup in good shape so you can use it to the best of its potential.
14 Incredible Eye Pencil Sharpeners With Reviews 2020
No products found.
For your eyebrow pencils that lose their shape or for your eyeliner pencils that lose their sharp tip, the L'Oreal Paris Dual Sharpener is best suited for slim and jumbo pencils. It perfectly sharpens your pencils to restore the shape so you can get a flawless makeup application. This eyeliner pencil sharpener takes about 3 turns to get the chiseled tip that will help you apply your makeup with precision.
Pros:
Comes with a lid to contain the mess
Duo sharpener with german blades
Can be used for a lip liner
Easy-to-use
Cons:
The mess might build up under the blade
This pencil sharpener uses a patented double blade system that sharpens your pencils to a slightly rounded tip and prevents breakage. This cosmetic pencil sharpener is suitable for pencils that are both thick and thin, including jumbo pencils and cosmetic crayons. The Tweezerman Deluxe Cosmetic Sharpener is convenient and comes with a lid to hold the shavings.
Pros:
Creates rounded tips that are gentle on the skin
Suitable for chubby sticks
Removable, adjustable plug
Cover to keep it mess-free
Cons:
A must-have beauty tool in your collection, the Revlon Universal Points Sharpener helps you get precise point application. This eyebrow pencil sharpener can be used for 3 different sizes, starting from slim to jumbo. Just remove the extra adaptor ring to sharpen even your most wide crayon pencil and keep it in perfect shape.
Pros:
Quick and easy sharpening
Sharpens plastic pencils with ease
Lift the top to empty the shavings.
Clean the blades easily with the safety pick.
Cons:
Engineered in Germany, the TIGI Cosmetics Metal Sharpener is an amazing addition to your cosmetic collection. It is made with durable metal that is easy to carry around with you when you're traveling. Due to its strong metal base, this lip pencil sharpener can be used on hard plastic pencils without having to worry about breaking them.
Pros:
Suitable for 2 sizes
Works for slim and thick pencils
The blades can be changed
The metal base makes is highly durable
Cons:
Might be too loose for some pencils
If you're looking for a mess-free and precise sharpener, the Plum Flip Tip Sharpener is your best choice. This German-made precision sharpener reduces tip breakage and wastage of your precious eye and lip pencils. You can choose between rounded or sharp tips by using the in-built tip selector. It works perfectly even on hard pencils and ultra-soft formulas. It also comes with a cleaning stick for hassle-free maintenance.
Pros:
100% mess-free
Precision sharpener
Reduces tip breakage
In-built tip selector
 Cons
Not suitable for lip crayons
If you're looking for a compact, breezy yet effective sharpener, the NYX Professional Makeup Sharpener is your pick. It comes with a 2-in-1 sharpener hole that lets you keep your slim and jumbo pencils ready to use at all times. Its smooth and effortless motion gives you a precise application when you use this makeup pencil sharpener. You do not have to worry about smudged makeup anymore.
Pros:
Designed for durability and travel
Compact 2-in-1 design
Made with high-quality steel
Comes with a case to prevent mess
Blades can be removed and replaced
Cons:
Pencils might not fit perfectly
What's unique about this dark black wonder box is that it is designed to essentially sharpen pencils of every size. The Nars Pencil Sharpener has a customized dual blade and also includes a blade cleaner and a cover that helps store the shavings before clearing out the cover completely. This super jumbo pencil sharpener sharpens pencils smoothly and gives it a clean finish.
Pros:
Works in just 3 sharp twists
Blade evenly sharpens out the pencil
Does not mess up lipstick or lip liner
Cons:
Using German-engineered blades that help with the precise shaping of your makeup pencils, the Glo Skin Beauty Crayon Sharpener is your go-to choice. It gives your makeup pencil a clean tip and is best suited for a soft formula, like lipstick, lip liner, or eyeliner. It comes with a plastic rim that can be removed to fit bigger makeup pencils. This jumbo eye pencil sharpener can also be used as a lip pencil sharpener.
Pros:
Works best for lip crayons
Blades sharpen the pencil to a rounded point
Includes a cleaning stick
Blades do not break the product
Cons:
Why worry about blunt pencil tips when you have ULTA Cosmetics Pencil Sharpener? This makeup pencil sharpener is double-bladed that gives your makeup pencils a sharp desired tip instantly for you to draw precise lines without much effort. It sharpens small and large tips effectively, giving it a rounded over-tip. It also has a storage box that keeps all sharpenings, preventing them from spilling into your purse.
Pros
 Double bladed sharpener
 Sharpens small and large tips
 Fits all sizes of cosmetic pencils
Cons
None
Worried that your sharpener might waste a lot of your makeup pencil? With the Glo Skin Beauty Pencil Sharpener, you don't have to worry about that ever again. Its unique blade sculpts your makeup pencil with minimal wastage. They are specially designed with two German-engineered blades that sharpen pencils according to your needs. Get round or sharp points to apply makeup with precision.
Pros:
Sharpens pencils with minimal wastage
Long-lasting
Includes a cleaning tool
Cons:
The Trim Deluxe Lip & Eye Pencil Sharpener keeps in mind your requirements and uses high-quality materials to satisfy customers. This pack of 2 makeup pencil sharpeners can be used for pencils of 3 different sizes. The chubby pencil sharpener comes with a case that stores the pencil shavings and a pick that allows you to clean out the blade.
Pros:
Sharpen pencils to a perfect point
Easy-to-clean
Does not tear or break pencils
Cons:
Might not accommodate jumbo pencils
Works well for round and sharp tips, the Prestige Cosmetics Duo Sharpener is made with stainless steel and gives your makeup pencils the edge they need. The unique feature of this metal sharpener is that it has a sharp blade to carve out your makeup as you need. You do not have to worry about a dull, smudged tip ever again if you buy this makeup sharpener.
Pros:
Long-lasting
Easy-to-clean
Sharp metal blades
Cons:
Does not work with retractable pencils
Another metal sharpener that sharpens two types of pencils, be it thin or thick, the Beautique Round Metal Sharpener has 2 openings. It is made with sharp blades that give your makeup pencils a rounded and clean tip. The blades can be adjusted by the screws provided on the sharpener and the debris can be cleaned out with ease.
Pros:
Durable pencil makeup sharpener
Does not break soft pencils
The blade can be tightened or adjusted.
Cons:
The blade might become loose after use.
With its unique design and convenience, the Julep Cosmetic Eyeliner Makeup Pencil Sharpener is made as a travel-friendly tool to help keep your makeup in shape even when you're on the move. It is designed in a conical shape and contains a cap that stores the shavings. Use this makeup pencil sharpener for a clean, precise, and even application.
Pros:
Sharpens pencil to a pointed tip
Mess-free conical tip
Includes a pick for easy cleaning
Made with carbon steel blades
Cons:
Now that you have gone through the list of the best eye pencil sharpeners, let's look at a few tips on how to use one the right way.
How To Make The Best Use Of A Makeup Pencil Sharpener – Safety Tips And Advice
When Is It Time To Sharpen Your Pencil?
When you're using your makeup pencil, it becomes vital to maintain a certain shape depending on how you want it to glide onto your face. A sharp-pointed tip will give you thin and sleek makeup while a rounded tip will give you thick makeup. Therefore, ensure that your makeup pencil is always in its best shape so you can get the perfect makeup finish.
How To Clean Your Eye Pencil Sharpener?
Your makeup pencil sharpener has to be cleaned from time to time to remove the makeup build on the blades. Some sharpeners come with a cleaning stick that lets you remove the guck from the blades. However, apart from this, you can use a cotton swab dipped in makeup remover or rubbing alcohol and clean out the blades of the sharpener.
How To Sharpen A Pencil Without A Sharpener?
It is recommended that you use a makeup pencil sharpener to maintain your makeup pencils. However, as an alternative, you can use a nail file to smoothen out the wood of the pencil. You can also use a scissor to sharpen your makeup pencils. But this might also result in some wastage of makeup.
Makeup application is a process that starts from taking care of your makeup. When your makeup pencils are not in their best state, your application technique is just not up to the mark. That is why we need these sharpeners to keep them pointed, sharp, and even. This way, your makeup is on point too! Do you prefer slim pencil makeup or jumbo pencils? Comment below and let us know.
Frequently Asked Questions
Can I sharpen my eyeliner with a regular pencil sharpener?
Most eyeliners do not fit a regular pencil sharpener. We recommend that you do not avoid breakage or wastage of your makeup pencil.
Can I sharpen plastic and wooden eyeliner pencils?
Some sharpeners are suitable for plastic and wooden pencils while others are not. Therefore, make sure you know what you're buying before choosing your makeup pencil sharpener.
Can I sharpen a soft makeup pencil?
Some sharpeners are designed to evenly shape your soft pencil makeup to give you the desired shape. However, not all sharpeners are suitable for the same.