Top 15 Best Scissor Sharpeners review 2023
These sharpeners can keep your scissors as good as new for a long time.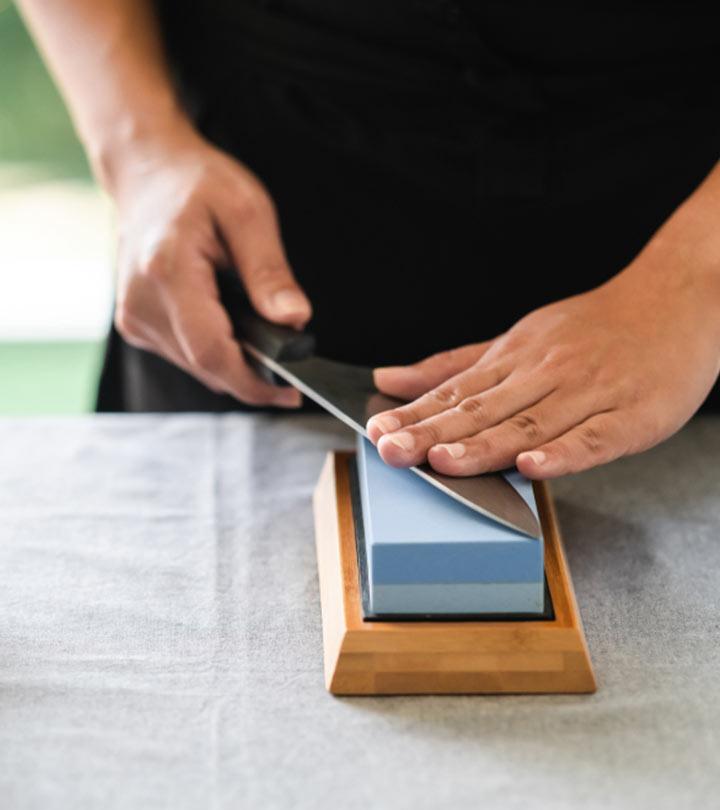 We never give much thought about the sharpness of our scissors. Because every time the scissors at your office or home lose its ability to cut smooth and sharp, we simply toss it in the dustbin and go for a new one. This is neither economic nor eco friendly. With the best scissor sharpener, you will never have to worry about your favorite pair of scissors losing its pizzazz over time. Scissor sharpeners are a great thing to invest in as it is ludicrous to simply go for a new pair of scissors when your current one stops cutting properly. Below you will find our list of the top 15 best scissor sharpeners along with a comprehensive buying guide in the end.
Top Picks
15 Best Scissor Sharpeners You Can Buy Today
Pros
Reversible and replaceable carbide blades
Reversible and replaceable ceramic stones
Can sharpen both serrated and standard edges
Easy to use
Cons
The design may not be ergonomic
Price at the time of publication: $10.48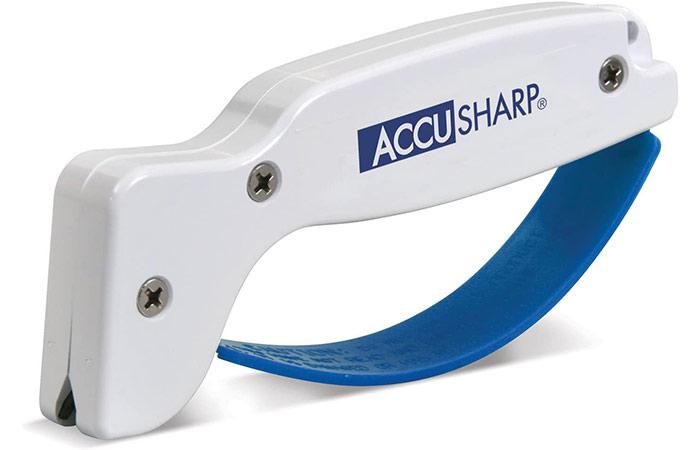 This product from AccuSharp can be used not just for scissor sharpening but to sharpen other tools as well such as cleavers, machetes, axes, etc. This affordable sharpener comes with a finger guard and an ergonomic handle that is easy to hold. The diamond-honed tungsten carbide blades are rust- free and can, therefore, be cleaned using soap and water. The availability of replacement blades provides extending and reliable service.
Pros
Multi-purpose tool sharpener
Rust-free blades
Ergonomic handle
Finger guard for protection of fingers
Reliable and durable construction
Cons
Might need to sharpen your knives frequently to get a clean edge
Price at the time of publication: $10.88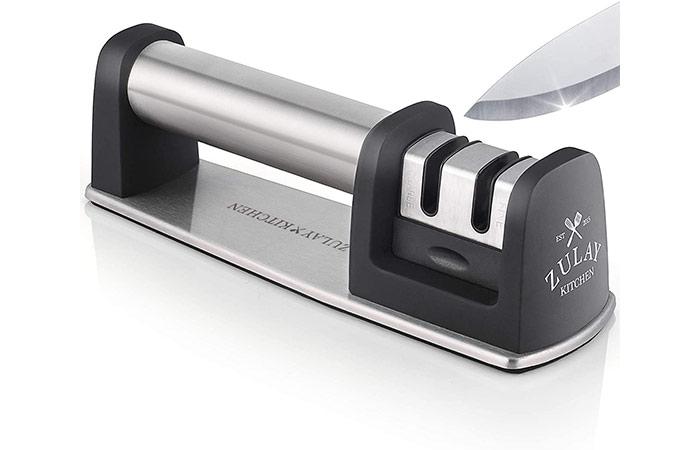 The 2-Stage Professional Knife Sharpener offers to sharpen both your knives and scissors with just a few swipes. It is built with a rounded ceramic honing system and can sharpen any knife with ease. It can hone and repair any edges, nicks, or imperfections. The ergonomic handle and anti-slip base make  knife and scissor sharpening easier in just a few minutes. The fine slot of the sharpener helps sharpen serrated knives as well.
Pros
Has a coarse and fine slot for varied sharpening needs
Takes only a few seconds
Ergonomic handle with anti-slip base
Can sharpen both knives and scissors
Cons
Cannot sharpen ceramic knives
Price at the time of publication: $11.99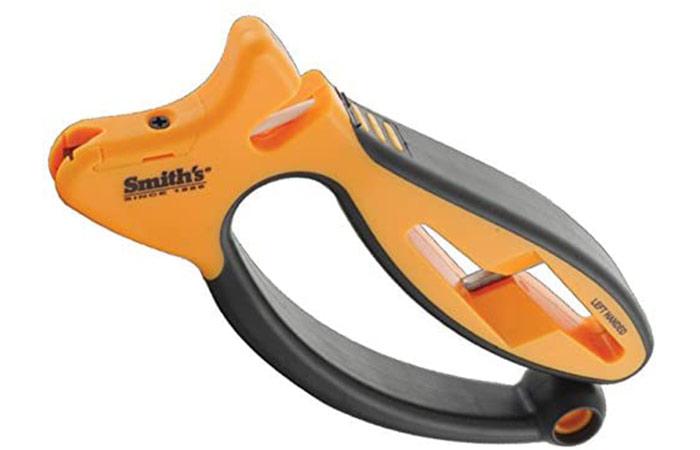 If you are looking for a scissor sharpener that you can use just about everywhere you go, then this might be the one for you! The handheld sharpener incorporates carbide blades for sharpening and honing rough edges. The crossed ceramic rods make it easier to sharpen every angle providing best results every time. The Jiffy-Pro Handheld Sharpener can be used to sharpen fillet knives, scissors, and even game shears. Made using durable and lightweight material, the rubber handle offers a soft and comfortable grip.
Pros
Ergonomic handle
Lightweight
Can be used to sharpen knives, scissors, and shears
Travel-friendly
Cons
May not work on serrated blades
Price at the time of publication: $14.43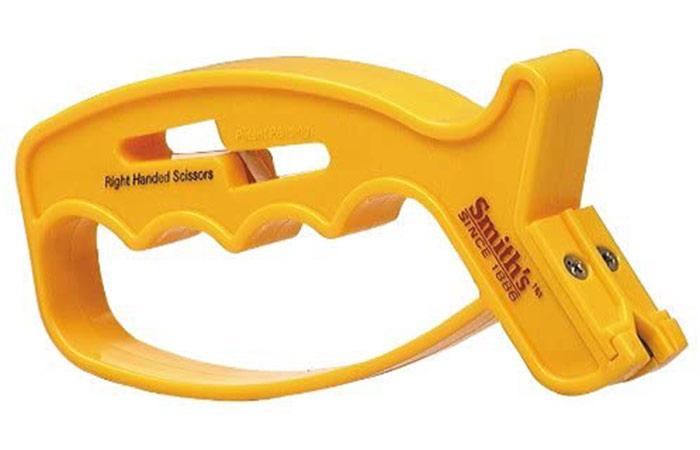 The 10-Second Knife and Scissors Sharpener feature a patented ceramic scissors sharpener that is built into the handle. The V-shape sharpening slot features two cross carbide blades for fast and convenient sharpening experience. The preset carbide blades also ensure guaranteed results at every angle. It can be used to sharpen all kinds of standard edge knives. The blades are reversible and replaceable, providing extended life. Scissor sharpening is made easy with just four strokes at max and the floating rod helps sharpen both left and right-handed scissors.
Pros
Has a built-in patented sharpener for scissors
Can sharpen both knives and scissors
Takes a few strokes to sharpen
Works on both right and left-handed scissors
Cons
Slightly flimsy construction
May not be effective in sharpening shears
Price at the time of publication: $11.08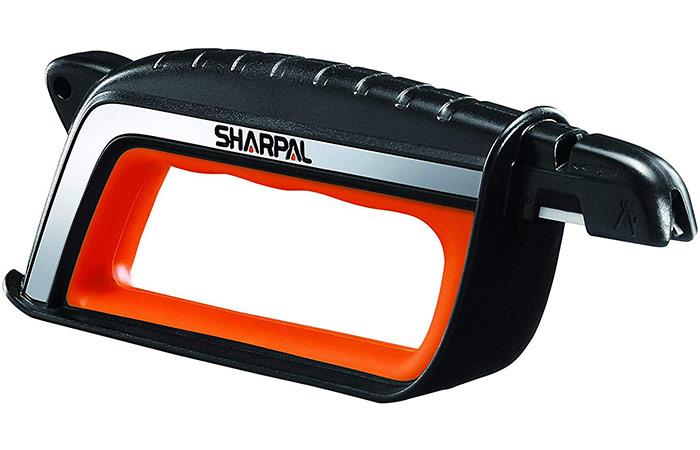 If you are looking for an all-in-one sharpener to sharpen all tools in your house, then this sharpener will do your job. We aren't just talking about knives and scissors, but mower blades, hedge shears, loppers, pruners, ax, and machetes. The tool sharpener features five sharpening parts with 3 preset sharpening angles. It also includes a ceramic bar and a tungsten carbide bar. Specially crafted for a secured grip, the oversized handle also allows you to use it wearing gloves for comfort and protection.
Pros
Can sharpen various tools
Ergonomic design with an oversized handle
Made using durable material
Built-in lanyard hole
Cons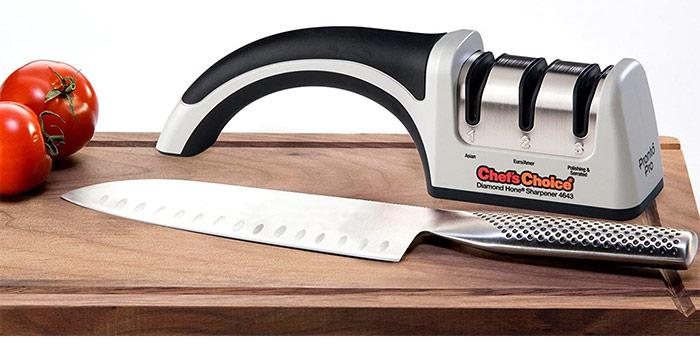 The Fiskars Scissor Blade Sharpener is for anyone who wants a sharpener that is compact and easy to use. The design of the model is such that you can carry it everywhere you go. It is suitable for both left and right-handed users. The body of the product serves as stabilization and a handle. The sharpener is lightweight and offers quality scissor sharpening experience.
Pros
Easy to store
Easy to use
Ideal for both right and left-handed users
Ergonomic design
Cons
Price at the time of publication: $18.67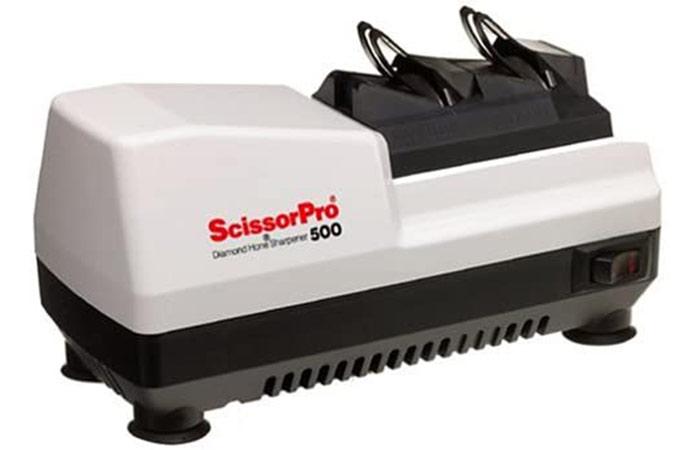 This scissor sharpener is an excellent pick for anyone relying on sharp scissors to get their job done. The two-stage sharpener has 1005 diamond abrasives to sharpen left and right-handed scissors. It is safe, durable, and provides best results with its precision guides. The Scissor Pro Sharpener is the perfect tool for scissor sharpening, whether it is your kitchen, sewing, or crafts scissors.
Pros
Easy to use
Can be used on all kinds of scissors
Sturdy design
No need to disassemble the parts to sharpen
Works on the left and right-handed scissors
Cons
May not be travel-friendly
Slightly expensive
Price at the time of publication: $99.99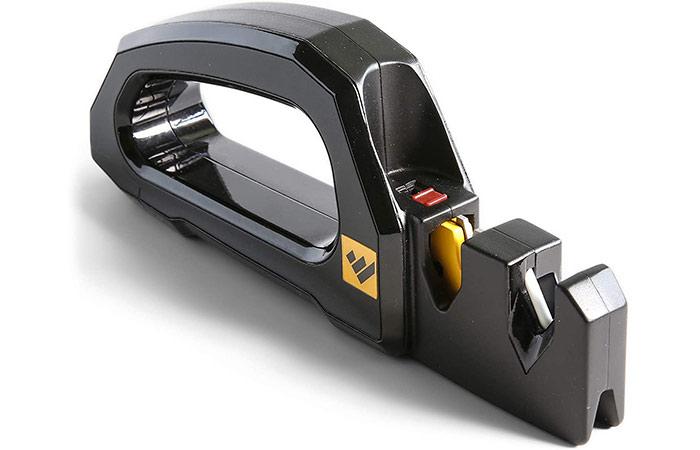 Next on our list of the best scissor sharpeners is the Handheld Pivot Pro Knife & Tool Sharpener. It has two carbide sharpeners- one dedicated for knives and the other one for tools. It also comes with a removable scissor sharpener for sharpening scissors and other edge tools. The ceramic hone can sharpen any blade and is easy to use. Crafted with a medium grit diamond plate, it provides an effective sharpening solution to a wide range of tools. 
Pros
Convenient design
Removable scissor sharpener
Works on knives, axes, shears, scissors, and prunes
Offers effective sharpening
Cons
May not be effective on serrated knives
Price at the time of publication: $13.99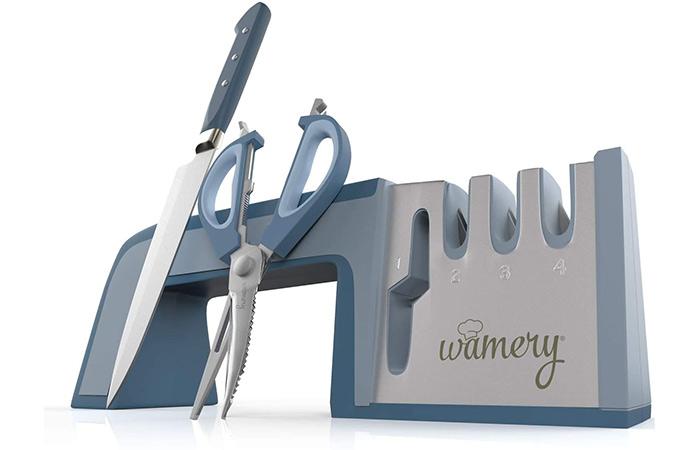 The 4-stage sharpener can be used to sharpen scissors and all kinds of knives including the ceramic ones. However, it cannot be used for serrated blades. The sharpening tool comes in a sleek design that will blend well with your kitchen or living room. The sharpener comes with non-slip pads for better control and ergonomic handle. Made with stainless steel and a rubber handle, the sharpener is ideal for left and right-handed users.
Pros
Durable
Easy to use
Perfect for left and right-handed users
Ergonomic design
Can be used to sharpen scissors and knives
Cons
May not be suitable for serrated blades
Price at the time of publication: $17.99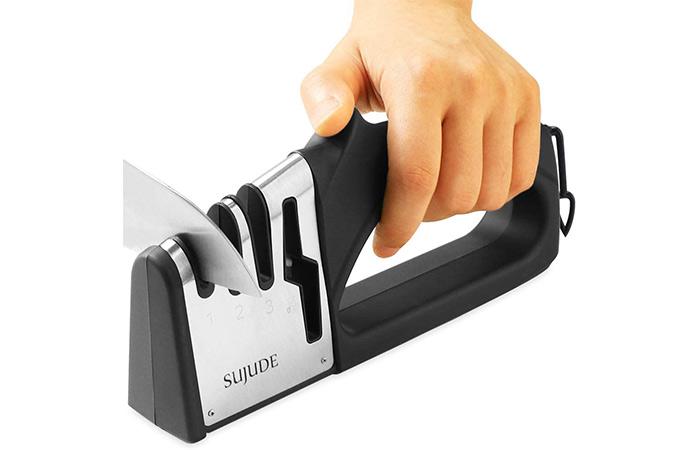 This 4-stage knife and scissor sharpener from Sujude comes with an easy-to-use design. In addition to repairing/straightening damaged blades, the tool can also be used to tune your knife for a clean polish and restore its V-shape. Moreover, the tool also comes with an option for sharpening scissors. Made with high-quality silicone, its base offers excellent grip while sharpening. The handle's ergonomic design allows the user to rest their thumb comfortably while sharpening, providing extra stability.
Pros
Can be used for scissors and knives
Provides good grip
Easy to use
Durable
Cons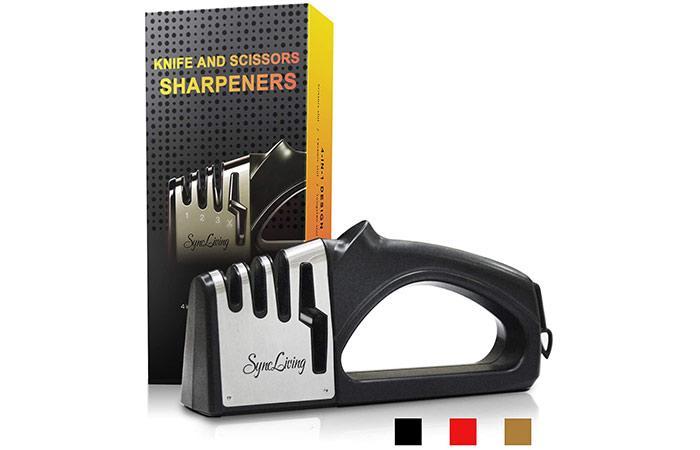 Sync Living offers a 3-step knife and scissor sharpening function with its sharpening tool. The model comes with 4 slots offering distinct functionality for sharpening your knives and scissors. The first slot can be used to repair and straighten damaged blades. The second slot can be used to sharpen your knife and restore the V-shape. While the third slot allows you to easily polish your knife, the final slot is perfect for polishing scissors. Made with durable silicone material, the sharpening tool can be used both by people who are left or right-handed.
Pros
Can be used for various knives and scissors
Has 4 slots for varied sharpening requirements
Anti-slip base with an ergonomic handle
Provides great durability
Cons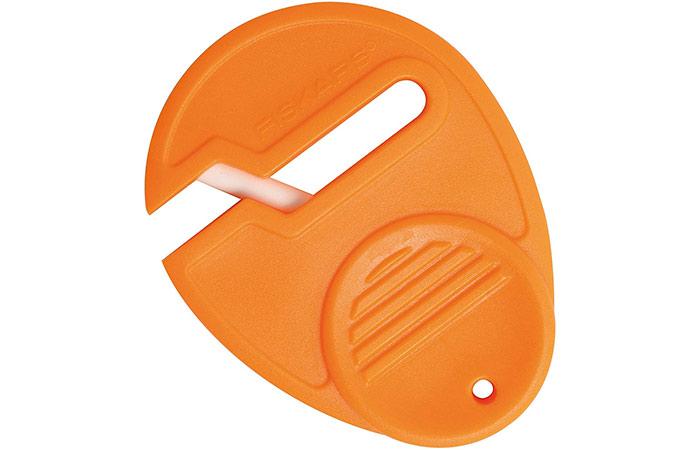 If you are looking for a compact cute sharpener to sharpen the blades of your scissors, then you might find the SewSharp Restorer particularly intriguing. Its design is compact with plastic slots to meet your sharpening needs. The sharpener features a ceramic rod and requires just a few presses to get the job done. The affordable sharpener is so tiny making it ideal for carrying around in your pocket.
Pros
Easy to use
Compact design
Portable
Offers fast sharpening
Cons
Not for left-handed scissors
May not be ideal for serrated blades and razor-edge scissors
Price at the time of publication: $8.29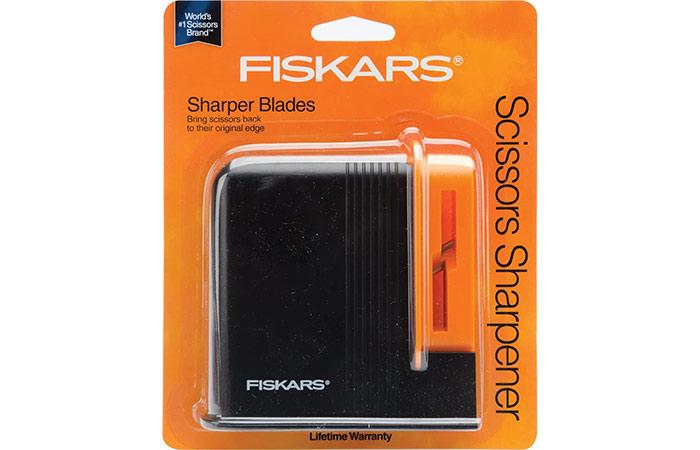 Crafted with a simple compact design, this sharpener is your best buddy when it comes to sharpening your favorite pair of scissors. With just a few strokes, your scissors will have their original sharpness. And you can go back to continuing the DIY crafts project. The small yet effective sharpener is easy to store. It works on all kinds of scissors including serrated blades.
Pros
Lightweight
Compact size
Portable
Works for serrated blades
Cons
Does not work for knives and other tools
Price at the time of publication: $16.95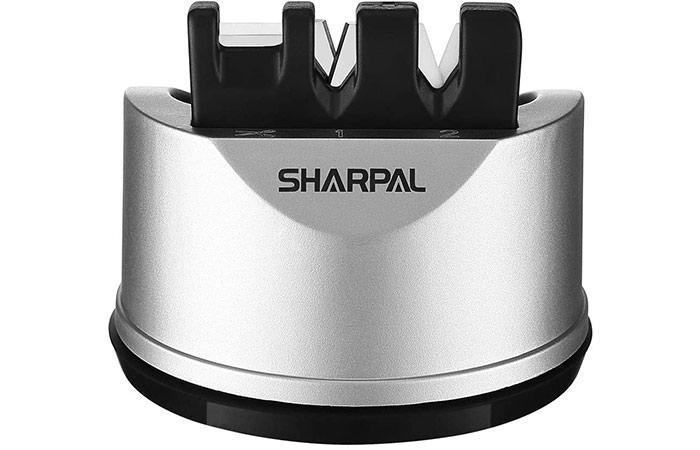 Next on our list of the best scissor sharpeners is the SHARPAL 191H Pocket Sharpener. The 3-stage affordable sharpener features tungsten carbide blades, ceramic blades, and special tungsten carbide blades (to aid in scissors grinding) to meet every sharpening requirement of yours. With twice the suction force than other sharpeners, it offers great safety while sharpening. You can place it on any table and press on the black switch for it to suck strongly to the table. The small yet effective sharpener makes it easy to hold and convenient to store.
Pros
Can be used for knives and scissors
Works on serrated knives
Easy to use
Compact size
Offers great suction
Cons
Does not feature a built-in lanyard hole
Scissor Sharpeners: Buying Guide 
Scissor sharpeners can be either electric or manual. The electric ones may be slightly expensive when compared to the manual. While a manual sharpener would require more participation from your side, electric ones simply require you to pass it through the blade a few times. Sharpeners can also be differentiated based on the tools it can be used to sharpen. While certain sharpeners can only be useful for scissor sharpening, others can be used for a variety of tools such as knives, shears, axes, prunes, etc.
Find a product that is economical and provides durability. Make sure that it is effective and easy to use. Something that won't take up too much counter space. A good sharpener that fits right into your drawer without overcrowding is preferable.
Scissors tend to lose their sharpness over time. Having essential tools such as scissor sharpeners ensures that your scissors stay as good as new no matter how long you've used it. They help to sharpen the blades of your scissors to maintain its cutting edge.
Tips While Using Scissor Sharpener 
Make sure you follow the instructions and read the product description to have a better understanding of the product. Certain sharpeners may not be ideal for ceramic or serrated blades. Sharpeners with 3 or 4 stages have dedicated slots for different types of knives and scissors. So make sure you are using the right slot for each tool.
Frequently Asked Questions
Are scissor sharpeners safe to be used by kids?
Scissor sharpeners can be used by kids who are at an age where they can responsibly handle a pair of scissors. However, it is always best to have them under adult supervision whenever they are using scissor sharpeners.
Can the abrasive discs be replaced?
Abrasive discs cannot be replaced on all models. There are a few models that allow you to replace the discs which in turn offer extended life to the sharpener.
Can I use any sharpener for pinking shears?
No, not all sharpeners are effective in sharpening pinking spears. Check in advance to purchase a sharpener that is ideal for serrated blades.