Top 11 Japanese Nail Clippers In 2023 – Reviews And Buying Guide
Get those well-groomed and hygienic nails with easy-to-use Japanese nail clippers.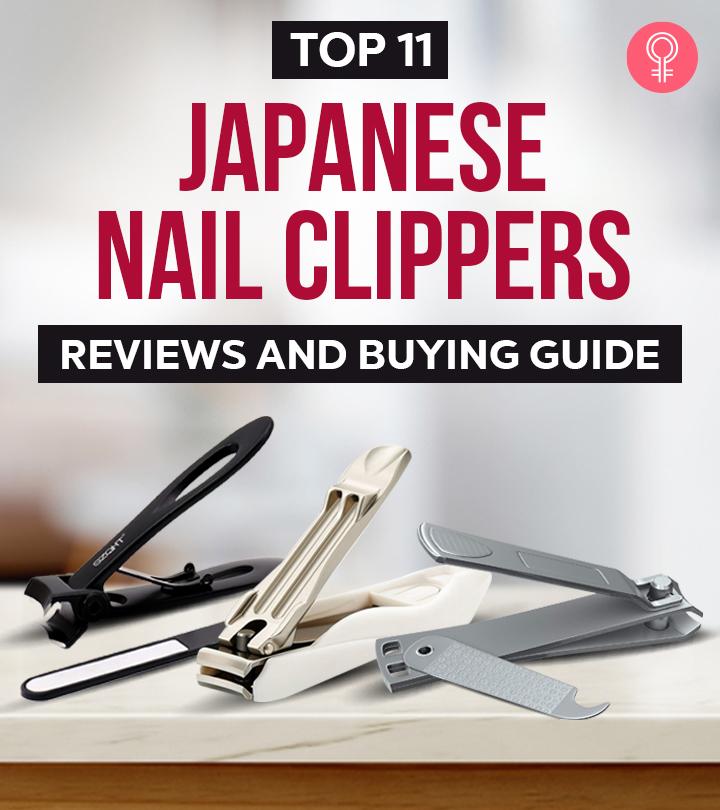 Your nails speak a lot about your hygiene. Be it on an interview or a date, unkempt nails make a bad impression. But, don't worry – the best Japanese nail clippers can help you get a more "trim and proper" look. A good nail clipper helps get rid of hangnails and discolored nails too. Also, it can help you manage infected or fungus-ridden nails that need additional care. These Japanese nail clippers are durable and sharp and can groom rough and hard nails. Here, we have curated a list of the best Japanese nail clippers available on the market. Scroll down to check them out!
11 Best Japanese Nail Clippers Available Right Now
SZQHT Ultra Wide Jaw Opening Nail Clipper is perfect for finger and toenails that are too tough and thick due to reasons such as fungus, diabetes, paronychia, aging, and other health concerns. The unique handle of this nail clipper allows you to control your snips as it offers ample strength and leverage. This means you have to work less, even with thick and brittle nails. The sharp stainless steel blades offer precise nail cutting. Watch an honest review of the SZQHT Ultra Wide Jaw Opening Nail Clippers for detailed information.
Pros
Durable
Perfect for heavy-duty trimming
Opens wide (up to 15 mm)
Sleek design
Includes a nail file
Cons
A bit tricky to learn how to use
Price at the time of publication: $9.95
Seki Edge Fingernail Clipper has a curved stainless steel blade and a zinc alloy die-cast lever that offer precise and clean cuts. Thus, it does not create ripped, torn, or jagged nails. The lever has ridges on its surface that provide a firm grip. In this YouTube video, you will find a detailed review of the Seki Edge Nail Clippers.
Pros
Comfortable to use
High-performing blades
Durable
Opens wide (up to 10 mm)
Offers precise cutting
Cons
Price at the time of publication: $17.95
Clyppi Nail Clipper has a double-sided swing-out nail file with two varied grades of roughness. It also has a handy nail cleaner to help you clean under your nails quickly and easily. This makes this nail clipper an all-in-one manicure and pedicure tool. It also has a wide easy-press lever that makes it especially suitable for seniors and people with arthritis. This nail clipper is made of high-quality stainless steel with a matte finish that does not wear out easily. It also does not slip out of your hands easily.
Pros
High quality
Sharp blades
Wide cutting head
Durable
Offers clean cutting
Ergonomic design
Cons
Clippings may fly off while cutting

Pro Tip
If you are having difficulties clipping your nails at a 90-degree angle, keep the nail clipper on a flat area, such as a table, for support.
Price at the time of publication: $13.95
The MUJI Nail Clipper is a 2.63-inch sized nail clipper ideal for small toes and hands. It is made of a stainless steel body that makes it durable and rust-proof. The blades are curved so that you can cut your nails precisely. The size of 6 cm is ideal for easy grip and hold. The clipper has a nickel plating finish, and it has a cover made of polypropylene which prevents the nail clipper from slipping.
Pros
Excellent grip
Sharp curved blades
Easy to hold
Robust construction
Lightweight
Durable
Cons
Price at the time of publication: $12.9
Seki Edge Toenail Clipper has a curved stainless steel blade with a zinc alloy die-cast lever,s which aids in performing precise and clean cuts. The lever of this nail clipper has ridges that provide an improved grip, giving the nail clipper a more comfortable feel. This clipper cuts through your nails effortlessly and has durable and sharp blades. 
Pros
Comfortable grip
Sharp blades
Professional quality
Value for money
Sleek design
Cons
Price at the time of publication: $18.0
Mr. Green No Splash Nail Clippers are made from 420j2 surgical-grade stainless steel, the strength, durability, and sharpness of which is superior to the rest. The handles of these clippers are made with a zinc alloy material that adds to the hand feeling and weight which, in turn, helps you concentrate when trimming your nails.
Pros
Has a nail catcher
Comfortable grip
Value for money
Comes in a sleek metal box
Cons
Nail file not rough enough
Price at the time of publication: $11.99
Feather With Clipper Catcher Fingernail And Toenail Clipper claims to be one of the best nail clippers out there. It is perfectly sanitary as it has a special clipper catcher that catches all the nail clippings. You can empty the catcher easily into the dustbin without even having to touch the nail clippings. ​​This nail clipper also has sharp blades ​​​​​​​​​​​​​​​​made from Japanese proprietary technology. Its heavy-duty lever ensures easy and smooth clipping even for thicker nails.
Pros
Value for money
Available in different colors
Durable construction
In-built nail file
Cons
Nail catcher not effective
Price at the time of publication: $17.99
The award-winning nail clipper from Suwada is made of high-quality forged carbon stainless steel that makes it sturdy, rustproof, and easy to maintain. It is hand polished to a matte finish. The opening of the blade is 20mm, which makes it ideal for cleaning the underneath of your nails. It has self-designed lines on the handle which enhances its stability and makes sure that the skin does not come in contact with the blades. The 12 cm length with a curved handle makes it easy to hold. It comes with a small metal case with a soft interior. It is compact and fits in any pocket, purse, or bag.
Pros
Easy to hold
Come in a metal case
100% forged stainless steel
No need for filling
Durable
Sturdy
Rustproof
Easy to maintain
Cons
None
Price at the time of publication: $72.99
The medium-sized nail clipper from Japan Bargain 2697 is designed with a curved handle that has a length of approx. 3 inches. It is ergonomically designed for comfort and a non-slip grip. The curved stainless steel blade goes easily under the nail and makes cutting easier. It also consists of an inbuilt nail filler and nail catcher and weighs around 26 grams, so it won't be too heavy to use or carry around with you. Its cover is made of ABS resin which makes it durable and wear-proof. It comes in pink color to make it uniquely different from other nail clippers. It is made in Japan with high-quality grade stainless steel and plastic.
Pros
Great quality
Affordable
Inbuild nail filler
Works well on narrow nails
Gives a smooth, straight edge
ABS resin cover
Durable
Lightweight
Cons
None
Price at the time of publication: $7.99
Kai X Seki Mago Roku Finger Nail Clipper is made with excellent craftsmanship. It has super-fine and sharp blades. This nail clipper cuts through your nails like butter without putting in any extra effort. It is ideal for adults, seniors, and babies. This nail clipper also comes with a hard plastic sleeve that fits over the bottom part to catch the clippings. 
Pros
Value for money
Ergonomic design
Suitable for clipping toenails too
Comes with an attachable nail catcher
Wide cutting head
Cons
Price at the time of publication: $12.49
BoxCave Kai Seki Magoroku Nail Clipper has a special 360° rotating swivel feature that helps you position the nail clipper any way you want to cut your nails. This nail clipper cuts through your nail in a single stroke and without any effort. It also does not scatter nail clippings all over the place.
Pros
Value for money
Comes a microfiber cleaning cloth
Ergonomic design
Durable
Sharp blades
Cons
Rotating mechanism not smooth

Quick Tip
Apply a moisturizer once you have finished cutting and filing your nails. It will keep your nails flexible and strong.
Price at the time of publication: $24.99
Now, let's answer the most important question on everyone's mind. 
What Is So Unique About Japanese Nail Clippers?
Japanese nail clippers are unique because they are made by highly skilled artisans who create the razor-sharp blades for each individual piece. An excellent quality of these nail clippers is that they do not become dull. They last for years and give you consistently smooth results with every use. Sure, they can be pricey, but you will definitely get the reward of well-groomed nails for years to come. Thus, they are great value for the money you spend.
People often think that drugstore nail clippers are good enough, so they do not need to spend a little extra on a high-quality one. What they do not realize is that the blades of these drugstore nail clippers dull down easily, which does more harm to your nail than good. So, we have prepared a buying guide for you to analyze and buy the best Japanese nail clippers for your personal grooming. Check it out! 
How To Choose The Best Japanese Nail Clippers
Toenail Clippers Or Finger Nail Clippers?
When selecting a nail clipper, you must first ask yourself what kind of clipper do you need. If you have particularly large, tough, and thick toenails, invest in a wide-mouthed toenail clipper that can cut through them. If you have fairly normal toenails, then a set of nail clippers that can be used to cut both finger and toenails will serve you well.
When looking for a nail clipper, it is always best to look for one made of stainless steel. This is because stainless steel lasts long and does not rust even when exposed to moisture. Stainless steel also holds the sharpness of the blades the best, making it the perfect option while purchasing nail clippers.
Swing-Out Nail Cleaner And File
Many nail clippers have a swing-out nail cleaner that is handy to get all the dirt and gunk stuck under your nails. The built-in nail file is also useful as it can be used to file down any sharp edges that are created while cutting your nails.
There are 4 common types of nail clippers that are mentioned below:
Lever Type: These are the most common type of nail clippers that you at any drugstore. They are useful for trimming nails to a short length. They may also have a built-in nail file that can be used to file down the rough edges of your nails.
Nail Nippers: This type of nail clippers look similar to a pair of pliers. They are built to groom nails that are difficult to cut through, like very tough nails or nails that grow in abnormal configurations.
Guillotine Type: These nail clippers were originally designed to trim dog nails. But, of late, they are being used by people who have very tough or fungus-ridden nails as the shape of these clippers is convenient to use.
Scissor Type: This type of nail clippers is usually found in manicure sets. They are mostly used for trimming hang nails and dry cuticles that build up around the nail.
Untidy nails create a bad impression, whether on a date, event, or an interview. And hygienic nails are essential for the perfect look. The best Japanese nail clippers listed above help you to groom your nails. These nail clippers come with a sharp blade for a precise cut. In addition, the clippers do not become blunt after use. Some nail clippers are suitable for both toenails and hand nails, while others provide a comfortable grip. They come with a sleek design for ease of use. On an eding note, Alysha Tucker, a certified permanent makeup artist says, "Don't forget to wash and sanitize your nail clippers after every use. It's recommended to boil your nail clippers, scrub clean with soap, let dry and wipe with rubbing alcohol or hydrogen peroxide. This will help cross contaminate others in your home who may use your clippers or spread bacteria and fungus to other nails!"
Why Trust StyleCraze?
The author, Shiboli Chakraborti, is a certified skin care coach and has carefully curated the list of the best Japanese nail clippers for the readers. She went through numerous reviews and feedback on multiple forums and brand websites to help you pick the perfect nail clipper. The products listed in this post are durable, sharp, and suitable for grooming hard nails.
Frequently Asked Questions
Are nail clippers bad for nails?
Dulled down and blunt nail clippers can be extremely bad for your nails as they create cracks, fissures, and tears in your nails and lead to peeling and breaking. So, it is always recommended to invest in an ultra-sharp nail clipper that causes no such problems and lasts you for years.
Should toenail clippers be straight or curved?
This depends on the shape of your toenails. If your toenails are tiny and grow with a curve, then curved nail clippers are recommended. If your toenails are fairly large and grow in a straight direction, then a straight edge nail clipper can be the best option for you.
How often should you replace nail clippers?
It all comes down to the blades of the nail clipper. If the nail clipper is made with durable and excellent-quality materials and great craftsmanship, it can last for years.
How do you keep your nails clean and healthy?
The hygiene of your nail clippers can be easily maintained by washing them with soapy water and wiping them with alcohol wipes. They must also be stored in a dry place. Maintaining your nail clippers can improve their longevity.
What is the proper way to use a nail clipper?
•  Begin with the shortest nail. This helps maintain a uniform length for all the others.
•  Lift and rotate the upper lever of the clippers.
•  Place the nail between the two cutting blades.
•  Squeeze the clipper's upper lever and lower body to apply pressure on the blades.
•  Use a larger clipper with a straight cutting edge to cut your toenails and a smaller clipper with curved blades for your fingernails.
How do old people cut thick toenails?
Dip the nails in warm water for 10 minutes to soften the nails and cuticles. Then, Pat dry and cut small sections of the nails instead of aiming for the entire nail.
What is the difference between a nail clipper and nail cutter?
A nail clipper is also called a nail cutter. They are the same thing.