The 11 Best Toenail Clippers For Seniors (2023) – Buying Guide
For well-pedicured feet that look healthy and clean, get the right easy-grip tools. If you are scouring for the best toenail cutters for seniors, you are at the right place. This article will acquaint you with the best options available in the market with detailed reviews for a comprehensive understanding. Not only do our options come with easy grip handles and maneuverability, but they are also perfectly sized so that they are easier for the elderly to use. So, what are you waiting for? Go on and check our list and find the perfect one!
Why Do Seniors Require Specialized Nail Clippers?
The key issues that the elderly face with regular nail cutters are:
Their toenails are thicker and hard to cut through.
They find it difficult to reach the toe with a small nail clipper.
Regular clipping of nails increases the chances of mishaps and accidental
Regular clipping nails increase the chances of mishaps and accidental cuts, and the risk of infections, especially in those who have diabetes.
It is hard to cut with bent or unusually shaped nails due to health conditions like arthritis, which may affect the joints, and cause mobility issues, making it tough to use the regular clipper.
As older adults face these problems, a special nail cutter is essential to do the job safely, easily, and comfortably!
11 Best Toenail Clippers For Seniors That Really Work
The Clipperpro Omega Select nail-cutter is small in size and ideal for toe nails. It is crafted with surgical-grade stainless steel and a heavy-duty zinc alloy body. The steel blades are sharp and can cut hard toenails in one clip. It has a 180-degree adjustable swivel head for angular cuts with 3 mm wide super sharp jaws to fit in the nails precisely. The straight edge of the blade is designed with a double-action-force-multiplier mechanism which minimizes effort to clip nails. This professional-quality trimmer has a periwinkle coating and can handle thick and even toughest nails too. Easy-to-grip handle with a long body offers premium comfort and ease of use, even for senior citizens. Multiple reviewers have provided positive feedback based on their easy experience using these clippers.
Specifications
Material: Stainless steel and zinc alloy
Color: Periwinkle
Pros
Ergonomic handle
Durable
Adjustable swivel head
Easy grip handle
Cons
None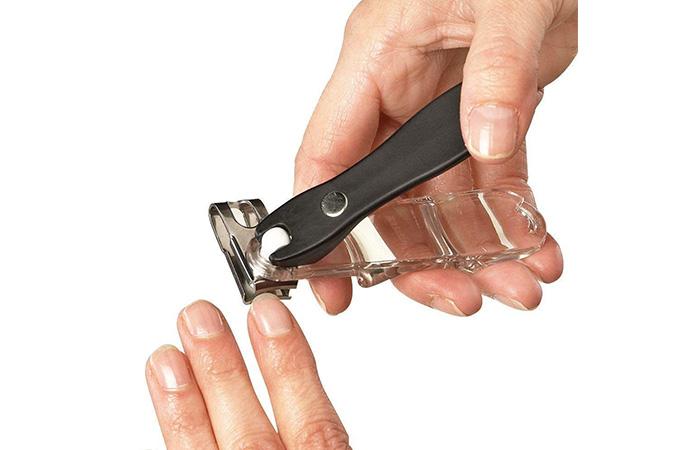 This is a uniquely designed nail clipper by GlossyEnd, ideal for individuals with limited strength, arthritis, diabetes, and lesser flexibility. It is super lightweight and offers smooth cutting action. The clipper is 4 inches in size and is designed for easy maneuverability. The extra wide handles are designed for better grip and safety for better grooming and keeping your nails healthy!
Specifications
Material: Stainless steel and plastic
Color: Black
Pros
360° rotatory
Ergonomic design
Lightweight
Maneuverability
Easy to use
Sturdy
Durable
Cons
Healthy Seniors brings you the best pair of nail clippers for adults with diabetes or arthritis. Ingrowths and fungus nails are caused due to health issues as age progresses. This toenail and fingernail clipper helps such patients cut their nails painlessly and effortlessly. The set includes one clipper with a rotating head, one podiatrist toenail cutter, and an extra wide jaw cutter for bigger, harder nails. The equipment comes in a convenient pouch for storage. The nail cutter has a wide opening that can fit into the thick, difficult nails. The edges are sharp and cut the nail easily, without a fight or causing pain. The rotating head in the clipper is great for finding the best angle to trim toenails or fingernails. Long handles make the device easy to hold and use with less pressure.
Specifications
Material: Stainless steel
Color: Black and gray
Pros
Premium-quality steel
Ergonomic handle
Adjustable rotating heads
Ideal for thick nails
Cons
None
The Easy Reach Toenail Clipper by Payne Free Products is a long handled, stainless-steel clipper made for seniors with thick toenails. The extended nail clipper for seniors has an 8mm sharp wide jaw to cut through thick nails. The clipper is made for seniors, adults, elderly, disabled and arthritis patients. The 18" long handle heavy duty cutter springs up to open which allow people with limited flexibility to easily trim their own toenails in order to prevent ingrown toenails, this arthritis-friendly clipper helps prevent the pain of bending over. After using this wide jaw clipper firsthand, several reviewers have conveyed positive reviews stating that this clipper easily and precisely cuts nails.
Pros
Flexible design
Durable
Extra-wide
Extra-long handle
Non-sticky material
Comfortable to use
Easy to use
Cons
If your ingrown toe nails are troubling you, choose the Kaasage Nail Clippers to get rid of them painlessly. This nail cutter is ideal for thick toenails with 25° gold-cutting angle. It is made of heavy-duty stainless steel and rubber. It has a sharp curved blade with a 15 mm wide jaw opening, which cuts through any nail effortlessly, giving it a nice shape. The ergonomic handle opens wide and is thick, making it easy to hold. The rubber covering on the handle is comfortable and offers maximum stability and grip. The clippers are corrugated with diagonal stripes that prevent slipping. This long-lasting clipper has been designed with a strong and secure spring. The spring-loaded mechanism helps in opening and closing the cutter when in use and when not. This ensures that the sharp blade does not remain open and cause accidents. A transparent protective shell increases longevity of the nail pliers.
Specifications
Material: Stainless steel
Color: Black and gray
Pros
Waterproof
Rust-proof
Anti-corrosion
Offers stability
Angular design
Anti-corrosion
Slip-proof handle
Suitable for paronychia, ingrown nails, side nails, irregular nails
Cons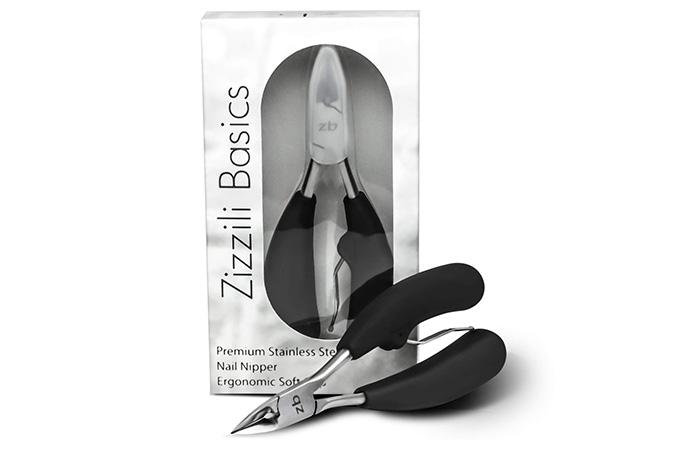 This toenail clipper by Zizzili has a super wide jaw that opens up to 1 inch so that you can trim thick ingrown or tough nails easily. The unique handle made of soft rubber ensures a comfortable grip and allows you to control the clipper easily. This nail clipper is designed for effortless trimming and, thus, is ideal for elderly people with weak hands. The blades are aligned perfectly and have a slight curve to contour your nails. The pointed end of the blade can be used to trim sensitive areas and hard ingrown or curved nails. This versatile nail clipper can be used both as a cuticle nipper or cuticle remover.
Specifications
Material: Heavy-duty stainless steel
Color: Black
Pros
Easy-grip
Comfortable to use
Ultra-sharp
Cushioned handle
Ergonomic design
Maneuverability
Easy to hold
Value for money
Non-slip
Cons
Give yourself the best mani and pedicure with the Glamfields Nail Clippers. The outer covering is made of steel and zinc alloy with a curved edge design to locate hard-to-reach corners. The durable clipper is ideal for all nails including thick toenails and ingrowths. The wide jaw measures 17mm and has a 3.3-inch with forged and reinforced clipper handle that creates more strength and leverage. The blade is sharp and tough. The anti-slip coating technology allows a smooth and effortless trim for your nails. This set also includes a nano glass nail file which is great to smoothen jagged edges. It also polishes the nails and gives them a glassy shine. The duo comes in a leather case for easy storage and carrying.
Specifications
Material: Zinc alloy
Color: Silver
Pros
Non-slip grip
Easy to use
Travel-friendly
Suitable for jagged nails
Washable
Cons
None
The Seki Edge toenail clippers are solid and durable. They are made of medical-grade Japanese stainless steel and zinc alloy. It allows clean and precise cuts without much pressure. The edge is sharp but does not cause tears and rips in the skin. The clipper helps to even out jagged nails, while the double-curved edge gives the nails a good shape. It reaches corners easily without pain. The nail cutter has been designed with modern technology combined with experienced age-old craftsmanship. The ergonomic design and 92mm length is easy to use even for senior citizens and people with arthritis issues.
Specifications
Material: Japanese stainless steel and zinc alloy
Color: Silver
Pros
Premium-quality material
Anti-slip handle
Ergonomic design
Cons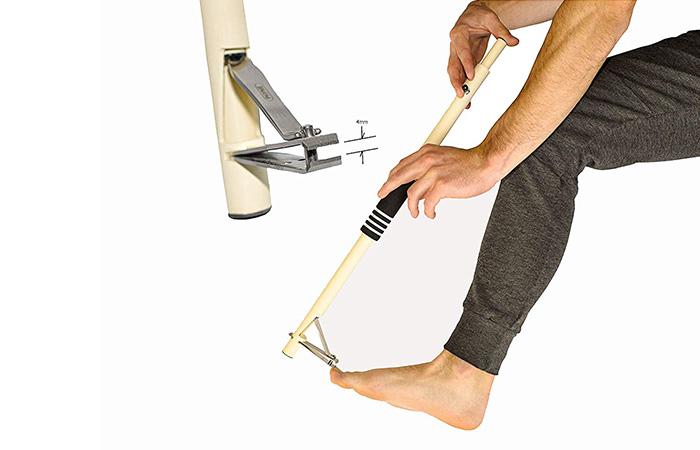 This unique toenail clipper by Payne Free is equipped with a 22-inch long handle that allows you to trim your toenails easily without straining. The thick toenail clipper has a wide 4mm mouth that helps you to cut even the thickest of nails.
Specifications
Material: Stainless steel, plastic
Color: Cream
Pros
Easy reach handle
Wide jaw
Sturdy
Value for money
Sharp stainless steel blade
Long-lasting
Cons
If you have thick ingrowths and hard toenails the Miura Professional Podiatrist nail clipper is a good pick. It is made of heavy-duty Japanese stainless steel and has a 20 mm stainless steel blade edges which are super sharp. The mouth opens wide with a curved edge and long angled blade. This professional-grade clipper is durable and sturdy and is designed with grooved handles for a slip-free grip. It causes no cracks and cuts and is able to cut through the most stubborn toenails. The 5.5 inch nail-cutter is crafted with a double barrel spring which is removable along with a safety lock mechanism. It has instructions which are laser-marked on the body. The professional toenail clipper comes with a lifetime warranty and has a pure leather holster. It is convenient to store and carry.
Specifications
Material: Stainless steel
Color: Silver
Pros
Rust-proof
Anti-slip grip
Curved blades
Suitable for arthritic hands
Cons
None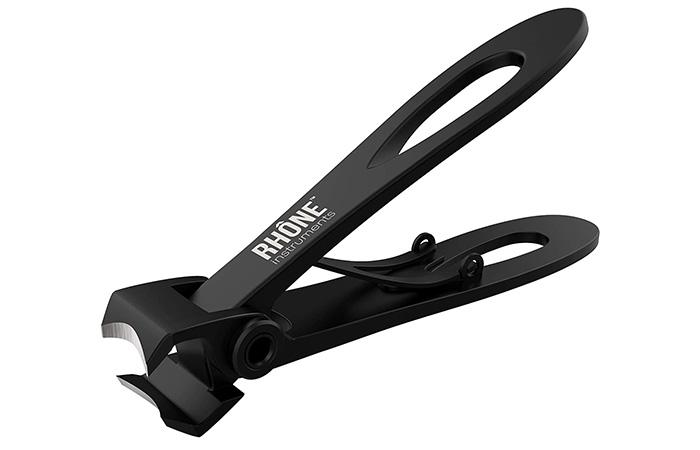 Achieve impeccable nail care and foot health with this salon-quality nail clipper by Rhone Instruments. It is equipped with hand-sharpened blades for an even and smooth trimming. They are sharp enough to cut thick, ingrown, and even the toughest nails with ease. The clipper is made of surgical-grade stainless steel and is super sturdy and durable. The clipper measures 3.5 inches long and always provides a precise and reliable cut. The handles are ergonomically designed and are super wide. The jaw of this nail clipper measures 12 mm, ensuring a stress-free nail trimming experience for seniors.
Specifications
Material: High-grade Japanese steel
Color: Black
Pros
Extra-wide jaw
Durable construction
Rust-resistant
Curved blade
Easy clipping
Ergonomic design
Value for money
Sturdy
Sharp cut
Cons
*The prices provided in this article are based on the latest available information. However, they may vary due to changes in pricing by the seller and/or promotional offers.
So, these are the 11 best toenail clippers that seniors or their caregivers can use to trim their toenails. But which one will be the best for you? Here's a guide to help you select the best toenail clipper for a senior.
1. Clipper Size
Small-sized toenail clippers can be hard to handle for older adults with arthritic hands. It can also be difficult for them to reach their toes. Thus, always choose a clipper with a large handle and a comfortable and ergonomic grip.
2. Jaw Size
Toenails are naturally wider; thus, it is best to choose a nail clipper with a wider jaw to cut the toenails easily.
3. Material
High-quality and heavy-duty material like stainless steel can increase the durability of the nail clipper. Regular lightweight and malleable materials are not equipped to cut the thick nails of older people.
4. Grip
Most older adults suffer from conditions like arthritis, diabetes, or limited dexterity. A toenail clipper with textured handles ensures a firm grip. Also, make sure the handles are made with slip-proof materials like ABS resin.
5. Flexibility
Choose an ergonomically designed toenail clipper with a curved blade or rotating handle to ensure ease of use.
4. Sharpness
Elderly people mostly have thicker and stronger nails. Thus, it is always best to choose a toenail clipper with a sharper jaw for an aging population.
5. Price
Choosing a cheaper toenail clipper can be expensive in the long run, as they are not durable. But investing in a good-quality toenail ensures durability, and you can also enjoy other added features.
Toenails of seniors can become thick for a number of reasons, like fungal infections, aging, injuries, or tight-fitting shoes. Here is the step-by-step procedure to effectively cut thick nails.
 How To Use Toenail Clippers For Seniors
Soak your feet in warm water for at least 10 minutes to soften your nails. Then, wipe them thoroughly with a towel.
Make small cuts to avoid splintering the nail, and cut straight across. Do not cut the edges too short to prevent the risk of ingrown nails.
Smoothen the edges or corners with an emery board to avoid snagging.
Lastly, firm them with a nail file for proper shape and smooth edges. If your thick nails are painful or you do not think you can safely cut your toenails without help, kindly consult your doctor for advice.
Why Trust Stylecraze?
Shiboli Chakraborti majored in English literature and is a certified skincare coach. As a writer, she emphasizes creating the best content for the readers by reviewing skin and hair care related products. This article has some of the best toenail clippers for seniors that are both safe and sturdy. The products listed and the buying guide shared in this post can help you narrow down some of the best options.
Frequently Asked Questions
What toenail clippers do podiatrists use?
Professional podiatrists use rust-proof blades with good curved designs for the best nail cutting experience. The Sunto Toenail Clipper Set is one such podiatry-recommended nail product with a good range, durability, and grip.
What are the best toenail clippers for hard toenails?
The Rhone Instruments Surgical Grade Nail Clipper is the best product for precision cutting hard nails effectively. The curved blade and extra-wide jaws make it easier to reach those thick nails and cut them properly.
How do you cut your toenails if you can't reach them?
Use long specialized toenail clippers such as The GlossyEnd EZ Grip 360° Toenail Clipper that provide better reach and reduce the chances of injuries. Otherwise, you can ask your friend or family members to cut them using a good nail cutter.
Why do toenails thicken as we age?
Onychoctes is responsible for thickened toenails in adults. In this process, the nail cells start building up and forming hard nails due to lesser blood circulation to the foot.
Recommended Articles