10 Best Toenail Clippers, According To Reviews – 2022 Update
Easy to use and durable as can be, so go on and clip, clip, clip those toenails away.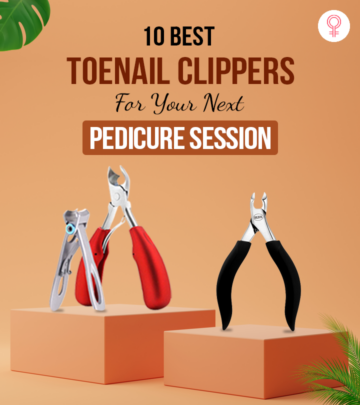 Visiting a salon every time to get your nails clipped is not suitable for your bank account. That is why investing in the best toenail clippers is a good idea for the long run. They are made of durable material and are easy to use, making your toenail cutting easier. Check out our list of the top toenail clippers available online for more information!
10 Best Toenail Clippers To Add To Your Grooming Kit
These toenail clippers from New Heuing are designed with sharp and curved blades that make them easy to cut thick and ingrown nails. They are made from surgical-grade stainless steel and are durable, long-lasting, and rust-free. The ergonomically designed handles provide easy grip, while the upgraded double-spring handle design provides effortless cutting.
Pros
ABS resin handle
Comfortable grip
Durable
Rust-free
Washable
Easy to cut
Long-lasting
Cons
These toenail clippers from Bezox offer effortless precision while trimming or grooming your nails. The high-quality stainless steel blades are sharp and angled and can trim down even the thickest and hardest toenails without any pain or injury. The nickel-plated surface is scratch-free, while the ergonomic handle delivers precise control and firm grip. Its wide opening jaw helps get rid of ingrowth.
Pros
Premium quality
Lifetime warranty
Compact design
Precision cut
Sharp blade
Dermatologist-grade steel
Scratch-free
Cons
None
The Sunto Thick Toenail Clippers are trusted and loved by professionals. The three-in-one nail clipper set includes a podiatrist toenail clipper, a wide-jaw heavy-duty nail clipper, and a nail polish filer that come neatly packed in a metal box. The clippers have an ABS anti-slip handle and are made with surgical-grade stainless steel. The unique lever design with a double spring on the grip provides precision control. The detailed instructions will guide you through the process for ease of use.
Pros
Anti-slip handle
Firm grip
Durable quality
Unique lever design
ABS handle
Washable
Anti-rust
Cons
The Harperton Toenail Clipper is designed to clip nails of all sizes and strengths. It has ergonomic, heavy-duty polymer handles with non-slip grip for easy handling while trimming the nails. The precision blades cut through hard nails with ease and assist in toenail fungal treatment.
Pros
Ergonomic design
Non-slip handles
Easy to use
Cons
Cut through the thickest nails with these toenail clippers made from medical-grade stainless steel. These clippers are rust-free and scratch-resistant and feature slanted ultra-sharp blades that make trimming the nails an effortless job. The high-end pair of nail clippers are ideal for the elderly and people with arthritis.
Pros
Extra-long handle
Easy to use
Rust-free
Scratch-resistant
Protective cover
Ideal for seniors
Cons
Require extra strength for trimming nails
The Ronavo Professional Toenail Clippers are designed to keep your nail neat and healthy without causing pain or nail fungus. The 0.32-inch wide mouth makes trimming hard toenails easier. The ergonomic design with a non-slip TPR handle and a smooth and flexible grip make these clippers suitable for older people. The oblique design of the blades allows precise cutting of ingrown toenails and improves thick toenail fungus.
Pros
Non-slip TPR handle
Easy to use
Suitable for the elderly
Ergonomic design
Precision cutting
Ambidextrous
Cons
None
These heavy-duty, stainless steel toenail clippers from Feryes are perfect for clipping hard, thick, and ingrown nails. They are hand-forged and last long without losing their sharpness. The curved handle design with a strong buckle spring gives flexibility while clipping hard nails. The pointed tip helps bring out the ingrowth in a refined manner without pain. These clippers come with a fitted safety cover to secure the sharp tips and prevent any injury.
Pros
Sharp blades
Washable
Portable
Durable
Wide jaw
Safety cover
Cons
Blades lose sharpness after initial use
The Camila Solingen CS13 Toenail Clipper is designed for optimal cutting with its ultra-sharp cutting edges. The German-made, rust-free, stainless steel clipper stays sharp for a long time. It is a great tool for trimming ingrown nails without pain. The double spring handle design allows flexible movement for ease of clipping and precision cutting. The striped grooves on the handle make it non-slippery.
Pros
Ultra-sharp
Safety closure
Non-slip grip
Ergonomic design
Anti-rust
Cons
The Tomeem Toenail Clipper has a spring-loaded design to provide flexible compression for effortless use. It features curved blades that are sharp enough to cut hard and ingrown nails cleanly and smoothly. The ergonomic handles provide easy and comfortable grip. This clipper has a protective cap to cover the sharp opening tips for extra protection and easy storage. It is easy to wash and maintain and a good gift for your parents.
Pros
Easy-grip handles
Sharp, curved blades
Easy to use
Safety tip cover
Cons
None
These professional grade clippers from Kaasage come with long, thick rubberized handles that offer a comfortable and good grip. The sharp blades are made from medical grade AUS-34 steel and are slightly curved to offer precise cutting around the contours of your nails. The pointed tip gently pushes the toenails, making it ideal for nipping those pesky ingrown nails.
Pros
Ideal for thick nails
Easy-grip handle
Rust-free
Easy to use
Durable
Cons
None
If you are wondering how to use toenail clippers the right way, check out the next section.
How To Use Toenail Clippers
Soak your nails in warm water for five minutes to soften them.
Clip small sections of your nails at a time.
Do not use the entire surface of the blade to cut your nails.
After use, ensure to clean the clippers. Use alcohol to wipe the nail clipper's jaws to sanitize it.
Here are few factors that you should consider while buying the best toenail clipper.
How To Choose The Best Toenail Clippers
Blade Shape: Blades with curved edges are suitable for precise cutting, while straight blades help trim ingrowth in toenails. Choose according to your need.
Sharpness: Considering the shape of your nails, buy a clipper with blades that are neither too sharp nor blunt. Extremely sharp blades may hurt you, and dull ones may cause the nails to rip or tear.
Ergonomic Design: Ensure that the clipper has long handles and offers a firm grip.
Durability: Go for nail clippers made of heavy-duty stainless steel to ensure their longevity.
Nail Type: If you have thick nails, pick a nail clipper made of heavy-duty material. For delicate nails, a regular, lightweight clipper will do the needful.
Why Trust StyleCraze?
The author, Shiboli Chakraborti, is a certified skin care coach who loves trying out different products. For this article, she has researched many toenail clippers before curating this list. She has carefully browsed through online reviews and listed products that are durable, rust-free, and have a comfortable grip. She believes that these products are a must-have in your at-home pedicure and manicure kit.

Recommended Articles