11 Best Matte Lipsticks For Dark Skin That Compliment Your Skin Tone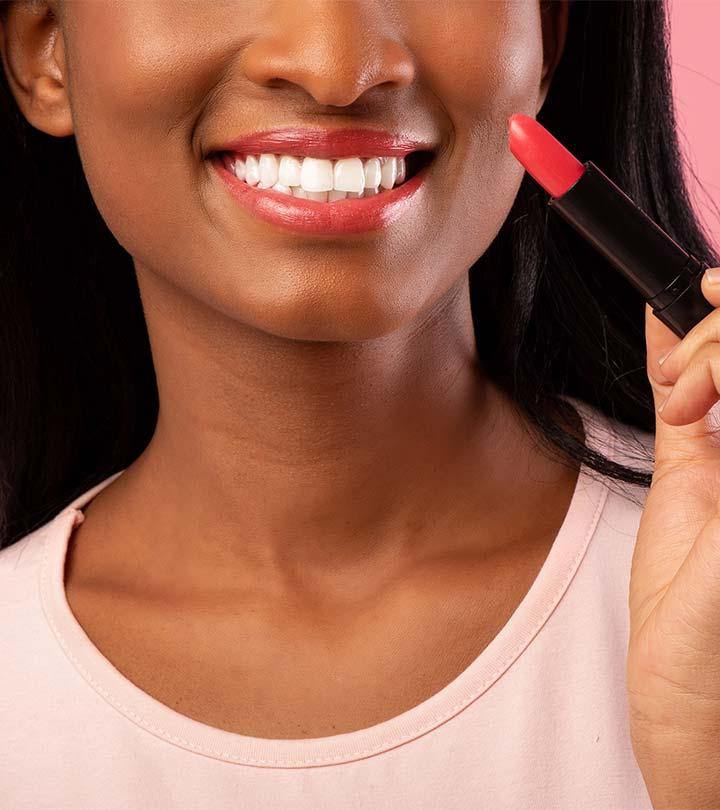 Having a dusky complexion comes with its own set of challenges, especially when you want to find lipstick shades that suit your skin tone and enhance your features. Finding the right shade in any makeup product, be it a foundation or a lip color, can be daunting; you will want something that makes your features pop and not look ghostly or washed out. However, once you find the shade range that works for your complexion, it will change the way you do makeup forever. So, if you have been sold the myth that bright lipsticks do not look good on dusky women, then we are here to bust it in this article of the best matte lipsticks for dark skin.
You don't have to stick to tinted lip balms or lip-glosses anymore; break free and explore the limitless options with matte lipsticks that celebrate your unique skin tone and don't make you look like "you're doing too much." Fortunately, many popular and top brands have started expanding their shade range to suit a variety of skin tones; they now promote inclusivity more than ever. People with warm skin tones can carry off any lipstick shade thanks to their rich pigmented skin. So, to help you choose the right shade, we have curated a list of the 11 best matte lipstick for dark skin. You can even check out our buying guide to know which lipstick shade will meet all your needs. Keep reading to know more.
11 Best Matte Lipstick For Dark Skin To Elevate Your Makeup Game
This subtle dusty rose shade looks gorgeous on all skin tones, fair or dusky. The ultra-hydrating formula provides a soft matte finish. It is infused with ingredients like shea butter, aloe vera, and vitamin E that instantly softens your lips. The lipstick comes in a stick design, making it easy to apply and travel-friendly. It will last you all day; even after you have food, the lipstick will not budge. If you are looking for a matte lipstick for dark skin that offers a velvet-smooth feel, then this is the product for you. You can also choose from 20 high-impact shades to find the color that you love. This is the perfect product for people who love to keep their makeup simple and want to avoid any reapplication as much as possible. In addition, this is an excellent color for people who wish to match their natural skin tone but not make it look washed out or pale.
Pros:
 Velvet matte finish
 Ultra-hydrating
 Long-lasting
 Stick design
 Travel-friendly size
 Transfer-proof
Cons:
 The stick may break if too much pressure is applied
This underrated liquid lipstick is quite the powerhouse of a shade. If you are looking for a red that brings attention to your sensational pout, this is the lippie for you! The vegan and the cruelty-free formula is designed to sit comfortably on your lips without flaking or smudging. The finish is velvety matte, making your lips feel soft and luscious, just like rose petals. The product is excellent for people who can't be bothered with touch-ups and would like a product that lasts on their skin all day long. This red is perfect for dark skin tones because of the bluish tint, which enhances your complexion and looks radiant. We recommend starting with one coat and then building up from there, as the shade is quite potent and can be overwhelming for people who are not used to bold hues.
Pros:
 Long-lasting
 Pigmented
 Buildable
 Easy to use applicator
 Velvet matte finish
Cons:
 Some may find the formula watery
The Almay Go Wild matte lipstick on dark skin is a great choice for people looking for rich shades that make their lips look soft and plump. This is an excellent lippie if you plan to flaunt a bold lip, especially for a night out on the town. The formula includes shea butter, vitamin E, and vitamin C, which is responsible for keeping your pout soft and hydrated. It is hypoallergenic and fragrance-free, so you can use it without having to worry about any negative reactions. Once you apply the lipstick, you will notice that it is non-sticky and non-drying, making it great for daily use. For dusky skin tones who want a natural-looking lipstick that doesn't wash them out, this shade will be a perfect addition to your makeup bag.
Pros:
 Hypoallergenic
 Non-drying
 Non-sticky
 Hydrating
 Available in 20 shades
 Fragrance-free
Cons:
 It may not be long lasting
Paint the town red with this bold lippie! Not only is this shade highly pigmented, but it is long-lasting, so you can dance the night away without having to touch it up. The formula is silky smooth and glides over your lips; it dries down to give a matte finish that sits comfortably on your skin without making it feel tight. The lipstick is made from high-quality mineral ingredients responsible for the rich color. It provides full coverage with just one swipe. If you are searching for a travel-friendly lipstick, waterproof, and won't transfer to your teeth, then this is a must-have. You don't even have to prime your lips before applying the product because it won't dry out your skin or leave a sticky residue once you take it off.
Pros:
 Waterproof
 Transfer-proof
 Pigmented
 Not sticky
 Travel-friendly size
 Long-lasting
 Lightweight
Cons:
 It may not be suitable for sensitive skin
This vegan and cruelty-free brand is popular worldwide, primarily because of its high-quality formula and premium ingredients. The lipsticks are enriched with vitamin E making them hydrating and perfect for dry skin. In addition, the velvet matte finish is long-lasting and transfer-proof, so you are guaranteed that the lipstick will stay in place the whole day/night. Usually, people are skeptical about purchasing matte liquid lipsticks because they make your lips appear cracked and flake away with time. However, that's not the case with this lipstick because the soft formula has antioxidants that enhance the natural shape of your lips and eliminate any cracks. In addition, the texture is not thick or goopy; it is lightweight and pigmented; so, you will see the full impact of the color with just one swipe.
Pros:
 Vegan
 Cruelty-free
 Enriched with vitamin E and antioxidants
 Pigmented
 Velvet matte finish
 Long-lasting
Cons:
 You may have to apply a lip primer before applying the lipstick
This lip color is perfect for people who want matte nude lipstick for dark skin. The matte lip pencil is formulated with vitamins A, C, and E, which keep your lips nourished and hydrated throughout the day. In addition, the pigment is quite potent, so it will appear with just one coat and stay in place without appearing flakey. Matte lipsticks have an unfair reputation of shriveling your lips as the day wears on, but that's not the case with this lip pencil. The lightweight formula doesn't settle in any lines or creases and appears smooth even after hours of application.
Pros:
 Vitamin enriched formula
 Lightweight
 Suitable for medium and deep skin tones
 Satin matte finish
 Long-lasting
 Travel friendly
Cons:
 The shade range may not be vast
This intensely hydrating matte lipstick is perfect for dusky skin tones because it is enriched with jojoba, rosehip, and olive oils, along with vitamin E, which keeps your lips nourished. The product is free from any harmful chemicals or parabens, it's vegan and cruelty-free, so it is healthy for and safe for the planet. You can choose from 9 other striking colors to find the hue that suits you the best. The matte finish doesn't dry your lips out. Instead, it offers a beautiful satin sheen that makes your lips look juicy and dewy. The lipstick is buildable, so if you find the first layer light, then you can build the color to make it as dark as you want.
Pros:
 Buildable
 Hydrating
 Paraben-free
 Vegan
 Cruelty-free
 Satin matte finish
Cons:
 The lipstick may bleed if used without a lip liner
For that metallic vintage look, we highly recommend this metallic matte lippie by NYX. The creamy formula is infused with avocado oil and vitamin E, which keeps your lips moisturized and super pigmented. The transfer-proof lipstick dries down to give a striking metallic matte finish that suits all shades of warm skin tones, from medium to deep. This line boasts around 9 stunning shades that suit dusky complexions, and each hue has a metallic sheen that looks amazing no matter how long you wear it. You can either wear this shade on its own or over another color; it will grab attention towards your lips.
Pros:
 Transfer proof
 Metallic matte finish
 Long-lasting
 Suitable for medium to deep complexions
 Available in nine metallic shades
 Hydrating
Cons:
 It may flake after a few hours
This liquid lipstick has some serious staying power, and with the pigment it offers, it will surely blow you away with just one swipe. The formula is pretty lightweight and comfortable, so you won't feel that it's drying your skin while you go about your day. The wand is easy to maneuver and provides an even application, so you don't have to worry about overlining your lips unnecessarily. The berry-toned shade is transfer-proof and can be removed easily with the help of some coconut oil. The shade is pretty opaque with just one coat, so you don't have to keep layering it on. If you love a lovely plum color that offers longevity and an ultra-hydrating texture, then opt for this liquid lipstick.
Pros:
 Ultra-hydrating formula
 Provides an even application
 Long-lasting
 Provides optimal results with one coat
 Transfer proof
Cons:
 It may not be suitable to wear in humid weather
This lipstick is for people who don't do bold or bright shades instead of sticking to nude hues. Even though dusky skin tones often think that nude colors will make them appear sickly or pale, this lipstick puts that notion to rest. The clinically tested formula is comfortable and safe to use for up to 6 hours; it also contains hyaluronic acid, so you are guaranteed hydrated and soft lips. Another reason you must choose this little lipstick bullet is because it is waterproof, and as the day goes on, it won't settle into any fine lines. It's travel-friendly and super easy to apply; you don't have to worry about a chalky texture because it glides over your lips like butter and stays on until you have your first meal, post-application.
Pros:
 Long-lasting
 Contains hyaluronic acid
 Travel friendly
 Nude shades are suitable for dusky skin tones
 Won't settle into fine lines
Cons:
 It may not last for more than 5 hours
This MAC matte lipstick for dark skin has to be a cult classic in the beauty industry, and this shade is most popular because it suits all skin tones. If you want to sport a bold lip for a night out or a dinner date, then we highly recommend this shade. This lip shade has a creamy consistency that just glides on your skin with little to no effort. It is a beautiful mix of brown and red, great for warm skin tones, and offers full coverage with one to two coats. If you want to keep your eye makeup minimal and draw attention to your pout, then this is the product for you. The lipstick offers a matte finish that is neither dry nor flaky, and it screams class and elegance.
Pros:
 Matte finish
 Highly pigmented
 Creamy consistency
 Travel friendly
 Suitable for all warm skin tones
Cons:
It may not be smudge-proof
Now that you know about the top matte lipsticks for dark skin, it's time to understand what to consider when searching for the perfect lipstick that meets all your needs. Keep reading our buying guide to know more.
How To Find The Best Matte Lipstick For Dark Skin
Skin undertones are usually divided into cool, warm, and neutral. This aspect is determined by the color of your veins; if you have blue-colored veins, then it means you have a cool undertone; if it is green, you have a warm undertone, and if it's bluish-green, then you have a neutral undertone. Dusky complexions come with a variety of shades, which usually fall into the neutral or warm category. So, you need to figure out your undertone to know which shade range will suit you the best.
Everyone prefers a certain type and finish when it comes to lipstick. In contrast, some like a creamy matte finish; others gravitate towards a satin finish. So whether you like metallic mattes or velvet mattes, you must be familiar with the type that will suit your taste and lifestyle so that you can choose one that is the best for you.
When choosing a shade, look for a versatile one (especially if you are a beginner with makeup). Look for a shade that works on different warm complexions. If you are shopping for lipstick online, you must do your research before finalizing your choice because the colors shown online may appear darker than in real life.
One can never have too many lipsticks. Hence, there are many factors you must keep in mind when choosing a matte lipstick for dark skin. Whether quality, price, shade range, or type, we have ensured that our list of the 11 best matte lipstick for dark skin from popular brands is of the best quality and suits everyone. They are cult favorites and some of the best in the market right now. So, when you are looking to upgrade your makeup collection to versatile and inclusive beauty products, you must look at the above list to find a lipstick that will give you the best results and a beautiful look.
Expert's Answers For Readers' Questions
Which matte lipstick shade is best suited for darker skin tones?
A rich red shade or dark cocoa brown will look fabulous on any dusky complexion. Also, shades that are darker than your complexion, like deep plums, look fantastic.
What is the best matte lipstick for dark skin that you can use daily?
Lipsticks that are hydrating and long-lasting and have some natural ingredients safe on the skin are the best to use daily.