11 Best Lip Tints For Dark Lips – Reviews And Buying Guide
Flaunt your perfect pout with a glossy and glittery finish to suppress lip pigments.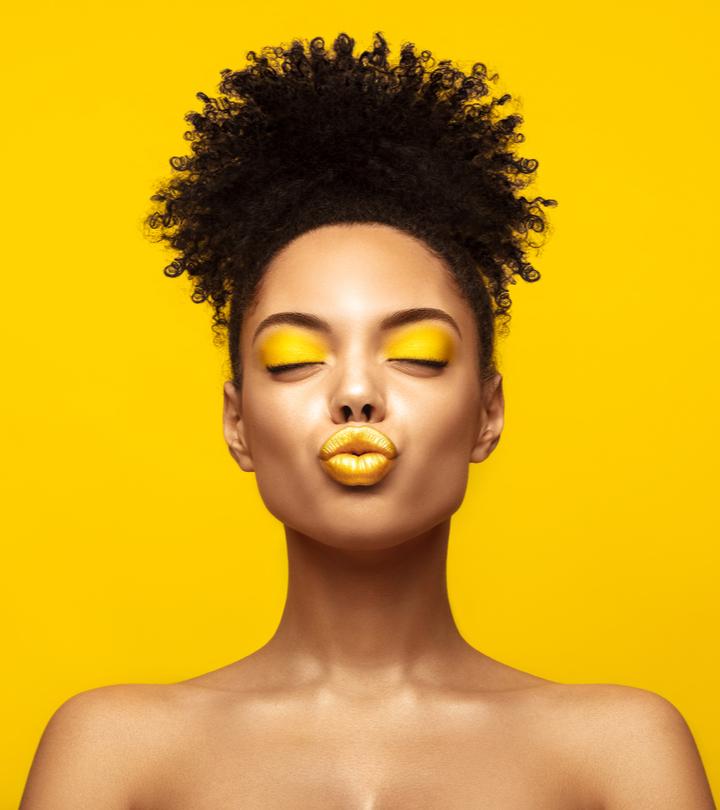 Hunting for the perfect lip tints for dark lips can be exhausting, as only we know how to struggle to find a color that shows through the dark lips. While we are naturally attracted to subtle colors like peach and pink, they get suppressed by the natural pigmentation and stay hidden. Being aware of your undertone is essential while choosing a lipstick, and how well the pigment stains are not directed to if you have a warm or cool undertone. The easiest way would be to peek inside your wrist and check the color of your veins. If it's blue, you have a cool undertone; if it's green, you have a warm undertone. There are thousands of brands pouring in lip makeup products of every kind to make sure you flaunt the perfect pout. Whether you like matte, glossy or glittery, you are halfway there once you know the tint that suits you. If you are still confused about which colors will suit your lips the right way, we are here to help. Go through these 11 highest-rated lip tints specially crafted to meet the needs of darker lip shades, and you will be able to pick something that will be the BFF of your lips!
Top 11 Lip Tints For Dark Lips To Flatter Your Skin Tone!
For a long-lasting lip makeup, try out this unique lip tattoo tint that boasts of intense and rich color. Apply just a small amount of this lip tint and peel off the dry layer after 5-10 minutes. You would love the result as it will easily stain your lips with a gorgeously bright shade. The pigmented color will stay on all day long without needing any touch-up. With 8 different naturally glowing shades, these are perfect lip tints for dark lips. To get a better understanding of the product, you can check out this video on YouTube.
Pros
Smear proof
Long-lasting lip tint
Vibrant color
Highly pigmented
Pleasant fragrance
Cons
May get messy as it stains easily
Price at the time of publication: $8.49
Pros
Infused with antioxidant vitamins
Paraben free
Shimmery sheer finish
Can also be used as eyeshadow
Cruelty-free
Cons
Price at the time of publication: $9.99
If you are looking for a lightweight and ultra-moisturising formula that offers the benefits of your favorite lip balm as well as a gorgeous lip tint for dark lips, you cannot go wrong with this product from Bobby Brown. Enriched with an emollient – rich blend of essential oils and vitamins, this lip tint nourishes your lips by smoothening the fine lines. A beautiful color enhancing tint imparts a sheer finish that complements your natural lip tone, making your lips look healthier and fuller. Packed with all the goodness, this one beats all in being the best tinted lip balm for dark lips.
Pros
Available in 6 natural shades
Smooth and supple feel
Natural look
Lightweight lip tint for dark lips
Cons
May need constant reapplication
Price at the time of publication: $34.84
Pros
Water gel-based lip tint
High pigment quality
Long lasting
Hydrating Moisturising
Cons
Price at the time of publication: $8
Pros
Long-lasting
Matte finish
Smudge-resistant
Lightweight texture
Cons
Price at the time of publication: $17.9
This gorgeous 2-in-1 tint delivers a beautiful long lasting flush for your cheeks and lips, giving you a natural and fresh look. The product is easily buildable and can be layered on for bolder color, making you ready for a surprise date in no time. Enriched with antioxidant beetroot and carrot extracts, this lip tint also doubles up as a moisturising balm that protects and nourishes your lips. What more can we ask for!
Pros
Long-lasting
Natural finish
Easily buildable
Moisturising
Lightly fragrant
Cons
Slightly expensive for the quantity provided
Price at the time of publication: $29
Pros
Matte finish
Smudge-proof formula
Lightweight
Does not dry
Available in 10 gorgeous colors
Cons
No added SPF for UV protection
Price at the time of publication: $20.95
With an effortless and luxurious matte texture, this gorgeous lip tint smoothens your lips with a pigment rich tint that stays all day long. Infused with almond oil, argankernell oil and the goodness of shea butter, the lip tint softens and conditions your lips giving them a fuller, healthier look. Scented with a soft cinnamon fragrance, the velvety formula from the elastomers melts into your lips for a smooth and gradient finish with a natural stain.
Pros
Moisturising ingredients
No lumping even with product build-up
Non-sticky
Cruelty-free
Cons
Some may not like the cinnamon fragrance.
Price at the time of publication: $18.99
Get a beautiful velvety finish on your lips with just one application of this lip tint. With a soft sponge wand that lines your lips clearly, the product has fine powder-like particles that smoothly spread over your lips for a beautiful matte finish. High pigment quality of these tints makes them rich in color that stays all day long without fading. With 5 gorgeous tints that are suitable for light, medium, or deeper skin tones, this one will easily become your favorite lip stain for dark lips.
Pros
Smudge-free
Water and sweat proof
Silky velvet finish
Delivers blurry effect
Cons
Requires moisturising before application
Price at the time of publication: $6.99
With UHD Grade coloration, this lip tint boasts high-resolution vivid shade that provides bright, defining, and evenly-colored lips with a creamy soft texture. Keep your lip makeup fresh and smudge-free for hours with the long-lasting and moisturising lip tint infused with rich pigments. The water-gel texture sets on your lips naturally, giving them a lightweight and non-sticky feel.
Pros
6 natural and rich shades
High pigment quality
Smudge-proof
Moist water gel glossy finish
Cons
Fragrance may be strong for some
Price at the time of publication: $9.85
Last but definitely not the least is this 2-in-1 solution that stains your lips as well as highlights your cheekbones with a flushed and radiant glow. Infused with kombucha filtrate and marula oil, this vegan face and lip tint nourishes and moisturises the skin giving it a hydrated and fresh look. The lip tint provides a creamy sheer finish for a dewy sun-kissed glow that you can carry throughout the day and even at night! If you want to know more about the benefits of this product, check out this quick review on YouTube.
Pros
Hydrating formula
7 versatile shades for all skin tones
Works as a highlighter too
Creamy finish
Cons
Less pigmented
May not be suitable for oily skin
Price at the time of publication: $17.9
Do you find yourself stuck while searching for the perfect lip tint in a sea of options? We know it's a daunting task, especially when you have darker lips. Here are a few points that you must consider before your next purchase and we are sure this will help you to narrow down your search.
How To Select The Best Lip Tint For Dark Lips?
Selecting a lip stain for any skin tone will not be difficult if you know your undertone. We must remind you that while your skin tone refers to the depth of your skin and can vary according to the season, undertone reflects the base of your skin. You must select the shade that corresponds with your undertone. Cool undertones look best in cool shades like deep purple, bluish shades, bright cherry, or deep plum. For warm undertones, go for deep oranges, red, brick-red and terracotta shades.
It is important to select the texture of your lipstick for better results on your lips. While glossy and creamy lipsticks are easy to apply, they may bleed or fade which, in turn, may show the dark tone or pigmentation on your lips. Go for matte lipsticks that are meticulous to apply but provide full coverage and long-lasting results. You can even gloss it up later by gently dabbing some gloss over the lipstick.
Lipsticks come in various shapes and sizes and they are packaged to be bright and shiny that makes them look appealing. But it doesn't mean that it is always well-pigmented. Look for good quality lipsticks that are intense in color and highly pigmented. Color payoff from high pigment quality lipsticks will color your lips smoothly without any lines and would not leave your lips appear grey or pale.
Why Trust StyleCraze?
Priyam Gupta is a makeup enthusiast who understands how challenging it can be to find a great lip tint for dark lips. So, driven by her passion for finding the best cosmetic products, she checked numerous product reviews, looked at swatches, and considered user feedback to curate this list and write up on the pros and cons of each product. The lip tints shortlisted here are formulated to brighten up and tint dark lips for picture-perfect pouts.
Frequently Asked Questions
Which lip tint is best for dark lips?
Depending upon your undertone, shades like deep purple, bright cherry and deep plum will suit women with cool undertones. While for those with a warm undertone, shades like brick-red, terra-cotta or orangey-red would look best.
What type of lip tint would last longer on dark lips?
For a long-lasting effect, go for lip tints with intense colors and high pigment quality. You may avoid sheer lipsticks as they may fade and show the darkness or pigmentation on your lips.
Does lip tint make your lips dark?
No. On the contrary, many lip tints help hide dark patches from your lips. Steer clear of lip tints that contain chemicals that may not be suitable for your lips.
Is lip tint good for lips?
Yes, lip tints are good for pale as well as dark lips. Most lip tints have nourishing, lightweight formulas, and the colors stay on throughout the day.
How long does dark lips take to heal?
Lip tints cannot permanently remove the dark patches from your lips. However, they may temporarily hide them with their richly pigmented formulas. Usually, using a natural treatment comprising lemon and water may reduce the appearance of dark lips within a month.
How do lip tints work?
Lip tints work in adding color and shine to your lips and cheeks. If you want a natural look, a lip tint and subtle eye makeup may help you achieve it. They also hide dark patches on your lips and make them appear even toned.
Recommended Articles