7 Best Recommended Body Washes For Hard Water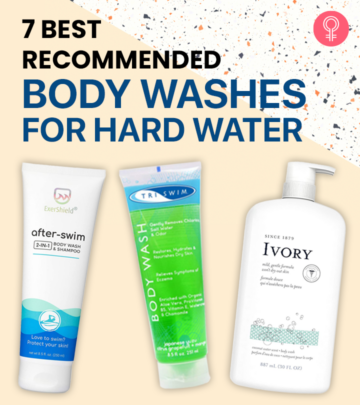 Did you know that hard water could be your skin's worst enemy? No matter how many luxuriously expensive products you use, they will be ineffective if you use hard water on your hair or skin. The regular buildup of the residue with the use of hard water may clog pores, leaving you with acne, eczema, and chronic inflammation. This is where body washes designed especially for hard water come into the picture.
These body washes are effective even with hard water and can address skin problems while preventing dryness and clogged pores. Scroll down to check out the 7 best body washes for hard water.
7 Best Body Washes For Hard Water
The TRISWIM Body Wash is your best choice for all age groups to eliminate chlorine, bromine, salt water, and chemical odors encountered post-swimming. It soothes dry skin, eczema, and pool rashes. The body wash contains vitamin E and provitamin B5 that heal the skin and organic aloe vera and vitamin A that provide your skin with essential hydration and nourishment. The grapefruit yuzu citrus scent leaves you with a refreshing feeling.
Key Ingredients: Organic aloe vera, Vitamin E, Provitamin B5, Yuzu citrus, Chamomile, and Watercress
Pros
Pleasant fragrance
Gentle
Cruelty-free
Paraben-free
Cons
The ExerShield After-Swim 2-In-1 Body Wash & Shampoo is a gentle formula made from premium ingredients to eliminate chlorine odor and salt water residue from your skin and hair. This is a great option for people with sensitive skin as it is free of drying sulfates, artificial fragrances, and dyes. It is formulated with completely natural ingredients that make it safe for daily use.
Pros
All-natural ingredients
Suits color-treated hair
Synthetic fragrance-free
Dye-free
Sulfate-free
Preservative-free
Cons
None
This body wash is a great addition to your at-home spa routine to rejuvenate your skin. It also adds a sense of luxury and comfort with its refreshing fragrance of essential oils and plant extracts. It is hard water-safe and suits all skin types and ages. This body wash is formulated using organic coconut oil, shea butter, argan oil, and aloe vera that gently soothe, hydrate, nourish, and moisturize the skin.
Key Ingredients: Organic coconut oil, Shea butter, Argan oil, Aloe vera, and Citrus lime peel oil
Pros
Alcohol-free
Paraben-free
Phthalate-free
MEA-free
DEA-free
TEA-free
EDTA-free
Cruelty-free
Gluten-free
Dye-free
Triethanolamine-free
Sodium benzoate-free
Cons
The CLn BodyWash is specifically created for people struggling with skin conditions like folliculitis, acne, eczema, and infections. It minimizes dryness, irritation, rashes, redness, and flakiness with a gentle non-drying formula that suits both kids and adults. It is infused with sodium hypochlorite, a clinically proven and safe bleach bath alternative used to treat several fungal, bacterial, and viral infections. It is ideal for daily use and works as a head-to-toe wash.
Key Ingredients: Sodium hypochlorite
Pros
Dermatologically tested
Hypoallergenic
Safe for sensitive skin
Steroid-free
Antibiotics-free
Paraben-free
Triclosan-free
Fragrance-free
Cons
The body wash from Ivory is a gentle moisturizing formula designed for people with sensitive skin. Its rich and refreshing lather cleanses impurities and hydrates the skin thoroughly, making it one of the best body cleansers to tackle dryness and flakiness in sensitive skin. This body wash is pH-balanced and dermatologist-tested and made with clean and simple ingredients.
Key Ingredients: Coconut and Aloe vera
Pros
pH-balanced
Dermatologist-tested
Dye-free
Perfume-free
Paraben-free
Phthalate-freeGluten-free
Cruelty-free
Value for money
Cons
None
The Extra Energizing Body Wash from BURT'S BEES is made with 97.8% natural ingredients to energize and rejuvenate all skin types. The 2-in-1 formula is designed to cleanse and shave even the most sensitive areas. It is formulated with a plant-based cleansing complex with lauryl glucoside and decyl glucoside blended with ginger root oil, essential citrus oils, and sweet orange oil that are rich in vitamin C and antioxidants. It moisturizes the skin and keeps it from drying out. The citrus and ginger-infused scent leaves your skin feeling fresh and nourished.
Key Ingredients: Lauryl glucoside, Decyl glucoside, Ginger root oil, and Sweet orange oil
Pros
Mild fragrance
Suits sensitive skin
Value for money
Phthalate-free
Petrolatum-free
Paraben-free
SLS-free
Cons
The O NATURALS Honey & Milk Body Wash leaves your skin feeling naturally silky, soft, and radiant. It is infused with honey that has antibacterial and skin-clarifying properties, milk that nourishes and soothes your skin, vitamin E that imparts anti-aging and healing benefits, and therapeutic Dead Sea minerals that nurture your skin. It also contains a blend of coconut and jojoba oils that soothe inflammation and olive oil that calms down irritation and inflammation.
Key Ingredients: Milk, Honey, Dead Sea minerals, Coconut oil, Jojoba oil, Vitamin E, and Olive oil
Pros
Mild fragrance
Gentle
Cruelty-free
Non-irritating
Cons
There are a few things to consider before you buy a body wash for hard water. Let us look at some of them in the next section.
Things To Consider Before Buying A Body Wash For Hard Water
Fragrance: It is important to note that if you buy a product with fragrance, it shouldn't be synthetic or artificial as it can further sensitize your skin. Check if the product has natural ingredients that are gentle on your skin instead of chemicals.
Skin Type: Ensure the body wash you choose is compatible with your skin, as using products with strong astringents can be harmful for sensitive skin.
Cost-effectiveness: As hard water tends to dial down the amount of suds created with regular soaps, you may end up using a lot more product than required to produce more lather. Therefore, opt for a product that offers value for your money.
Hard water can render most of your skin care products useless, so it is important to find a body cleanser that will enhance your skin texture even in hard water. Find the most suitable product from our list of the 7 best body washes for hard water and have an enjoyable shower experience.
Frequently Asked Questions
Is it safe to bathe in hard water?
No, it is not recommended to bathe in hard water. Over time, the calcium and magnesium in hard water form a layer of soap scum on your skin that causes dryness and irritation.
Recommended Articles
The following two tabs change content below.