7 Best Recommended Body Washes For Hard Water
Hard water causes itchiness, rashes, and dryness. Protect your skin by using these body washes.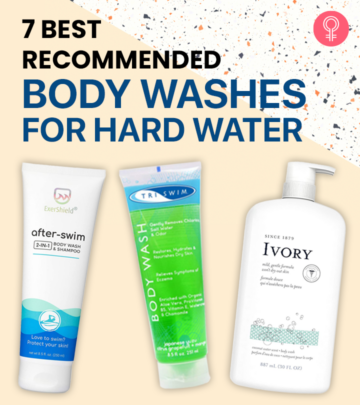 If you live in a place with hard water, you are probably aware of the hassles of showering using regular gels, soaps, and other bath products available in the market. One of the biggest problems of having hard water is that the soap does not lather enough. The best body washes for hard water can be your best bet in such cases.
If you shower in hard water, its buildup residue might cause acne, eczema, and inflammation and clog your pores. The body washes especially meant for hard water prevent all these issues. So, save yourself from all the above issues and check out our top picks now. Scroll down!
Top Picks
7 Best Body Washes For Hard Water
Pros
Pleasant fragrance
Gentle
Cruelty-free
Paraben-free
Cons
Price at the time of publication: $15.48
Pros
Natural ingredients
Sulfate-free
Dye-free
Citrus scent
Hydrating
Suitable for daily use
Vegan
Cruelty-free
Cons
None

Price at the time of publication: $14
This body wash is a great addition to your at-home spa routine to rejuvenate your skin. It also adds a sense of luxury and comfort with its refreshing fragrance of essential oils and plant extracts. It is hard water-safe and suits all skin types and ages. This body wash is formulated using organic coconut oil, shea butter, argan oil, and aloe vera that gently soothe, hydrate, nourish, and moisturize the skin.
Key Ingredients: Organic coconut oil, Shea butter, Argan oil, Aloe vera, and Citrus lime peel oil
Pros
Alcohol-free
Paraben-free
Phthalate-free
MEA-free
DEA-free
TEA-free
EDTA-free
Cruelty-free
Gluten-free
Dye-free
Triethanolamine-free
Sodium benzoate-free
Cons
Price at the time of publication: $12.95
Pros
Dermatologically tested
Hypoallergenic
Steroid-free
Antibiotics-free
Paraben-free
Triclosan-free
Fragrance-free
Cons
Price at the time of publication: $35.99
Pros
pH-balanced
Dermatologist-tested
Dye-free
Perfume-free
Paraben-free
Phthalate-freeGluten-free
Cruelty-free
Value for money
Cons
None
Price at the time of publication: $29.99
Pros
Mild fragrance
Suits sensitive skin
Value for money
Phthalate-free
Petrolatum-free
Paraben-free
SLS-free
Cons
Price at the time of publication: $55.45
Pros
Suitable for sensitive skin
Gentle
Lathers well
Dermatologist-recommended
Paraben-free
Dyes-free
Soap-free
Fragrance-free
Recyclable packaging
Cons
None

Price at the time of publication: $19.63
There are a few things to consider before you buy a body wash for hard water. Let us look at some of them in the next section.
Things To Consider Before Buying A Body Wash For Hard Water
Fragrance: It is important to note that if you buy a product with fragrance, it shouldn't be synthetic or artificial as it can further sensitize your skin. Check if the product has natural ingredients that are gentle on your skin instead of chemicals.
Skin Type: Ensure the body wash you choose is compatible with your skin, as using products with strong astringents can be harmful for sensitive skin.
Cost-effectiveness: As hard water tends to dial down the amount of suds created with regular soaps, you may end up using a lot more product than required to produce more lather. Therefore, opt for a product that offers value for your money.
Why Trust StyleCraze?
Shiboli Chakraborti is a certified skin care coach who has an in-depth knowledge of skincare brands, their products, and formulations. She understands the science behind these formulations and how they affect the skin. That is why she has done her share of research and reviewed several customer feedback before curating this list of the 7 best body washes for hard water. The body washes are specially formulated to clear hard water residue on your skin.
Frequently Asked Questions
Is it safe to bathe in hard water?
No, it is not recommended to bathe in hard water. Over time, the calcium and magnesium in hard water form a layer of soap scum on your skin that causes dryness and irritation.
Is Dove soap good for hard water?
No, soaps like dove don't bind with hard water and cause soap scums to clog your skin and make your skin itchy.
Is Zest soap good for hard water?
Yes, soaps like Zest are made of synthetic chemicals that soften hard water.
Can hard water cause itchy skin and scalp?
Yes, the high mineral content of hard water can make your skin and scalp dry and itchy.
Why does hard water not lather with soap?
Hard water contains calcium and magnesium ions that mix with the soap chemicals and form insoluble salts that resist the formation of lather.