Top 10 Under-Eye Primers For Wrinkles To Make You Look Youthful
Use chemical-free under-eye primer for a smooth, healthy, glowing, and youthful look.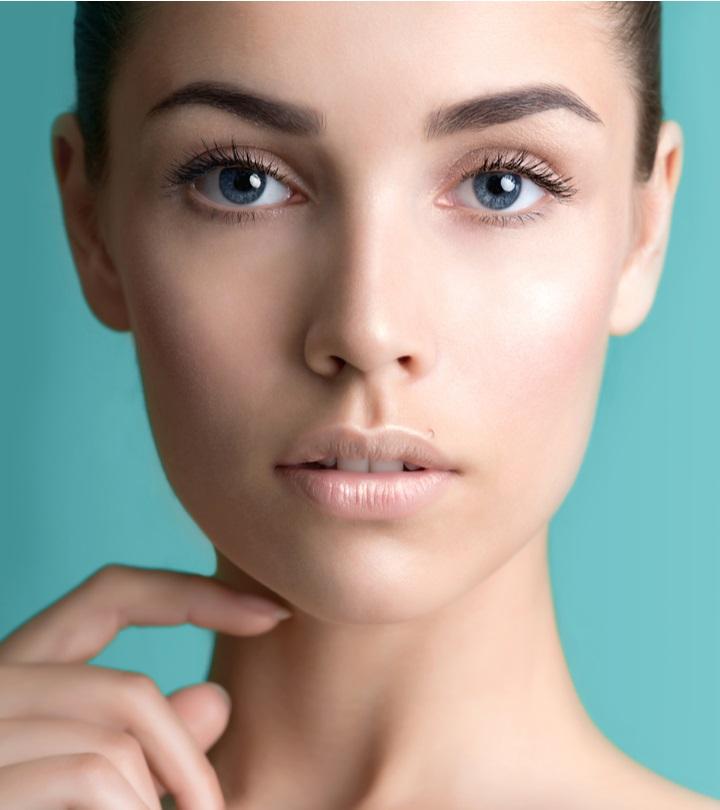 As much as you love your eye makeup, you might not like the under-eye circles enough as they ruin your look by settling into wrinkles. That's why we have got the best under-eye primer for wrinkles. Under-eye primers create a smooth canvas for you to doll up your eyes with beautiful makeup. Eye primers reduce the appearance of wrinkles and hide them away. As known often, eye primers increase the staying power of your eye makeup. But here, we have got you some awesome under-eye primers that do so much more than just increase their wearability.
We have got primers that soothe your sensitive under-eye area, the ones that protect the skin from premature aging, and primers that nourish dry skin. We have listed the 10 best eye primers for wrinkles to choose from. Scroll down, explore, and pick your best bet, and remember, next time, do not shy away from flaunting your eye makeup effortlessly without having to worry about wrinkles. Add an under-eye primer to your regular makeup regimen and hold yourself tight to see the flawless results.
Ace That Youthful Eye Makeup With Our 10 Best Under-Eye Primers For Wrinkles
This one's a power-packed magic wand that does not just act as an impressive under-eye primer for wrinkles but also has many more features. This is a dream for those fighting stubborn dark circles as it can vanish them in a giffy and brighten the under-eye region. The product comes with a cooling applicator that soothes the skin and reduces puffiness. Fine lines and wrinkles are addressed too by their appearances getting reduced and smoothened out. It also contains mineral-based ingredients to provide a broad-spectrum protection from the sun with SPF 35. Moreover, this comes reviewed by opthamologists, which means that you can use this for both sensitive eyes, as well as if you use contacts. Being free of parabens, sulfates, and oil give it big brownie points. This video review will help you learn more about the product.
Pros
Reduces puffiness
Soothes the skin
Reduces dark circles
Brightens
Contains SPF 35
Paraben-free
Sulfate-free
Oil-free
Non-comedogenic
Cruelty-free
Vegan
Cons
Might be a little difficult to blend in for some
Price at the time of publication: $59.2
Get your hands on this one if you already have a concealer and foundation and are just looking for a primer that helps them stay put while caring for your dry skin. The e.l.f Hydrating Under Eye Primer smoothes out the creases on the skin under the eyes and provides an even base for the concealer to make your eyes look bright. Its hydrating formula ensures that the sensitive area around the eyes remains moisturized. This is a peach-toned primer that also helps in hiding dark circles. The brand ensures that its products are vegan, cruelty-free, and certified by PETA to that effect. This video will help you make an informed decision about your purchase.
Pros
Offers proper hydration
Makes your eyes look bright
Reduces appearance of dark circles
Vegan
PETA-certified
Cons
Requires a concealer as this is a primer without much color in it
This is a under-eye primer that uses a gel formulation to spread easily in the under-eye region of your skin and then uses its photo-chromatic pigments to bend away the rays of the light. This product helps in your under eyes looking smoother and flawless. The product spreads out evenly around the eyes and makes the entire region look brighter. Being an oil-free formula, talc-free, fragrance-free, and paraben-free are additional benefits of choosing this under-eye primer for wrinkles. Watch this video to get a detailed review of the product.
Pros
Gel formulation that spreads easily
Uses photo-chromatic pigments to bend and reflect away light
Makes skin appear smooth and flawless
Oil-free
Talc-free
Fragrance-free
Paraben-free
Cons
You may require too much product for desired effect.
Price at the time of publication: $7.99
If you're busy with your hectic life and are looking for a primer that hides your fatigue from the world, this one loaded with anti-aging benefits is your best friend. This comes in the formulation of a balm that enhances your under eye appearance and makes it look bright and less puffy. Dab it under your eyes and watch how it smoothes out the appearance of wrinkles and creases. Infused with the soothing goodness of cucumber, matcha, and caffeine, it also helps in the reduction of lines and wrinkles. It has a comfortable velvety texture that blends it very easily onto your skin.
Pros
Brightens up the skin
Improves skin texture
Helps in hiding signs of fatigue
Smoothes out the appearance of wrinkles
Enriched with matcha, cucumber, and caffeine
Velvety texture that blends easily
Cons
Might not be suitable for those looking to conceal dark circles
Price at the time of publication: $28
They say half of your skincare is taken care of if you moisturize properly, and if so, what better than an under-eye primer that ensures hydration for the soft skin around your eyes too? This cult-favorite product features a special formula that uses a combination of bio-peptides, vitamin B3 complex, and a bunch of anti-aging ingredients to prep the skin by smoothing out lines and wrinkles to provide a smooth canvas for you to apply your makeup on. The brand's micro-filler technology ensures filling out and smoothening of all creases with a light, non-greasy texture. It is also known to address the issue of wrinkles and reduce their appearance upon prolonged use.
Pros
Non-greasy
Intense moisturization
Bio-peptide and vitamin B3 smoothes out the skin
Micro-filler technology fills out all crevices
Cons
An additional concealer or foundation is needed to hide dark circles.
Price at the time of publication: $22
If you're looking for something that is hassle-free yet takes care of your basic problems of lines on the skin, this is the best under-eye primer for wrinkles. It comes in a functional format of a liquid in a tube and has a basic skin color that goes with most skin tones. Dab it on and see how it takes care of the lines and wrinkles by smoothing out their appearance so that you can simply layer it with some foundation and get going. It also prevents smudging and has a crease-resistant formula that ensures it stays on for a long time. This under-eye primer also keeps the skin around your eyes hydrated and supple.
Pros
Hydrates
Comes in a crease-free formula
Prevents smudging and fading
Comes in a basic skin color
Cons
Some might find this too runny in consistency.
Price at the time of publication: $21.69
This is a multitasking primer for your face that also doubles as a product that can be used for your under-eye region. Infused with herbal and moisturizing ingredients that are rich in vitamins and antioxidants, this mineral-based primer works by smoothing out the lines and pores of the under eye region. The light diffusing minerals used in this product help in reducing the appearance of lines, wrinkles, pores, and imperfections, giving the under-eye skin a brighter look. It has a soft, sheer, velvety texture that is a dream to apply.
Pros
Multitasker primer for face and under eye region
Infused with vitamins and antioxidants
Botanical ingredients
Hides imperfections with its mineral formula
Dermatologically-tested
Sheer and velvety finish
Cons
Price at the time of publication: $33
The Laura Mercier Eye Basics Primer is a full-coverage product for creating a smooth base for your eye makeup and preventing creasing and smudging. It helps even out your skin tone and makes your eyeshadow stand out. This primer works both with cream and powder eye shadow and offers long-lasting wear. The eye primer can also be worn on its own or as a base for a flawless nude eye look.
Pros
Long-lasting
Smudge-proof
Crease-proof
Non-comedogenic
Dermatologist tested
Cons
Price at the time of publication: $28.0
A heavy-duty multifunctional primer that also doubles as an illuminating serum for long-lasting coverage, this one's the top pick for women who like to keep it easy and fast. While the primer is for your entire face, it has got you covered for your under-eye region too. Use a serum to blend with your foundation and see how it gives your skin a brighter appearance. Ingredients such as peptides and ubiquinone fight signs of aging, especially under your eyes. Cinnamon bark and antioxidants nourish and protect your skin and smooth out lines and wrinkles. White water lily extract and sodium hyaluronate soothe and moisturize your skin. Additionally, it is dermatologically-tested, vegan, cruelty-free, and uses plant-based ingredients.
Pros
Hydrates
Brightens
Acts as a serum
Makes makeup last longer
Vegan
Cruelty-free
Paraben-free
Sulfate-free
Non-comedogenic
Dermatologically-tested
Cons
Same may not like the fragrance.
Price at the time of publication: $45.95
The Catrice Liquid Camouflauge Under Eye Primer helps reduce fine lines and minimizes under-eye wrinkles. It contains clean ingredients and comes in a liquid and transparent formula to provide a smooth under-eye application. The no-perfume and no-oil formula is perfect for treating the delicate skin of your under-eye.
Pros
Oil-free
Perfume-free
Vegan
Gluten-free
Cruelty-free
Transparent application
Cons
Contains alcohol
May not absorb well
Price at the time of publication: $9.49
With our reviews of the best under-eye primers for wrinkles, we now look at how you can pick out one easily for yourself.
How To Choose The Best Under Eye Primer For Wrinkles
With the increased demand for under eye primers, the market is full of these products and come in many mediums. The basic choice is between an eye cream primer or a powder one. While the cream ones can be blended in easily with a concealer or a foundation, a powder-based primer is easier to retouch by a simple dab. If ease of application is not what you're looking for, you can go for the cream ones that are easier to blend.
If you're planning to skip a step by combining the primer with a concealer, you can pick out something that comes in various shades for various skin tones. Pick the one that suits your skin tone and simply use some foundation on top of the primer, and you can get going. These are also often more effective in hiding dark circles. But if you don't mind using a concealer, pick out a primer in a neutral tone.
While primers do a great job of smoothing out lines and wrinkles for mature skin, some also double up as potent ingredients that address aging by reducing the appearance of these lines and wrinkles. Pick out one that is loaded with antioxidants that can address aging or one with SPF that protects your skin from the sun. There are also many that contain soothing ingredients to reduce the appearance of puffiness and fatigue.
And after you pick out your favorite primer, here's how to apply it correctly to get the maximum wear out of it.
How To Apply Under Eye Primer
Step 1: Cleanse your face so that it is rid of impurities.
Step 2: Tone your face so that the first step of moisturization is completed.
Step 3: Moisturize your face with your preferred product as this ensures hydration as well as preps the skin.
Step 4: Take a pea-sized amount of your liquid primer and dab it extremely gently around your eyes. Be careful to use your fingertips lightly to blend it in. For a powder primer, use the applicator to dab it gently around your eyes.
Step 5: Top it with concealer if you need to, or finish off with your foundation.
Step 6: Apply your eye makeup.
Step 7: Set your entire face with a setting powder or some setting spray.
Why Trust StyleCraze?
Chaitra Krishnan is a makeup and fashion enthusiast who is passionate about researching and recommending the best skin care products. She has put together this list of the best under-eye primers for wrinkles after analyzing numerous user reviews and product listings. In addition, a guide on choosing the right primer and the pros and cons of each product have also been provided. These under-eye primers will nourish your skin and reduce the appearance of wrinkles.
Frequently Asked Questions
Can you put eye primer under your eyes?
Yes, you can. It smoothes out lines and wrinkles and provides a canvas for your eye makeup, so that it stays on longer. Primers also make your skin look brighter.
How do you keep makeup from creasing under your eyes?
To avoid makeup creasing under eyes, applying under eye primers to smooth out the creases before applying make up on the skin helps.
What is the difference between eye primer and face primer?
While a face primer is meant for your entire skin, an eye or under eye primer is especially designed to address problems of the sensitive skin around your eyes.
Does primer fill in wrinkles and fine lines?
Primers help smoothen out the appearance of lines and wrinkles so that when makeup is applied on the area, it does not crease.
Can I use concealer instead of eye primer?
Concealers just help in covering dark circles while primers can do that too, apart from smoothing out lines and wrinkles to make your makeup last longer.
Do you put face primer under your eyes?
You can put a face primer under your eyes too, but it is advisable to use an under-eye primer because the product is specifically designed to address problems such as under-eye lines, wrinkles, and dark circles.
What is the best under-eye primer for long-lasting eye makeup?
The Revlon PhotoReady Eye Primer is the best oil-free, long-lasting formula to get a smooth and flawless base for your makeup.
Recommended Articles