5 Bestselling Eyebrow Primers Of 2023
Create a smooth base for your eyebrows to make them look sharp and presentable.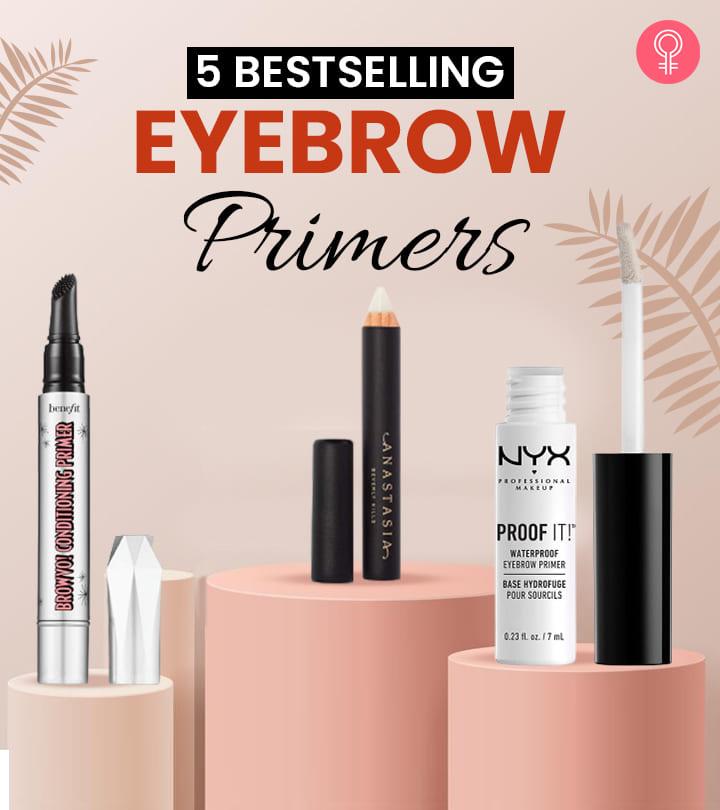 Your eyebrows don't need much, but they definitely can do with the best eyebrow primer you can find them. Quite low maintenance otherwise, eyebrows benefit from the use of a primer before you style them and shape them as you please with a pencil, powder, or gel. That's because the application of a primer creates a smooth base before you start working on your brows. We have collected the 5 most well-received primers available on the market that can help you get perfectly shaped and neat brows easily!
Top Picks
5 Best Selling Eyebrow Primers Of 2023
The Benefit BROWVO! Conditioning Primer is a nutrient-rich solution for voluminous eyebrows. It can be worn by itself to condition and smoothen the brows or as a primer to extend the stay of other eyebrow grooming products. The formula is enriched with keratin and soy proteins that make your brows thicker, fuller-looking, smoother, and healthier. Its clear gel formula suits all brows, and the custom soft-touch rubber applicator allows precise application. Watch this video to know more about the product.
Pros
 Enhances eyebrow growth
 Easy to apply
 Suita all brows
 Soft-touch applicator
Cons

Pro Tip
Use two shades of eyebrow pencil, one light and one dark. Use the darker shade to define the outer brows and the lighter one for the inner brows.
Price at the time of publication: $24.95
The Anastasia Beverly Hills Brow Primer is a colorless wax brow primer pencil that preps and primes your brows for a seamless eyebrow makeup application. With this clear brow primer, you can easily hold the hairs in place, fill in fine lines, and create a base for other eyebrow products. This primer is ideal for those with sparse brows and those who would like to achieve a cleaner-looking brow shape. This video will give you more insights into the product.
Pros
 Lightweight
 Long-wearing
 Easy to use
 Waterproof
 Cruelty-free
 Vegan
Cons
Price at the time of publication: $21
The NYX PROFESSIONAL MAKEUP Proof It! Waterproof Eyebrow Primer helps set your brows to achieve a flawless makeup look. This conditioning primer comes in a clear gel that is smooth, waterproof and does not fade or smudge even on the most humid days. This formula is designed for those with thin and sparse eyebrows to make them appear fuller. To make an informed decision before buying, you can check out this video.
Pros
 Waterproof
 Long-wearing
 Value for money
 Smudge-proof
 Fade-proof
 Easy to use
 Heat-resistant
Cons
None
Price at the time of publication: $24.95
If you are looking to get a fuller-brow look that stays all day, then look no further than the Itay Mineral Cosmetics Eyebrow Wax Primer. This primer wax works seamlessly well with keratin hair fibers and other eyebrow powders. The primer helps fill in all the gaps between the hairs to give you a flawlessly prepped base. Its gentle formula is suitable for all skin types.
Pros
 Suitable for all skin types
 Suitable for keratin hair fibers
 Paraben-free
 Lightweight
 Water-resistant
 Easy to use
 Long-wearing
 Value for money
Cons
None


Pro Tip
Massage your brows with warm castor oil every night and then comb them. This makes your brow hair grow thicker and shinier.
Price at the time of publication: $21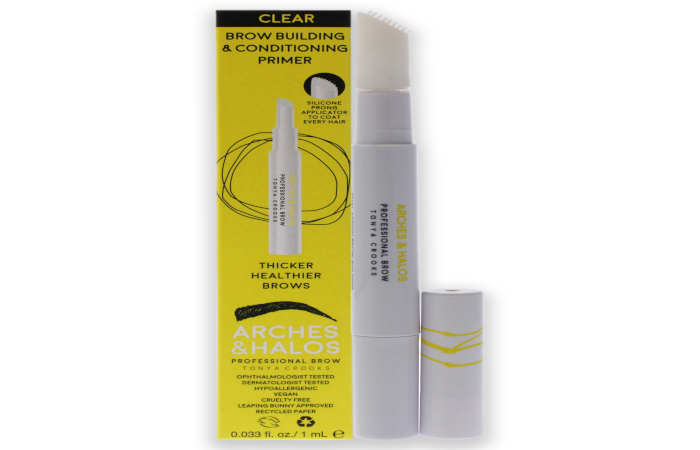 The Clear Brow Building & Conditioning Primer helps prep, prime, and condition eyebrows to look fuller, healthier, and denser. It also strengthens and protects your brow hair from breakage and nourishes and hydrates the hairs from the root. Its silicone prong applicator enables easy application to coat each hair strand.
Pros
 Cruelty-free
 Vegan
 Long-wearing
 Ophthalmologist-tested
 Hypoallergenic
 Dermatologist-tested
Cons
None


Pro Tip
Exfoliate your eyebrows twice a week, as dirt can get trapped in the brows too. Mix one teaspoon of olive oil with one teaspoon of sugar and scrub it well on your eyebrows, then rinse it off.
The market is flooded with several brow-related items including eyebrow primers. To choose the best eyebrow primer for the perfect makeup looks, keep in mind some important factors such as brow thickness, your skill level, and your natural hair color. Check out the buying guide given below for some more factors to keep in mind while making a choice.
Things To Keep In Mind While Choosing The Best Eyebrow Primers
Always check the ingredients list when purchasing any cosmetic product. The good ingredients to look out for in eyebrow primers are aqua, keratin, soy protein, phenoxyethanol, caprylyl glycol, panthenol, jojoba seed oil, olive oil, and fruit oil. Avoid products that include parabens, phthalates, sulfate, and other harmful chemicals.
Eyebrow primers come in different forms such as gel, cream, pencil, and powder. It is more convenient to use a cream eyebrow primer for better control than the other forms. The best products to use as a beginner are clear gels and eyebrow powders. On the other hand, it is challenging to use a gel form, as it can make your eyebrows too dark or thick.
Your brows will end up looking overly dark, chalky, or washed out if you use the wrong shade. Choose an eyebrow primer that complements your natural brow color if you use tinted gel. To highlight and define your brows using eyebrow powder, choose a shade that is two times darker than your natural hair color. If you go more than a shade darker than your natural color, the brow will come out looking unnaturally dark or overly dramatic.
Choose a lightweight, easy-to-apply, and blendable formula that is not greasy. Ensure the formula is skin-friendly and hypoallergenic. Choose dermatologist-tested products for sensitive skin concerns.
Perfect eyebrows can enhance your facial features. They do not require much maintenance but are crucial for a perfect makeup look. A right eyebrow primer care can definitely help to maintain the shape before you style your eyebrows with pencil, powder, or gel. The primer acts as a base for your eyebrows to make them look thicker, fuller, and smoother. This is ideal for those who have less eyebrow volume. They are long-lasting, waterproof, and easy to use. However, some products take longer to dry. Remember to choose products that match your skin type.
Why Trust Stylecraze?
Baishali Bhattacharya, the author, is certified in makeup artistry, meaning you're in good and reliable hands. After much research, she recommends using the above-listed primers to enhance your eyebrows. She spent many hours going through many product reviews across various forums to bring you this list. These primers were selected based on merits like the ease of use, benefits like brow growth, and durable applicator.
Frequently Asked Questions
Can I use a lash primer on my eyebrows?
Yes, use a lash primer on your eyebrows to make them appear thick if you do not have an eyebrow primer.
Should you do eyebrows first or foundation?
Make your eyebrows first, and then go for other makeup products, including foundation and eyeshadow.
Can I use an eyeshadow primer as an eyebrow primer?
Yes, you can use an eyeshadow primer as an eyebrow primer. However, it is always recommended to purchase a primer that is strictly meant for your eyebrows for a better finish.
How do you fill the top of your eyebrows?
Flick the pencil upwards to create more hair-like fine lines. Then fill in your eyebrow, starting from the top with lighter strokes.
Should you set your eyebrow primer with powder?
No, you need not set your eyebrow primer with any other product. Instead, start grooming your eyebrows after applying the primer.
Is an eyebrow primer the same as a face primer?
No, eyebrow primers and face primers differ in terms of ingredients and formula. Most face primers contain water and silicone, which makes the formulas smoother, while eye primers contain light adhesives that make the formulas last longer.
The following two tabs change content below.