11 Best Eyebrow Pomades That Will Give You The Best-Looking Brows
Define your brows with these eyebrow pomades and accentuate your facial structure.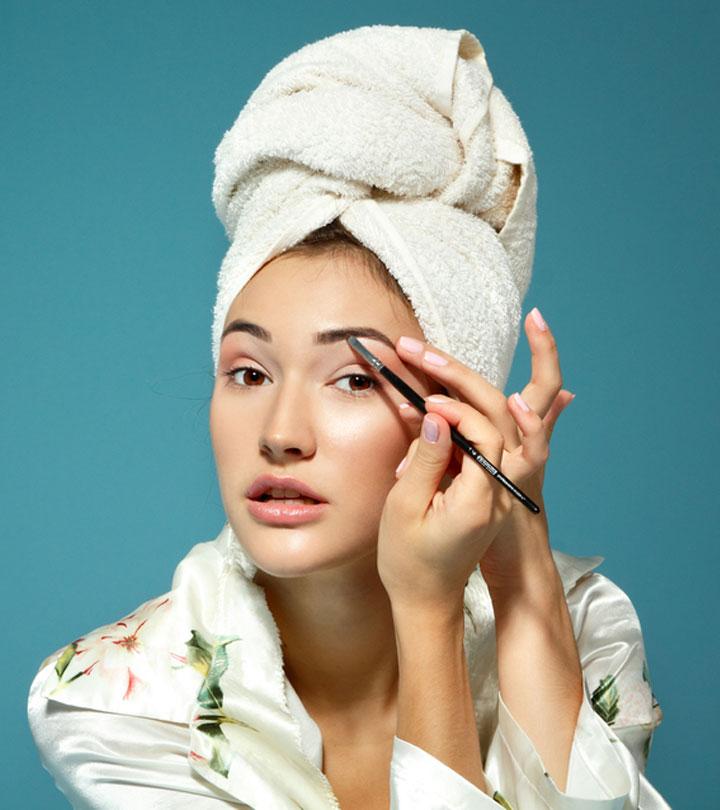 An eyebrow pomade is the key to getting perfectly shaped eyebrows. Therefore, in this article, we will acquaint you with the best eyebrow pomade that you must include in your makeup collection right away. Almost all professional makeup artists opine that perfectly groomed and well-defined eyebrows have all the abilities to enhance your look. From accentuating your eyes to framing your face, your eyebrows have the power to do it all. An eyebrow pomade helps you shape and transform your brows according to your wishes.
Although a good brow pencil and gel can work fine, not all feel comfortable using them. However, using brow pomades is much easy. They have a creamy and smooth texture, are waterproof, and have impressive staying power. To help you pick the best one, we have made a list of the 11 most effective eyebrow pomades that you must check now. Scroll down.
11 Best Eyebrow Pomades Of 2023
Take your arches to new heights with this brow pomade/color by Milani. With this pomade formula, you can fill your scanty eyebrows and sculpt them for a defined look. True to its name, this dipbrow gel pomade has excellent staying power with a wear time of 16 hours. Rest assured, it will last you all through the day and evening without the need for reapplication. Plus, the included dual-ended brush, featuring an angled wand on one end and a spoolie on the other, will help you achieve well-shaped brows. This video offers a more detailed explanation of the product.
Pros
Vegan formula
16-hour wear time
Available in 8 shades
Cruelty and paraben-free
Comes with a dual-ended brush
Cons
The brush may be flimsy.
May not be suitable for sensitive skin
Price at the time of publication: $19.49
Whether you're looking for a natural or a bold makeup look, this Maybelline New York TattooStudio™ Brow Pomade has you covered. Designed to fill and sculpt your eyebrows, this brow pomade comes in varied neutral shades to help you achieve natural-looking brows. However, this formula is buildable, so you can apply multiple strokes until you have attained thick eyebrows the way you want. It features a dual-ended applicator that delivers the optimum amount of product while also helping you blend the formula well. One of the best drugstore brow pomades, this formula offers a matte finish that lasts all day long without smudging. You may check this video for a better understanding of this product.
Pros
Highly pigmented
Waterproof pomade
Buildable coverage
24-hour wear
Transfer and smudge-proof
Comes with a dual-ended brush
Cons
Price at the time of publication: $8.77
If thick, fluffy Insta-worthy eyebrows are what your desire, we have the perfect product for you. Enter Anastasia Beverly Hills DIPBROW Pomade! This formula is super-creamy and ultra-pigmented, so a little goes a long way. Plus, it glides on smoothly to create a hair-like texture. This pomade is available in 11 shades with each hue designed for specific hair color and undertone. This Ebony shade is ideal for women with black brows that have warm undertones. Thanks to its waterproof property, this best eyebrow formula gives you enough time to blend before it sets into a matte finish while offering a long-lasting coverage. This video review will help you learn more about the product.
Pros
Vegan and cruelty-free
Can create a natural or bold look
Waterproof and long-lasting
Buildable formula
Doubles as an eyeshadow base to create a smokey eye look
Cons
Price at the time of publication: $21.0
Tired of using products that don't stay put and leave you with a face smeared with color by the end of the day? Well, then what you need is a waterproof product such as this Tame & Frame Tinted Brow Pomade. Rest assured, the color stays on your brows without smudging, come rain or sweat. This drugstore eyebrow pomade is affordable, easy to use, and glides on easily onto your skin and hair. Just a few short strokes are enough to give your brows a natural look. You can also add layers to add more fullness.
Pros
Cruelty-free and vegan
Fills sparse eyebrows
Waterproof
Available in 5 shades
Cons
Price at the time of publication: $6.5
Easy to apply, richly-pigmented, and featuring a creamy texture, this is one the best brow pomades you can get your hands on! It combines the function of powder, pencil, and gel in one formula. Although it is lightweight, this is a pigmented formula; so a little amount of the product can deliver an intense color pay-off. It glides effortlessly and blends smoothly to give you beautifully filled-in, sculpted eyebrows. This dip brow pomade is available in 3 different natural shades, so there is something for every hair color and tone. This Dark Brown shade is suitable for women who have dark brunette brow color.
Pros
Long-lasting
Highly pigmented
Comes with a dual-ended brush
Delivers smooth application
Cons
Tends to dry out fast
May contain glitter
Price at the time of publication: $6.99
One of the best drugstore eyebrow pomades, L'Oreal Paris Brow Stylist Frame And Set is crafted to give you well-shaped brows without breaking the bank. As the name suggests, this formula frames your eyebrows by filling and shaping them and creating the brow look you want. It comes with a makeup designer angled brush that allows you to draw hair-like lines and precisely shape the arches of your brows while the spoolie blends in the visible, harsh lines to create a more naturally defined look. This waterproof eyebrow pomade glides on smoothly onto your skin and hair and lasts all of 24 hours.
Pros
Lightweight formula
Smooth and creamy
Lasts for 24 hours
Sculpts and shapes your brows
Cons
Might clump during application
Price at the time of publication: $5.02
As you age, your eyebrows tend to become thin and scanty, either due to overplucking or hormonal changes. Not to worry! VERONNI Eyebrow Cream is a good eyebrow pomade for you as it fills your brows and gives them a gorgeous shape to make you look years younger. One of the best brow creams, it has a smooth consistency, so it is easy to apply and glides on effortlessly. Its waterproof quality ensures that it stays put without smudging and lasts all through the day until you're ready to remove it with a makeup remover. This formula contains a high concentration of pigments, so a little goes a long way.
Pros
Smudge and transfer-proof
Does not fade
Buildable formula
Includes a dual-ended angled brush + spoolie
Cons
Might not be easy to remove
Price at the time of publication: $6.88
Are you using a product that makes your eyebrows look fake? And no matter how much you try to blend, it never turns out right! Let's end that struggle of yours with this Brow Pomade by L.A. Girl. It comes in 6 intensely pigmented shades that deliver a natural finish. Plus, this formula has a super-creamy texture, which makes it easy to apply and blend. What we love the most about this formula is that it is water-resistant and long-lasting. It promises to last throughout the day and night without smudging or fading. This brow pomade can go a long way with just a little amount. Therefore, always start with a small amount of product, and build it up as you go.
Pros
Cruelty-free
Pigment-rich formula
Lends a natural finish
Stays put once dried
Blendable and buildable
Cons
May have a thick and waxy consistency
Price at the time of publication: $5.79
Fill and sculpt your brows with ease with this Easy Breezy Brow Sculpt + Set Pomade by COVERGIRL. This unique pomade product features a cream-gel formula and a built-in angled brow brush. If bold, sculpted brows are your thing, this rich, buildable pomade formula is the perfect beauty tool. Using the brush, sketch the natural arch of your eyebrows, fill in the gaps with a few strokes, and you're ready to go. All you will be left with is perfectly sculpted brows that last all day long. This product comes in multiple shades, so choose the one based on your eyebrow color.
Pros
Long-wearing
Easy to remove
Compact and portable
Lends perfectly defined brows
Delivers precise application
Cons
The brush might be too small.
Price at the time of publication: $4.4
Looking for a multifaceted product that will meet your every eye makeup need? This Lock On Liner And Brow Cream is your best bet! This product can do it all, from emphasizing your eyes to defining your eyebrows. This creamy formula glides on effortlessly when applied with a light hand, blends smoothly, and lends a perfect color. While this formula is excellent to fill in sparse eyebrows, it can also be used to give your naturally bushy, shapeless brows structure and shape. What's more? This formula can also be used as an eyeshadow.
Pros
Long-lasting
Creamy texture
Multipurpose product
Sculpts and defines your brows
Cons
Might not be pigmented enough
Do you wish to have thicker eyebrows with fuller arches? Try this Pomade and Powder Brow Duo and amplify your look to a whole new level. This part powder and part pomade formulation together will give you fuller, natural-looking brows. This product lets you custom-blend the shade you want to help accentuate the natural color of your eyebrows. While the creamy gel-like texture of the pomade goes on smoothly onto your skin to create thin, hair-like lines and coats your existing hair, the powder adds some much-needed depth.
Pros
Lightweight
Adds dimension
Wax + powder formula
Creates natural-looking brows
Glides on smoothly
Cons
Price at the time of publication: $27.99
If you are still unsure about which eyebrow pomade you prefer, here are a few points you could consider.
Buying Guide For The Best Pomade For Eyebrows
What Is An Eyebrow Pomade
An eyebrow pomade is a cream-based formula that comes packaged in a small container. It is used to fill sparse areas in your eyebrows. If you have thicker brows, this formula will help you define them.
How To Choose An Eyebrow Pomade
When it comes to buying a great brow pomade, it is all about choosing the right shade. If you're looking to fill your scanty eyebrows and want to create a natural effect, opt for a shade that is closest to your brow color.
If you prefer your eyebrows to look thicker and darker, you could opt for a shade darker than your natural eyebrow color.
An eyebrow pomade has a creamy consistency, so you can be sure that it will provide a smooth application. But you also need to ensure that the spoolie or brush that comes along with it has soft bristles so that it doesn't scratch your skin.
A formula that begins to flake in a couple of hours is a big no-no when it comes to eyebrow products. So, look for a long-wearing formula. In addition to that, if the pomade formula is waterproof, it's a bonus. So, you won't have to worry about rain or sweat ruining your look.
How To Use An Eyebrow Pomade
Make sure your eyebrows are clean. Soak a cotton pad with a cleansing liquid and wipe it over your brows. You could wash your face with lukewarm water and face wash.
Wipe your face with a towel.
Pluck stray hairs, if any, to give you brows a perfect shape.
Use a spoolie to brush out your brows and prep them for the pomade.
Coat an angled brush with a small amount of product. Wipe off any excess product at the back of your palm before applying it on your brows.
Outline the shape of your eyebrows by using short and light strokes.
Once you have outlined the top and bottom of your eyebrows, dip the angled brush in the pomade and fill in the sparse areas by making hair-like strokes. Always use a light hand to make it look more natural.
When it comes to pomades, less is always more. So build up the color as you go until you achieve your desired look.
Once again, using a spoolie, brush your brows, and blend the product.
Why Trust StyleCraze?
Chaitra Krishnan is a makeup and hair care enthusiast who put together this article on the best eyebrow pomades to give you the best-looking brows. These eyebrow pomades were selected after careful supervision of their quality and durability. Only the top-rated products were made it to the list. A buying guide was also prepared to help you choose the right product for your brows.
Frequently Asked Questions
Is a pencil or pomade better for eyebrows?
Both pencil and pomade are great beauty products for creating hair-like flicks and darkening your brows. Your ideal brow product may depend on your personal needs.
Is eyebrow pomade liquid?
An eyebrow pomade is not a liquid formula. It has a creamy or gel-like consistency.
Can your eyebrows be a different color than your hair?
Yes. It is normal for your eyebrows to be 1 or 2 shades lighter or darker than your natural hair color. However, this may not be true for everyone.
How do you get the perfect eyebrows?
Here are a few ways of getting perfect eyebrows.
• Use a tweezer to pluck out any stray hair.
• Use a light hand to mimic the look of hair and create hair-like lines of the same length.
• An eyebrow pomade and a spoolie brush go hand in hand. So, use a spoolie to blend harsh lines and even out the strokes.
How long does pomade last on eyebrows?
Pomade lasts around 24 hours on eyebrows.
Do you wet eyebrow pomade?
Yes, use a few drops of water if the eyebrow pomade dries out to make it usable again.
Can you use brow pomade as eyeliner?
Yes, you can use a brow pomade as eyeliner to add freshness to your eyes and make them look bolder.
Recommended Articles