The 11 Best Eyebrow Brushes For The Perfect Brows – 2023
It is time to use these professional brushes to give your eyebrows a perfect touch up!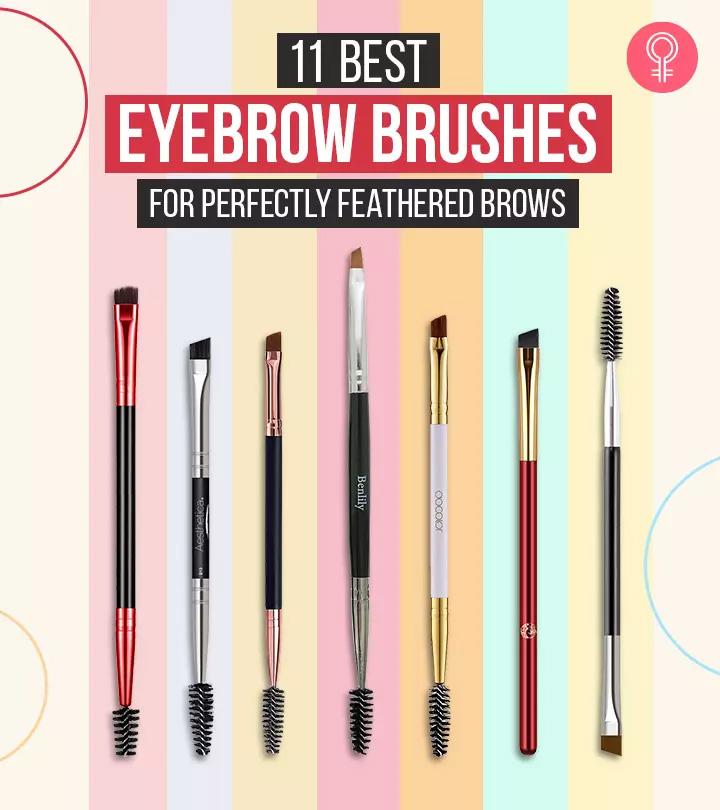 If you are unable to achieve the perfect well-defined, thick eyebrows, you must try the best eyebrows brushes available. They give you insta-worthy, well-created arches that look natural and extremely flawless. They make your eyebrows look fuller as they fill in the gaps and match your natural color of eyebrows.
If you are new to this bandwagon of eyebrow brushes, here we are to help you. We have listed below the 15 best eyebrow brushes to help you get the perfect eyebrow. From narrow to fine to thick to feathered, you can master all with these brushes.
Why Do People Care About Brows So Much?
If you want to enhance your appearance without any crazy facial enhancements, eyebrows are what you need to focus on. They accentuate your look and if properly shaped, they can make your eyes look bolder.
Let's take a look at the best eyebrow brushes on the market.
11 Best Eyebrow Brushes You Can Invest In
Pros
Blends perfectly
Easy to use
Firm bristles
Ergonomic shape
Cons
None
Price at the time of publication: $11.5
Pros
Firm bristles
Does not shed
Good control
Easy to use
Cons
None
Price at the time of publication: $5.99
Pros
Lightweight
Soft
Convenient length
Easy to use
Ergonomic design
Sturdy wand
Cons
Price at the time of publication: $7.95
Pros
Easy to use
Smooth application
Soft bristles
Easy to clean
Vegan
Cruelty-free
Cons
Price at the time of publication: $3.97
Pros
Ergonomic grip
Affordable
Durable
Cons
None
Pros
Lightweight
Easy to use
Ergonomic design
Sturdy wand
Easy to clean
Cons
Price at the time of publication: $18
Pros
Ergonomic handle
Anti-slip grip
Durable
Glides easily
Cons
None
Price at the time of publication: $37
Pros
Premium-quality bristles
Ergonomic handle
Efficient spoolie
Ideal for daily use
Cons
None
Price at the time of publication: $14
Pros
Ergonomic design
Lightweight
Offers precision
Vegan
Cons
None
Price at the time of publication: $13.98
Say goodbye to sloppy eyebrow applications and smudges with these professional angled brow brushes by Energy. They are made with high-quality synthetic bristles, which give you precise lines even in the slightest and hard-to-reach areas of your eyebrows. The brushes help fill, outline, blend and define your brows. They also double as eyeliner brushes to help you draw the perfect wings. These brushes work well with waxes, brow powders, and even gels.
Pros 
Easy grip handles
Precise control
Versatile
Vegan
Cruelty-free
Cons
None
Price at the time of publication: $7.99
This professional duo-sided product has an angled brush and a spoolie brush on each end for added convenience. It is made with high-quality steel and wood and is lightweight, durable, and easy to clean. The brush offers flawless eyebrow application and is suitable for home and professional use.
Pros
Easy grip handles
Precise control
Vegan
No shedding
Long-lasting
Easy to clean
Cruelty-free
Cons
None
Price at the time of publication: $3.95
Well-groomed, shaped, and filled eyebrows require effort, time, and several tools to achieve. Here is a step-by-step procedure on how to use an eyebrow brush.
How To Use An Eyebrow Brush
The three essential brow brushes are the mascara brush, spoolie, and slanted brow brush. Each brush has a distinct shape and offers different results.
The spoolie brush is used to shape your brows and blend your eyebrow fillers.
The mascara comb is used to tame and comb your brows.
The angled brush is used to apply the eyebrow fillers.
There are several brow filler formulas available on the market, from gels to pencils and powders. Choose the product that will help you achieve the look you desire.
If you use pomade or powder fillers, dip your angled brush into the product and tap off any excess. When applying the filler, start from the center and work your way to the edge, as this will allow you to create a natural-looking brow. Move the applicator towards your forehead in short, feathery motions without drawing any straight lines. Return to the arch and draw light strokes again. Repeat on the other brow.
After filling in your brows, you might notice some color patches. You can correct them with a spoolie brush by brushing them upwards several times until you are happy with the results.
Finally, highlight your brows with the light concealer by applying it around the ends. This helps define your eyebrows and gives you a professional look.
What kind of eyebrow brush should I use?
The ideal brush to use for your eyebrows is a spoolie or mascara brush. This spiraled bristle brush is used to blend in your eyebrow fillers and effectively shape your brows.
Should you wet your eyebrow brush?
You can use distilled or filtered water, makeup setting spray, or a makeup mixing medium. Avoid using tap water, as it tends to contain harmful bacteria. Also, do not dip the brush into the water, and don't get the eyeshadow wet. You want the brush to be damp, not soaking wet.
Can you use a toothbrush for your eyebrows?
Yes, you can use a toothbrush to tame your brows by using its presence to brush away any stray hairs. Then, just a quick spritz of hairspray to brush your brows in place can give you a flawless look!
Is it bad to brush your eyebrows?
No. Brushing your eyebrows helps to keep them in place and set their shape.
How often should I clean my eyebrow brush?
Clean your eyebrow brush every one or two weeks with a cleansing spray.
What are eyebrow brushes made of?
Eyebrow brushes feature firm nylon bristles that gently comb and straighten your brows.
How long does an eyebrow brush last?
Eyebrow brushes are usually long-lasting. Replace them after two to three years to keep achieving seamless eyebrow looks.
Can you use an eyebrow brush for eyelashes?
Yes. You may use an eyebrow brush for combing your lashes. It is effective in separating your lashes and lifting them slightly.
Which is the best time to brush my eyebrows?
Brush your eyebrows before sleeping to improve blood circulation and set them in place.