The 15 Best Brow Powders Of 2023 To Tame And Enhance Your Arches
Transform your dream of perfect bushy brows into reality with these brow products.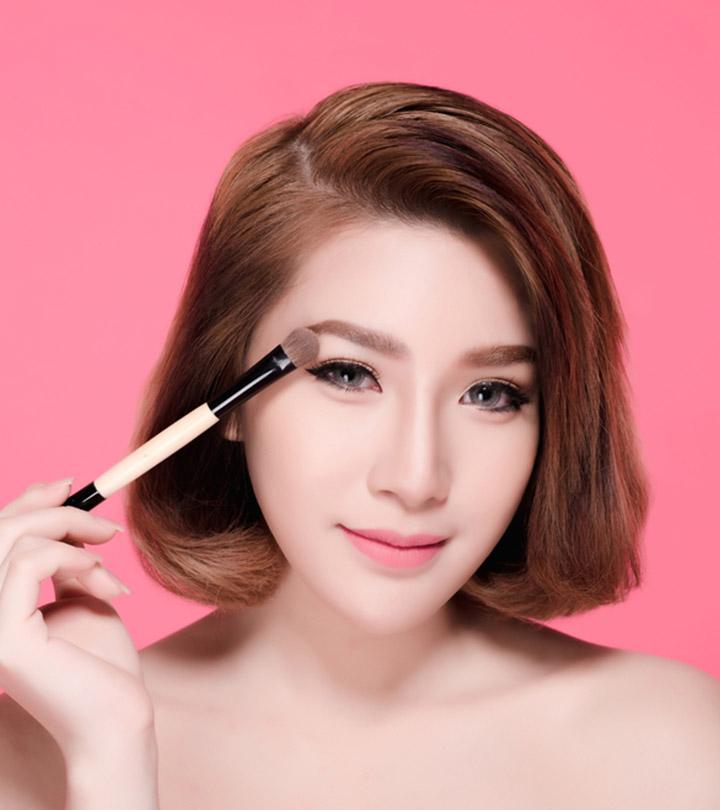 Eyebrows play a crucial role in framing your face, which is why people like to spend time and money on threading, lasering, or waxing to make sure the brows are prim and proper always. But if this is not your game but your desire to have perfect brows is still on, you must set your heart on the best eyebrow powder available in the market. You can use them to fill in the sparse areas of your rows. And yes, you can use them even if you have perfectly-shaped eyebrows. Now, to make your purchase easy, in this article, we have made a list of some of the most effective eyebrow powders that you must consider. So go ahead and pick your favorite!
What Does An Eyebrow Powder Do?
Brow powders are your one-stop-solution to fill in the tiny gaps in your eyebrows where some hair might've fallen out. Not only can you fill in sparse areas, but the finished look that eyebrow powders offer is so natural that it doesn't even look like you have any product on. Filled-in eyebrows give the illusion of thicker and fuller brows that are subtle and won't overpower your other facial features. They're ideal for daily use and if you want to go bold, you can always build on the formula for a stronger brow.
Get Fuller-Looking Brows With The 15 Best Eyebrow Powders In 2021
If sparse and thin eyebrows cause you sleepless nights, we'd like to introduce to you NYX's best drugstore brow powder. This eyebrow powder kit contains a slanted brush for easy, precise application and a spoolie wand for shaping, styling, and taming your eyebrows. There are 2 brow powders which can be used as is, or they can be blended to achieve your desired eyebrow shade, ranging from bold to subtle. The wax base helps keep your eyebrows in shape and makes them look fuller. NYX's drugstore brow powder is super lightweight and the kit allows for killer brows even when you're on-the-go! Here's a video featuring a detailed review of the product.
Pros
Comes with wax, 2 powders, and styling tools
Ideal for on-the-go
Easy to use
Lightweight powders
Vegan
Cruelty-free
Cons
The wax might get clumpy when not stored well
Price at the time of publication: $1231.0
You may not know it yet but this kit is all you'll ever need for salon-style brows, right at your fingertips! Rimmel's Brow Sculpting Kit comes with a brow powder, a wax to sculpt, a double-ended angled brush, and a spoolie to help improve your brow game. The tinted powder goes on smoothly for a natural matte look without leaving any messy residue and is incredibly lightweight. Easily fill in or fix your brows with Rimmel's long-lasting formula that stays put all day long. This video will help you understand the product better.
Pros
Contains brow powder, wax, and tools
Ideal for on-the-go
Gives a natural, matte finish
Lightweight formula
Rich pigment
Offers maximum coverage
Cons
Might have a short staying power on oily skin types
Price at the time of publication: $850
Palladio's natural eyebrow powder is all you need to enhance your brows when you begin your beauty routine. Whether it's for a date night or even a wedding party, well-defined brows can make quite the statement. You can achieve this with the Taupe shade, especially if you have blonde, light brown, or grey hair. With a blend of shea butter and jojoba oil, your eyebrows are going to be amply moisturized. The brow powder also comes with an applicator brush, so you can just pop the case open mid-travel and craft slay-worthy brows!
Pros
Gluten-free
Vegan
Travel-sized case
Comes with an applicator brush
Contains moisturizing ingredients
Easy to blend
Cons
Some may find it lightly pigmented
Price at the time of publication: $7.99
COVERGIRL's eyebrow filling powder kit contains 2 shades for filling the eyebrows and 1 for highlighting the brow bone for a well-sculpted look. As your eyebrows frame your face and decide how put-together your makeup looks, perfecting your brows is key. An angled brush for filling and shaping the brows and a softer, fluffier one to highlight comes with the kit, so you can create a full eyebrow look within minutes with no professional experience!
Pros
Powders for filling and highlighting
2-sided brush for application
Easy to blend
Ophthalmologically-tested
Buildable powders
Cons
Some people may find the pigments to be light
Price at the time of publication: $8.39
Maybelline is the drugstore makeup queen, and this applies to their eyebrow powders, too. With gentle, feather-like strokes, you can easily fill in your brows by following the natural shape of your brows. For thinning eyebrows, this eyebrow kit will come in handy as it has a small brush applicator, which makes it easy to get sharp eyebrows no matter where you may be. For a great drugstore eyebrow powder that goes on and blends easily for a natural-looking finish, look no further than Maybelline.
Pros
Easy to apply
Ideal for travel
Good coverage
Allows for easy blending
Helps fill in the gaps in eyebrows
Cons
Price at the time of publication: $14.99
Brow imperfections, be gone! Killer brows instantly lift up the entire face and this is the best brow powder for some envy-worthy eyebrows. For the most natural-looking brows, use this Eyebrow Powder by Marie-Jose & Co., as the soft finish is ideal for a subtle, everyday look. You're going to raise some eyebrows because of how eye-catching yours are and no one's going to know you even have the product on! As these brow powders are made with natural ingredients, they are a great alternative to products that contain dyes, as they are harsh on the skin.
Pros
Vegan
Cruelty-free
Hypoallergenic
Dermatologically tested
Gives a soft, natural finish
Long-lasting
Cons
Price at the time of publication: $15.95
Anastasia's Brow Powder Duo in Soft Brown is ideal if you have light brown hair with either cool or warm undertones. For an ombre brow, this 2-shade compact will give you a soft, natural finish as the powders are finely milled and super easy to blend together. You can easily build the look for a bolder brow and as the blending is seamless, you can go from simple to dramatic at just the flick of a brush! Either use the 2 powders for an ombre effect or use this Anastasia Brow Powder as a single color to fill in the gaps in your eyebrows for an instantly put-together look.
Pros
Can create an ombre effect
Gives a natural-looking finish
Buildable powders
Offers seamless blending
Comes with a mirror for touch-ups
Highly-pigmented shades
Cons
Price at the time of publication: $23
If you want to add a little definition to your brows, the Medium Brown in NuBeauti's eyebrow shaping powder will be your guide. Made with pure minerals, this brow powder with mica comes with an angled brush to help you control how dark and full you want your eyebrows to appear. Not only does the brush allow for better precision than a pencil, it's also useful to subtly cover up bald spots in your eyebrows for a natural look. For attention-worthy eyebrows at night or day, use this dark brown brow powder to carry you through it all.
Pros
Cruelty-free
Contains natural ingredients
Gives a subtle, natural look
Angled brush helps fill in gaps
Ideal for brunettes
Free of fragrance, talc, and parabens
Cons
Might not have a smooth texture
Price at the time of publication: $22.46
For all the beauties out there that are into natural makeup or are looking to make the switch, this is the best eyebrow powder for you! It's made of completely natural and organic ingredients and without the use of gluten. There are no preservatives nor artificial fragrances or colors in this top-rated eyebrow powder that also has a long staying power! As opposed to the drawn-on look that a pencil offers, this organic eyebrow powder lends a subtle look that's ideal for everyday wear. Additionally, you can also find skin-loving extracts of thyme, oregano, cinnamon, rosemary, lavender, and goldenseal, along with jojoba oil for moisturizing benefits. Transform your eyebrows from the inside out with Mom's Secret's brow defining powder.
Pros
Vegan eyebrow powder
Cruelty-free
All-natural and organic ingredients
Long-lasting wear
No fragrance, GMOs, or gluten
Waterproof formula
Cons
Some may find it slightly greasy
Price at the time of publication: $17
As the best drugstore eyebrow powder, this trio makes imperfect brows perfect again with its richly pigmented colors. Being resistant to water and sweat, don't sweat it when you happen to go on an impromptu swimming session or get soaked in the rain! With a 2-sided applicator brush, you can easily create professional-looking eyebrows even if you're just a beginner. Not only can you use this eyebrow powder palette for your brows, the shades also multitask as eyeshadows and to contour your face. The built-in mirror makes this brow powder kit oh-so-convenient to travel with, lest you need any emergency retouching! For a versatile and multi-use product, we think this is the best waterproof eyebrow powder palette.
Pros
Convenient for on-the-go
Shades can be used as eyeshadow, and for contouring
Comes with a mirror and 2-sided brush
Colors are richly pigmented
Lightweight formula
Cons
The shades may fade after a couple hours
Price at the time of publication: $7.99
As the name of this brand suggests, every woman deserves brows that look like a billion dollars. Their vegan eyebrow powder, even though super lightweight, vows to thicken up your sparse brows. And for effortless, expensive-looking brows, the pigments offer a rich color payoff and look vibrant yet natural, making this the best brow powder for blondes. Not only does Billion Dollar Brows' loose eyebrow powder provide long-lasting wear, it goes on like butter and comes off just as easily when you want it to! If you sport hair that falls anywhere between blonde, silver or grey, the Blonde eyebrow filling powder is yours to grab!
Pros
Thickens sparse brows
Lightweight formula
Gives a natural finish
Offers a natural sheen
Long-lasting
Cruelty-free and vegan
Cons
Might need more than 1 application for desired color
Price at the time of publication: $17.99
bareMinerals is a cult-loved beauty brand, and their Brow Color is the ideal choice to draw a natural-looking arch for the utmost definition. With seamless blending power, this powdered eyebrow makeup goes on uber-smoothly for brows that won't fail to impress. Whether it's a dreaded presentation at work or a cute amusement park date, your eyebrows need to be in their best shape for you to feel confident. Apply some of this waterproof eyebrow powder for some high-definition brows.
Pros
Easy to blend
Has a smooth texture
Natural-looking finish
Easy to clean up
Fills in the gaps in eyebrows
Rich pigment
Cons
May not be transfer-proof
Price at the time of publication: $59.95
Formulated for all the dark-haired queens out there, Benefit's hard-pressed, buildable duo contains the best powder for eyebrows. The smooth consistency goes on like a dream, is super easy to blend, and stays put for 12 whole hours! Go through your hectic work day without the need for retouching or even looking in the mirror. The eyebrow-shaped pan is a must-have if you love collecting uniquely packaged makeup and the inclusion of a spoolie brush and a blending sponge makes filling the brows a dream job. Bold yet natural-looking, your brows are going to be the talk of the town.
Pros
Makes eyebrows look naturally fuller
Smooth texture is easy to blend
Travel-sized
Powders go from light-to-dark
12-hour staying power
Comes with a blending sponge and spoolie brush
Cons
Price at the time of publication: $30.98
Due to its high pigment and easy-to-blend formula, ELLESY's dark grey eyebrow powder wins a gold medal. For a soft look that mimics your natural brows, this waterproof brow powder formula gives you an evenly distributed color for brows that don't lie. If you happen to have grey or light brown hair, this is the perfect shade to enhance your eyebrows to impress that special someone. With travel-sized packaging, just throw the compact in your bag for on-the-go touch-ups and say goodbye to thinning brows!
Pros
Highly pigmented
Ideal for travel
Offers seamless blending
Water-resistant
Cruelty-free
Vegan
Cons
May not offer long-lasting wear
Price at the time of publication: $9.99
Suitable for all skin types, Eye Embrace's Eyebrow Powder is the right match if you have grey, silver, or salt-and-pepper hair. And as the shade names suggest, use Warm Betty if your undertone is warm, and Cool Helen for cooler undertones. The powders blend easily to give your brows an instant lift and frame your face for a bold, striking look. You can also use these powders on your roots to give the illusion of thicker, fuller hair.
Pros
Gives a natural look
Gluten-free
Contains powders for warm and cool undertones
Ideal for silver or grey hair
Can be used to cover up roots
Suitable for all skin types and tones
Cruelty-free
Cons
Some may find the grey pigments to be too light
Price at the time of publication: $18.99
Now that we've gone over the best eyebrow powders out there, let's look at how you can pick the ideal one for yourself.
How To Choose The Best Eyebrow Powder
The best way to create a natural-looking brow look is to make sure your eyebrow powder matches your eyebrow color. If you go a shade lighter, it can look inconsistent and strange and a darker shade might make your eyebrows stand out and not in a good way. People with blonde hair should pick lighter colors and make sure to pick a tone that matches their hair. If you're a platinum blonde, you have cool undertones, and those with golden undertones are warm blondes.
If you're a brunette, make sure you pick a shade or two darker than your hair color and never pick a lighter one. Layering and building up powders can give a natural look to people with brown eyebrows. This also holds true for people with black hair as using an intensely black pigment will give you brows that are overly dark and look drawn-on. Choose a lighter shade and keep layering it until you reach your desired color. This way, you can create a soft brow look and subtly fill in the gaps for a natural-looking finish. Grey powders suit those with grey, silver, and salt-and-pepper hair. And if you do want to go for a bolder, striking look, don't hesitate to go a couple shades darker than your hair color. Choose a shade that complements the rest of your makeup and your whole face in general. Eyebrows should not appear as a standalone feature, but rather, they should be in tandem with your makeup look.
Eyebrow powders need to be applied with an angled or spoolie brush, which help in even application. You can also use a sponge to blend the colors or build them. A lot of eyebrow powder palettes and kits come equipped with the necessary brushes and these are ideal if you're traveling or a beginner. If not, you can always separately purchase a brush for filling in your brows.
Ensure that the eyebrow powders are finely milled and are not grainy. Lightweight powders are easier to apply, blend, and they give a natural look.
Now that you've purchased your favorite eyebrow powder, let's take a look at how you can use it for killer brows!
How To Use Eyebrow Powder
Step 1: Make sure you've finished with the rest of your base makeup like foundation, and concealer.
Step 2: Use a brow primer to allow the shade to stay put without budging.
Step 3: Choose your desired eyebrow powder color.
Step 4: Using an angled brush, dip it into the pot to get some powder and tap off the excess.
Step 5: You can use this or a soft eyebrow pencil to draw the outline of your brows.
Step 6: Fill in your brows gently, working from the beginning to the tip, covering the gaps.
Step 7: If you want a darker-looking brow, you can build on this to reach your desired color.
Why Trust StyleCraze?
The author of the article, Kirtana Divakar, is a skin and hair care enthusiast. She has curated this list of the best eyebrow powders for well-defined brows. The author has thoroughly researched to bring forth the list of the most perfect eyebrow powders that will help you keep your brows prim and proper. These products are lightweight, easy to use, and offer optimum coverage.
Frequently Asked Questions
Are eyebrow pencils better or eyebrow powders?
Pencils create a bold eyebrow look and might sometimes look harsh. Eyebrow powders, on the other hand, allow for a soft, subtle, and natural look.
Does eyebrow powder cause hair loss?
No, eyebrow powders have nothing to do with hair loss in the eyebrows. They are a great way to fill in some gaps and make your eyebrows look thicker and fuller.
How long does eyebrow powder last?
Eyebrow powders have a shelf life of between 12 to 18 months. But during the day, they may last anywhere between 8 to 12 hours and longer if they're also water-resistant.
Can eyebrow powders be used as eyeshadows?
Yes, eyebrow powders can multitask as eyeshadows as they're more or less made of the same formula.
What is the difference between eyeshadow and eyebrow powder?
Even though both have a powdery consistency, eyebrow powders are a slightly more difficult to blend compared to eyeshadows, which blend easily as they are lightweight powders.
Recommended Articles