10 Best Drugstore Deep Conditioners For Extremely Dry And Damaged Hair
Manage your frizzy, dry, and damaged manes and get silky, soft hair effortlessly!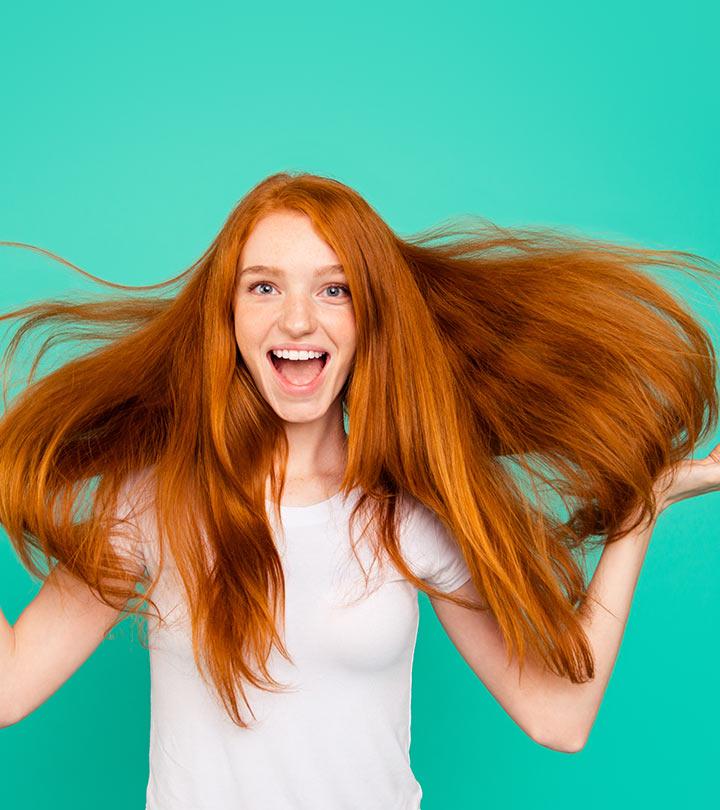 We all want soft, bouncy waves, and the quest for finding the perfect conditioner that won't burn a hole in your pocket is exhausting indeed. But don't worry, ladies, because all you need is the best drugstore deep conditioner for dry hair that will just do the trick. The ideal deep conditioner will moisturize your hair and fix all the dryness and damage from using the wrong products. It will also smoothen hair, leaving it soft, silky, and shiny. To make things easy for you, we have compiled a list of the top drugstore deep conditioners that have garnered numerous positive reviews on various e-commerce sites. They will keep the frizz monster at bay. Scroll down to know more!
Top 10 Drugstore Deep Conditioners For Incredibly Silky Hair
Reviewers can't stop raving about this amazing product. It's A 10 Miracle Deep Conditioner is designed to revitalize your hair and reverse the damage. It is a potent formula packed with essential hydrating ingredients, such as keratin amino acids, aloe vera, sunflower seed extract, linseed oil, apricot kernel oil, sweet almond oil, and Chinese tea leaf extract.
These natural ingredients help restore lost moisture and hair strength. They nourish dry, brittle, and damaged strands by infusing cuticles with proteins that make up hair. This deep conditioner claims to protect your hair color from fading and reduce brassiness. With regular use, this hair treatment improves the overall health of hair and scalp. The color-treated hair conditioner also claims to impart elasticity and shine to hair. This video review detailing a tester's experience will help you understand more about the product.
Pros
Adds life to dull hair
Protects hair against heat and sun damage
Makes hair smooth, silky, and strong
Provides antioxidants and nutrients to hair
Cons
None

Neutrogena Triple Moisture Daily Deep Conditioner is a salon-approved product that combines the restorative power of a deep treatment with a quick conditioning rinse to improve your hair's softness, smoothness, and manageability.
This scientifically proven formula contains three naturally derived extracts of olive, meadowfoam seed, and sweet almond. These botanical extracts help moisturize each strand to give you silky hair after just a single-use. Multiple reviewers have raved about its creamy formula that goes a long way to revive dull, unmanageable hair.
This protein-free deep conditioner is a perfect product from a dermatologist-recommended brand for extra-dry and over-processed hair. It improves the texture of hair after a single use, leaving it feeling soft and smooth all day. If you are still unsure, check out this honest review of a tester's experience of using this product.
Pros
Tames flyaways and frizz
Delivers quick results
Protects hair from further damage
Reduces split ends and breakage
Very moisturizing
Cons
None

Pura D'Or Deep Moisturizing Conditioner is a clinically tested formula that is proven to reduce breakage and thinning and increase volume, strength, and boost shine. It contains organic ingredients like argan oil, olive oil, pumpkin seed extract, biotin, apple oil, nettle, and aloe vera. This blend of organic extracts provides essential nutrients, intense moisture, and nourishment for soft, silky, and healthy-looking hair.
This conditioner claims to enhance shine, promote hair manageability, and nourish and detangle strands. This hair treatment moisturizes the scalp and promotes thicker and stronger hair. It also supports healthy hair growth. It helps revive dry, damaged, and distressed hair by increasing shine, strength, and luster. The product's salon-quality, frizz-free results have made it a favorite among reviewers.
Pros
Cruelty-free
Suitable for all hair types
Free of harmful chemicals
Reduces frizz
Detangles hair
Controls hair fall
Cons
Mixed Chicks Deep Conditioner is a cult-favorite hair-detangling product that curly-haired women swear by. It is an exclusive conditioning blend that leaves your hair soft, silky, moisturized, and manageable.
This creamy formula is rich in hair-detangling agents and penetrates and reconstructs damaged cuticles, transforming dry and frizzy hair into soft, resilient, and easy-to-maintain tresses. Several reviewers are also impressed by its lightweight texture that does not weigh down the hair. This conditioning mask is designed to detangle all hair types and is suitable for oily hair types too. Additionally, this product is not tested on animals. Click this video to learn about a tester's experience of using this hair-strengthening product.
Pros
Strengthens hair
Imparts moisture to dry hair
Adds life to dull hair
Controls frizz
Tames flyaways
Reduces heat damage
Cons
Aussie 3 Minute Miracle Moist Deep Conditioner has two awards in its kitty, including the 2011 and 2012 Allure Best Of Beauty Award and 2013 Glamour Glammy Award For "Best Conditioner."
It is a deep conditioning treatment with 3X the moisturizing power. If you want to transform your distressed locks into fabulous looking hair, this is the perfect product. It is a holy grail product as many reviewers testified that it has helped revive their dry hair, making it silky and shiny in just 3 minutes. This affordable hair mask is an intensely nourishing and hydrating formula, infused with potent organic ingredients like Australian aloe vera, avocado, jojoba oil, and sea kelp.
Pros
Incredibly hydrating and moisturizing.
Delivers quick results
Suitable for all hair types
Improves hair texture
Pleasant fragrance
Cons
This daily deep conditioner provides salon-grade results after just a single-use. It is formulated to infuse essential hair-softening agents to revive dry and damaged hair. This scientifically proven creamy formula with exotic apricot oil replenishes dry and brittle hair and imparts silky, soft, and healthy hair with intense shine. The lightweight formula also offers intense moisture treatment in comparison to normal conditioners.
The product claims to offer hair texture enhancement after the first use. It produces pure, sensorial, and luxurious lather with a fresh aromatic fragrance that lingers in your strands all day. This popular hair mask is also an affordable option.
Pros
Sulfate-free
Extremely hydrating
Non-greasy formula
Doesn't weigh your hair down
Pocket-friendly
Cons
Less quantity for the price.
This is the best deep conditioner for natural hair. Aunt Jackie's Coco Repair Coconut Creme Deep Conditioner is a creamy formula infused with nutrient-rich coconut oil, mango, flaxseed, and avocado.
This conditioner for color-treated hair is a restorative formula created especially to deliver nourishment from the root to the tip of a hair shaft to curb damage and breakage. It offers deep hydration to natural curls. This deep hair mask is formulated to revive chronically dry, distressed, and fragile 2c, 3c, and 4c hair types. It is an effective remedy to help make your hair look vibrant, voluminous, and lustrous. It is also an affordable hair mask.
Pros
Color-safe
Suitable for texturized and chemical-treated hair
Reduces breakage
Hydrates dry and brittle hair
Imparts shine
Cons
Takes time to deliver effective results.
Protect your hair naturally and effectively against brittleness, breakage, and split ends, and restore hair elasticity by incorporating Palmer's Cocoa Butter & Biotin Length Retention Deep Conditioner into your hair care routine. The hydrating hair mask moisturizes damaged hair to make it soft, smooth, and manageable. This conditioner is packed with nourishing ingredients like cocoa butter and biotin, which make the hair healthier, thicker, and stronger. This conditioner is ideal for curly hair, color-treated hair, and all-natural hair textures from 1-4C. This popular hair mask is also an affordable option.
Pros
Cruelty-free
Free of minerals
Free of silicone
Free of parabens
Free of phthalate
Free of gluten
Dye-free
Color safe
Cons
Some may find the smell overpowering
This repairing deep conditioner strengthens, restores, and smooths dry and damaged hair.
This deep hair mask is infused with nourishing ingredients like keratin serum, panthenol, and argan oil that make even the driest and most damaged hair soft, silky, and nourished. It is formulated to bring back lift into your luscious looking hair. This deep conditioning treatment reduces breakage, split ends, and frizz after just a single use. It is suitable for straight hair.
Pros
Moisturizes your hair
Free of sulfates, parabens, and gluten
Makes your hair stronger and healthier with use
Protects hair from further damage
Cons
Camille Rose Algae Renew Deep Conditioner is enriched with active ingredients like blue-green algae, mango butter, and hair-nourishing vitamins that revitalize and hydrate your hair in no time. Blue-green algae has proven efficacy in strengthening the hair follicles, and mango butter locks the moisture. This conditioner is great for dry and damaged hair.
Pros
Great for colored and chemically treated hair
Aids hair breakage prevention
Hydrating
Non-greasy formula
Imparts luster
Cost-effective
Cons
*The prices provided in this article are based on the latest available information. However, they may vary due to changes in pricing by the seller and/or promotional offers.
A deep conditioner is one of the best ways to revive distressed hair. If you want to transform your hair, pick your favorite product from the list, and witness the magic. Here are some benefits of using a deep conditioner
What Are The Benefits Of Deep Conditioners?
Add A Ton Of Moisture
Moisture is key to healthy hair. Lack of it can lead to dry, damaged, dull, and unmanageable hair with low hair porosity. Deep conditioners are usually packed with nourishing ingredients that help restore moisture to your hair, giving it a smoother, shinier, and healthier appearance. They also impart intense hydration to a dry scalp, preventing itching and flakes.
Prevent Damage
Incorporating deep conditioners into your hair care routine can help with hair damage prevention. These deep conditioners reduce split ends and breakage and improve your hair texture to a great extent. They also help treat and repair damaged cuticles.
Impart Shine
Frequent salon visits, heat styling, hair dyeing, and chemical treatments can make your hair dull and lifeless. These practices can strip moisture from your hair forever. To prevent this, use a deep conditioner twice a week to make dry and distressed locks shiny and silky. This will help smooth the hair shaft and bring back its natural shine.
Prevent Fading Of Hair Color
Since hair coloring is a chemical process, sometimes, it can alter your hair's structure forever. This can take a toll on the hair shaft, leaving it susceptible to dryness and breakage. To avoid this, use a professional-grade deep conditioner twice a week.
Here's how you can use a deep conditioner for best results. 
How To Use A Deep Conditioner
Most deep conditioners are recommended to be used twice a week.
Apply the deep conditioner evenly from the root to the tip of each strand.
Let it sit for a longer period than a regular conditioner to help penetrate your hair strands and repair damaged cuticles.
Ensure to blot off excess water as this will obstruct the conditioner from penetrating the cuticles.
Wash it off with cool water as this will close the cuticle and seal moisture in your hair to promote moisture retention.
Why Trust StyleCraze?
The author, Pooja Karkala, is a hair care enthusiast who loves trying out different formulations and products to keep the hair healthy. She hunted for the best drugstore deep conditioners for dry hair. She tried some of the products and checked brand websites and online user reviews to shortlist the products. These deep conditioners reduce dryness and damage and moisturize your hair, leaving them shiny and soft.
Frequently Asked Questions
Who should deep condition their hair?
Every person can benefit from deep conditioners, but it is strongly recommended for people with extremely dry, damaged, frizzy, and detangled hair.
How often do you deep condition your hair?
The standard recommendation is twice a week.
Is deep conditioner good for dry hair?
Yes. Deep conditioners contain a concentration of humectants that keeps your dry hair nourished for a long time. It also promotes hair rejuvenation, boosts elasticity, helps with hair repair, and keeps frizziness away from dry hair.
Can deep conditioning damage your dry hair?
No. Deep conditioning restores moisture in dry tresses and improves their feel and look. However, over-conditioning can interfere with your scalp's natural biome, so skip using deep conditioners daily.
Is it better to put a deep conditioner on wet or dry hair?
Apply the deep conditioner on wet hair to let your hair shaft absorb the essential nutrients from the product. Using a deep conditioner on dry hair can lead to product build-up.
Do you deep condition before or after shampoo?
Deep conditioners can be used both before or after using a shampoo. Follow the instructions given on the label to avoid damaging your tresses.
Can any conditioner be a deep conditioner?
No. A deep conditioner features concentrated humectants and emollients. It leaves your hair nourished for longer than a regular conditioner.
Recommended Articles