7 Best Baking Pans – 2021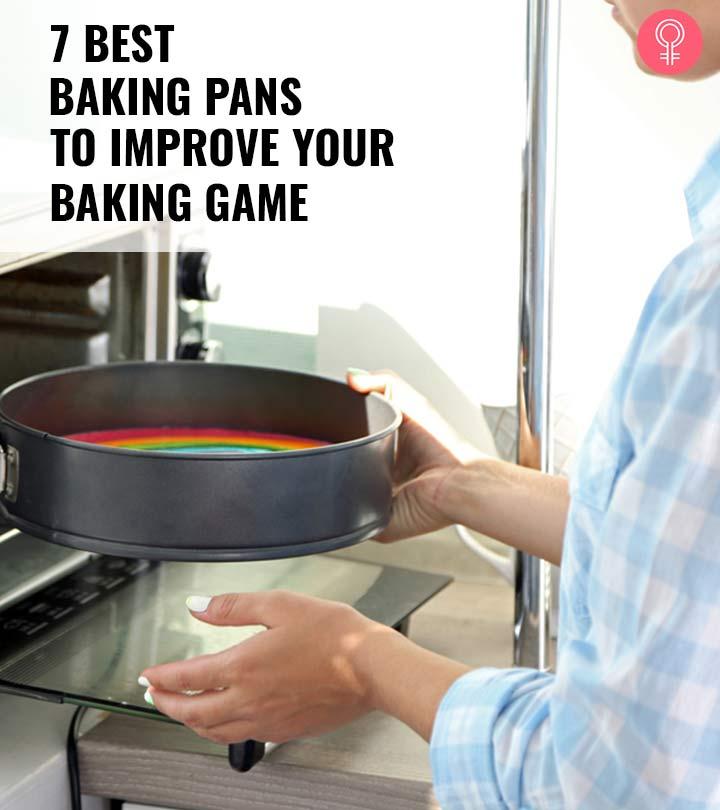 A baking pan is an essential piece of equipment in the kitchen. From everyday bread to festive desserts, most baking recipes require a good-quality baking pan. It can make or break a dish! It is a good idea to choose a reliable and durable baking pan to get consistent results every time. Non-stick coating prevents the food or cookie dough from sticking and causing a mess. Baking pans come in different sizes and models, and it can be confusing to choose the right one.
We have picked the 7 best baking pans to help you get started. Additionally, we have included the important factors to consider while choosing a good baking pan at the end of this article. Check them out below!
7 Best Baking Pans To Improve Your Baking Game
Wilton Performance Aluminum Square Pan is versatile enough to be used by everyone, from pastry chefs to home bakers. It is made of aluminum, which allows for uniform heat distribution. This even conduction helps in getting that beautifully even and light-golden finish. The pan is sturdy and does not warp easily. It is also rust-resistant. Another interesting use of this high-performance pan is that it can be used to make ice cream cakes!
Features
Material: Aluminium
Dimensions: 10″x 10 "x 2"
Pros
High-quality aluminum
Even heat distribution
Durable
Warp-resistant
Rust-resistant
Commercial-grade
Easy to clean
Lightweight
Cons
Can not be washed in a dishwasher
Nordic Ware Leakproof Springform Pan is made with a non-stick coating. This non-stick surface helps in easy release and mess-free cleaning. It comes with a smooth locking mechanism that helps in sealing the cake batter (with a 10-cup capacity) without any leaks. This pan is specially designed for baking cheesecakes. This professional baking pan is reliable and durable.
Features
Material: Steel
Dimensions: 12″ x 9.12″ x 3.13″
Pros
Affordable
Easy to assemble
Easy to clean
Non-stick coating
Leak-proof seal
10-cup capacity
Long-lasting
Suitable for cheesecakes
Cons
Not completely rust-resistant
The USA Pan Bakeware Aluminized Steel Loaf Pan is durable and easy to bake various breads, desserts, and cakes. It is made of aluminized steel that offers heavy-duty performance. It helps in the even distribution of heat required for baking. The steel wire in the rim provides extra support and prevents warping. It has a non-stick coating that aids easy and effortless release of the baked food and easy cleaning. This versatile meatloaf pan is free from PTFE, PFOA, and BPA.
Features
Material: Aluminized steel
Dimensions: 5″ x 4.5″ x 2.75″
Pros
Heavy-duty aluminized steel
Versatile
Easy to clean
Rimmed edges
Offers quick release
Stain-free
Stable
Retains heat longer
Reduced baking time
Cons
Calphalon Non-Stick Bakeware Set is made with a heavy-gauge steel core that does not warp. It distributes heat uniformly, so the baked cakes and other sweet treats are cooked evenly. The non-stick coating helps in the easy release of foods and cleaning. It has a beautiful and practical finish that is perfect for everyday use. This six-piece set includes two 8″ round cake pans, a 9″ x 13″ cake pan, a medium loaf pan, a 12-cup muffin pan, and a 10″ x 15″ cookie sheet. These baking pans can also be bought individually. They are dishwasher-safe and come with a full 10-year warranty. This versatile baking pan set gives you perfect baked goods every single time!
Features
Material: Heavy-gauge steel
Dimensions: 8″ round cake pans, 9″ x 13″ cake pan, a medium loaf pan, a 12-cup muffin pan, and a 10″ x 15″ cookie sheet
Pros
Durable
Functional
Warp-resistant
Oven-safe up to 450° F
Non-stick coating
Facilitates even browning
Dishwasher-safe
Cons
AmazonBasics Non-Stick Carbon Steel Baking Bread Pan measures 9.25″ x 5″. This rectangular pan is perfect for baking breads, casseroles, lasagna, and meatloaf as it has deep walls. This handy baking pan heats up quickly and evenly and is durable. The non-stick coating helps in the effortless release of food and easy clean-up. It can withstand oven temperatures up to 500° F. It also comes with a one-year warranty.
Features
Material: Carbon steel
Dimensions: 25″ x 5″ 
Pros
Made of heavy-weight carbon steel
Non-stick coating ensures
Offers easy release
Oven-safe up to 500° F
1-year limited warranty
Cons
Not rust-proof
Not dishwasher-safe
Farberware 47742 Non-Stick 12-Cup Muffin Tin is durable, non-stick, and warp-proof. It heats up evenly and prevents hot spots. It is easy to clean, and the non-stick coating helps in easy food release. It withstands temperatures up to 450° F. It comes with a protective lid made of plastic.
Features
Material: Steel
Dimensions: 15.5″ x 10.5 "x 1.75"
Pros
Heavy-duty
Reliable
Warp-resistant
Heats up evenly
Offers easy food release
Easy to clean
Oven-safe up to 450° F
High-quality
Cons
Wilton Perfect Results Non-Stick Mini Loaf Pan is made with heavy-duty cold-rolled steel. This durable non-stick pan has oversized handles that are convenient to use. It is also dishwasher-safe. This baking pan can be used to prepare layer cakes and other baked goods. It comes with a 10-year warranty. 
Features
Material: Steel
Dimensions: 10″ x 15″
Cavity Size: 3.8″ x 2.5″ 
Pros
Versatile
Secure grip
Made of steel
Offers easy release
Easy to clean
Dishwasher-safe
Cons
None
These are the 7 best baking pans currently available. Now, let us look at a few important features to keep in mind before buying a baking pan. 
Key Factors To Consider When Buying A Baking Pan
Heat Conductivity: It is important to choose materials that are resistant to high temperatures as well as conduct heat uniformly. This helps in even baking. Aluminum is a good choice, but it is prone to corrosion. Steel is lightweight and tough, but it takes time to reach high temperatures. Carbon steel is another popular material used as it is a good conductor of heat. However, it warps and rusts easily. Aluminized steel is a superior choice as it is rust-resistant.
Pan Size: Make sure to measure both the exterior and interior dimensions of the pan to determine the size accurately. It should be compatible with your oven rack and easy to store. Choose the right size for your needs.
Versatility: Most baking equipment is interchangeable. However, keep in mind that it is prudent to follow the manufacturer's instructions for the best results.
Performance: Insulated baking pans or double-layered pans help in uniform baking. Additional features like raised base and rims help in improving the process of baking. Baking time is another important factor to consider here.
Handle Design: Good handle design ensures a strong grip. It is convenient to carry and use the baking pans with ergonomically designed handles.
One Piece Or Bakeware Sets: It is important to choose between an individual baking pan and a set, depending on your requirement. For high performance, individual products are preferred. A bakeware set allows for versatility to try out different types of recipes.
Ease Of Maintenance: Look for baking pans that are easy to maintain and durable.
Baking Experience: It is better to choose baking pans that require as little prep time as possible. This saves up the time and effort of using parchment paper or cooking oil to grease the pan.
Easy Of Cleaning: Look for dishwasher-safe materials while choosing a baking pan. Non-stick pans are better as they offer easy release of food and prevent the food from sticking. Thus, they save you the trouble of scrubbing and can be washed by hand easily.
Cost: There are various factors like size, material, and performance that determine the cost of a baking pan. Look for durable baking pans within your budget. 
Baking is a skill that can be honed with the right equipment. It is important to choose a baking pan that is made of the right material and distributes heat evenly. It should be durable, versatile, rust-resistant, warp-resistant, and easy to clean and maintain.
Expert's Answers for Readers Questions
Is it better to bake a cake in a glass pan or a metal pan?
Baking pans made of metal can withstand high temperatures and conduct heat better than glass pans. For an evenly baked cake, it is better to use a metal pan.
Are aluminum baking pans safe?
Aluminum pans are considered safe for baking. However, keep in mind that untreated aluminum can react with acidic food and corrode.
Is aluminum or stainless steel better for baking?
Aluminum pans have superior heat conductivity, while stainless steel is durable and resistant to rust and warping.
Recommended Articles