11 Best Nail Stamping Kits Of 2023 – Reviews And Buying Guide
Cancel your manicure appointment and create pretty nail designs with these at-home kits.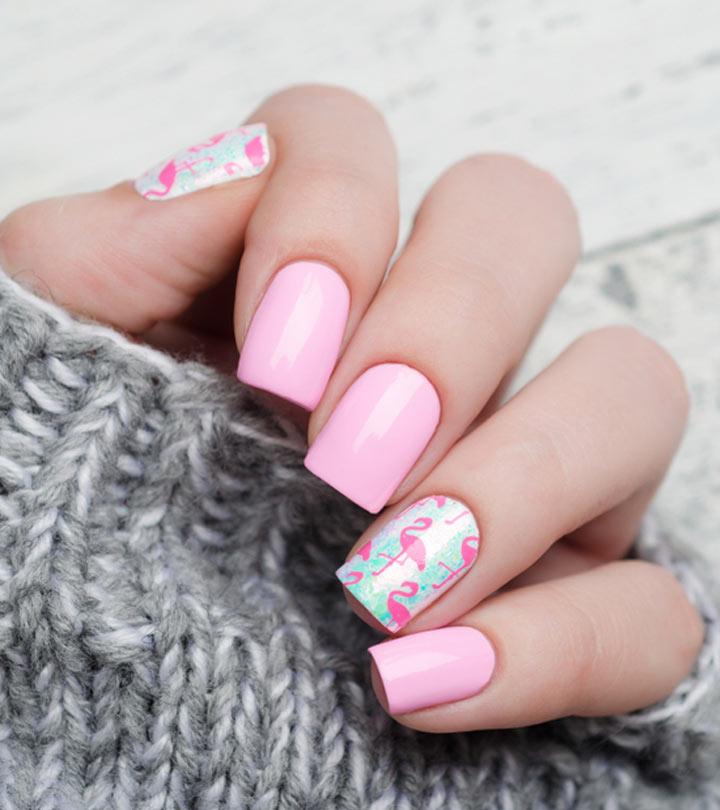 The best nail stamping kits should include simple equipment and a range of styles to enable you to create beautiful designs in the comfort of your home. Nail art is never getting out of style. But it can get expensive real quick if you have to keep visiting nail salons to keep up with your favorite trends and nail art styles. And that is why nail art stamping is the way to go whether you prefer bold, detailed patterns, simple prints, or fun and quirky designs.
However, achieving a flawless design may not be as straightforward as it appears. So, you will want to invest in a good nail stamping kit so that you can create some amazing nail art designs. We have got you a list of the 11 finest nail stamping kits to jazz up your nails if you are getting tired of boring nails and want to step up your nail art game! Read on and take your pick.
11 Best Nail Stamping Kits That Will Make Your Nails Look Unique And Stylish
Want pretty French tips but you keep messing it up trying to do it by hand? Don't worry, the BTArtbox French Tip Nail Tools is specifically designed to make sure you perfect the best nail art designs. This silicone nail stamper can be used more than 100 times and applied accurately. After using the stamper on the nails, there is absolutely no scratch or imprint, and its jelly head allows for the long nails to press in for a perfect French tip. The package includes a nail stamper, a nail scraper, and a replaceable silicone stamper head.
Pros
High-quality material
Stamping plates have a smooth surface
Nail color goes on smoothly
Easy to clean
Use with gel or acrylic nail polish
Cons
The silicone head might feel hard
Price at the time of publication: $6.39
With 24 stamping plates and 144 patterns, you can create an endless number of designs. The stamping plates measure 1.8 inches and are made of stainless steel, which makes it durable. Each plate features 6 different patterns that are nicely etched to create flawless designs, while the smooth surface makes it comfortable to handle. In addition to that, the stamping plates feature a protective nylon film that has to be peeled off before usage. As the name suggests, this kit is focussed on all things love and makes for a perfect stamping kit to create Valentine's day-inspired designs. For a more detailed review of this product, here's a video.
Pros
144 designs
High-quality material
Stamping plates have a smooth surface
Nail color goes on smoothly over the plates
Comes with a storage case (color may vary)
Cons
The etchings may not be deep enough.
Price at the time of publication: $13.55
Invest in a good quality nail stamping set such as this one, and you won't have to visit a salon to get a perfect manicure again. Biutee Nail Stamping Set includes 15 nail art plates made of high-quality 304 stainless steel, so rest assured they will last you a long time. With so many designs to choose from, such as mandalas, leaves, animals, flowers, and messages like 'Happy girls are the prettiest' and 'I love you,' you can create a variety of nail art looks. This set also includes a stamper, 2 plastic scrapers, and a PU leather storage bag for stamping polish storage. Know more about this product in this video.
Pros
15 pieces of stamping plates
Smoothly transfers the design onto nails
The bag is available in different colors – pink, black, rose, and blue.
Cons
The stamper may not be durable.
Price at the time of publication: $17.99
If you want to go all out and embellish your nails for your wedding or an evening party, this nail art kit has the right accessories to create unique nail stamping patterns. It includes 2 boxes of rhinestones in different sizes, shapes, and colors to help you achieve your desired look. You could use the included holographic nail striping tape lines and double-sided dotting tools to create more beautiful designs. This kit comes with 3 stainless steel stamping image plates featuring various designs, a pink stamper, a scraper, and 3 sheets of water transfer nail decals. For long-lasting results, apply a top coat after you have decorated your nails with your favorite design.
Pros
10 rolls of nail striping lines
5 pieces of dotting pens
The stamping plates have a blue film covering
Dotting pens can also be used as rhinestone pickers
Striping lines are suitable for natural and artificial nails
Cons
The designs on the stamping plate may not be deep enough.
Price at the time of publication: $9.99
Mcwdoit Nail Art Stamping Kit is perfect for beginners who have just begun to explore the nail art game. This nail stamping kit contents include everything you need – 8 stamping gel polishes, 2 liquid latex peel-off tapes, 4 nail art stamping plates, 2 stampers, and 2 scrapers. The nail stamping polishes are made of natural resin and come in various colors, such as yellow, red, white, and golden. Since they are gel polishes, they are thicker than regular polishes and work excellently well for nail stamping. But do remember to cure with UV/LED light after each application. The plates are made of stainless steel, and feature images like hearts, rose, bike, and Halloween-inspired designs.
Pros
8 pieces of polishes
Non-toxic gel polishes
Transparent stampers
Durable stamping plates
The latex peel-off tapes come in 2 colors – pink and white
Cons
The stamper may be fragile
Transferring designs onto your nails is easy when you have a clear nail stamper. This creative nail stamping kit includes 3 transparent stampers that help you achieve accurate application. Made with silicone, each stamper head is super squishy and measures 1.10 inches to fit most nail sizes. Plus, they pick up patterns well from a stamping plate and neatly transfer them to your nails. This affordable package also comes with 3 scrapers with a sandy surface. They are thin yet firm and comfortable to hold and makes scraping out extra nail polish from the plates easy.
Pros
Easy to use
Soft and gentle clear stampers
Stiff sandy scrapers
Includes 3 extra replaceable stamper heads
Cons
The stamper heads may tear after a few uses.
Price at the time of publication: $6.99
With 4 stamping plates and over 70 designs, there is something for everyone. Made of high-grade stainless steel, each nail stamping plate has its own themed designs printed on one side of the plate. From optical illusion-inspired prints and mandalas to geometric shapes and leaves, the plates come engraved with a variety of patterns. One of the best nail stamping plates, they feature etchings that are deeply carved to ensure you create perfect designs with crisp lines for a professional finish. Moreover, the stamping plates are covered with a blue protective film that makes them less vulnerable to scratches.
Pros
Durable stainless steel
Deep and fine carvings
The blue film prevents damage
Salon-quality results
Cons
May not work well with regular or gel polish
Price at the time of publication: $12.99
This stamping kit is perfect for adding to your growing collection of nail art tools. It includes 3 stamping plates, a stamper, and a scraper. Made of stainless steel, the nail art stencils are sturdy and durable. The best thing about the plates is that they feature etchings on both sides, which means you have more number of designs to select. From tiny patterns to big prints in different themes, the stamping plates have it all. The images are carved deep enough to hold enough polish so that you attain exact designs with clean lines. As for the clear silicone stamper, it fits almost all nail sizes, is soft, and picks up patterns easily.
Pros
Easy to use
Firm scraper
Double-sided design plates
Includes a blue protective film
Plates have sandy edges
See-through stamper delivers accurate stamping
Cons
The stencil may be difficult to clean
The stamper might be a little oily
Price at the time of publication: $5.99
Are you planning to do nail art at home for the first time? Give this nail art stamping kit a try! This set contains 10 pieces of plastic stamping plates, a clear nail stamper, and a scraper. There is a range of designs in the stamping plates from stars to cats to yin and yang. The carvings on the stencil have a moderate depth to hold enough polish and help create designs without blurred effect. All while the see-through stamper picks up images correctly for precise application. For best results, use it with special stamping polish.
Pros
10 stamping plates
Reusable plastic
Etchings are craved deep enough
Clear silicone stamper
Cons
The designs might be too small.
Using a nail stamping plate is one of the easiest ways of experimenting with your DIY manicure. This nail art kit comes with 5 regular-size nail stamping plates made of durable stainless steel. Although each nail art stencil has no set theme with regards to the images, they do feature an array of designs in varied sizes. Take your pick from owls, cows, bats, flowers, and stars, and go onto creating some fantastic nail art. This kit also includes a peel-off latex tape, 2 silicone stampers (soft and hard), and 2 scrapers. If you have just begun to do nail art, it's always best to use liquid latex around your nails to keep your cuticles clean and free from polish.
Pros
5 durable stencils
Liquid latex peels off easily
Includes 2 stampers with different sized heads
Cons
Some designs might be too big for small nails.
Price at the time of publication: $9.99
With this nail art stamping kit in your beauty arsenal, you will never run out of ideas when creating different designs. It includes 10 stamping plates featuring a wide selection of designs like a dreamcatcher, half mandalas, flowers, and abstract patterns. Plus, it comes with 1 double-sided stamper and 1 scraper. Each plate features well-etched designs and comes with a blue film that is removable. The pink stamper has 2 sides – a big, slightly firm stamper head on one side and a hard and small head on the other. This set also makes for a great starter kit if you are just getting into nail stamping.
Pros
Double-sided stamper
Flexible and firm scraper
Deeply etched patterns
Wide variety of designs
Cons
The stamping plates may have sharp edges.
Price at the time of publication: $9.99
In the next section, we have put down a few points to help you pick the right nail stamping kit.
Buying Guide
How To Select A Nail Stamping Kit
Stamping Plate: Stamping plates are available in 2 materials. If you are looking for something that will last for a long time, opt for a stainless steel plate. They are stronger and more durable than plastic ones. Plus, the best stamping plates should feature designs that are well-carved and deep enough, as it will help you achieve crisp lines.
Stamper: The best nail stamper should have a soft, transparent head that smoothly rolls onto your nails without ruining the design. Plus, if it has a clear head, it will help you see where you are placing the print. However, you could use a colored stamper or one with a firm head once you have become an expert at nail stamping.
Scraper: A scraper is one of the most important nail stamping tools as it helps remove excess nail polish on the plate. The scraper should be thin yet tough and comfortable to hold.
Polish: Not all professional nail stamping kits come with nail polishes. But if you do want a polish along with other tools, make sure it is a stamping nail polish, which is specially designed for nail art.
Other Tools: If you want something more than just the basic nail stamping tools, you could opt for kits that come with rhinestones, peel-off liquid latex, dotting tools, or nail brushes or all of them.
How To Use A Nail Stamping Kit
Step 1: Once you have selected the design you want, lay out all the required tools.
Step 2: Prep your nails. Apply a layer of liquid latex peel-off tape around the skin surrounding your nails.
Step 3: Apply a thin layer of special stamping polish to the chosen design on the plate.
Step 4: Use a scraper to remove excess polish. Remember to use a light hand, hold the tool at a 45° angle, and swipe it towards one side or downward.
Step 5: Roll the stamper lightly over the design.
Step 6: Quickly transfer the design onto your nails.
Step 7: Peel off the latex barrier.
Step 8: Cure or dry your nails.
Step 9: Finish off with a single layer or multiple layers of top coat for long-lasting wear.
Benefits Of Using A Nail Stamping Kit
Easy to use.
Create designs using reverse stamping techniques.
Variety of styles and designs to choose from.
Cuts down the time and cost of salon visits.
It helps you achieve beautifully detailed designs that may not be possible to draw by hand.
Why Trust Stylecraze?
Srijita De is a highly-skilled writer specializing in makeup products. She brings well-researched content to provide the best makeup recommendations for her readers. She has presented a list of the best nail stamping kits in this post. For all the nail art enthusiasts, here is a whole new dimension to bring you choices like never before. She has ensured to check the products' durability, quality, and cost-effectiveness to provide this wholesome collection of nail stamps to you.
Frequently Asked Questions
How hard is nail stamping?
If you have access to the right tools, nail stamping is quite an easy technique. That said, not everyone achieves fantastic results the first time. Most of them struggle a little while using a stamper because the first few times, you might not know how much pressure needs to be applied while holding and rolling it over a design. A little practice is all you require.
Can any nail polish be used for stamping?
It is recommended that you use a stamping polish for nail stamping purposes. It is creamy, thick and highly pigmented and is easy to pick (with a stamper). But a nail polish that is thicker and gives your nails full coverage in a single coat would also work.
What do you need for nail stamping?
You will need nail stamping plates, a clear stamper, a stamping polish, and a scraper.
Can you use shellac for nail stamping?
Shellac may not work well for nail stamping since it is not a pigmented polish. Also, using shellac for stamping might be more time-consuming.
Do you need special nail polish for stamping?
Yes. Although regular nail polish can be used for stamping, it is not recommended. Stamping nail polishes are designed to last longer. Also, they are creamier and more pigmented and take up designs quickly for a clean and seamless transfer.
Is nail stamping still popular?
Yes. Nail stamping is still a new nail art technique, but it is gaining popularity because of its ease of use.
What's the difference between stamping polish and regular nail polish?
Stamping polish is more pigmented, thicker, and takes longer to dry than regular nail polish. Also, it is easier to remove than ordinary nail polish.
Can gel polish be used for nail stamping?
Yes, nail stamping over gel polish is safe.
Do you use a top coat before nail stamping?
Yes, a top coat is applied before nail stamping. Apply a topcoat after the base coat and polishing have dried.