15 Best Copper Peptide Serums
Turn back the clock on aging and shrink large pores to look youthful and radiant.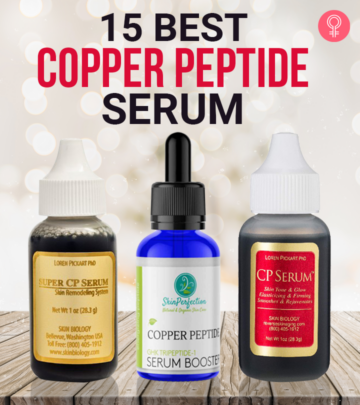 While aging is inevitable and irreversible, thanks to science and advanced skin care technologies, we have some miraculous products in tiny bottles that reduce its evident signs and effects! If you don't believe that, try getting your hands on a bottle of the best copper peptide serum to begin with.
Copper peptides are a recent advancement in the beauty industry. They help increase your skin's elasticity and stimulate more collagen production to make your face look smooth, radiant, and youthful. They also help reduce fine lines and wrinkles, making you look as young and beautiful as ever. Pick any of the 15 best copper peptide serums listed below and see the difference for yourself!
What Are Copper Peptides?
Peptides are naturally occurring amino acids beneficial to your hair and skin. They help stimulate collagen and elastin our skin otherwise loses with age, smoking, or excess sun exposure.
These peptides are scientifically known as glycyl-L-histidyl-L-lysine (GHK), which combine well with copper enzymes. Products infused with peptides stimulate collagen production and boost skin elasticity. They can address fine lines, wrinkles, and enlarged pores. We look at such products in the following section.
15 Best Copper Peptide Serums
The MYM Advanced Derma Rolling Serum reduces the overall appearance of wrinkles and fine lines, aids in acne scar reduction and fades stretch marks by boosting collagen production. It contains a potent combination of copper-3-peptide, apple stem cells, and Argireline. Copper-3-peptide rebuilds the skin structure as it increases collagen I, III, and IV. You will notice visible results with continuous use of this product. Apple stem cells can reduce the intensity of wrinkles by 15% in 15 days, and Argireline can reduce the depth of wrinkles by 25% in just 10 days. It works best when used with a derma roller. Argireline also relaxes the facial muscles and slows down the formation of new wrinkles.
Pros
Reduces skin inflammation
Treats hyperpigmentation
Accelerates wound healing
Cons
None
Price at the time of publication: $22.95
The Complete Skin Solutions Copper Peptide Serum is formulated in an FDA-registered lab in the US. This serum has among the safest formulas on the market. It detoxifies your skin and also shields your skin from the harmful UV rays. This organic copper peptide serum will rejuvenate your skin and hydrate and moisturize it. The serum also heals micro-wounds.
Pros
Hydrates skin
Detoxifies skin
Cons
None

Price at the time of publication: $30.99
The Skin Perfection Copper Peptide Serum Booster helps minimize crow's feet, fine lines, and wrinkles. You can mix this booster with your other lotions, moisturizers, or even your shampoo or conditioner to get the best results. This product offers you undiluted copper peptides that can be added to any of your favorite skincare products. However, it cannot be used as a standalone product. It comes with a serum booster chart.
Pros
Contains undiluted copper peptides
Serum booster chart included
Cons
Cannot be used as a standalone product
Price at the time of publication: $29.95
This copper peptide serum by Skin Biology improves the appearance of scarred skin. It helps fade wrinkles and fine lines and makes skin firmer and tighter. It is formulated by Dr. Loren Pickart and contains hydroxy acid serums, retinol, and other anti-aging ingredients. This pore-minimizing serum helps restore your youthful appearance and radiant complexion by diminishing surface wrinkles and blemishes.
Pros
Minimizes scars
Clarifies oily skin
Paraben-free
Dye-free
Artificial color-free
Cons
None
Price at the time of publication: $32.44
The Super CP Serum works best on mature skin. It helps fade wrinkles and firms your skin. The serum is compatible with AHAs and retinol. It also helps remove the damaged skin proteins. It promotes wound healing in those dealing with diabetes.
This anti-aging serum works by helping the skin tighten its barrier, which boosts collagen and elastin density. It boosts natural defenses and increases collagen and elastin production.
Pros
Removes damaged skin proteins
Promotes wound healing
Cons
Contains parabens
Price at the time of publication: $29.93
The Biossance Squalane + Copper Peptide Rapid Plumping Serum imparts long-lasting moisturization to your skin. The plumping serum visibly hydrates and plums your skin. The formula is infused with a clinically-tested rapid collagen-boosting copper peptide that reduces the appearance of fine lines and wrinkles. The rich blend of three moisturizing ingredients, hyaluronic acid, polyglutamic acid, and squalene, firms your skin. The lightweight formula of the blue elixir easily spreads onto the skin and results in silky-smooth textured skin. This results-driven product is ideal for those who are looking for something that is not tested on animals.
Pros
Non-sticky
Supremely hydrating
Vegan
Cruelty-free
Paraben-free
PEG-free
Synthetic fragrance-free
Cons
None
Price at the time of publication: $68
The DNA Code Copper Peptides Serum Booster is derived from the finest quality true cobalt blue copper peptide. This booster can be added to your favorite skincare or haircare products for optimum results. The copper peptides help promote collagen production. They also help in firming, smoothing, lifting and hydrating your skin.
This booster effectively reduces the depth of visible fine lines and wrinkles by promoting cell turnover and enhancing skin clarity. This serum has been uniquely synthesized to handle acne-prone, dehydrated, photo-damaged, or wounded skin. It contains no artificial colors.
Pros
Suits all skin types
Offers long-lasting hydration
Cons
Expensive
Cannot be used as a standalone product
Price at the time of publication: $34.95
This copper peptide serum increases skin cell production, improves skin elasticity, clears black spots, and tightens your skin. It also helps reduce dark spots, age spots, photodamage, and hyperpigmentation. It reduces fine lines and wrinkles and improves skin clarity and complexion. Its potent anti-inflammatory properties help calm skin irritation and reduce redness. The serum also protects your skin from UV damage.
Pros
Suits all skin types
Reduces hyperpigmentation
Combats acne
Cons
None
Price at the time of publication: $68.0
The NuGlow Copper Peptide Serum is exclusively crafted to be beneficial for skin types. The serum contains a rich blend of MD3 Copper Peptide Complex and powerful antioxidants like green tea and vitamins A and E. It can be used both morning and night to fight free-radical damage and promote healthy, hydrated skin. The serum offers hydration and moisturization and supports a healthy skin glow. It also reduces fine lines, increases skin elasticity, evens your skin tone, and improves skin texture. The serum has a silky, blue texture that glides smoothly all across your face and neck.
Pros
Suits all skin types
Fights free radicals
Evens skin tone
Cons
None
Price at the time of publication: $44.95
This copper peptide serum offers exceptional results and improves skin texture. It contains hyaluronic acid, allantoin, CoQ10, aloe vera, green tea, and echinacea. It is also packed with a blend of organic and in organic ingredients that reduce the appearance of large pores, acne, fine lines, and wrinkles. Its non-irritating formula makes it ideal for those with sensitive skin.
Pros
Suits sensitive skin
Hydrates skin
Controls acne
Affordable
Cons
None
Price at the time of publication: $19.5
This is a nutritious copper peptide serum that will make your wrinkles and fine lines less visible. Its amino acid complex helps in skin renewal and gives you a youthful and brighter complexion. The presence of rejuvenating copper peptides stimulates collagen production and promotes skin repair. This serum hydrates your skin, and its blue copper peptides reduce the appearance of fine lines, wrinkles, age spots, acne spots, and stretch marks. This repairing serum also repairs sun damage, skin inflammation, and hyperpigmentation.
Pros
Detoxifies your skin
Heals inflamed skin
Hydrates skin
Reduces hyperpigmentation
Cons
May not suit all skin types
Price at the time of publication: $8.98
The Eva Naturals Collagen Peptide Serum is a collagen-boosting serum that slows down the process of aging and promotes skin healing. It is a fast-acting serum that provides deep hydration and improves elasticity. The nourishing formula is infused with aloe vera, jojoba, hazel, and hyaluronic acid, along with peptides and amino acids that work together to firm the skin and even the texture. Additionally, the serum contains antioxidants that protect the skin and reduce free radical damage. The skin-firming and brightening serum is also effective at fighting skin issues like dark spots, sun spots, and aging spots, restoring your skin health and giving you an even and glowing skin tone. No animal testing was done in the making of this product. It has received many positive reviews which indicate that people experience amazing visible results after using this product.
Pros
Suitable for all skin types
Cruelty-free
100% Organic
Contains natural ingredients
Restores skin hydration
Minimizes free-radical damage
Healing and repairing serum
Cons
The scent can be sensitive to some
Price at the time of publication: $27.95
The Drunk Elephant Shaba Complex Eye Serum is specially formulated for your under-eye area without artificial fragrances or preservatives. It is infused with a powerhouse of ingredients that tackle the signs of aging around the eyes, dark circles, wrinkles, and puffiness. The serum contains potent doses of black tea ferment, copper peptides, edelweiss stem cells, niacinamide, and CoQ10 that firms skin around the eyes and is suitable for eyelids too. It slows down the process of aging and protects your skin against harmful environmental aggressors. This serum is free of fragrances.
Pros
Gentle formula
Artificial fragrance-free
Silicone-free
Dye-free
SLS-free
Cons
Price at the time of publication: $49.0
The Ordinary Buffet + Copper Peptides serum includes a 1% concentration of pure peptides. These peptides support collagen synthesis and fibroblast production and have anti-inflammatory properties to fight skin inflammation. It has a blue tint formula. This serum is gluten-free.
Pros
Fights skin inflammation
Gluten-free
Cons
None
Price at the time of publication: $40.0
The iS Clinical Super Serum Advance+ has a combination of 15% concentration of the next generation L-ascorbic acid (vitamin C) and copper tripeptide growth factor. The firming serum works effectively to reduce fine lines and wrinkles, minimizes the appearance of existing scars, and offers UV protection. It also fades stretch marks, evens the skin tone and protects the skin against environmental aggressors. It also is free of parabens.
Pros
Evens skin tone
Fades stretch marks
Paraben-free
Cons
None
Price at the time of publication: $95.0
Recently, copper peptides have taken over the beauty industry, as many dermatologists and skin care enthusiasts swear by the powerful ingredient. Copper peptides strengthen the skin barrier, stimulate collagen production, help in wrinkle reduction, fix uneven skin tone and preserve the skin's youthfulness. A potent serum is the best way to incorporate copper peptides into your skin routine. Here is a buying guide on choosing the best copper peptide serum for optimal results on the skin.
How To Choose The Best Copper Peptide Serum
Choose a copper peptide serum that contains essential ingredients like hyaluronic acid, tamarind seed extracts, saffron, oats, retinol, and vitamin C. Moreover, avoid ingredients like alpha hydroxy acids, as they can reduce the overall effectiveness of copper peptides. Opt for dermatologically-tested formulas to prevent chances of any side effects.
The concentration of Copper Peptide
If you want to improve your face's appearance, reduce fine lines, and improve elasticity, make sure to choose a copper peptide serum that is at least 1-2%. Anything less than 1% may not give you optimum results.
Ideally, you choose a copper peptide serum that is all-natural, vegan, organic, cruelty-free, eco-friendly, and non-toxic. Stay clear of copper peptide serums that contain parabens, sulfates, SLS, and phthalates, as they can hinder the overall effectiveness. These ingredients can also irritate and ruin your skin in the long run. For further confirmation, look at the reviewer's experience to know more about the product's benefits and side effects.
Consider When You Will Use It
Choose a copper peptide serum, considering the skincare routine you will use it in. For example, peptide serums with specific ingredients like vitamin C with regenerative properties offer the best results when applied in the daytime. In contrast, a serum that contains retinol should only be used at night, as it focuses on cellular regeneration and may make your skin sensitive to UV damage and sunlight if applied in the morning.
These are the 15 best copper peptide serums available on the market. But copper peptides may cause some adverse effects too. It is important to be aware of them before you pick your product.
Side Effects Of Copper Peptides
The research on the side effects of copper peptides is limited. Anecdotal evidence suggests certain ingredients in the serums may cause skin rashes. These include retinol and glycolic acid. However, not all users have reported adverse effects with the use of such serums. Hence, it is better to pick dermatologist-approved serums and conduct a patch test. Take a small amount of this product and apply it to the inner surface of your elbow. Check for any allergic reactions like redness, itchiness, irritation or burns in the next 24 hours. Stop use if you experience any allergies.
Why Trust StyleCraze?
Oyendrila Kanjilal, a certified skin care coach, has curated this list of the best copper peptide serums available in the market. These serums have been selected from the most trustworthy brands based on user reviews on several e-commerce websites. This article also explains what copper peptides are and their side effects. Oyendrila has also included each product's pros and cons to guide your decision.
Frequently Asked Questions
Who should not use copper peptide serums?
Those experiencing any allergic reactions must avoid copper peptide serums.
How often should you use copper peptide serums?
Use copper peptide serums once or twice daily in measured quantities.
What should you not mix with copper peptides?
Dermatologists typically recommend that you don't use copper peptides simultaneously with vitamin C, but each case is different depending on the formulas you're using. Consult a dermatologist.
How to apply copper peptides to the skin?
Apply copper peptides twice daily to your cleansed skin using gentle upward strokes.
Are copper peptides better than retinol?
Yes. Retinol improves collagen production, but dries out the skin, while copper peptides are moisturizing agents that boost collagen and elastin production without affecting the skin texture.
Which is better, vitamin C or copper peptides?
Vitamin C has antioxidant and antibacterial properties that brighten your skin while eliminating free radicals. On the other hand, peptides do not address inflammation, but boost skin elasticity and reduce aging signs. Therefore, incorporate an ingredient in your skin care regime according to your requirements.
Can you use copper peptides under the eyes?
Yes. Use copper peptides to boost collagen production and tighten saggy and wrinkled skin under the eyes.
Recommended Articles