15 Best Products For Hair Extensions You Can Buy In 2023
Preserve the shine and luster of your hair extensions and enhance their longevity.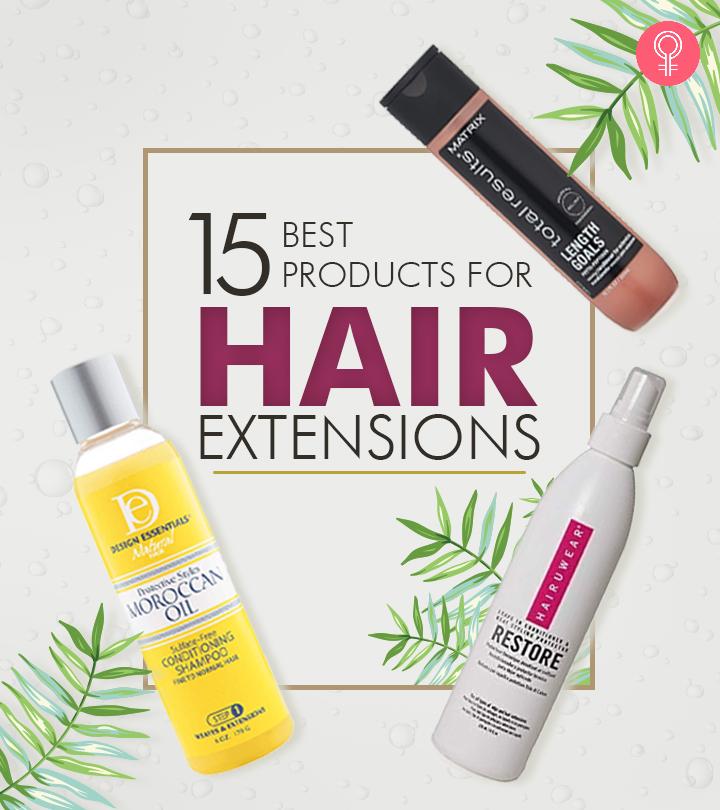 When you have the best products for hair extensions in place, you can let go of your worries about hair extension maintenance. The lifespan of hair extensions can be extended, and the shine, texture, and quality can be maintained with the right products. With this thought in mind, we have prepared a list of the 15 most effective products for your hair extensions that you must have right now. So say hello to glossy and gorgeous hair extensions and check the list out!
15 Best Products For Hair Extensions
The Matrix Total Results Length Goals is a restoring conditioner that prolongs the life and beauty of hair extensions. It incorporates the rich technology of a hair mask and provides superior nourishment to make the hair smooth, silky, and detangled. It prepares, maintains, and revives all brands of human hair extensions and wigs. It leaves the hair five times smoother, conditioned, and easier to detangle. Watch this video to get a detailed review of the product.
Pros
Softens the hair
Detangles the hair
Good fragrance
Adds shine
Makes hair manageable
Cons
Price at the time of publication: $20.0
The RemySoft Glam Rocker Rapid Renewal System consists of a cleanser, a recovery cream, and a daily refresher. The hydrating cleanser is formulated with collagen for excess moisturizing power. It also contains apple stem cells that provide anti-aging effects and helpprotect long hair. The recovery cream uses an infusion of the revolutionary blueMax serum to make the hair hydrated, smooth, and soft. The bluMax daily refresher is a leave-in conditioner – a lightweight silicone-based spray that leaves your hair fresh and healthy. It contains extracts of acai, lemon, orange, apple, sugarcane, rosemary, green tea, pomegranate, and white tea infused with the blueMax protective sealer.  It can be used with hair extensions, weaves, and wigs.
Pros
Makes the hair healthy
Makes the hair bouncy
Conditions the hair
Pleasant smell
Reduces frizz
Doesnot weigh the hair down
Sulfate-free
Cruelty-free
Color-safe
Cons
Might make the hair sticky.
May cause hair fall.
Price at the time of publication: $55.95
The HairUWear Cleanse Shampoo levels the pH balance of the scalp and hair. It is gentle and lightweightandformulated to be used with synthetic and human hair. It cleanses dirt, grime, and product buildup from the scalp and hair and imparts moisture and shine. It has a fresh and light fragrance.
Pros
Reduces frizz
Strengthens the hair
Moisturizes the hair
Softens the hair
Adds shine
Cons
May make the hair greasy.
Might cause allergic reactions.
Price at the time of publication: $17.95
The Big Kizzy Remover 1 and 2 is formulated for hair extensions. The Release & Reuse is Remover 1 that neutralizes the stickiness of extension tape temporarilyforeasy removal. It corrects application mistakes quickly without retaping or shampooing the tape extensions. It removes the tape without leaving an oily film or residue and prevents it from sticking or pulling out hair. The Remove & Residue is Remover 2 and acts as an adhesive remover for the leftover adhesive after the tape has been removed.
Pros
Removes excess tape
Smells good
Doesnot damage the hair
Cost-effective
Easy to use
Doesnot pull the hair
Cons
Might make the hair sticky.
Price at the time of publication: $29.99
The BlueMax Protective Sealer is a revolutionary, silicone-based hair serum. It is formulated to coat and seal the hair shaft while offering outstanding UV protection. It is enriched with jojoba and designed to eliminate tangles and lock in moisture. It also helps fight regular hair damage. The blueMax Daily Refresher is a leave-in conditioner that combats dry, tangled hair. It is a lightweight, silicone-based spritzer containing a blend of natural oils designed specifically to be used between washes. This radically different leave-in-conditioner helps smooth the hair and guardit against the damaging effects of the sun without heavy product buildup.
Pros
Softens the hair
Brightens the hair
Adds shine
No greasy residue
Revives the extensions
Moisturizes the hair
Strengthensthe hair
Tames frizz
Cons
Price at the time of publication: $27.0
Aqua Hair Extensions Leave-in Conditioner is a must-have for anyone dealing with dehydrated, damaged, or frizzy hair extensions. It helps to hydrate, detangle, and fight frizz for extra dry and damaged hair. The unique blend of ingredients helps keep hair extensions looking new by preventing fading or color changing due to chlorine, saltwater, and sun exposure. It also adds shine and a silky soft feel to the hair. Its lightweight formula makes it easy to use daily and won't cause build-up or damage extensions. Get the most out of your hair extensions with this leave-in conditioner!
Pros
Hydrates and detangles hair
Reduces hair breakage
Restores damaged hair
Prevents color changing
Softens and smooths the hair
Lightweight and easy to apply
Suitable for all hair types
Cons
May cause buildup with frequent use
Price at the time of publication: $24.95
The Everlong Hair Extension Fusion Bonding Tool is ergonomically designed to connect Keratip Hair Extension Bonds and Shrinkies, Fusion, Keratin Glue, and U-Tip. The tool offers a consistent temperature of 400℉ to create the strongest bonds. Its patented mold shape is for added stability and comfortability, and the long cord offers greater mobility. Additionally, this lightweight tool is used and recommended by professionals worldwide.
Pros
 Grooves for comfortable grip
 Long cord length
 Heat-resistant
 Ergonomic
 Lightweight
Cons
None
Price at the time of publication: $52.99
The Design Essentials Moroccan Oil Conditioning Shampoo is a gentle cleanser designed to extend the beauty and wearability of your natural or synthetic weaves, wigs, or extensions. Itis a sulfate-free formula that detangles and refreshes the hair to reduce shedding and add shine. It cleanses and conditions the scalp and hair gently. It also restores dull hair and reduces hair damage.
Pros
Adds shine
Makes the hair feel light
Softens the hair
Lathers creamily
Pleasant smell
Moisturizes the hair
Cons
May leave a greasy film.
Might not work with all hair types.
Price at the time of publication: $5.99
The B3 Brazilian Bond Builder Trio set contains a shampoo, conditioner, and an extension refresh. These products are silicone-free and do not tamper the extension bonds. It extends the life of the hair extensions and makes them vibrant. It also makes natural hair healthy and shiny. It repairs damage from bleach and coloring. Here's a video to help you know more about this product.
Pros
Does not feel greasy
Adds shine
Smoothens hair
Protects from heat and damage
Makes hair feel light
Non-greasy
Cons
Price at the time of publication: $62.0
The HairUWear Restore acts as a leave-in conditioner and a heat-style protector. It nourishes the synthetic fibers, providing all-day softness. It can also be used as a protectant while styling heat-friendly synthetic fibers. It is gentle, environmentally safe, and contains no animal products.
Pros
Smells good
Smoothens the hair
Nourishes the hair
Detangles the hair
Reduces frizz
Makes hair healthy
Moisturizes the hair
Adds shine
No greasy feel
Cruelty-free
Cons
Might leave a white buildup on hair.
Might cause flaking.
Price at the time of publication: $17.49
Keep your hair extensions and wigs healthy with the Everlong Hair Untangle. You can use this leave-in conditioner to detangle the hair extensions and keep them nourished. You can also apply this spray to your natural hair. It is enriched with argan oil, jojoba oil, and keratin protein. The keratin protein strengthens hair follicles, repairs weak hair, while jojoba and argan oil moisturizes the scalp. Additionally, it also acts as a heat protectant and prevents breakage.
Pros
 Multipurpose
 Suitable for all hair types
 Protects against damage
 Detangles the hair
Cons
None
Price at the time of publication: $19.99
Big Kizzy F.A.T.T. Biotin Shampoo is a full and thickening treatment that adds excellent volume to hair extensions. The shampoo is a professional-grade product designed to help make your hair extensions look and feel healthier in just a few uses. This salon-quality shampoo is formulated with biotin, provitamin b5, and rosemary leaf extract to cleanse, nourish, and promote thicker, fuller-looking hair.
The shampoo is free from harmful toxins so it's gentle enough for daily use and won't strip or damage your extensions. It's also enriched with essential oils that help to soothe hair and scalp while adding shine and softness. Regular use can help make your hair extensions look fuller and thicker while promoting scalp health and healthy hair growth.
Pros
Protects against heat damage
Sulfate-free
Safe for color-treated hair
Cruelty-free
Vegan
Volumizes hair
Improves manageability
Cons
Price at the time of publication: $29.99
The Hair Works 4-in-1 Hair Extension Style Caddy is designed to wash, style, pack, and store your hair extensions. It is made with ABS plastic and is lightweight, durable, and waterproof. Just attach it to a smooth fixed surface for hands-free blow-drying and styling. Use it in the shower to make extension washing a simple task instead of a messy chore. Snap the attachable hooks onto the caddy and dry on a hanger.
Pros
Easy to use and store
Lightweight
Durable
Waterproof
Easy to wash and dry
Snappable hooks
Cons
The teeth of the holder can get damaged.
Hair can slide out easily.
Price at the time of publication: $26.99
The Revibe Silk Drops by The Hair Shop is a unique, nourishing, translucent formula designed to protect 100% remy human hair extensions.It contains Moroccan argan oil to help control frizz, add shine, and protect the hair. It works with all hair extension methods – i-tip, keratip (u-tip), tape-ins, smart tabs, wefts, clip-in. It contains gentle, natural ingredients that reinvigoratethe hair back to its healthy state.This product is ideal for extra protection from UV rays and water damage from swimming. This product will repel water, preventing unwanted impurities from entering the hair extension bonds.
Pros
Adds shine
Smoothens the hair
Detangles the hair
Moisturizes the hair deeply
Pleasant scent
Reduces frizz
Cons
Might make the hair greasy.
Price at the time of publication: $18.99
The Scalpmaster Hair extension cushion paddle brush is a brush with loop bristles. This makes it comfortable to use for hair extensions without damaging or breaking their bonds. It will not pull the hair and glides through its moothly. It removes tangles and can be used with thick, coarse and synthetic hair.
Pros
Detangles the hair
Works well on damp hair
Easy to use
Removes knots easily
Reduces hair breakage
Reduces hair shedding
Cons
Handle can break.
Can pull out the hair.
Price at the time of publication: $6.15
Why Trust StyleCraze?
Shiboli Chakraborti, the author of this article, is a certified skin care coach who also loves experimenting with her hair. Her keen interest in hair styling products helps her recommend the best products for hair extensions. She has well-researched reviews and user feedback to help you pick the best. The products mentioned above are highly effective and help you flaunt your extensions in style.
Frequently Asked Questions
What should you not put in hair extensions?
Do not use hair care products with sulfates, parabens, and alcohol in your hair extensions.
How do I moisturize my extensions?
You can use The RemySoft Glam Rocker Rapid Renewal System to moisturize your hair extensions.
What kind of oil should I use on my extensions?
You can use argan oil on your extensions every night to keep them soft and prevent split ends.
How often should I wash my hair with extensions?
You can wash your hair with extensions 2-3 times a week.
How do you sleep with hair extensions?
You can tie your hair with extensions in a loose braid or ponytail before sleep.
Recommended Articles